We test and review fitness products based on an independent, multi-point methodology. If you use our links to purchase something, we may earn a commission. Read our disclosures.
If you're starting to research how to become a personal trainer, a crucial step in that process is researching various personal trainer certification programs.
The best personal trainer certification programs are accredited by the National Commission on Certifying Agencies, or NCCA. The NCCA accreditation is your clue that the program will adequately prepare you for a successful career as a personal trainer and familiarize you with all of the topical expertise you need to help people make healthy lifestyle changes.
From exercise science to behavior change, the ACE certification is one of the best out there. If you're wondering what the ACE certification is, exactly, you've come to the right page on the internet. I'm an ACE-certified personal trainer—have been since 2017—and in this ACE certification review, I delve into all of the need-to-know details about study materials, exam prep and the exam itself, maintaining your certification, and the perks of going with ACE.
RELATED: NASM Review: What It's Like to Take the Course
ACE-Certified Personal Trainer Since 2017
I earned my personal training certification from ACE, The American Council on Exercise, almost seven years ago at the time I'm writing this. It's been a wonderful seven years of learning and trying different things as a fitness trainer, from one-on-one fitness training at LA Fitness and Gold's Gym to prepping high school athletes for college sports to coaching people through spectacular outdoor pursuits like summiting Half Dome in Yosemite National Park.
My ACE certification was a turning point in my career and it's what allowed me to break into the fitness industry. In this review, I'll help you decide if it's right for you, too.
ACE Certification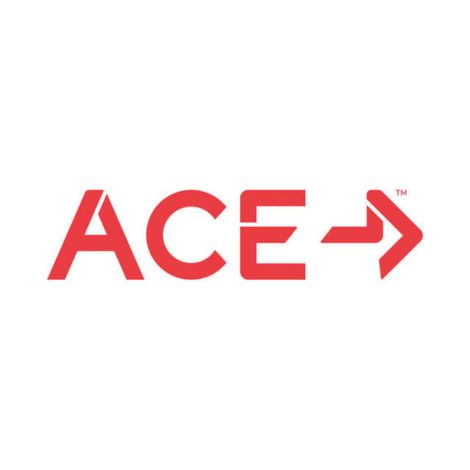 GGR Score: 4.25
Product Highlights
Personal trainer certification 

6-month timeline to complete program

CPR/AED certification required 

90,000 ACE CPT professionals globally
Pros & Cons
Pros
Live, remote proctored exams available
Straightforward program guidelines
Ability to sign up for a free preview
NCCA-accredited program
Cons
Hard copy textbook costs extra
2-year recertification cycle
Bottom Line
ACE certified personal trainers will learn the fundamentals and scope of practice for CPTs. You'll need to be at least 18 years old, have a high school diploma, and a CPR/AED certification. From there, you can study and sit for the ACE CPT exam. The certification is NCCA-accredited and over 90,000 fitness professionals also have their ACE certification.
A Quick Look at the ACE Certified Personal Trainer Course
When people ask, "What is ACE certification?" I always assume they mean the personal trainer certification, but ACE offers several other fitness certification courses as well, including:
Health coach certification
Group fitness instructor certification
Corrective exercise specialist
Medical exercise specialist
Functional training specialist
Youth fitness specialist
And more
In this guide, I'm covering the ACE certified personal trainer (CPT) certification.
The ACE-CPT course prepares you to take the ACE personal trainer certification exam. It's a fully online course and, when you pass the exam, awards you the CPT credential.
RELATED: Why You Should Consider an Online Personal Trainer
Before You Buy:
ACE offers three study programs of varying levels of structure. The exam fee is included in the price of all of the packages.
This type of online course may not be the best for people who struggle with self-learning; if you struggle to stay motivated on your own, consider purchasing the most comprehensive study package, which includes live study sessions and lectures.
This course includes a LOT of science. You must become extremely knowledgeable about exercise physiology and anatomy to pass the ACE exam.
Is the ACE Certification Worth It?
I absolutely think the ACE-CPT course is worth it. There are three study packages to choose from:
Basic ($675)
Plus ($745)
Advantage ($975)
This pricing structure makes ACE one of the most affordable training programs available.
One of ACE's biggest competitors (and another great certifying agency), The National Academy of Sports Medicine (NASM), also offers three CPT training programs, but prices range from $899 to $1,899.
RELATED: NASM Home Gym Design Course Review
And ISSA, the International Sports Sciences Association, offers their CPT course starting at $999.
So yes, as an ACE-certified exercise professional, I do think the ACE-CPT course is worth it, even the most expensive study option.
Great for:
Any aspiring fitness professional
Aspiring personal trainers who want solid education in program design, progression, and behavior change
Individuals who want a well-rounded educational base to move into specialized areas of fitness, such as sport performance or senior fitness
Not recommended for:
Individuals who are not interested in one-on-one personal training (a group fitness instructor credential is adequate)
Working with athletes right away (you'll need a specialist credential or something like the CSCS, Certified Strength and Conditioning Specialist)
Working with other special populations immediately (in most cases, a CPT course lays the groundwork for future specialization)
ACE Certification Specs
| | |
| --- | --- |
| Prerequisites | High school diploma or equivalent, First aid and CPR/AED certification, be at least 18 years old |
| Number of study options | 3 |
| Hard copy of materials available? | Yes |
| Pricing | $675 to $975 |
| Term length | Up to 8 months from purchasing exam voucher |
| Platform | Online |
| Exam format | In-person, proctored; online, proctored |
Course Prerequisites
Technically, there are no prerequisites to purchase a study program from ACE. However, to take the ACE exam, you'll need to meet the following prerequisites:
Be at least 18 years of age
Hold a current first aid, CPR, and AED certification (see ACE-approved options)
Hold a high school diploma or equivalent (e.g., GED)
Course Options and Pricing
ACE offers three study packages, which offer varying amounts of accountability and study materials. All of the package options are less expensive than those from ACE's main competitors, and the quality of materials is great, so I rated the course with 5 out of 5 stars for pricing.
RELATED: Barbell Academy Review
Basic
The Basic package is the bottom-tier option. It costs $675 and includes:
Access to ACE University, the online learning platform where your e-books, lectures, quizzes, and activities live
1 practice test
An e-copy of the ACE Personal Trainer Handbook (course textbook)
E-copy of the ACE Personal Trainer Study Companion (a workbook)
Exam voucher
Plus
The Plus package costs $745. It includes everything in the Basic package, plus:
An additional practice test (total of 2)
Hard copy of the ACE Personal Trainer Handbook
Hard copy of the ACE Personal Trainer Study Companion
Access to live Q&A webinars
Exercise Science 101 book
Advantage
The Advantage package, the most comprehensive option, costs $975 and includes:
Everything in the Plus package
2 additional practice tests (total of 4)
Audiobook copy of the ACE Personal Trainer Handbook
Facilitated study groups
Exam Only
Alternatively, if you don't feel that you need to study for the ACE exam, you can purchase the exam voucher on its own. This costs $499, so quite honestly, it makes sense to at least buy the Basic study package to ensure you are prepared. If you fail the exam, you have one year to retake it at a discounted price of $249.
Course Material: What You'll Learn
The ACE personal trainer certification course is one of the most comprehensive available. It covers everything from human anatomy to exercise physiology to business and communication skills. The program is broken down into seven sections; each section contains several chapters of information.
Section 1: The Role and Scope of Practice of Personal Trainers
Section one covers the scope of practice of personal trainers, meaning where they fit in on the healthcare continuum. Personal trainers are a valuable part of the allied health field and can make a huge difference in the well-being of other people.
This part of the course explicitly teaches you what personal trainers are allowed to do and what they aren't allowed to do, as well as how to build a network of other healthcare providers and refer out when necessary.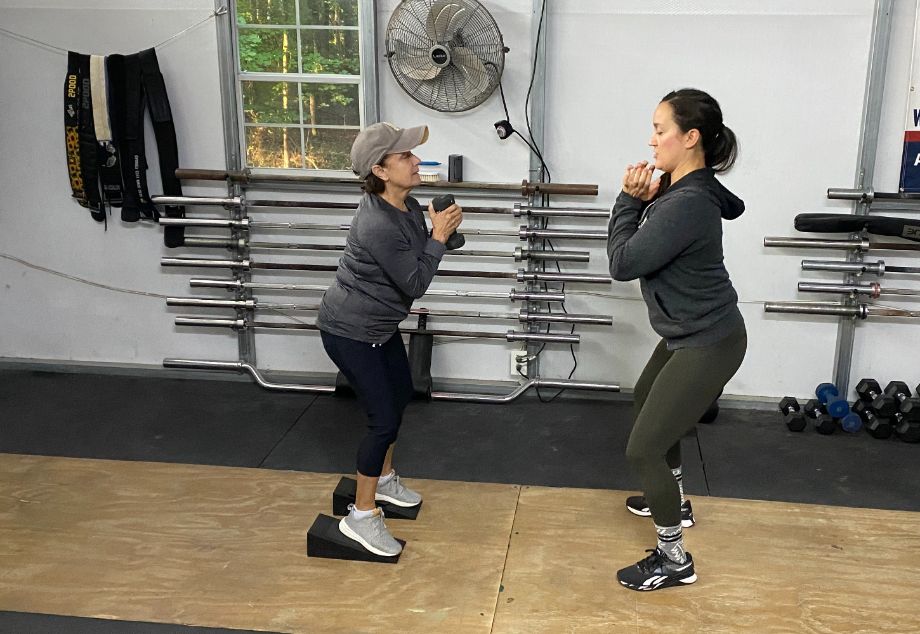 Section 2: A Client-Centered Approach to Personal Training
The next section teaches you how to be a high-quality coach and produce effective, lasting change. In section two, you'll learn how to assess clients with empathy and understanding, interview them about their current habits and goals, and help them build self-efficacy, or a sense of confidence that they can, indeed, take control of their fitness and health.
RELATED: The Best Personal Training Apps
Section 3: Assessments, Programming, and Progressions
In section three, you'll learn how to assess clients for mobility, strength, balance, and cardiovascular fitness. I particularly enjoyed this part of the course because I love learning about new clients and getting them started on a path to reach their goals.
I still use many of the resources from this section in my career today, such as worksheets for identifying mobility limitations and strength imbalances.
Section 4: ACE Integrated Fitness Training® Model (ACE IFT®)
This is where you'll get into the nitty gritty of exercise programming. The Ace Integrated Fitness Training Model is a function-first model that focuses on helping clients establish safe movement patterns and skills that translate into daily life.
A big focus of the ACE-CPT course is whole-body fitness and wellness, so this section takes into account many variables of fitness, including:
Posture
Movement
Flexibility
Balance
Core function
Cardiorespiratory fitness
Muscular endurance
Muscular strength
In this section, you'll see how your new knowledge of human anatomy and physiology fit into effective exercise programming.
Section 5: ACE Mover Method™
The ACE Mover Method is "a philosophy that facilitates healthy lifestyle behaviors begins with empowering clients to take a personalized journey during which they achieve self-efficacy because the exercise professional or health coach practices empathy and trust, communication and collaboration," according to ACE.
In other words, the emphasis of this section is on teaching clients to take their fitness into their own hands.
RELATED: The Best Gifts for a Personal Trainer
Section 6: Program Modifications for Clients with Special Considerations
In section six, you will learn about special populations, including seniors, pre- and postnatal clients, people with injuries and medical conditions, youth athletes, marginalized populations, and more.
I really love ACE's commitment to health equity; however, when I took this course in 2017, I felt that this section left a lot to be desired. I can't say that I felt adequately prepared to take on clients with special considerations. That said, the ACE certification course is designed to serve as general education for aspiring personal trainers, and those interested in working with specific populations should pursue specialized knowledge.
Section 7: Professional Responsibilities and Legal Guidelines
Finally, the last section teaches you about the need-to-know laws and professional code of conduct for personal trainers. It's by far the most boring section of the course, but it is critical to your success.
Course Design and Layout
The ACE-CPT course is completely online and self-paced. Your exact experience will depend on the study package you choose to buy. I found ACE University very easy to navigate and that was nearly seven years ago; I'm sure ACE has made improvements to their online portal since then.
Additionally, I found the hard-copy study materials very helpful and relied on them more than I relied on the online study materials. I loved having a physical book to highlight and annotate, and I'm really glad to see that ACE still offers hard-copy books.
Because the experience was so smooth and the portal was easy to use, I rated the ACE course with 5 out of 5 points for this category.
RELATED: NASM Nutrition Coach Certification Course Review
References and Data
Throughout the course, you will notice that ACE provides ample references for the claims they make in the material. References are provided for each chapter in the book, and they are easy to view in the e-copy of the book. Plus, the ACE Personal Trainer Handbook is written by experts in fitness programming, anatomy, physiology, and behavior change.
Studying Experience
I had absolutely no formal education in anything related to fitness before I started the ACE-CPT course. If I was able to ace the exam (pun intended…), you can, too.
I found the studying experience to be perfect for someone who thrives with self-learning and self-paced studying. However, I can see this format being problematic for those who struggle with such skills.

You really do need to be self-motivated to adequately study for the ACE personal trainer exam, especially if you don't have prior education in anatomy and physiology. Those two topics were by far the hardest to learn, and yes, you will be tested on things like how to modify the bench press for someone with lateral epicondylitis.
You will need to know the Latin terminology for anatomy, as well as have a deep understanding of the musculoskeletal system. You will also need to know how the nervous system, cardiovascular system, and endocrine systems respond to and impact exercise.
I found notecards to be a huge help, but I think the online quizzes in ACE University helped the most.
Overall, you'll be provided with plenty of resources to pass the exam, but it's 100% up to you to do the work. You won't have a teacher checking in with you or grading your work, so there's no incentive except passing the final exam.
Exam Options and Test-Taking Experience
You can take the ACE exam at home or in a computer testing center near you.
Registering for the Exam
Everyone must use the exam voucher they purchased from ACE to register for the exam. Exam vouchers have an expiration date of six months from the date of purchase, but that doesn't mean you have to take the exam within six months—just that you must schedule the exam within six months.
Typically, testing centers allow you to schedule 60 days out, giving you up to eight months from the date of purchase to study and take the exam.
You must register at least 10 days prior to the desired exam date; special accommodations require a minimum of 15 to 30 days to schedule, depending on the testing center and the accommodation required.
Checking In
Arrive 15 minutes early with your photo ID. The name on your ID must exactly match the name on your exam voucher.
In Person, Proctored
I took the exam in a computer testing center and thought the experience was fine. It was like taking any high school or college exam in a computer lab. You'll schedule your exam at the desired location and take the test in a proctored room.
At Home, Proctored
During the COVID-19 pandemic, ACE started offering at-home proctored exams. This format is still available, although you should know that there are some additional restrictions in place to maintain a fair testing environment. Namely, you are not allowed to have scratch paper or a physical calculator for an at-home test. A live remote proctor will be present for the duration of the exam and has the right to terminate your exam should they think it necessary.
You must use the notes application and digital calculator in the testing portal. You also are not granted any breaks at all. ACE emphasizes that if you feel you'll need a break during your exam, you should take it at a testing center.
Exam Format
The exam consists of 125 multiple-choice questions, 25 of which are unscored because they are for research purposes. A perfect score is 800, and a passing score is 500.
Post-Certification Perks
ACE is a wonderful organization with many resources for ACE-certified pros. ACE personal trainers get access to a career dashboard with continuing education opportunities, an entry in ACE's Find a Trainer database, a job board, various professional tools, and more.
One of my favorite things about the ACE course is that you have lifetime access to your study materials in your ACE Pro dashboard. This means that even seven years after getting certified, I can still open up the ACE Personal Trainer Handbook at any time, and even look back at the many practice quizzes I took in preparation for the exam.
Additionally, all ACE pros have access to the ACE Exercise Library, which has hundreds of exercise demos you can show your clients.
ACE-CPT Recertification Requirements
Ah, the journey has not come to an end just yet. To maintain your ACE-CPT credential, you must earn 2.0 continuing education credits (CECs)—also called continuing education units (CEUs) every two years. This equates to about 20 hours.
There are a lot of ways to do this, from online ACE quizzes to earning a specialist credential or taking a college course.
You also have to renew your CPR/AED certification every two years and pay the recertification fee of $129.
ACE Certification vs NASM Certification
NASM Certification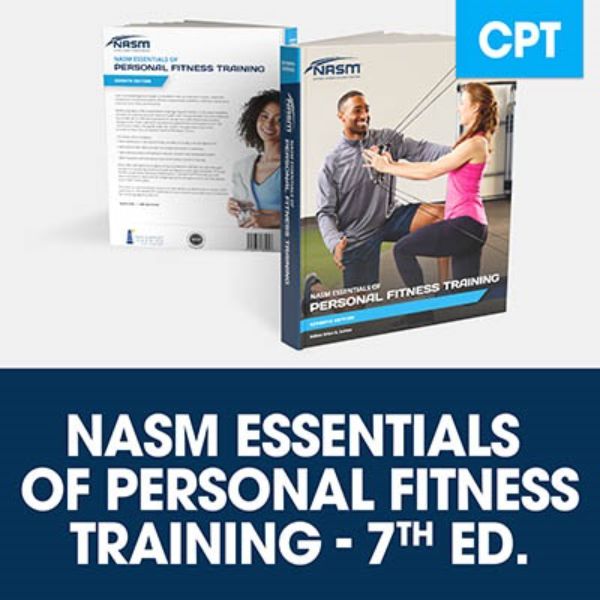 GGR Score: 4.6
Product Highlights
Various study packages offered
New digital learning platform
The foundation of the course is based on NASM's Optimum Performance Training Model (OPT) which is a systematic approach to personal training for every type of clien
Prerequisites  - CPR and high school diploma or GED
Covers behavioral change to assist clients with personal hurdles
Focus on client assessments to develop plans best suited for each person
Pros & Cons
Pros
Lots of study materials available: textbook, app, videos, and podcasts
Built-in opportunities for post-certification internships
NASM is NCCA-certified
Discounts often available
Financing available
Options for remote or in-person exam
Other courses available for advanced learning
Bundle CPT with nutrition and other courses for a discount
Cons
Higher cost than some other certification programs
Textbook not included in two most basic packages
Textbook/online training modules alone may not prepare you well for exam
Short time frame to take the exam, especially if you work full-time
Bottom Line
NASM's digital CPT program is a highly reputable and in-depth certification program for anyone looking to become a personal trainer.
NASM is perhaps the biggest competitor to ACE. Both are great organizations that offer comprehensive personal training courses.
The main difference between the courses themselves is that ACE's IFT model focuses more on holistic fitness and wellness, whereas NASMs' OPT (Optimum Performance Training) model has a greater emphasis on actual exercise performance. So, NASM might be the better choice for people who ultimately want to work with high-level athletes or people preparing for specific events, such as a powerlifting competition or an Ironman.
NASM's study packages are substantially more expensive, ranging from about $900 to nearly $2,000 compared to ACE's range of $675 to $975.
One thing prospective students should know is that while NASM also offers an at-home exam, it is not NCCA-accredited, and therefore you will not earn an NCCA-accredited personal training certification.
Other than these few callouts, many aspects of the programs are similar. Both will adequately prepare you to train a range of clients.
Read more in our ACE vs NASM comparison guide.
| | | |
| --- | --- | --- |
| | ACE-CPT | NASM-CPT |
| Prerequisites | High school diploma or equivalent, First aid and CPR/AED certification, be at least 18 years old | High school diploma or equivalent, First aid and CPR/AED certification, be at least 18 years old |
| Study options | 3 | 3 |
| Hard copy materials available? | Yes | Yes |
| Pricing | $675 to $975 | $899 to $1,899 |
| Term length | Up to 8 months from purchasing exam voucher | Up to 1 year from purchasing exam voucher |
| Platform | Online | Online |
| Exam format | In-person, proctored; online, proctored | In-person, proctored; online, proctored |
What Is ACE Certification? Final Verdict
I highly recommend the ACE certification to any aspiring personal trainers, especially those who value the concept of well-rounded fitness for life. ACE does a great job of teaching students how fitness is important for life and not just for performance.
I believe ACE has one of the best study experiences, too, with a great online portal that makes navigating the course easy and simple. And, the post-certification perks are a huge bonus. It's hard to beat what ACE offers for the price.
ACE Certification Full Rating
ACE Personal Training Certification Program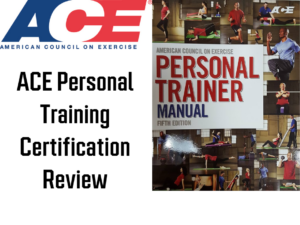 The ACE Personal Training Certification is an NCCA-accredited course that will prepare you to train clients from all backgrounds and at all fitness levels. ACE has a strong focus on movement for everybody and helping individuals make lifelong changes.
Product Brand: American Council on Exercise
Product In-Stock: InStock
What Is ACE Certification? FAQs
What does ACE-certified mean?
Someone who is ACE-certified holds a fitness or wellness credential from The American Council on Exercise (ACE).
How hard is it to get ACE-certified?
Becoming ACE-certified will be more difficult for students with no prior education in fitness and exercise than it will be for someone who, say, completed a bachelor's degree in kinesiology. An ACE course will also be harder for those who struggle with self-learning. That said, becoming ACE-certified is very doable for anyone who's willing to study. 
What happens if you fail the ACE exam?
If you fail the ACE personal trainer exam, you can retake it within one year for a fee of $249. If you wait more than a year, you'll have to pay the full voucher price of $499.
How much does the ACE certification cost?
The ACE exam costs $499 on its own, or you can purchase one of the three study packages for $675, $745, or $975, depending on how much study material you need.