We test and review fitness products based on an independent, multi-point methodology. If you use our links to purchase something, we may earn a commission. Read our disclosures.
Smart home gym equipment is steadily changing the face of the home fitness industry. Fitness mirrors and smart functional trainers specifically—a la Tonal, Tempo Studio, and other similar products like the MIRROR and Echelon Reflect—have together altered the definitions of "all-in-one home gym" and "virtual personal training."
I want to take a hard look at two of the most dominant smart home gyms: Tonal vs. Tempo. In this guide, I put the two products head-to-head and scrutinize every spec a potential buyer should know. If you've been struggling to choose one smart gym over the other, consider your internal battle over after reading this comparison article.
Why You Should Trust Us
At one point, I had Tonal and Tempo Studio set up in my home simultaneously, installed less than 8 feet from each other. Not only have I extensively used both smart gyms, but I've been able to directly compare them on a day-to-day basis.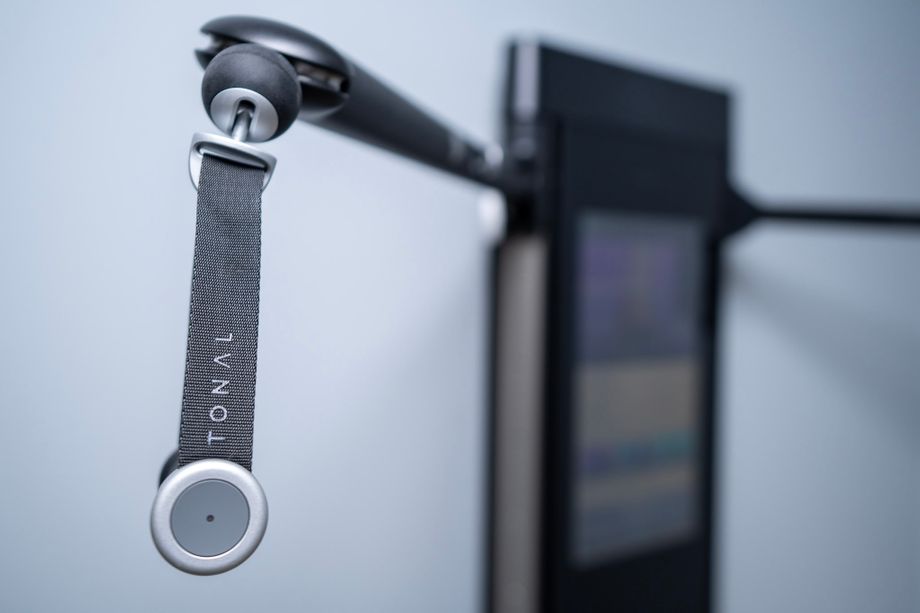 Quick Look: Tonal vs. Tempo
First things first: Both Tonal and Tempo are good products. I'm not going to explicitly write that one is better than the other, because I believe both serve a specific type of exerciser, and the important thing to figure out is which type of exerciser you are.
Basically, I'm here to help you decide where your money is better spent.
That said, let's take a quick look at the Tonal and Tempo.
| | |
| --- | --- |
| Tonal Quick Facts | Tempo Quick Facts |
| Caters to strength training enthusiasts | Wide variety of cardio and strength training workouts |
| High-energy on-demand and live workout classes | Live instruction and on-demand classes |
| Smart progressive overload | Real-time personal training via Tempo 3D tech |
| Up to 200 pounds of resistance | Unlimited resistance |
| Cable-style resistance | Barbells and dumbbells |
| Must be wall-mounted | Freestanding unit |
| $49/month subscription required | $39/month subscription required |
| Can create custom workouts | No free workout mode |
| No free weights | Only free weights |
| HD touchscreen | HD touchscreen |
| Starting price: $3,995 | Starting price: $2,495 |
Who Should Buy Tonal
Strength training enthusiasts
People who already love cable machines or functional trainers
Intermediate to advanced trainees who don't need form corrections or technique feedback
Tonal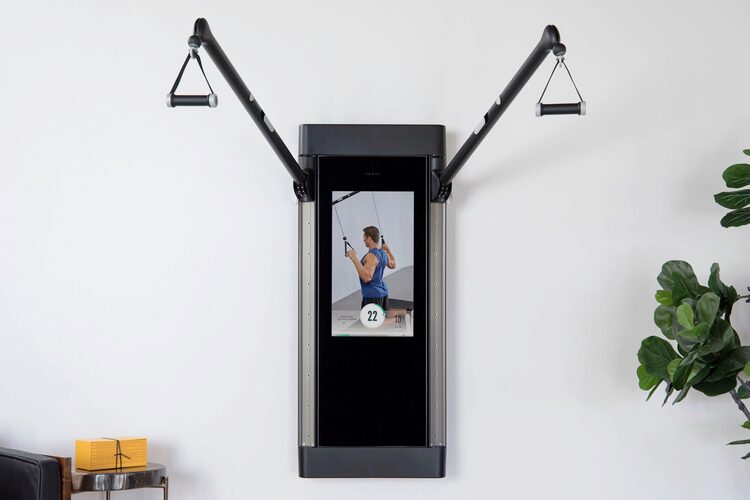 Tonal Smart Home Gym
Looking for a complete home gym that fits in a compact space? The Tonal smart home gym offers 200 pounds of resistance, more than 170 moves, and a range of full-body exercises. Plus, the AI gets to know you as a lifter the more you use it, so the workouts will be customized to your needs.Tonal may be effective, but it's not budget-friendly. The machine sells for $3,995 (which does include professional installation), but you still have to pay a $50 monthly subscription fee on top of that.
Who Should Buy Tempo
Trainees who like to dabble in a lot of different exercise modalities
Beginners who need help perfecting their exercise form and technique (honestly, most people can benefit from this)
People who don't want to wall-mount anything
Tempo Studio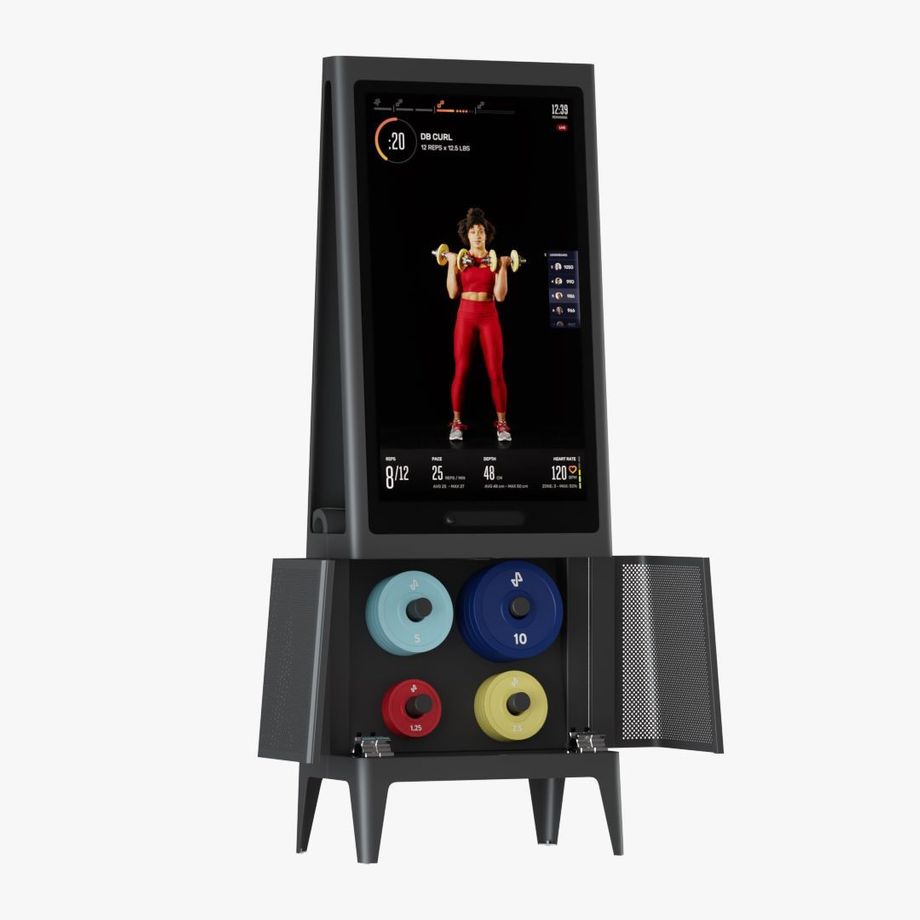 Tempo Studio
Tempo Studio is the all-in-one smart home gym. Its sturdy A-frame aluminum design holds weight plates, loadable dumbbell handles, a barbell, foam roller, workout mat, and barbell collars. Tempo Studio has AI technology that uses 3D Time-of-Flight sensors to capture your movement patterns and provide form corrections, rep counting, weight recommendations, and stat tracking. When you're working out, the Tempo Studio acts as a virtual personal trainer to help you improve your exercise technique and reduce your risk of injury from exercise.
Tonal vs. Tempo: Key Similarities
Can be all-in-one home workout solutions
Take up less space than a traditional home gym
Automatic logging of workouts makes it easier to keep track of progress
Offer live classes led by instructors as well as on-demand workouts in a variety of categories
Require a monthly membership to access workout content
Can replace a gym membership
Offer rep counting during workouts
Work with heart rate monitors and have Bluetooth audio
Show a leaderboard during live classes for motivation
Good for all fitness levels
Tonal vs. Tempo: Key Differences
Tempo utilizes free weights such as dumbbells, barbells, and weight plates; Tonal utilizes a cable-like system with a digital weight system
Tonal has a free workout mode that allows users to create their own sessions; Tempo does not have this functionality
Tempo provides real-time feedback on exercise technique; Tonal doesn't
Tonal is largely focused on strength training, whereas Tempo offers more versatility, especially with cardio workouts
What the Tech?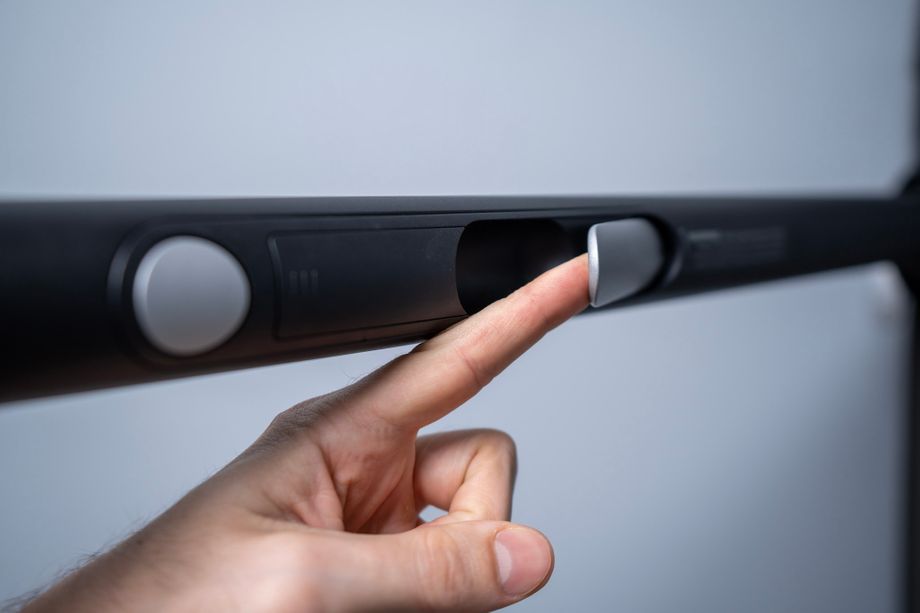 Tonal and Tempo each have unique callout tech features.
Tempo's claim to fame is its 3D sensing technology that tracks reps and analyzes exercise form to provide technique corrections.
I love this technology and think it's an amazing selling point for beginners who want the benefits of a personal trainer for a fraction of the cost. Of course, no tech can fully replace a trained human eye, but Tempo does a very good job of providing feedback.
Tonal, on the other hand, is all about the weight. Digital resistance is meant to replace the widespread setups of traditional home gyms, plus provide automatic weight changes when the trainer senses it's too heavy or too light for you.
One good example of Tonal's tech is the spotter feature: Spotter automatically detects when you're struggling during a set, and it temporarily decreases the resistance to something manageable so you can finish the set safely.
Truly, both of these home gyms boast impressive tech specs and I would love to one day see some version of a smart home gym that combines elements of Tonal and Tempo.
Related: How to build your ultimate smart home gym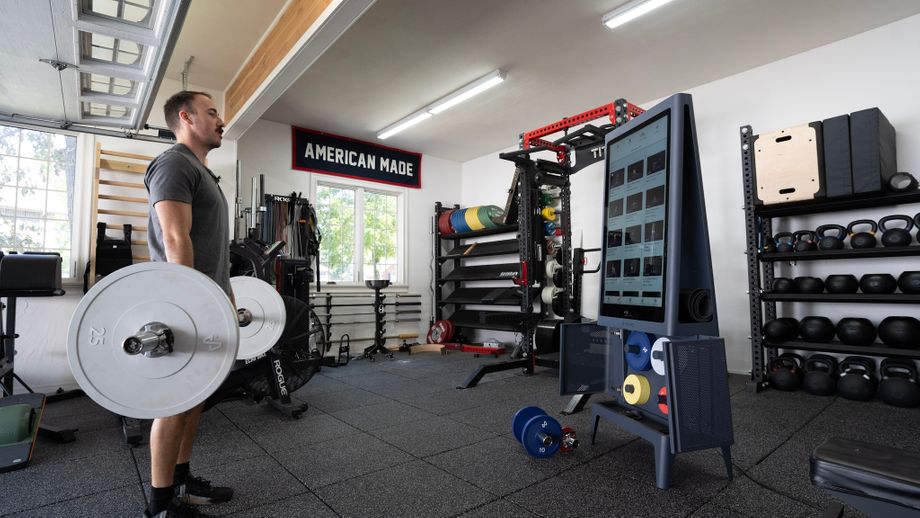 Equipment and Accessories
Tonal's accessory suite is straightforward: For $3,995, you get the trainer, which has the mechanical arms and cables that provide digital weight resistance.
For $495 extra on top of the trainer price, you get the smart accessory bundle, which includes two smart handles, one smart bar, a smart rope attachment, weight bench, foam roller, and cushioned yoga mat. (Paying the extra cost is really non-negotiable if you want to benefit from the smart rep tracking and weight control features.)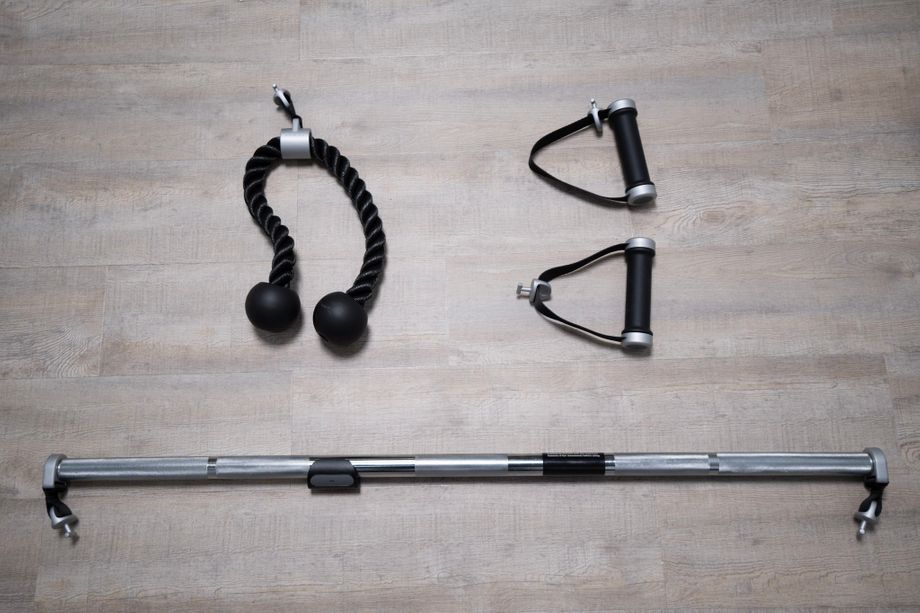 Tempo offers a range of physical weights, including weight plates, barbells, and loadable dumbbell handles, as well as barbell collars for safe weight lifting, a yoga mat, and foam roller. Tempo also has foldable squat racks and weight benches to add more variety to your workouts. If you have your own home gym equipment already, you can use that, too.
Installation and Space Requirements
Both Tempo and Tonal require less space than a traditional home gym setup (if we're talking squat racks, weight plates, and all the good stuff).
Tonal doesn't take up any floor space at all, at least for the trainer itself. You will need floor space for the weight bench, workout mat, other accessories, and room to work out. Tonal recommends having the trainer installed in an area that'll allow for a 7-foot by 7-foot workout space with 7-foot-10-inch ceilings, but you can totally use Tonal in smaller spaces.
Tempo has stricter space requirements: You must set up the Tempo Studio in an area that allows you to work out with 6 feet of space between you and the Studio, otherwise, the 3D sensing technology won't work.
Workout Classes and Training
This is where most buyers will make their final decision. The workout experience is very different between Tonal and Tempo: Both machines provide ample opportunity for full-body workouts, but they go about it differently.
Because Tempo uses free weights, it's easier to do supersets, circuit work, and high-intensity interval training. My biggest—and only, really—gripe with Tonal is that it becomes cumbersome to adjust the arms up and down and side to side in order to target different muscle groups.
It can be equally annoying to adjust the spinlock-style weights when using Tempo, but I still think free weights allow for more versatility than the cable-style resistance on the Tonal.   
RELATED: Best Online Workout Programs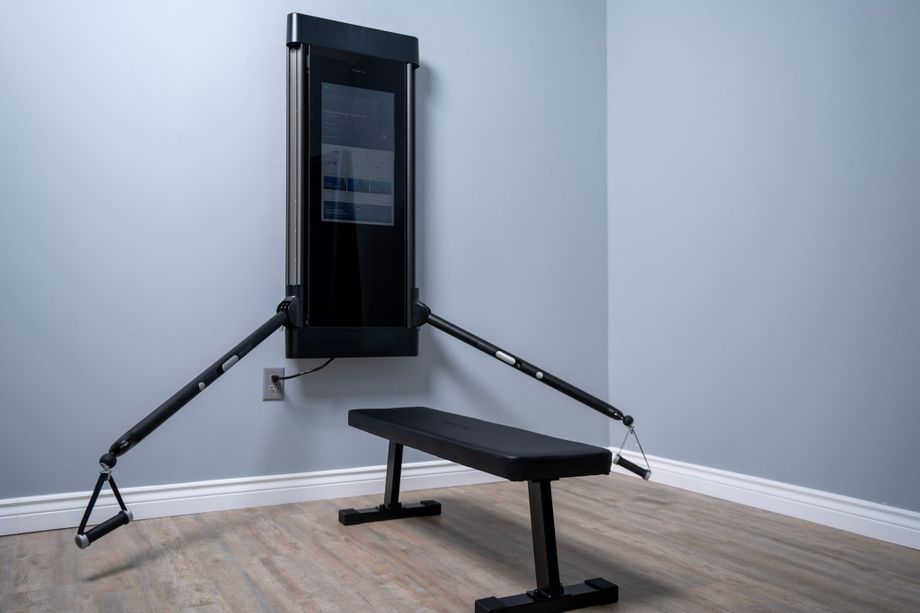 Also, I find it interesting that Tonal is marketed as the best home training system for strength, but the potential to build muscle is greater with Tempo. Tonal provides up to 200 pounds of resistance, which, yes, is more than enough for the average person.
However, with Tempo, you can use unlimited resistance in the form of free weights and still benefit from the tech features like technique corrections.
Both smart home gyms have massive libraries of on-demand workouts, plus a packed schedule of live classes. I found the energy of on-demand and live workouts to be pretty similar across the two machines—they very much emulate Barry's and Orangetheory vibes.
Design and Aesthetics
Some home gym owners might not consider looks in their buying decisions, but let's face it: Many of us want our home gyms to look absolutely sick. Those who plan to stick a smart home gym in the middle of their living room might pay extra special attention to design and aesthetics.
If I had to choose a winner for this category, Tempo would be an automatic champ. The A-frame design and timeless, muted colors are pleasing to the eye and won't seem out of place. Plus, most equipment stores inside of the cabinet so there's minimal clutter.
I personally think the Tonal looks a bit clunky on the wall, and it doesn't seamlessly blend into regular home decor like Tempo's sleek design does.
Subscription Terms
Tonal and Tempo both require monthly memberships to access workout content, which is essential for making use of the devices. Tonal's is $49 per month, and Tempo's is $39. If for some reason you want two Tonals or two Tempo Studios, you'll have to pay a separate membership fee for the second unit.
However, you can create multiple profiles with one membership. Tonal allows you to create unlimited profiles to use with one trainer. This means if you have a family of five, everyone can keep track of their own progress within their own profile.
Tempo, on the other hand, has a limit of six accounts per membership subscription. That's probably still plenty for the average household, though.
Pricing
Tonal's pricing is simple: The trainer costs $3,995 and the suite of smart accessories costs $495 on top of that. So, you're looking at $4,490 for the full package—which I recommend getting in order to get the most out of your Tonal.
Tempo offers tiers based on the amount of equipment that comes with the Studio frame. You can currently choose from three packages:
Tempo Studio Starter Package ($2,495): 5-millimeter workout mat, two 7.5-pound dumbbells, four collars, 75 pounds of weight plates
Tempo Studio Plus Package ($3,245): everything in the Starter, plus a barbell, two extra collars, competition plates, a heart rate monitor, and a folding weight bench
Tempo Studio Pro Package ($3,995): includes everything in the Plus, as well as weight plate storage, a folding squat rack, adjustable kettlebell system, and 45-pound plates
Then there's the Tempo Move, a tiny version of the Tempo Studio that uses your iPhone camera for the 3D sensing smart features, for $495. I don't think the Tempo Move can be placed into a direct comparison with the Tonal, though.
(Pssst: We have the best Tonal coupon and Tempo discount codes.)
Company Policies
Return policies, warranties, and customer service aren't the sexy things everyone wants to hear about smart home gyms, but they're definitely not something to glaze over. Ultimately, these factors can and should play a big role in your purchasing decision. They may or may not help in this case, though, considering Tonal and Tempo have very similar company policies.
Tonal
Tempo Studio
Warranty
Trainer: 1 year parts and labor, 2 additional years parts
Accessories: 1 year
Cabinet: 3 years
Barbells, collars, weight plates: 3 years
Other equipment: 1 year
Display screen: 1 year
Labor and installation: 1 year
Return Policy
30-day, full refund return policy
30-day, full refund return policy
Financing
As low as $63/month for 48 months with 0% APR, through Affirm
As low as $52/month for 48 months with 0% APR, through Affirm
Installation
White-glove delivery and installation
White-glove delivery and installation
Tonal vs. Tempo: Final Verdict
Not to beat a dead horse here, but I'll say it one more time: Tonal and Tempo are both good choices—different, but good. Here's a final look at some of the most important specs on the Tonal home gym and Tempo home gym to help you make your decision.
| | |
| --- | --- |
| Tonal | Tempo Studio |
| Best for: strength-focused trainees | Best for: all-around fitness enthusiasts |
| Starting price: $3,995 | Starting price: $2,495 |
| Subscription fee: $49/month | Subscription fee: $39/month |
| Callout tech feature: Digital resistance and smart accessories | Callout tech feature: 3D sensors and form feedback |
| Class type: on-demand and live | Class type: on-demand and live |
| Installation: Wall-mounted | Installation: Freestanding |
FAQs
To wrap up, here are some answers to commonly asked questions about Tonal, Tempo, and smart home gyms in general.
What is a smart home gym?
A smart home gym is any piece of fitness equipment that uses technology to help people reach their goals. Smart home gym systems usually come with tech features like rep counting, automatic progress tracking and workout logging, weight and workout suggestions, and live fitness classes. Some smart home gyms have two-way cameras that allow for personal training, or other technology that allows for personalized coaching.
Is Tonal or Tempo better?
It's tough to say that one of these smart gyms is better than the other. They're both high-quality products with innovative features—it all comes down to your preferences, needs, and fitness goals. We think Tonal is suited better to strength-minded exercisers, while Tempo is best for those who like free weights and trying out lots of different types of exercise. Tempo is also a better choice for those who don't want to mount anything to the wall.
What kind of workouts can you do with a workout mirror?
With a workout mirror or smart gym system like Tonal or Tempo, you can do a variety of workouts, including HIIT, yoga and pilates, cardio, bootcamp, bodyweight resistance training, weight training, stretching and mobility, and more.