We test and review fitness products based on an independent, multi-point methodology. If you use our links to purchase something, we may earn a commission. Read our disclosures.
When we are talking about squatting, we're typically talking about squatting with the best Olympic barbells, but in some cases, people may want to avoid a barbell squat due to chronic back pain. Other times, heavy squatters are looking to improve their squat with other variations to target specific muscle groups. Enter the belt squat, an effective yet bulky machine that can help target the glutes and hamstrings without adding stress to the back.
One such belt squat machine is the SquatMax-MD, designed to have a natural feel while squatting. This belt squat machine has been updated recently with a collaborative project with Titan Fitness, but how does this weight pin loaded belt squat stack up (pun intended) to the competition?
We got to test out this belt squat machine, and in our Titan Fitness SquatMax-MD review, we'll get into the finer details of this collaboration, and see if this squat machine is right for your home gym.
Thousands of Reps to Test Belt Squats
We take belt squat machines and other gym equipment through the ringer—plenty of workouts and exercises to get a true feel for the fitness equipment in aspects of construction, performance, stability, and other aspects listed in our equipment testing methodology. Garage Gym Reviews founder Coop Mitchell and GGR Everything lead reviewer Lindsay Scheele both tested the Titan SquatMax-MD, and gave their honest opinion on the product.
Our team of testers have performed thousands of squats collectively, on and off of squat machines. I myself, being a competitive weightlifter, have squatted for over two decades, with DIY belt squats, belt squat machines, and with a good old barbell. Since our team is composed of certified personal trainers, lifting coaches, and athletes, we know what to look for when looking at home gym essentials.
Titan SquatMax-MD Belt Squat
GGR Score: 4.1
Product Highlights
Vertical belt squat machine

Adjustable box squat seat

Band pegs

Transport wheels

Includes squat belt and carabiner
Pros & Cons
Pros
Free shipping
Financing options
Handles for Hatfield squats
Cons
Short warranty
Goes out of stock frequently
Bottom Line
Titan Squat Max MD offers a belt squat for home gyms that is vertically loaded with weight directly between your legs. It's built from 11-gauge steel and weighs 200 pounds. Titan offers free shipping and financing options.
A Quick Look at the Titan Fitness SquatMax-MD Belt Squat
This belt squat is one of the few collaborations that Titan Fitness has done, this time with Brian Henesey, original inventor of the SquatMax-MD Belt Squat. You can compare this updated version with the original in our SquatMax-MD Belt Squat in-depth review, but the main thing is that Titan refined the original to create a more high-end look and feel for a belt squat machine like this.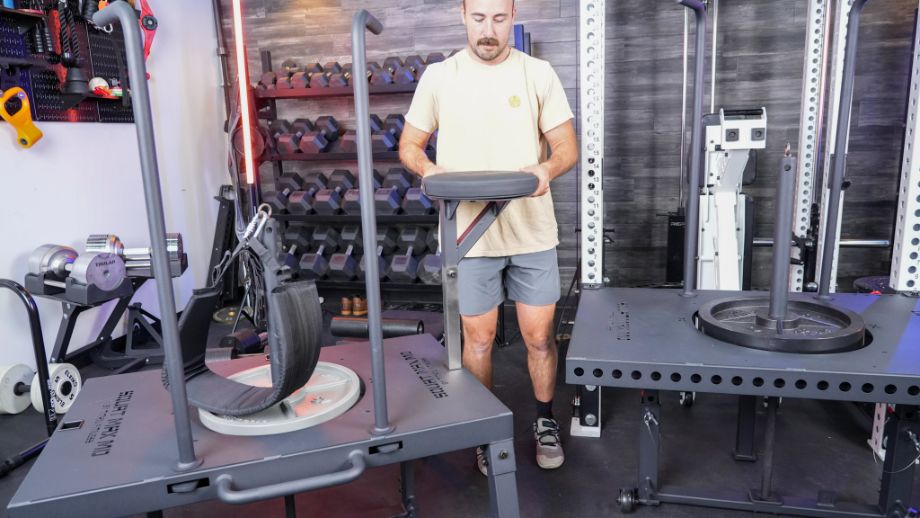 The SquatMax-MD is designed after the original belt squat created by Louie Simmons, which was basically just a hole in the floor, where you took a dip belt loaded with free weights and squatted, letting the weights travel through the floor's hole. What innovates it from the original design is that the loading pin of the belt squat has a guide rod that keeps the weights in place while allowing some freedom of movement side to side and forward and back.
"It allows you to have a natural-feeling belt squat that moves side to side, but not so much that it's unwieldy or unsafe," Coop says, adding, "This allows you to do a true vertical line of drive belt squat, which separates it from virtually every other belt squat on the market." Most other belt squats are lever-based or cable-based, which don't allow for freestanding vertical drive.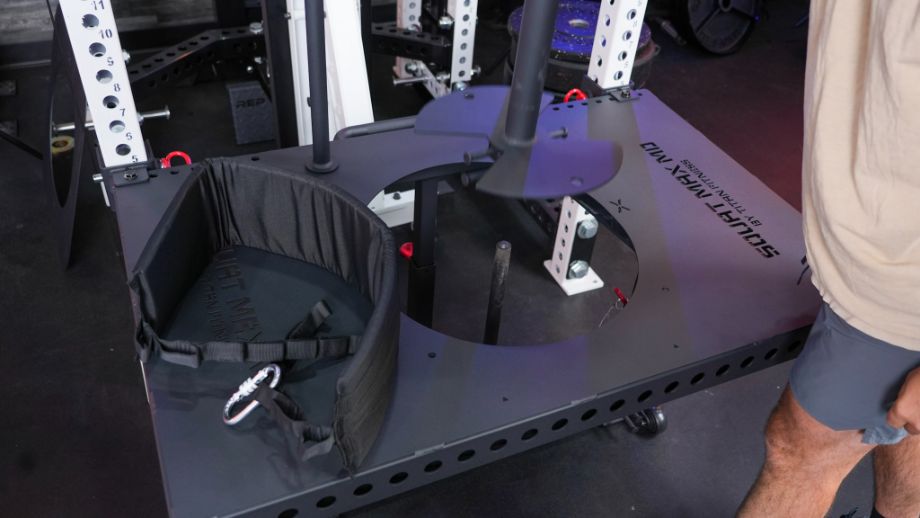 Other finer details help drive the quality of the SquatMax-MD up. All logos are laser-cut and there are no stickers on the product—a feature Coop loves. Additionally, the squat handles that lock the weight pin in place are knurled. "I've reviewed so many Titan products," Coop says, "and I've never been this impressed or positive on one of their products…This thing is good."
RELATED: Titan Leg Press Hack Squat Review
Before You Buy
Titan's version of the SquatMax-MD comes in two different designs, a standalone machine and a rack-mounted belt squat. The rack-mounted machine will fit on most any power rack, but Coop suggests getting the standalone if you plan on moving the rack attachment back and forth from your squat rack. Even with an updated kickstand, the belt squat is heavy, and you'll probably get annoyed moving it back and forth.
The standalone option also has a seat attachment to allow for box squats. The rack attachment doesn't have this feature, which left Coop scratching his head.
The belt squat includes a belt, and it's pretty high-quality. Most belt squats don't include them, and when they do, they're cheap, so the Titan belt was a nice surprise.
The base height for the belt squat is about 20 inches, which means you'll be doing your belt squats at about 20 inches off the ground. Be mindful of the ceiling in your home gym. If you're a taller athlete with a low ceiling, this may not be the ideal machine for you.
Video Review
Is the Titan Fitness SquatMax-MD Belt Squat Worth It?
Coop says this belt squat machine is worth the $1,499 price tag (or $1,299 for the rack-mounted SquatMax-MD) if you have the space and want a dedicated belt squat machine. Compared to other belt squats, this will have the best feel for squatting, although it may not have the overall versatility of other machines.
Take the Rogue Rhino Belt Squat for example. At $2,295, it has a hefty price tag, but the cable system of the belt squat can allow for a bit more versatility than the SquatMax-MD. The cable and pulley system can be set up for more than just squats and deadlifts, such as for lat pull-downs and rows even. The SquatMax-MD, while it'll feel better squatting, won't have quite the versatility of the Rhino.
On the budget side of price ranges, the Bells of Steel Belt Squat Machine costs $1,049 but is also a belt squat with a lever arm, which will shift the weight forward. As for space-saving belt squats, there are power rack attachments by REP Fitness and Fringe Sport for under $300.
RELATED: Fringe Sport Belt Squat Review
If you're looking for the best belt squat experience, though, there are few that rival the Titan SquatMax-MD. Lindsay rates the value a 4.5 out of 5, adding, "These other belt squats aren't great comparisons, as this is such a unique product. The design makes it one of the best belt squat machines out there." If you want a dedicated belt squat machine and you have the space in your home gym, then the SquatMax-MD is a great choice.
Great for:
People wanting a dedicated belt squat machine
Those who don't have space concerns in their garage gym
Those with back pain who struggle with barbell squats
Not recommended for:
Lifters wanting a more versatile belt squat
Anyone looking for a budget-friendly leg machine
Home gym owners who are tight on space or have a low ceiling
Titan Fitness SquatMax-MD Belt Squat Specs
| | | |
| --- | --- | --- |
| | Standalone Belt Squat | Rack-Mounted Belt Squat |
| Price | $1,499 | $1,299 |
| Weight | 200 lbs | 176 lbs |
| Base height | 20" | 20.75" |
| Footprint | 45" W x 41" D x 59.5" H | 48" W x 34.5" D x 60.5" H |
| Weight capacity | 1,000 lbs (belt), 1,300 lbs (weight pin) | 1,000 lbs (belt), 1,300 lbs (weight pin) |
| Material | 11-gauge HD steel | 11-gauge HD steel |
| Finish | Black powder coat | Black powder coat |
| Warranty | 1 year | 1 year |
Using the Titan Fitness SquatMax-MD Belt Squat
Unlike some leg press or cable machines, the SquatMax-MD feels true to weight—100 pounds will feel like 100 pounds. GGR lead reviewer Lindsay Scheele says about its weight and feel, "It feels very comparable in terms of feel of weight to a barbell squat. So if you back squat 300 pounds, you probably won't be getting much heavier than that with this belt squat."
RELATED: How to Squat Heavier, According to an Olympian
The inclusion of the guide rod to keep the weight pin under you during squats is a monumental design choice. I myself, having done DIY belt squats in the past for my Olympic weightlifting training (with wobbly boxes and weight benches), have had moments where the weight starts swinging too much and makes the exercise unsafe. The simple guide rod allows freedom of movement and a natural feel during your squat, but it keeps the weight under control.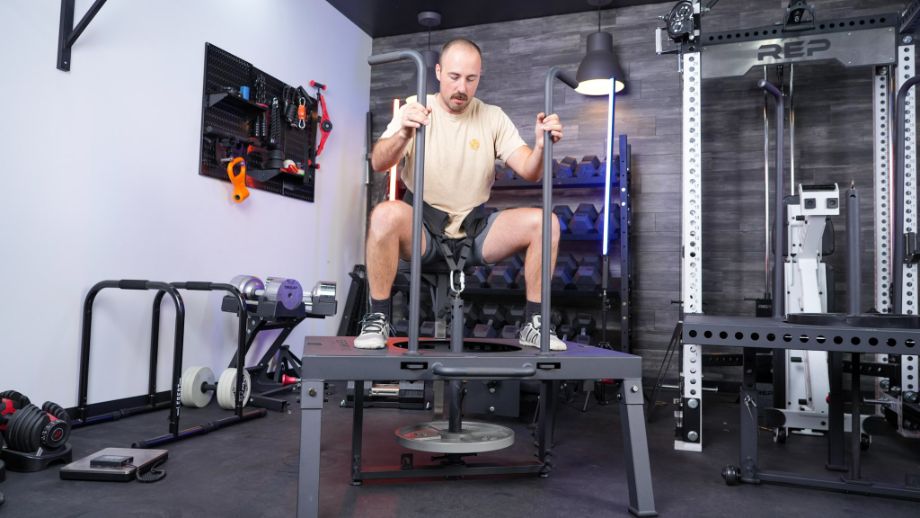 The 11-gauge steel tubing used on the SquatMax-MD has 1-inch holes to allow for attachments, which is exciting—except we don't have attachments for them yet. Coop likes this concept though, as over time, they'll release the things people are asking for. For now, the freestanding machine has a seat for box squats. Both versions also have band pegs for banded squats.
Durability and Construction
Unless you're an elite powerlifter, the weight capacity is going to be more than enough. The weight belt is rated to hold 1,000 pounds, and the weight pin is rated at 1,300 pounds, too. The 11-gauge steel used throughout the belt squat makes it a very sturdy machine, both in the freestanding and rack-mounted versions. Lindsay rates the stability of the belt squat a 4.5 out of 5.
The stance with 45-pound plates may be a bit narrow, which is why Titan has an adapter plate to allow for 25-pound plates and a narrower stance. In Coop's experience, though, the wider stance feels fine.
Care has been taken with finer details of the belt squat, including knurled handles (which Coop loves) and laser-cut logos, which led us to rate the construction a 4.5 out of 5. The entire machine is finished with a sharp black powder coating. One minor complaint Coop had was on the squat platform: he would've preferred a diamond plating to allow for more grip. However, he says, "It's a very minor issue; the powder coating is enough to where you won't be slipping while doing squats."
RELATED: What Is Barbell Knurling?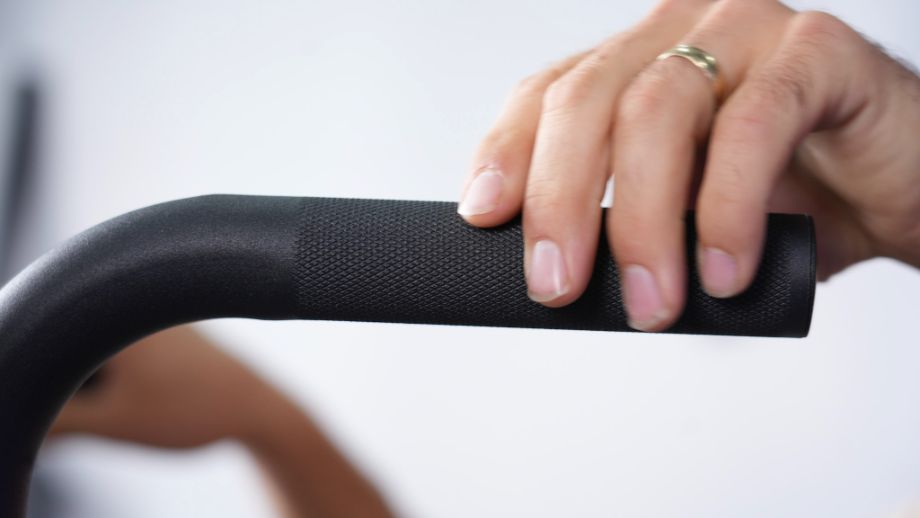 Included with the machine is a belt, which is rare, and even rarer when the belt is high-quality. This is the same multi-belt design that Brian Henesey made. "Rogue has a version of it that's one of my favorites," Coop remarks. "This Titan belt isn't as good as that one, but it functions the same, and to be free, I'd say it's a really great addition."
Footprint
Whether you go with the freestanding or rack-mounted belt squat, both will take up some real estate in your garage gym—around 4 feet by 3 feet. The dimensions are fairly similar between the two versions, with the rack-mounted version being just a little smaller to fit on a power rack. However, both will be bulky and take up space. Plus, when not in use, the rack-mounted belt squat will have to be stored, taking up just as much space as when it's attached to the rack.
Another thing to consider on these belt squat machines is that the platform height is 20 inches off the ground. If you're a taller athlete, you'll need your height plus 20 inches to be able to squat. If you have a low ceiling, this may not be a feasible product for you.
Standalone vs Rack-Mounted Belt Squat
If you're looking to get one of these belt squat machines, you'll have the burning question: Which version of the SquatMax-MD is better? Ultimately, it'll depend on the space you have in the gym and whether or not you have a squat rack, but in our opinion, if you have the space for the freestanding belt squat, it has a bit more value over the rack-mounted belt squat.
While the rack attachment can be great to maneuver onto your rack with a kickstand, it is also a bit bulky to move on and off the rack. "If you're planning on moving this in and out of your power rack a lot, you probably want to get the standalone version," says Coop.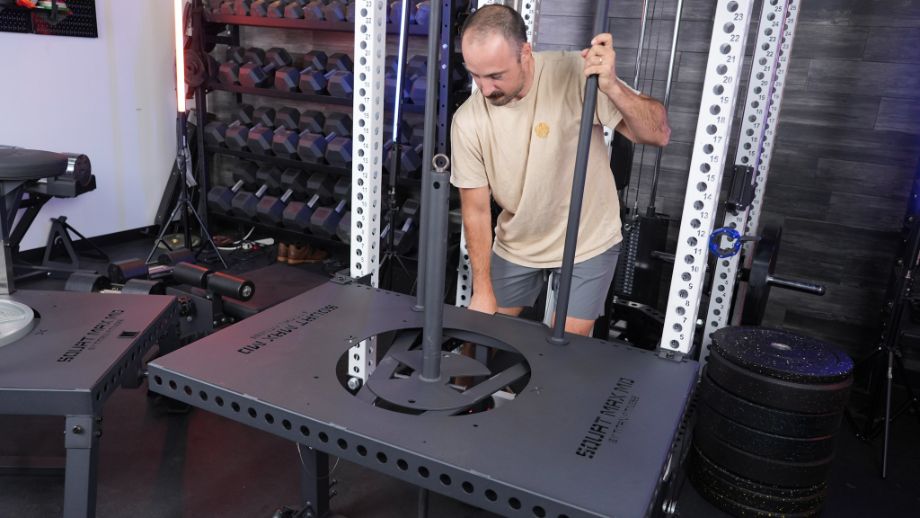 Another feature that sets the freestanding machine apart from the rack-attached version is the 1-inch attachment hole that allows for the adjustable vinyl seat, as well as future belt squat attachments. The freestanding SquatMax-MD is $200 more than the rack-mounted version, but ultimately the features and convenience will be worth it for most people.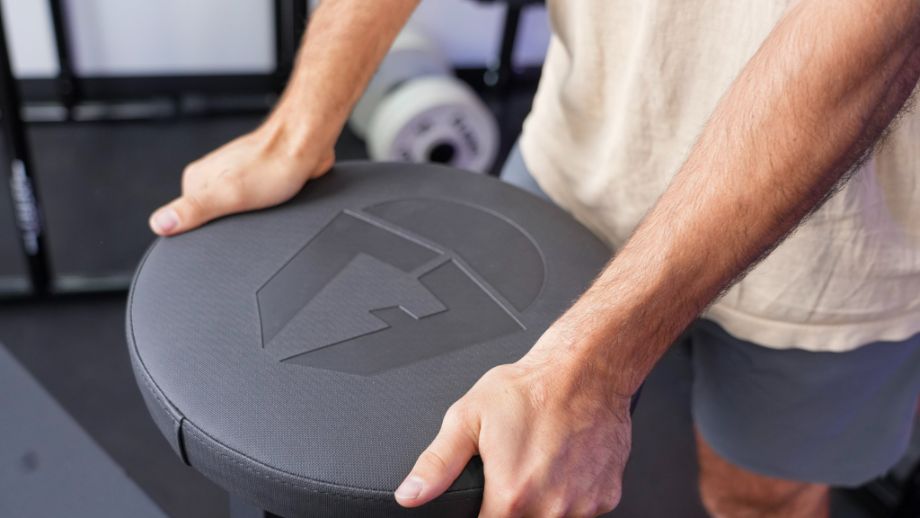 If you're looking for versatility, the rack-mounted version might supply it better than the freestanding version. Coop explains, "With the rack-mounted belt squat you could set it up for weighted pull-ups. You could maybe figure out a way to run a cable through it for lat pull-downs, too."
Titan Fitness SquatMax-MD vs Rogue Rhino Belt Squat
Rogue Rhino Belt Squat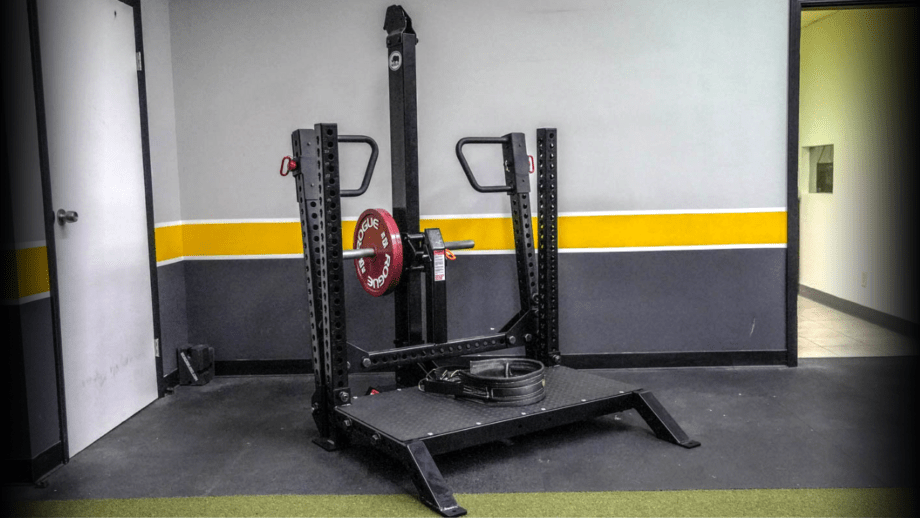 GGR Score: 4.6
Community Score: 3.1
Product Highlights
The freestanding version of the Rogue Monster Rhino Belt Squat (patent pending) requires no separate rack/rig for set-up, as the system includes a pair of 53.925" steel legs for mounting and two angled 3x3" front feet for platform stability.
Made in USA
Pros & Cons
Pros
The Rogue Rhino is the most versatile belt squat we've tested. The only belt squat that may be more versatile is the Westside ATP, however, it takes up twice as much space and costs over twice as much.
The size of the Rhino lends itself to working in just about any space from a garage gym to a commercial gym.
There are three versions available and thanks to it's drop-in nature, it can perform extremely well in a Monster Series Power Rack.
The same 3"x3" 11-gauge steel is used as the frame for the Rhino.
The price makes it one of the most budget-friendly versatile belt squats on the market.
The Rhino is one of the best engineered products we've tested from Rogue. There are an insane amount of custom parts.
The platform size is small enough to fit in most places, but large enough to be very useful. We were even able to stack rubber tiles on top and use it for step ups.
The platform is made of diamond plate that is then sprayed with a textured powder coat that allows your shoes to grip the floor well.
Eventually, we foresee the Rhino having multiple attachments like a lat pulldown.
The weight trolley is very smooth and because it's not uncoated metal like most systems have with guide rods, it doesn't need any lubing or maintenance.
The new belt squat belt that comes standard with the unit is great, although we still prefer the Spud INC Belt Squat Belt.
Cons
The assembly for the Rhino is pretty intensive. Here's what one user had to say, "The instructions are utterly pathetic but once you get it put together after the 5th attempt, the machine is awesome.
The Rhino can be a bit difficult for taller people to use. One user had this to say, "Our tall members need an additional height setting ( 1' higher ) on the middle horn position. Also, we added more quick links to the belt to make it easier to hookup."
Although squatting on the Rhino is nice, the SquatMax-MD is much better in that regard. However, the Rhino blows it away when versatility is taken into consideration.
Bottom Line
The Rogue Monster Rhino Belt Squat is by far the best belt squat we've tested. There are many contenders now on the market, however, the Rhino is the most versatile and offers the best value. We don't recommend lever based belt squats due to the sheering forces that occur on the knees as well as lower versatility. If you're in the market for a belt squat, the Rhino is what we recommend.
It's hard to compare the SquatMax-MD to another belt squat machine, as its design is so different from other machines. However, this comparison will be helpful in terms of versatility. When compared to the Rogue Rhino Monster Belt Squat, it really depends on what you're looking for in this machine: a natural squat feel, or more versatility in the machine.
Although both machines are big and will need space, the SquatMax-MD is a little smaller and lighter than the Rhino, making it more of a space-saver. Also, the price difference between the two might be enough to sway a customer toward the SquatMax-MD. The weight pin and guide rod of the SquatMax-MD also helps the feel of the belt squat feel much more natural than a pulley system or lever arm.
Where the Rhino excels is in its versatility. The cables and pulleys can allow for more exercises and variations to be performed than just a belt squat. Coop explains, "The SquatMax-MD can provide some versatility and variety, but it won't readily supply it like the Rogue Rhino can." With that said, both belt squats are great products, and we're fans of both. Which one would be better for your gym will depend on your floor space and your fitness goals.
Read more of our thoughts on this belt squat machine in our Rogue Rhino Belt Squat in-depth review.
| | | |
| --- | --- | --- |
| | Titan Fitness SquatMax-MD Belt Squat | Rogue Rhino Monster Belt Squat |
| Price | $1,499 | $2,295 |
| Weight | 200 lbs | 530 lbs |
| Base height | 20" | 7" |
| Footprint | 45" W x 41" D x 59.5" H | 53" W x 60.5" D x 78.5" H |
| Weight capacity | 1,000 lbs | Not disclosed |
| Material | 11-gauge HD steel | 11-gauge steel |
| Finish | Black powder coat | Not disclosed |
| Warranty | 1 year | Limited lifetime (welds and frames), 5 years (pulleys and cables) |
Customer Experience
Titan has pretty standard policies when it comes to their equipment: a 1-year warranty on all products sitewide, and 30-day returns. Although the 1-year warranty is a bit short for a large machine like this (especially when compared to other companies' policies), you can buy extended protection on your product through Mulberry.
For returns, you have 30 days from delivery to return the product, and items must be returned unused and in the original packaging. You'll be responsible for shipping costs, too, plus a 20% restocking fee.
The SquatMax-MD can be an investment at its price point. Fortunately, Titan Fitness does offer financing options through Bread Pay.
Ordering and Assembling the Titan Fitness SquatMax-MD Belt Squat
Ordering the SquatMax-MD is done through Titan's website with free shipping. It appears that any attachments for the machine (aside from the seat on the standalone version) are available on squatmax-md.com, including a chest-supported row attachment and hip thrust attachment. It's unclear whether Titan will begin building and selling these attachments themselves.
When it came to assembling the two versions of belt squats, it was two very different stories. They arrived in different packages, had different instructions, and our team definitely had a better time with one over the other.
"The freestanding belt squat came in a crate," Lindsay recalls. "You would need a couple of people to help move it. The instructions were clear, though, and setting up this machine could easily be done by one person."
On the other hand, the rack attachment was sent in two separate boxes. The instructions were unclear with this machine, however; numbers and bolts didn't line up quite how the directions explained. It left the GGR team to figure things out on the fly. Because of the difficulty, Lindsay rated the delivery and assembly a 3.5 out of 5.
Customer Reviews
There aren't very many customer reviews online of Titan's updated SquatMax-MD. The rack-mounted version has zero reviews on the Titan Fitness website, while the standalone belt squat has eight reviews. The reviews are overwhelmingly positive, averaging at 4.9 stars out of 5, but typically we'd want a larger pool of reviews before we give customer ratings much weight.
With that said, the reviews available as of this writing are largely positive, praising the belt squat machine for it's feel in use and the sturdy build of the machine. The most critical review was still a 4-star review. This customer had minor complaints about how close the band pegs were constructed and that the handles that lock in place wobble a little bit even though they're secure.
Final Verdict of Our Titan Fitness SquatMax-MD Belt Squat Review
Even on its first iteration, Coop was impressed with the SquatMax-MD and its innovative design, keeping the line of drive vertical and allowing natural side-to-side movement. Lindsay also gives the belt squat praise, saying, "Specifically for squatting, this is the best-feeling belt squat in the world. It feels so natural—seriously the best."
Although it may not have the versatility of other belt squat machines, if you're wanting the best feel for a belt squat, and you have the budget and floor space in your home gym, then the updated Titan Fitness SquatMax-MD Belt Squat is definitely worth a look.
Titan Fitness SquatMax-MD Belt Squat Rating
Titan Fitness SquatMax-MD Belt Squat
Named as one of the best belt squat experiences in the world, find out if this machine is right for you in our Titan Fitness SquatMax-MD review.
Product Brand: Titan Fitness
Product Currency: USD
Product Price: 1399.99
Product In-Stock: InStock
Titan Fitness SquatMax-MD Belt Squat FAQs
What's the difference between a belt squat and a regular squat?
A traditional barbell squat places the weight of a bar and plates on the shoulders and upper back of an athlete, whereas a belt squat puts a belt with weight and resistance loaded at the hips. This shift in where the resistance is felt can help isolate the lower body of a person—particularly the quads, glutes, and hamstrings—while also alleviating some pressure or distress in the lower back and knees.
Are belt squat machines good for the knees?
Belt squat machines can be good for those athletes with chronic pain—particularly in the back and knees. Because the weight is distributed at the hips and not the back, it can reduce strain on those areas, allowing those that typically experience chronic back or knee pain to still be able to squat heavy.
What are the dimensions of the SquatMax-MD?
The standalone version of the Titan Fitness SquatMax-MD Belt Squat is 45 inches wide, 41 inches deep, and 59.5 inches high. The platform is 20 inches off the ground.