We test and review fitness products based on an independent, multi-point methodology. If you use our links to purchase something, we may earn a commission. Read our disclosures.
People typically associate food delivery with greasy takeout or pizza, and while I'm not one to shy away from an occasional Popeye's indulgence, I can't help but wonder what the world would be like if "delicious meals" became synonymous with "healthy eating" instead of "deep-fried."
RELATED: Best Healthy Fast Food
Turns out, there are plenty of companies interested and invested in that idea. Take it from the best salad delivery services, which aim to make weekly meal prep heavily plant-focused—and you save time while doing so. These companies also take salad from bland diet food to flavorful, rich, exciting meals. A well-balanced salad is a wonderful way to pack a ton of nutrients, protein, and healthy fats into your day.
Ahead, we look at five salad delivery services and rate them according to 13 criteria, from price per serving to order flexibility to ingredient quality and portion sizes. We also talked with registered dietitian Perry Nix to fully understand the good, the bad, and the neutral about each of these services.
RELATED: Best Meal Delivery Service
Medical disclaimer: This article is intended for educational and informational purposes only. It is not intended as a substitute for medical advice. For health advice, contact a licensed healthcare provider.
Best Salad Delivery Service 2023
Best Salad Delivery Service Overall: Hungryroot
Good for: Online grocery shopping and meal delivery with a single subscription
Hungryroot is a two-in-one delivery service that allows you to order grocery items and meal kits or prepared meals all at once. The service begins with a very thorough quiz, which product tester and GGR Head of Content Kate Meier, CPT, USAW-L1, CF-L1, admits can be a bit confusing, because it's unclear at first what's going in your box. She rated Hungryroot with a score of 3 out of 5 stars for setup because of this, but she quickly learned to love the service.
RELATED: Best Meal Kits
With Hungryroot, you can build your box a la carte with groceries or meal kits only, as long as you reach the box minimum of $60. For salad-building purposes, we recommend the grocery items first and foremost, although Hungryroot does have some meal kits that feature salads as the main course.
Speaking of the main course, Kate was more than happy with all of the meals she tried, awarding Hungryroot 5 out of 5 points for taste and 4.5 points for ingredient quality. She says the meals were "restaurant quality" and "everything is so fresh."
Registered dietitian Perry Nix says, "Hungryroot helps you find the best plan for your dietary needs and preferences. They include groceries and recipes made without common food allergens like soy, nuts, shellfish, and eggs, which is hard to find in other meal service plans."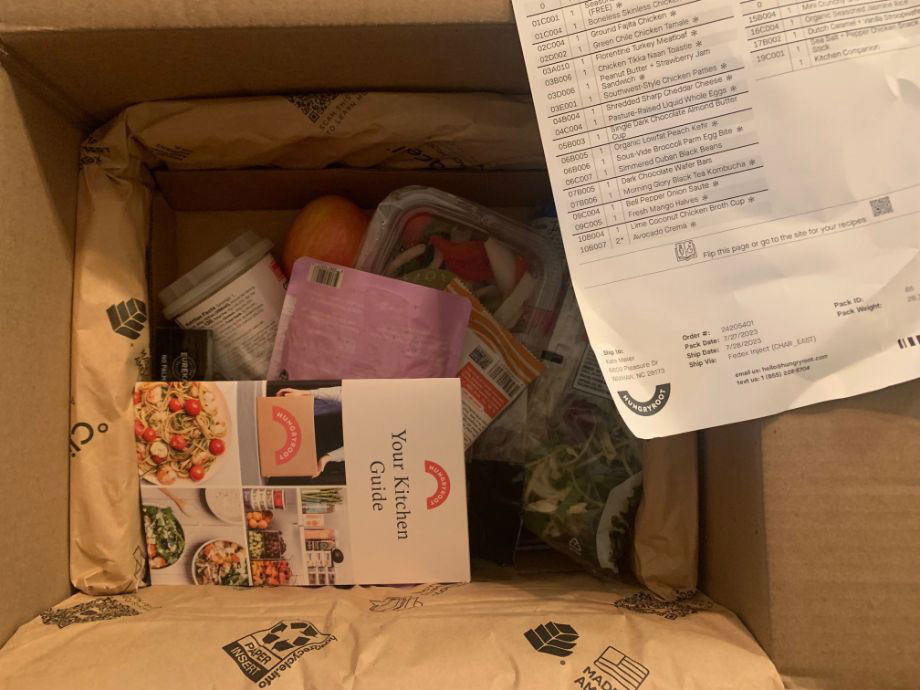 Additionally, Perry notes that the grocery options include a lot of plant-based meat substitutes, such as tofu sausage crumbles, which can help add protein to vegetarian salads.
RELATED: Hungryroot vs HelloFresh
| | |
| --- | --- |
| Price per serving | About $10 |
| Type (meal kit or prepared) | Meal kit and groceries |
| Meals per week | Up to 8 |
| Delivery area | Contiguous U.S. |
| Examples of meals we tried | Seared Chicken Breast and Corn Black Bean Rice Bowl, Everything Chicken Quesadillas, All-in-One Chicken Burrito Bowl, Turkey Meatloaf and Sweet Kale Salad |
Best Organic Salad Delivery Service: Green Chef
Good for: Organic produce and cultural palates from Mediterranean to Thai to Italian
Green Chef focuses on organic eating, and the entire service is USDA Certified Organic, which is really tough to find. In fact, to our knowledge, Green Chef is the only fully certified organic meal delivery service available in the U.S.
RELATED: Green Chef Reviews
"In addition to being certified organic, Green Chef's paleo and keto meal plans are also certified gluten-free," says Perry Nix, RD, LD. "This means they're safe for people with celiac disease and anyone with gluten sensitivities."
Unfortunately, this makes Green Chef one of the more expensive options, with prices per serving leveling out around $13. Nicole Davis, product tester, certified nutrition coach, and GGR senior editor, found Green Chef to be a bit expensive for what it is, rating it with 3 out of 5 points for pricing. For individuals who are looking for certified organic ingredients, especially produce for salads, the price will be worth it.
Green Chef's salad selection includes dishes like Creamy Cilantro Chicken Salad, Greek Salad with Crunchy Pita, and Thai-Spiced Chicken Salad, plus "salad-ish" meals such as Hoisin Mushroom and Edamame Bowls and Baja Cauliflower Bowls.
There is, of course, a massive selection of meat-grain-and-side meals, too. A favorite of product tester Nicole was the Monterey Jack Cheese-Smothered Chicken. After trying several meals from Green Chef, Nicole gave the service 4.5 out of 5 points for taste and ingredient quality but 3 out of 5 for portion size, noting that although the meals were yummy and fresh, she was left feeling hungry more than once.
See our top picks for the best organic meal delivery.
| | |
| --- | --- |
| Price per serving | About $13 |
| Type (meal kit or prepared) | Meal kit |
| Meals per week | 3 to 4 |
| Delivery area | Most of the contiguous U.S. |
| Examples of meals we tried | Monterey Jack Cheese-Smothered Chicken, French Toast, Southwest Pork Tenderloin |
Best Gourmet Salad Delivery Service: Sakara Life
Good for: Splurge-worthy gluten-free salads and meals with a focus on overall wellness
Sakara Life is a meal delivery service with optional virtual health and nutrition coaching. The menu features a range of gluten-free, dairy-free meals with names like Youth & Beauty Salad, H20 Glow Salad, and Full Heart Brassica Bowl—along with some less woo-woo names like Acorn Squash Salad.
RELATED: Daily Harvest vs Sakara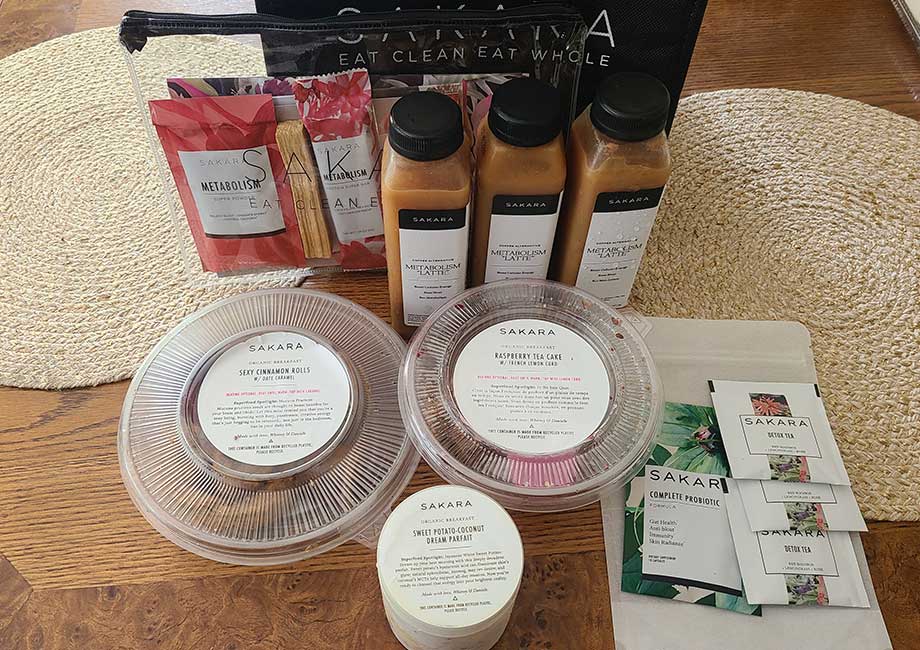 Despite the eyebrow-raising names, Sakara Life food really is good, says product tester and GGR editor Frieda Johnson. She rated Sakara with 5 out of 5 points for taste. Frieda follows a strict gluten-free diet, so she was happy to have a menu she didn't have to carefully filter or sift through, knowing all of the meals are made sans gluten.
RELATED: Best Gluten-Free Meal Delivery
Unfortunately, Frieda wasn't impressed with the portion sizes, giving Sakara just 1 out of 5 points for this category. She says she needed extra meals on the days she ate Sakara meals.
Perry Nix, RD, LD, likes that "Sakara Life strives to create colorful meals to ensure they're packed with vitamins, minerals, and essential nutrients. Each meal includes plant-based protein to promote satiety, build lean muscle, and enhance metabolism."
However, Perry adds, "When you place an order with Sakara Life, your meals are selected for you based off the weekly menu," so you don't get a lot of flexibility with this service.
Ultimately, we'd recommend Sakara Life to someone who follows a gluten-free diet and is willing to splurge on complex, wellness-oriented meals and salads, despite the small portion sizes.
For more, read our in-depth Sakara Life reviews.
| | |
| --- | --- |
| Price per serving | Starts at $27 |
| Type (meal kit or prepared) | Prepared meals |
| Meals per week | Up to 15 |
| Delivery area | Contiguous US |
| Examples of meals we tried | Sexy Cinnamon Rolls, Sweet Potato-Coconut Dream Parfait, Raspberry Tea Cake |
Salad Delivery Service on a Budget: EveryPlate
Good for: Yummy meal delivery that won't thin out your wallet
With today's grocery prices, organic, produce-heavy diets aren't the only ones that threaten to make a dent in your bank account. Thankfully, there are still some companies out there striving to make food affordable. One of those is EveryPlate, which regularly appears on our guides to the best meal delivery services.
"EveryPlate is one of the most affordable meal kits available," says Perry Nix, registered dietitian. "In today's financial climate, groceries are expensive, and EveryPlate could help you save money on food. Most ingredients are delivered fresh in their whole-food form with some pre-made sauces and seasonings. I find that the fresh ingredients really improve the aroma and taste of the meals."
EveryPlate has a rotating weekly menu, with some salad options being Chicken Cobb Salad, Blackened Shrimp Salad, Sweet Potato Harvest Salad, and Cajun Steak Salad with Creamy Blue Cheese. Entrees from EveryPlate often come with side salads, too: Shrimp Quesadillas and Sweet Kale Salad, plus Chicken Quesadillas and Caesar Salad, are some options I've seen on the menu.
Erin Chancer, product tester, certified nutrition coach, and GGR senior editor, rated EveryPlate with 4 out of 5 points for taste, variety, and portion size, noting that two servings was typically enough for her and her partner with some leftovers.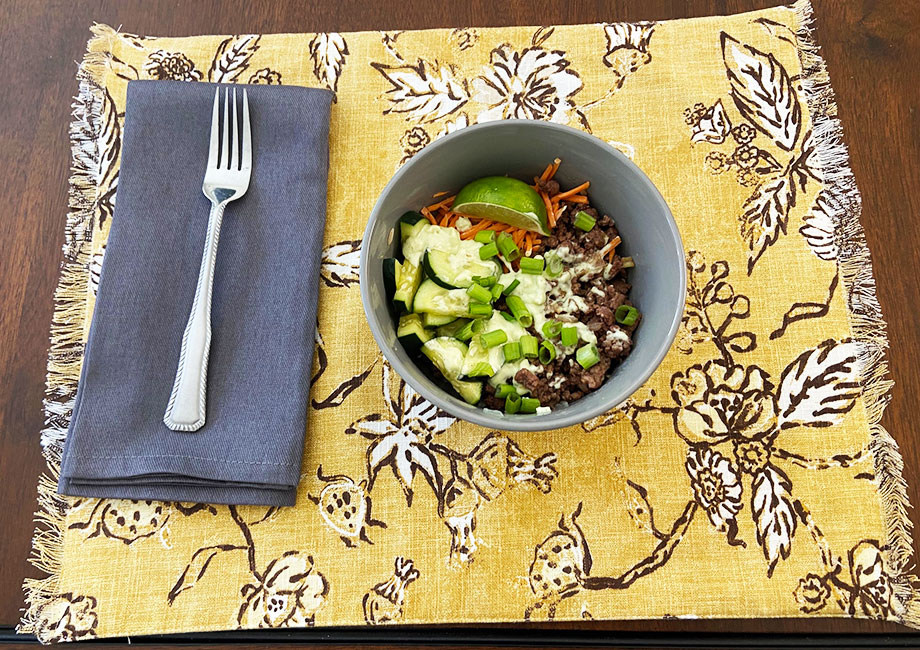 Erin did have a couple of callouts, one being that, on more than one occasion, the chicken breast delivered with the box went bad quickly. Another callout is that allergy warnings are not listed on the recipe cards or on the website, so we don't recommend this service to people with food allergies or restrictions.
Looking for more budget-friendly meals? Check out our guide to the cheapest meal delivery services.
| | |
| --- | --- |
| Price per serving | Starting at $4.99 |
| Type (meal kit or prepared) | Meal kit |
| Meals per week | Up to 6 |
| Delivery area | Continental U.S. (includes Alaska but not Hawaii) |
| Examples of meals we tried | Southwest Pork Flautas, Beef Banh Mi Bowls, Crispy Buffalo Ranch Chicken with Mashed Potatoes, Chicken Sausage and Kale Soup, Beef and Black Bean Chili, Loaded Pork Potato Wedges |
Dairy-Free Salad Delivery Service: Daily Harvest
Good for: A la carte salads, smoothies, and more with a focus on vegan and dairy-free ingredients
You may know Daily Harvest as a smoothie delivery service, which it is. However, Daily Harvest also offers a selection of salad-like meals, namely the Harvest Bowls, which feature an array of grains and vegetables.
Examples include Spinach and Shitake Grits, Butternut Squash and Kale Shakshuka, Kalamata and Artichoke Fonio, and Sweet Potato + Wild Rice Hash. Daily Harvest's focus on plant-based "superfood" plants makes it a great choice for people on the hunt for veggie-packed meals delivered to their door.
RELATED: Best Dairy-Free Meal Delivery
I tested Daily Harvest, and, truth be told, I was not impressed with the flavor profile of anything but the smoothies. I tried a couple of Harvest Bowls and found that I needed to dress them up with hot sauce, spices, cheese, or other items I had at home, so I rated Daily Harvest with 3 out of 5 points for taste.
I also rated Daily Harvest with 3 out of 5 points for portion sizes, because they are small and don't include much protein. As an active person, I'd consider the Harvest Bowls and other items to be more of a snack than a meal, unless I added a chicken breast or something.
Registered dietitian Perry Nix agrees, saying, "Although packed with nutrients, most of their smoothies and bowls lack a sufficient amount of protein or calories. Consider them snacks rather than meals, or you may find yourself feeling hungry again quickly."
Perry does appreciate Daily Harvest's emphasis on sustainable agriculture and biodiversity, which she says "promotes more nutrient-rich soil and is better for the planet."
| | |
| --- | --- |
| Price per serving | $5.99-11.99 |
| Type (meal kit or prepared) | Prepared |
| Meals per week | 9, 14, or 24 |
| Delivery area | Most of the continental U.S. |
| Examples of meals we tried | Smoothies, Mulberry Dragon Fruit Harvest Bowl, Flatbread, Rice Bowls |
Other Salad Delivery Services We Researched
Aside from the usual suspects—HelloFresh, Blue Apron, Sunbasket, Home Chef, and other popular meal delivery options—we did some research on salad-specific meal services. We haven't tried the following yet, but felt they were worth mentioning for our salad aficionado readers.
Farmer's Fridge
Farmer's Fridge is a delivery-service-no-more. While the company once offered a weekly menu with home delivery, Farmer's Fridge now stocks vending machines with whole-food meals made of quality ingredients. You can find Farmer's Fridge "Smart Fridges" around cities, in office buildings, in hospitals and airports, and on college campuses.
Gardencup
Gardencup, true to the name, delivers veggie-packed salads in cups. This might actually be the most veggie-licious prepared meal delivery service out there. You can choose salads with protein or vegetarian salads; Gardencup also offers mini salads and "power bowls," similar to pasta salads. The nutritious meals are delivered in reusable containers, although they unfortunately aren't dishwasher- or microwave-safe. They also offer chia puddings and dips. You can filter for various dietary preferences and choose from weekly or biweekly delivery. Gardencup has a strong focus on minimizing food waste, which is refreshing to see.
Urban Remedy
Certified B Corp, Urban Remedy is similar to Farmer's Fridge in that there are "stations" that function like vending machines. You'll find them from Brooklyn, NYC, to San Francisco at Whole Foods Markets and other grocery stores, among other locations. Urban Remedy also partnered with Amazon, Instacart, Fresh Direct, and Good Eggs to bring their high-quality, fresh ingredients and ready-to-eat meals to doorsteps.
How We Picked and Tested the Best Salad Delivery Services
Our top picks aren't arbitrary. Our team of certified nutrition coaches, personal trainers, and athletes spent several weeks testing meal delivery services and rating them according to 13 criteria. The following are just a few of the factors we used in our methodology.
Price Per Meal
We rated the services on a spectrum, awarding more points for cheaper portions and less points for more expensive portions. Our scale is as follows:
To get a 1, $16 or more per meal
To get a 2, $14-16 per meal
To get a 3, $10-14 per meal
To get a 4, $8-10 per meal
To get a 5, less than $8 per meal
Ease of Prep and Cleanup
A meal delivery service should make your life easier, not harder. That's why we included preparation and cleanup in our 13-point testing methodology. Meal services that required a lot of time spent preparing and cleaning lost points compared to those that made mealtime easier than cooking from scratch.
RELATED: Prepared Meal Delivery
Portion Sizes
A meal is only as good as it is filling. Our product testers paid attention to the portion sizes, noting if meals left them hungry, filled them up, or were too much (it was almost never the latter).
Meal Options
Whether you eat a low-carb, vegan, pescatarian, keto, or paleo diet, your meal subscription should cater to your needs and preferences. During our testing, we checked each meal delivery service for filtering options to see how easy (or not) it was to find meals that match your lifestyle. Additionally, we took note of the number of meal options and variety because no one wants to be bored with their diet.
Benefits of Salad Delivery Services
Meal delivery services in general come with many benefits. Here are some of the top benefits of salad delivery services.
Quick and Easy
With salads, there is little preparation needed. Some of our recommendations for the best salad delivery service include pre-chopped ingredients and pre-portioned toppings, so all you have to do is serve and eat. Others may require some chopping or slicing, but it's still quicker than making a hot meal from scratch.
Nutritious and Filling
Salads are nutrient-dense and filling by nature, since they typically feature a bulk of greens, vegetables, grains, and protein. Additionally, the fats found in dressings, such as those from olive oil, provide sustained energy throughout the day.
RELATED: High-Protein Vegetables
Might Save You Money
Meal delivery services may seem expensive at first glance—and, true, some are more expensive than grocery shopping on your own. However, even the more expensive options present the opportunity to reduce food waste, thereby saving you some cash. Meal delivery services also tend to be much cheaper than eating in restaurants or ordering takeout. Plus, lots of these services offer steep discounts with your first order.
Salad Delivery Service FAQs
Is there a healthier alternative to HelloFresh?
HelloFresh is as healthy as you make it: You're in charge of choosing your meal plan and add-ons. Depending on your dietary needs and your definition of healthy, sure, there may be options you consider to be healthier than HelloFresh. Our guide to the best healthy meal delivery service can help you choose a nutritious meal delivery service.
What comes in a Green Chef box?
What comes in your Green Chef box depends entirely on what you choose to put in it. Your box will reflect the meals you select before checking out. What you do know is that your Green Chef box includes organic ingredients.
Are salads really good for you?
Salads, by nature, are packed with vitamins and minerals thanks to the leafy greens and toppings like chickpeas, nuts, or even apples and strawberries. That said, salad dressings are known for being not-so-healthy. Toppings like BBQ sauce, ranch dressing, and caesar dressing are generally high in calories and/or salt, sugar, or fat. This is not to say that dressing makes a salad inherently unhealthy, but it's wise to check the nutrition facts label to ensure the dressing matches up with your needs and goals. If need be, making your own salad dressing is pretty easy! Oils and vinegars make for great bases, and experimenting with citrus juices and spices can be really fun.