We test and review fitness products based on an independent, multi-point methodology. If you use our links to purchase something, we may earn a commission. Read our disclosures.
Protein coffee: Good idea or just a silly trend? As a certified nutrition coach and personal trainer, I'm the first to admit I'm a skeptic of all health and wellness trends, but protein coffee is actually a pretty genius idea.
Adding the best protein powder to your coffee is an easy way to add more protein to your morning and get your caffeine fix while you're at it. Let's take a look at what protein coffee is, how to make it, and tips for a yummy beverage.
RELATED: High-Protein Foods for Muscle-Building
What Is Protein Coffee?
Protein coffee—affectionately nicknamed "proffee" by fans—is simply the combination of protein powder and coffee. It's a fun way to add some extra protein and nutrients, such as amino acids, to your day. Pair with a couple of scrambled eggs and fruit, and you've got a balanced, high-protein breakfast!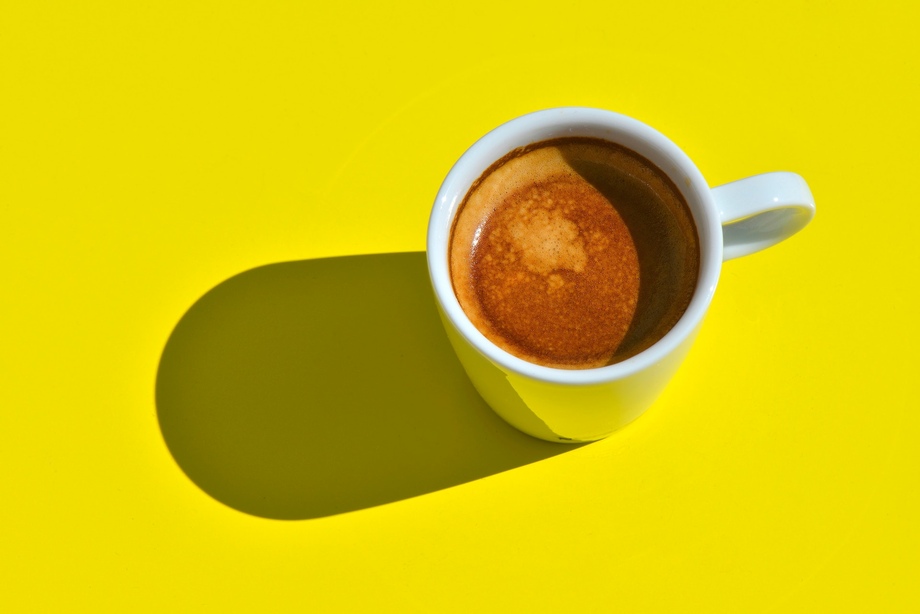 How to Make Protein Coffee
You can make protein coffee in whatever way satisfies your cravings. Many people just like to add a scoop of their favorite whey protein powder to their morning coffee or espresso drink.
Others like making coffee protein shakes, using a blender to mix cold brew coffee, casein protein for a richer texture, and even ingredients like peanut butter or oats.
Protein Coffee Recipes
Need ideas? I've got you covered. You can alter all of these recipes to taste and to dietary needs. For instance, if you follow a gluten-free diet, whey protein powder may be a better option over some plant-based protein powders. If you require a dairy-free diet, go for plant-based instead of whey.
RELATED: Plant-Based Protein Powder Vs Whey
You can also experiment with the protein-to-coffee ratio to find out what best suits your tastes.
Collagen Iced Coffee
One of the benefits of collagen protein powder is that it dissolves nicely into cold water, so if you like cold coffee, this might be the way to go. Simply add a scoop of collagen powder to your favorite bottled coffee, as well as a splash of almond milk or oat milk for a creamy texture. Just be aware that collagen is missing the essential amino acid tryptophan, so it doesn't technically count toward your total grams of protein for the day.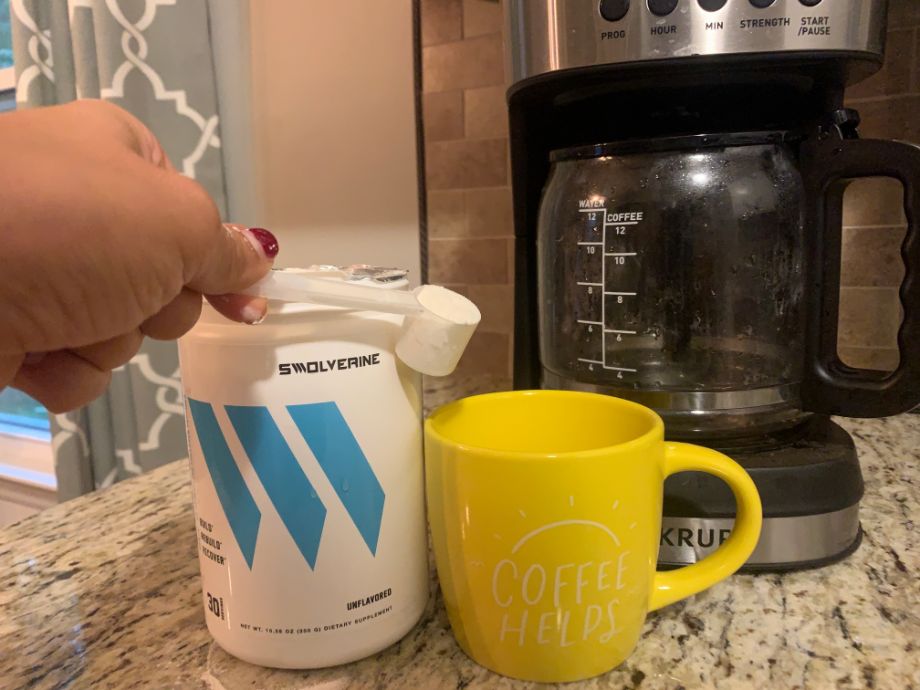 This recipe as-is might be too bitter for people who like sweet coffee, so a splash of creamer or a pinch of sugar can reduce the bitterness. Alternatively, I really like adding honey or maple syrup to this recipe—just warm it a bit so it thins and mixes more easily into the coffee mixture.
See our top picks for the best collagen supplements.
Vanilla Oat Milk Protein Latte
This one might become your new favorite coffee drink. All you need is oat milk, strongly brewed coffee or a shot of espresso, and vanilla protein powder. Heat up 6 to 8 ounces of oat milk in the microwave for about 30 seconds. Add a scoop of vanilla protein powder and mix with a frother or immersion blender until blended and foamy. Pour your coffee or espresso over the mixture and stir lightly to mix.
Since you're using sweetened vanilla protein powder in this recipe, it's already pretty decadent. However, you can always add more milk or a pinch of sweetener if needed.
Vegan Mocha Coffee
Grab your favorite vegan protein powder, ideally unflavored or a neutral flavor like vanilla, and a dark chocolate syrup for this one. Brew a cup of joe, add a scoop of the protein powder and about a teaspoon of chocolate syrup, and blend with a frother. You can also make this one by using a chocolate plant-based protein powder instead of using a syrup.
To cut the bitterness and make the drink creamier, add a splash of your favorite vegan milk, such as oat milk, almond milk, or—my favorite—cashew milk. 
Keto Instant Coffee
In a time crunch? Use instant coffee and coconut MCTs1 to make a keto coffee drink. In a shaker bottle, mix hot water, a packet of instant coffee, MCT oil or powder, and protein powder. Shake vigorously for 30 to 60 seconds and pour into a mug (or drink it from the shaker bottle if you need to take it on the go).
Those with a sweet tooth will definitely need to add something to reduce the bitterness of this recipe. Any type of sweetener you like, artificial or natural, will work. If you're using a vanilla protein powder or similar that's already sweetened, you can probably skip the extra.
RELATED: Best Keto Protein Powder
Is Protein Coffee Healthy?
How healthy your protein coffee is really depends on what type of protein powder you use and what else you put in your coffee. For instance, adding an unsweetened, unflavored protein powder to black coffee just gives you high-protein coffee—so yeah, I'd say that's healthy.
But using a coffee creamer with loads of added sugar doesn't make the most nutritious concoction. (That's not exclusive to protein coffee, though.)
However, healthy is a somewhat subjective term and varies based on people's beliefs, cultural heritage, dietary needs and restrictions, and tolerances. For example, some individuals can't consume artificial sweeteners or alternative sweeteners like stevia, while others have no problem with those ingredients.
RELATED: Best Protein Powder for Sensitive Stomachs
Potential Downsides of Protein Coffee
The main drawback here is that protein alters the texture and taste of your coffee. If you really love coffee the way it is, you may want to skip proffee and have your coffee and protein powder separately. 
Additionally, some protein powders don't dissolve as well as others, so you may have to experiment a bit with different brands to see what works for you. Finally, powders sweetened with sugar alcohols or artificial sweeteners may produce a noticeable sugar-free aftertaste.
Also, I should note: Protein coffee is not a meal replacement. Just like a scoop of protein powder in water isn't a meal replacement, neither is a scoop of protein in coffee. If you make a protein smoothie out of it with, say, some rolled oats and peanut butter, then you have a balanced snack with carbohydrates, fats, and protein.
RELATED: Protein Smoothie Recipes
Protein Coffee: Final Thoughts
Protein coffee is a simple and fun way to add more protein to your day. If you don't like the taste of protein powder on its own with water or milk, coffee can help mask the taste. However, beware that not all protein powders dissolve well in hot liquids. You may want to try cold protein coffee or use a shaker bottle to make a sort of "shaken protein espresso" since protein typically mixes better in a shaker than with a spoon.
Protein Coffee: FAQs
Is it OK to mix protein with hot coffee?
Yes, you can mix protein powder with hot or cold coffee. Just know that protein powder may clump more in hot liquids than in cold liquids. Try using a powerful frother or immersion blender, or shake it all up in a blender bottle to achieve a better texture.
Is protein coffee low-carb?
Yes, protein coffee is just protein powder and coffee, so it only contains a small amount of carbs per serving. The exact amount of carbohydrates depends on the protein powder you use. 
What is high-protein coffee?
High-protein coffee refers to coffee mixed with protein powder. 
References
Cleveland Clinic. Is MCT Oil Worth the Hype? 2022(09);28