We test and review fitness products based on an independent, multi-point methodology. If you use our links to purchase something, we may earn a commission. Read our disclosures.
With so many options on the market, it can be difficult to find the best adjustable dumbbells for your home gym. Among other things, you have to find ones that go to a weight that's heavy for you, are easy to adjust, can last a while, and fit your budget.
When it comes to those qualifications, finding a winner in the battle of PowerBlock vs Bowflex becomes even more difficult. There's so much to like about both dumbbell sets, and while they have some similarities, there's a lot that sets them apart as well. We've recommended both in the past, but for different reasons and people.
If you're curious which one we think works best for you, read on to find out.
Close to 20 Adjustable Dumbbells On Our Weight List
We've been testing adjustable dumbbells for close to 10 years, and have tested nearly 20 different models ranging from quick adjustable weights like the NÜOBELL Adjustable Dumbbells, to loadable options like the Rogue DB-15 Loadable Dumbbell, and even ones you can find on Amazon. We've used them not just in our capacity as fitness enthusiasts and product testers, but as certified personal trainers, CrossFit coaches, triathlon competitors, and collegiate athletes.
In other words, we're pretty qualified to talk about what makes a great adjustable dumbbell, and what one that's just OK looks and feels like. Plus we have Coop, who's been talking about exercise equipment for what seems like ages.
Expandable Weight Set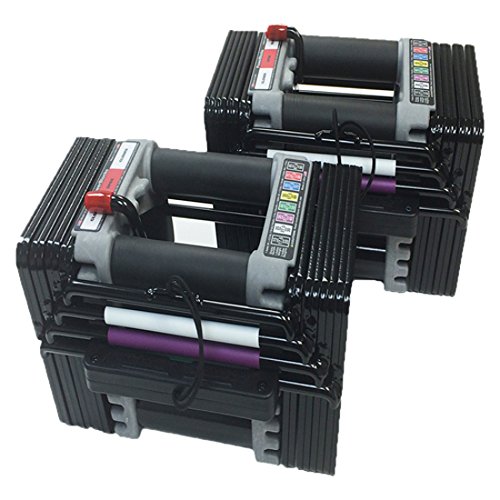 The Affordable Option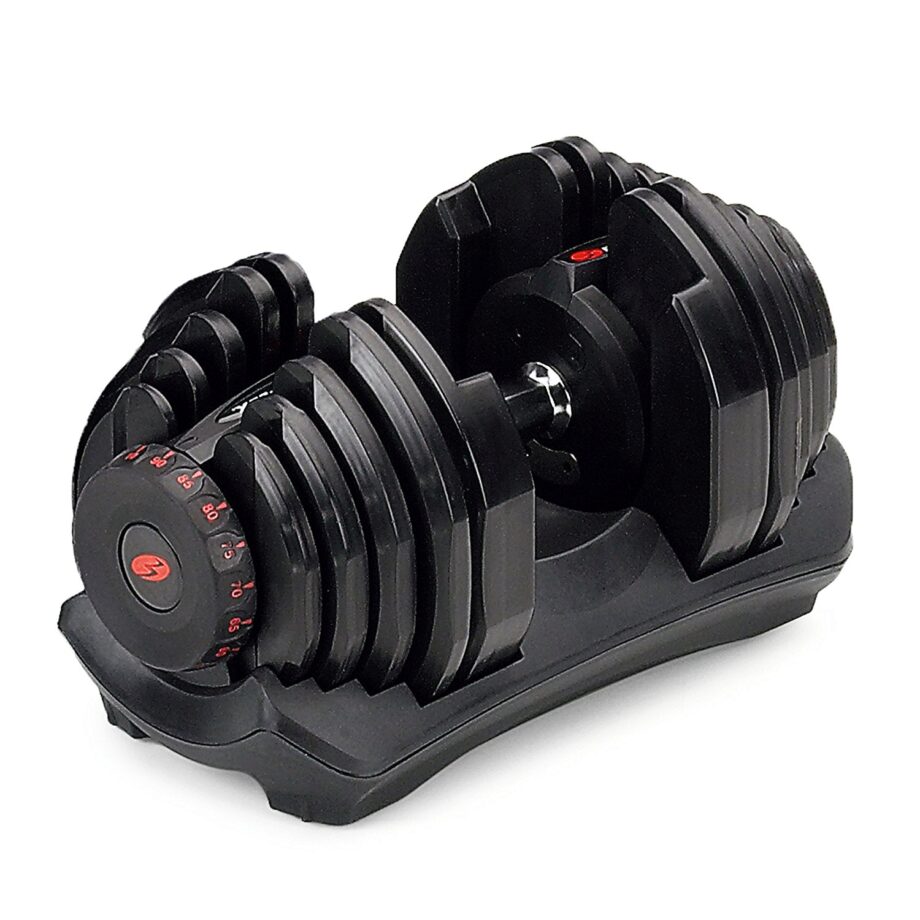 Bowflex SelectTech 1090 Adjustable Dumbbells
Just like all Bowflex SelectTech dumbbells, with just the turn of a dial you can automatically change your resistance from 10 lbs. all the way up to 90 lbs. of weight. No more picking up 17 different sets of dumbbells to give you the results you want!Use the Bowflex SelectTech App to journal your strength training Space efficient - say goodbye to 17 sets of dumbbells Select the weight you want with a turn of a dial.With just the turn of a dial, change your resistance from 4 kg (10 lbs) all the way up to 41 kg (90 lbs) of weight Each dumbbell adjusts from 10 lbs to 90 lbs Durable molding around metal plates provides for a smooth lift-off and quieter workouts
A Quick Look At PowerBlock vs Bowflex
PowerBlock and Bowflex have been mainstays in the fitness equipment industry for many years, offering some of the best budget-friendly home equipment. And their adjustable dumbbells are no different.
PowerBlock offers three different series: the PowerBlock Sport, PowerBlock Pro, and PowerBlock Elite, and each series has various models with different weight ranges. So there are plenty of options depending on how heavy you lift, and what your budget looks like.
For our full thoughts, check out our PowerBlock Adjustable Dumbbells review.
Bowflex has a wide range of adjustable home gym equipment through its SelectTech technology that makes changing weights a breeze, and can be found in kettlebells, barbells, and, of course, dumbbells. The SelectTech 552, and SelectTech 1090 are their two dumbbell options, and their weight ranges can be found in the name (5 to 52.5 pounds for the first one, and 10 to 90 in the second).
We love Bowflex because they offer highly affordable prices, quick adjusting weights, and compact footprints in most of their products.
You can find our full thoughts on the lighter dumbbells by reading our full Bowflex SelectTech 552 review.
PowerBlock
Pros:
Easy to change weights
Plenty of weight options
Durable
Replaces up to 28 dumbbells, depending on the model
With expansion kits, can go up to 175
High-value piece of equipment, even at the higher price points
The Sports and Elite series can be expanded
Cons:
Weight distribution may take some getting used to
Caged handle can be hard for people with larger hands
Make some noise during use
Inconsistent weight increments between models
Bowflex
Pros:
Affordable price point
Easy to adjust
Consistent weight increments
Replaces 15-17 dumbbells, depending on which model you get
6-week money back guarantee
Comes with one year of JRNY membership
Included storage tray
Cons:
Made with lots of plastic and can break if dropped
Can't be expanded
Handles aren't the grippiest
Limited 3-year warranty
| | | | | | |
| --- | --- | --- | --- | --- | --- |
| | PowerBlock Pro Series | PowerBlock Sport Series | PowerBlock Elite Series | Bowflex SelectTech 552 | Bowflex SelectTech 1090 |
| Price | Starts at $339 | Starts at $409 | Starts at $419 | $429 | $799 |
| Footprint | Depends on model | Depends on model | Depends on model | 17.5″ L x 9.5″ W x 10″ H | 16.9″ L x 8.3″ W x 9″ H |
| Replaces | 16 pairs of dumbbells | 8-28 pairs of dumbbells, depending on model | 8-28 pairs of dumbbells, depending on model | 15 pairs of dumbbells | 17 pairs of dumbbells |
| Range | 5-50 lbs | 2.5-60 lbs., expands to 70-90 lbs with expansion kits | 2.5-50 lbs, expands to 70-90 lbs with expansion kits | 5-52.5 lbs | 10-90 lbs |
| Increments | 5 lbs | Varies by model | Varies by model | 2.5 from 5-25 lbs, the 5 lbs 50, and then another 2.5 | 10 lbs |
| Expandable? | No | Yes | Yes | No | No |
Video Reviews
PowerBlock vs Bowflex: Weight Range
The weight range is one of the most important things you should look for in any set of adjustable dumbbells, or any weight matter for that matter that you're considering for your home gym. You'll want to think like Goldilocks here — look for something that's not too heavy, not too light, but just right for your training needs. We'll dive a little deeper into exactly what that means.
Let's say you're someone who's goal is to stay fit, and you may want to build some muscle but you're not really looking to enter a weightlifting competition or bodybuilding show. It wouldn't make much sense for you to buy a PowerBlock set that goes up to 90 pounds per hand, or the Bowflex SelectTech 1090, because you'll be paying extra money for weight that you won't use.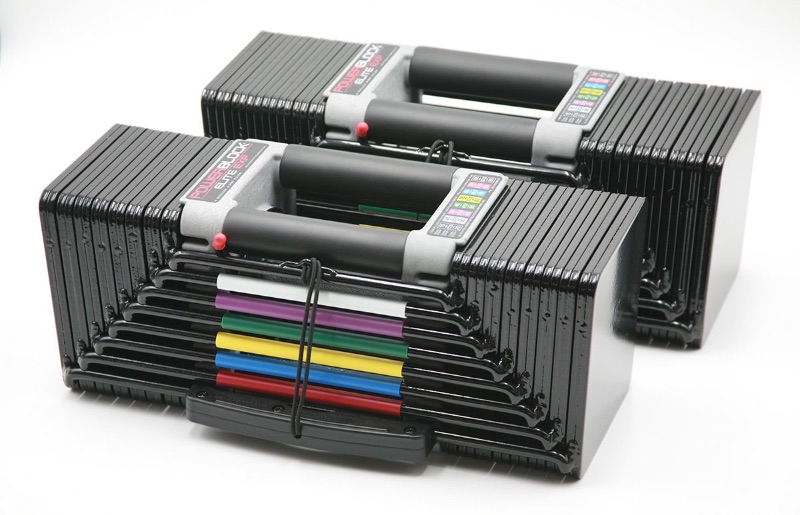 On the other hand, if you're someone who's serious about building strength and muscle something like the Bowflex SelectTech 552 (which only go up to 52.5 pounds) is going to be too light for you, and because they're not expandable you'll have to replace them sometime in the not too distant future.
Weight Increments
Equally important is the weight increments that the dumbbells offer, as this is how you'll know your strength training journey is working. The way you become stronger is progressive overload, the practice of adding more weight or reps to your workout until you can lift more. Well, it's actually more than that, as GGR product tester and personal trainer Amanda Capritto explains.
"Most fitness enthusiasts associate progressive overload with only strength training, but this principle can be used for programming endurance workouts, too," she says. "Progressive overload is critically important if your fitness goals sound like: get stronger, build more muscle, lose body fat, get faster, run farther, etc.
If you want to get better at something in any capacity, progressive overload is the key to getting there."
Let's use dumbbell bench presses as an example, and a nice round number like 30 pounds (we know you can do a lot more, but just stick with us here). Let's say you're ready to try for something a little heavier, but your dumbbell's next option is 40 pounds. That might be a little too heavy, whereas something like 35 pounds might be a little more attainable.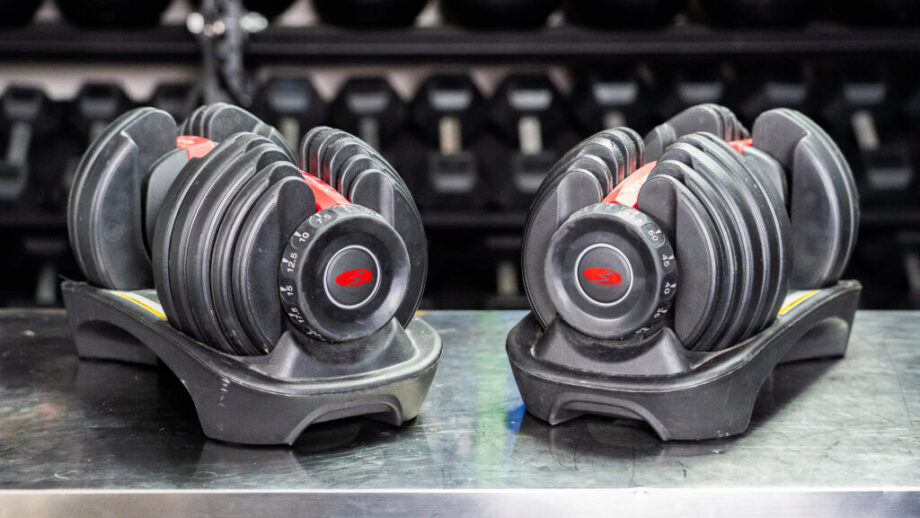 That's why it's important to pay attention to the weight increments that your adjustable dumbbells come in.
The PowerBlock dumbbells have varying weight increments depending on the model (the PowerBlock Pro 32, for example, comes in 4-pound weight increments whereas the Pro 50 has 2.5-pound weight increments.
One of the great things about the PowerBlock adjustable dumbbells is that you can order expansion kits to make them even heavier (except for the Pro series). Outside of loadable dumbbells, like the Ironmaster Quick-Lock Adjustable Dumbbells, this isn't something we see often in adjustable dumbbell sets, and it makes it a great option for home gym owners who don't want to buy brand-new equipment when they become stronger (which is one of the main reasons people begin lifting in the first place).
The Bowflex SelectTech 1090 comes in 10-pound increments, and the SelectTech 552 has 2.5-pound increments from 5-25 pounds, and then 5-pound increments to 50, and then another 2.5-pound increment.
Their dumbbells, though, can't be expanded so what you see is what you get.
PowerBlock vs Bowflex: Workout Experience
Whether you're doing bicep curls, dumbbell bench presses, dumbbell squats, tricep kickbacks, you'll want a dumbbell that both feels and performs well throughout every single move.
Many of us here at GGR have used both PowerBlock and Bowflex adjustable dumbbells during our home gym workouts and would recommend them to just about anyone, but they do feel a little different during use. We'll break down exactly how here.  
RELATED: Best Dumbbell Workouts
Shape
A perfectly round ball, or even a well-built paper airplane, is going to glide through the air much more seamlessly than something shaped like a triangle. It's simple aerodynamics, and the same rules apply to dumbbells.
Bowflex dumbbells are shaped more like your traditional dumbbells you'd find in a commercial gym, and feel just about the same. They feel comfortable with just about any lift you could think of.
PowerBlock dumbbells, however, have a box-like shape, and while it's not difficult to lift them you'll notice it's a little harder to overcome the inertia at the top of a lift due to the shape, and impact the range of motion you can get on certain exercises. In fact, it's one of the reasons why Capritto doesn't recommend them to her trainees.
"This can impact wrist function and range of motion, and reduce the efficacy of certain exercises (and, at worst, cause people to alter their grip in a way that causes pain)," she says.
It should be noted though that this slight awkwardness can be overcome with some regular lifting, so we recommend starting at lighter weights than you might be used to until you're comfortable using them.
Construction & Durability
The construction of the PowerBlock dumbbells varies by model (the weight plates themselves are all made with steel), but overall these are pretty durable. There's some plastic parts, but it's minimal, and both Coop and myself have seen these dropped and they've held up just fine overtime.
The Bowflex SelectTech dumbbells, however, have a lot of plastic, including inside connector plates. If dropped, these can crack, which means your product is kaput.
Nobody should be intentionally dropping their dumbbells (do as we say, not as we do), but mistakes happen. Sometimes you overestimate your strength and you need to get rid of the weight really quickly.
Handle
To be honest, neither dumbbell is the winner in this category. The PowerBlock dumbbells are caged, meaning your hand is engulfed in the weight while you're holding onto it. And unless you're using the bigger models it can be a pain for those with larger hands. For example, I can palm a basketball with ease, and I sometimes feel my hand cramp when curling PowerBlocks.
This is yet another thing that can affect the range of motion you can get on certain lifts.
The Bowflex handles are more like the ones on traditional dumbbells, but they're rather thin and, again, can be difficult for those with larger hands. The 552 has a rubber grip, and the 1090 has passive knurling.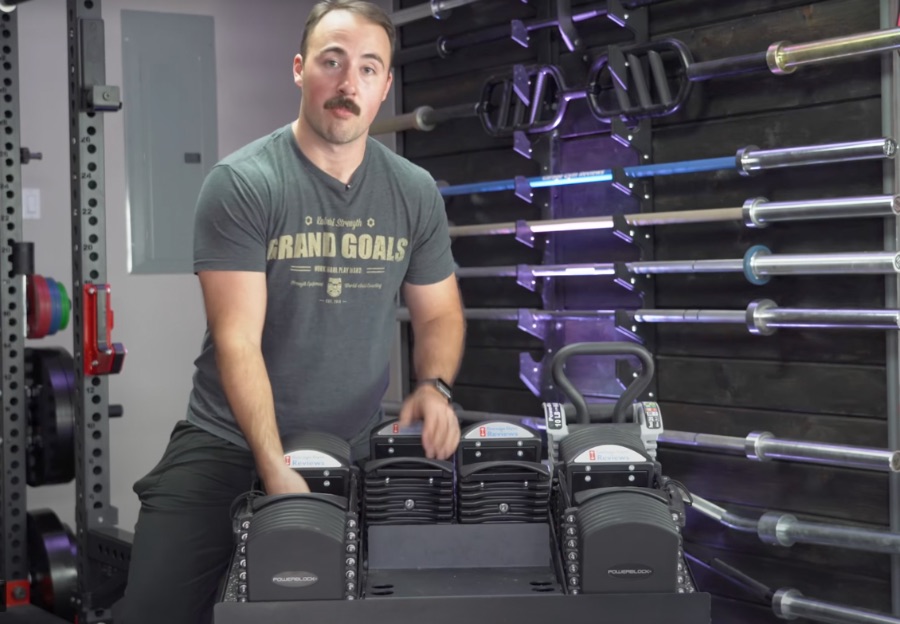 Weight Adjustment System
You're in the middle of your workout, and it's time to change the weight on your dumbbell. Ideally, you'll want something that works quickly, and luckily, both of these dumbbells do just that.
The PowerBlock dumbbells have a Selector Pin that has magnets on the inside, and you simply clip it onto the weight you want. Each weight increment is color-coded, with a handy chart at the top of the dumbbell, so picking your weights is easy. The pin does have to be placed all the way in, otherwise there's a risk of the weight falling out during your lift.
With the Bowflex dumbbells, you place the weights inside the storage tray (you have to make sure all the plates are lined up properly) and turn the selector dial at the side of the dumbbell. It takes about 5 seconds to go from the starting weight to the maximum.
Expansion
Congratulations, you've gotten really strong and the max weight on your adjustable dumbbell feels as light as a feather. If you own certain PowerBlock models, you can purchase expansion kits to make them even heavier (the Commercial Pro Series can go up to 175 pounds per handle, but as the name suggests is only available for commercial use).
The Bowflex dumbbells, unfortunately, offer no such convenience and if you've reached the point where lifting them isn't challenging anymore, it's probably time to look for heavier dumbbells.
PowerBlock vs Bowflex: Returns, Financing, Warranty
PowerBlock
You have 30 days from the order date to return your PowerBlock dumbbells, but you will be charged a 20 percent restocking fee.
PowerBlock has a five-year warranty for its dumbbells, but it only covers manufacturing and cosmetic defects. The warranty becomes void if you sell the dumbbells to anyone else.
PowerBlock offers multiple financing options for all its dumbbells through Affirm, and you can see if you prequalify right on the company's website.
Bowflex
Bowflex has a generous six-week money back guarantee for its products, so you can try out the dumbbells for a month and a half before you decide if you want to keep them. Of course, they must be in good condition if you decide to do so.
Bowflex only offers a three-year warranty for its dumbbells, which becomes void if you drop them.
Bowflex has its own financing programming, and if you pay off the cost of the dumbbells in 18 months you'll pay no interest.
PowerBlock vs Bowflex: What Do We Recommend?
For the serious lifter, or those who have specific bodybuilding or strength training goals, we recommend the PowerBlock dumbbells. The handle and shape may take some getting used to, but if you have a few years of lifting experience under your weightlifting belt then it will only take a matter of days to get over that. Your reward will be a durable dumbbell that can become heavier when needed.
For the home gym athlete who just wants to look after their overall fitness, is on a budget, or beginners, the Bowflex SelectTech dumbbells are your go-to. They're not the best-of-the-best but not everybody needs that, and honestly these will serve your fitness needs just fine.
Benefits of Adjustable Dumbbells
If you're wondering, "Why should I buy a pair of adjustable dumbbells?" we've got a few reasons. For one, most of the dumbbells we spoke about in this piece replace up to 20 pairs of dumbbells and take up about the same amount of space as your grandmother's sewing kit. If you went with traditional dumbbells, you'd have to have an entire wall reserved just for a rack.
Secondly, it would cost about the same as that whole entire set. Yeah, it might be shocking to see a $700 price tag for just two dumbbells but for the amount of weight you're getting you'd be paying about the same, or more, for the traditional free weights.
Lastly, instead of walking back and forth from the dumbbell rack to get a new weight each time you're changing moves, you can simply adjust the weight of your adjustable dumbbell to meet your needs.
Disadvantages of Adjustable Dumbbells
Because there's a lot of mechanical parts with adjustable weights (not counting loadable dumbbells and kettlebells), they're often less durable than your commercial gym weights. This means you can't slam them on the ground after hitting a heavy snatch like you could a hex dumbbell.
Many adjustable dumbbells are also shaped a little differently than the ones you're used to at a gym, so they may take some getting used to at first.
Lastly, while they do end up costing a little less than a weight set of fixed dumbbells, not everyone has several hundred dollars to drop in one purchase. This can easily be avoided by taking advantage of different companies' financing plans.
PowerBlock vs Bowflex: FAQs
Is Bowflex or PowerBlock better?
We know nobody likes this answer, but it really does depend. PowerBlock has high quality construction and a heavier weight range, but Bowflex is shaped more like a traditional dumbbell and is generally more affordable than PowerBlocks. 
Are PowerBlock dumbbells worth it?
We think so! PowerBlock has multiple models that come in various weight ranges, are durable and expandable, and are a great value for their price point. Their shape and caged handle does take some getting used to, but it shouldn't take too long to overcome the learning curve.
Are Bowflex weights worth it?
Bowflex weights are worth it for anyone who's looking for budget-friendly home gym equipment, an easily adjustable weight set, or a product that's easy to use.