We test and review fitness products based on an independent, multi-point methodology. If you use our links to purchase something, we may earn a commission. Read our disclosures.
Ice baths have been around forever, but Plunge—the brand that put luxury-level near-freezing dips on the market—emerged only recently. In 2020, the first tub, named The Plunge, launched, followed shortly after by the Plunge Pro.
In October 2023, Plunge released the Plunge All-In, delivering even colder temperatures and adding smartphone connectivity. In our Plunge All-In review, we'll take a look at what you can expect from the newest (and most expensive) iteration, based on our own experience with the original model (which you can find detailed in our The Cold Plunge review). When we get the chance to personally test the All In, we will update this article with our honest thoughts.
Professionals in Recovery
Since 2014, our team at Garage Gym Reviews has been testing recovery tools that include massage guns, saunas, foam rollers, and more. We apply an in-depth equipment testing methodology to determine how a product performs. When it comes to the best cold plunge tub, we assess factors such as:
Cleaning and draining: Is the process simple? How long does it take?
Ergonomics: Can you comfortably sit in the tub (as comfortable as an ice bath can be)?
Durability: Does it show signs of buckling or wobbling while in use?
Our team has personally used nearly half a dozen cold plunges, including the original Plunge. We also consult with experts like doctors of physical therapy to assess ice bath benefits.
Plunge All-In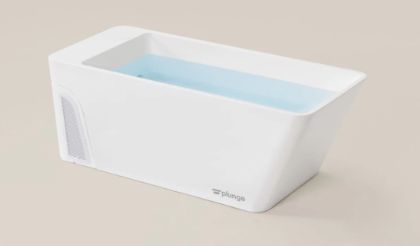 Product Highlights
Chills to 37 degrees F
Hot option available for an upgrade
Control temperature with your phone
Easy setup and draining
Pros & Cons
Pros
Chills to 37 degrees
Heating capabilities for upgrade charge
Smartphone connectivity
Easy setup and draining
Indoor/outdoor use
Cons
Very expensive
Not portable
Bottom Line
The Plunge All In is the top-of-the-line cold plunge tub from the brand, and one of the most luxurious on the market. With smartphone connectivity and a Hot and Cold option, the All In is a good fit for home gym owners who have plenty of money and space.
A Quick Look at the Plunge All-In
Similar to the other Plunge products, the All-In offers: both hot and cold settings (if you upgrade and pay extra for the hot functionality), as well as easy setup, indoor/outdoor weather resistance, and no plumbing required.
There are three significant upgrades that the All-In features that the other tubs in Plunge's line lack. The first is smartphone connectivity, enabling users to turn on the tub from anywhere.
The second is cooling to as low as 37 degrees Fahrenheit (the other tubs only go to 39 degrees). Plunge also claims that the All-In reaches its coolest temperature 30% faster than the original Plunge Pro. We will definitely be testing that once we get the All-In.
The last is an allegedly easier maintenance system to change the filter. Not a sexy change, but potentially a beneficial one; we will test to see if it's a significant improvement when we get the new tub.
RELATED: Renu Therapy Cold Stoic Review
Before You Buy
The All-In comes with free shipping and in-home delivery to the room (or area) of your choice. In our experience, moving the Plunge is no easy feat, so make sure you know exactly where you want the delivery crew to place it.
This is the most expensive Plunge product to date, but the brand offers 4 financing options, including 0% interest if you choose the 12-month financing.
International shipping is limited to Australia, UAE, Puerto Rico, and U.S. territories.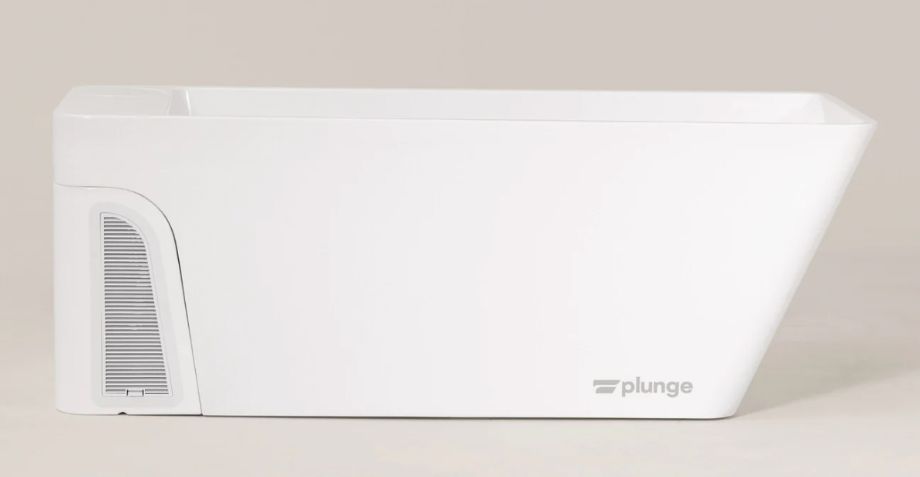 Is the Plunge All-In Worth It?
The All-In ain't cheap; the cold-only version is priced at $8,990, and the Hot & Cold version is priced at $9,590. Financing is available, including a 0% option if you finance over 12 months.
As senior staff writer Amanda Capritto details in our review of the original Plunge, if you took an ice bath every day, it would cost you $8,760 in ice alone, plus the cost of water to fill your tub.
Plunge estimates that at 45 degrees, its tubs use about $1 of energy per day.
Therefore, if you plan to take ice/cold baths regularly over the period of a few years, you could potentially save money by purchasing the Plunge All-In.
RELATED: Ice Barrel Review
Keep in mind that these tubs are big; the All-In measures about 76 inches long by almost 32 inches wide, so you'll need a space that's at least 6 feet long by 3 feet wide.
A tub may be a good fit for you if you're trying to address muscle soreness. According to Dr. Mike Masi, physical therapist, "Cold water immersion reduces the inflammation and reduces perceived soreness."
Is the All-In worth a price tag that is $4,000 more than the original? I'm not convinced. You're paying $4,000 more for faster cooling, colder temperatures by just 2 degrees, and phone connectivity.
Great for:
Those wanting a tub you can start remotely from your phone
People who want to hit one of the coldest temperatures available from cold plunge tubs
Not recommended for:
People on a budget who could spend far less on other Plunge products
Those who live in small spaces
Plunge All-In Specs
| | |
| --- | --- |
| Footprint | 76.75" L x 31.5" W x 28.75" H |
| Temperature range | 37 degrees F (with hot option upgrade available) |
| Weight (empty) | Not yet available |
| Weight (filled) | Not yet available |
| Water capacity | Not yet available |
| Color | White |
| Comes with | Insulated spa cover, cell phone holder, skimmer net, guided videos, and, yes, a rubber duck |
| Electricity | 110V outlet required |
| Warranty | 1 year |
Using the Plunge All In
We have not yet received the All-In, and we will update this review with our comments when we do. We have used the original Plunge, and if you're just diving into how to cold plunge, we can assure you that this line of products makes it as easy as possible.
Coop Mitchell, founder of Garage Gym Reviews, notes that using these tubs is almost "too easy."
"This is the only way I see myself doing ice baths regularly," he says.
The All-In purportedly has the same quick setup as the original Plunge: Fill the tub with a hose and plug it in. In our testing, we found the entire process took only 15 minutes.
Footprint and Portability
We gave the original Plunge a 3 out of 5 on our footprint and portability metric, and we can expect something similar here.
Like the other Plunge products, this tub takes up a lot of space. It measures 76.75 inches long by 31.5 inches wide, which means you need about 20 square feet of space.
Let's talk about moving the Plunge: It's possible. When empty, the original Plunge is about 150 pounds. We can assume the All-In will be similar. Sam "AsSAMbly" Presley, GGR's testing facility manager, personally had to move the Plunge around. He strongly recommends grabbing a friend to help with the process instead of trying to go it alone.
Technology Benefits and Conveniences
Perhaps the most significant perk the All-In has is its ability to connect with your smartphone. We haven't yet been able to test this functionality, but the brand claims you can turn on the tub through the app as well as set the temperature.
Admittedly, this is a fantastic option, especially if you can do it from, say, the gym, so your ice bath/hot tub is ready to use when you get home.
The app alerts you when the filter needs to be changed.
RELATED: Should You Cold Plunge Before or After Workout?
As far as other conveniences, the All-In comes with a cover that is insulated as well as a cell phone holder.
Plunge Product Line
Original Plunge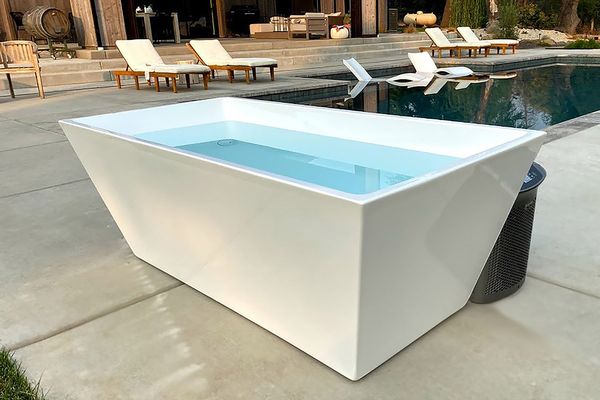 GGR Score: 4
Product Highlights
Indoor or outdoor ice bath

Chiller system for regulated temperatures
Filtration and sanitation systems
No plumbing required
Pros & Cons
Pros
Eliminates the hassle of traditional ice baths 
No cleanup or setup to do after initial assembly 
Allows you to fine-tune temperature 
Provides full-body immersion for most body sizes and heights
Less time-consuming than traditional ice bath
Decently aesthetic; would look nice in a backyard or dedicated gym space
Indoor or outdoor use
Free shipping and in-home delivery for lower 48
0% APR financing available through Affirm and Klarna
Insulated cover, cell phone holder, hose filter, and skimmer net included
30 days to return for full refund 
Cons
Very expensive
Requires electricity
No heating capabilities on base model 
Only a 1-year warranty
Extended warranty/product protection costs extra
Shipping is costly for Hawaii and Alaska, and in-home delivery isn't available 
Currently has an 8-week lead time
Consumer must pay shipping fees if returning the tub
Bottom Line
The Cold Plunge is a user-friendly cold-immersion therapy tool that's easy to clean and maintain. The $5,000 price tag may just be too much for many people.
The All-In is the top-of-the-line cold plunge offered from the brand, offering two significant features the other products do not have: the ability to cool to 37 degrees, and smartphone connectivity.
Otherwise, a side-by-side comparison of all Plunge products illustrates the stark difference in cost and not much else.
| | Plunge All-In | The Cold Plunge | The Cold Plunge Pro XL | The Hot & Cold Plunge | The Hot & Cold Plunge Pro XL |
| --- | --- | --- | --- | --- | --- |
| Price | $8,990 | $4,990 | $6,990 | $5,490 | $7,590 |
| Footprint | 76.75" L x 31.5" W x 28.75" H | 67" L x 43" W x 24" H | 73" L x 47" W x 28" H | 67" L x 43" W x 24" H | 73" L x 47" W x 28" H |
| Weight empty | Not yet released | 150 lbs | 190 lbs | 150 lbs | 190 lbs |
| Weight filled | Not yet released | 1,000 lbs | 1,100 lbs | 1,000 lbs | 1,100 lbs |
| Cools to | 37 degrees F | 39 degrees F | 39 degrees F | 39 degrees F | 39 degrees F |
| Heats to | 103 degrees F | Does not heat | Does not heat | 103 degrees F | 103 degrees F |
| Phone connectivity | Yes | No | No | No | No |
| Underwater Light | Yes | Yes | Yes | Yes | Yes |
Plunge All-In vs Redwood Outdoors Yukon Tub
Yukon Tub
GGR Score: 3.8
Product Highlights
Inflatable cold plunge tub kit

Pump to inflate the tub included

Deluxe chiller and heater combo
Packable and portable
Backpack carrying case comes included
Pros & Cons
Pros
Straightforward installation
Portable design
Cons
Pricey
Not insulated
Changing water frequently is recommended
Bottom Line
The Redwood Outdoors inflatable Yukon cold plunge kit is a packable solution to bringing a cold with you on-the-go. It's easy to inflate the tub with the pump that comes with the purchase. The main drawback to the inflatable design is the brand recommends changing the water frequently due to the fact that leaving water in the tub for 48 hours at a time can lead the tub to bulge and change shape through the center of the tub.
The most logical product also on the market to compare the All-In to is the Redwood Outdoors Yukon Tub.
They both reach 37 degrees and have heating capabilities, and they can both be controlled from your phone. So, why is the Yukon priced roughly $4,000 less? Because it's inflatable. That makes it incredibly portable, but it also could mean issues with durability.
GGR Everything Lead Reviewer Lindsay Scheele tested the Yukon, noting that it is incredibly spacious and comfortable. Her biggest concern is the draining process, as you essentially just open a connection point and let the tub drain. That clearly would be problematic if you wanted to use the tub indoors.
If you're looking for a high-quality indoor and outdoor tub, the All-In may be the better fit. If you want a highly portable tub that you can likely only use outside, then opt for the Yukon.
Learn more in our Redwood Outdoors Yukon Tub review.
| | Plunge All-In | Redwood Outdoors Yukon Cold Plunge XL Deluxe Kit |
| --- | --- | --- |
| Price | Starts at $8,990 | $4,699 |
| Temperature range | 37 to 103 degrees Fahrenheit | 37 to 104 degrees Fahrenheit |
| Chiller control | Smartphone or manual | WiFi or manual |
| Footprint | 76.75" L x 31.5" W x 28.75" H | 72.75″ L X 31.5″ W X 32.75″ H |
| Extras | Insulated cover, skimmer, cell phone holder | Backpack and insulated cover |
| Dry weight | Not yet released | 35 lbs |
| Water capacity | Not yet released | 155 gallons |
| Warranty | 1 year | 1 year limited warranty |
Customer Reviews
Because the All-In is so new, there are not yet reviews online for it. We will update this as those start to pour in.
Final Verdict of Our Plunge All-In Review
So, are we all in on the All-In? Well, in all honesty, the Plunge All-In is a high-end cold plunge tub that appears overpriced for most home gym owners. It does offer the convenience of cell phone activation, which we love. However, until we fully test this product ourselves, we can't give our full recommendation.
Plunge All-In FAQs
How cold does the Plunge All-In get?
The Plunge All-In can reach temperatures of 37 degrees Fahrenheit.
Can the Plunge All-In do heat, too?
Yes, there is a Hot & Cold option of the Plunge All-In. It can heat up to 103 degrees. However, this option is an upgrade that is about $600 more expensive.
Can you use the Plunge All-In outside?
Yes, Plunge reports that their All-In model can be used inside and outside. The Hot & Cold model has additional protection, according to the brand, to prevent freezing.