We test and review fitness products based on an independent, multi-point methodology. If you use our links to purchase something, we may earn a commission. Read our disclosures.
15 Reasons to Convince You to Finally Ditch Your Gym Membership
There's no doubt about it: Home gyms are here to stay. The face of fitness changed forever when the COVID-19 pandemic forced gyms and fitness studios to close. Even though gyms have, for the most part, reopened to pre-pandemic status, many people continue to work out at home—and the market for home exercise equipment shows it (impatiently waiting on several in-stock notifications for gear I'm vying for).
In case you're unsure what all the fuss is about, or if you're teetering the line between building a home gym versus keeping your gym membership, here are 15 reasons why Coop, myself, and the rest of the Garage Gym Reviews team think home gyms are better.
You Save Money On Membership Costs
This is probably the number one reason for ditching your gym membership and making the switch to a home gym. While some gym memberships cost as little as $10 per month, others cost upwards of $200 per month. According to a RunRepeat study, the average cost of a gym membership per month is just over $30. That may not seem like a lot on the surface, but over the course of just one year, that's $360—enough to buy a really nice Olympic barbell.
Before you say, "But, the upfront costs," just know Coop is somewhere rolling his eyes at you because, contrary to popular belief, it does not cost five figures to build a nice home workout space. In fact, you can build an entire gym setup on the cheap by using Amazon. There are plenty of ways to create a budget-friendly home gym.
Plus, you don't have to buy everything at once. If you do want to splurge on high-end equipment, you can always buy a few small things (like a pull-up bar or resistance bands), cut the gym membership, and use that money to save up for big-ticket items like a power rack or an elliptical. There are plenty of challenging bodyweight exercises to keep you in shape while you wait.
You Save On Gas, Car Maintenance, Clothing, and More
In addition to saving the price of a monthly membership, having a home gym also provides other savings that may not seem like much on the surface, but add up over time. Gas is a good example. Even if your commercial gym is only a 10-minute drive from your home, going to the gym five days a week comes out to 100 minutes (nearly two hours) of driving. That's quite a bit of gas, not to mention a lot of time driving.
And then, the more you drive your car, the more maintenance costs you'll theoretically incur. You may buy food, supplements, and drinks from the gym snack bar just because it's there. Maybe you spend more on new workout clothes because you want to look good at the gym. No judgement, but none of that matters if you have a home gym. You could work out in your rattiest T-shirt and a pair of boxers, and no one will care—because no one will be there to see.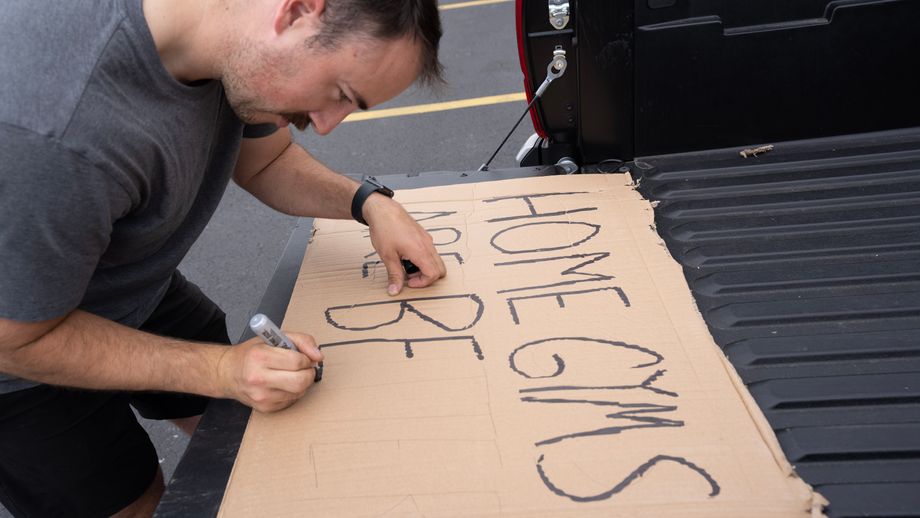 You Can Choose the Right Equipment for Your Goals
Whether you're into powerlifting, Olympic weightlifting, CrossFit, strongman events, bodybuilding, or something else entirely, having a home gym allows you to tailor equipment selection to your unique needs and goals.
You can build a gym entirely with free weights, such as barbells, weight plates, dumbbells, and kettlebells, or fill it with space-saving workout equipment such as resistance bands, adjustable dumbbells, or adjustable kettlebells.
You can even choose the smart home gym or functional trainer route—just one purchase can constitute an entire gym (a la Tonal).
You End Up With Assets You Can Sell or Trade
Having a gym membership is like renting a house instead of buying one. You're dumping money monthly with nothing to show for it when all's said and done. But when you buy equipment to build your own home gym, you can sell or trade items when you're done with them.
(We aren't saying it's never okay to go to a commercial gym or rent a house. Buying is certainly a smarter investment, but it's not always the right time or situation.)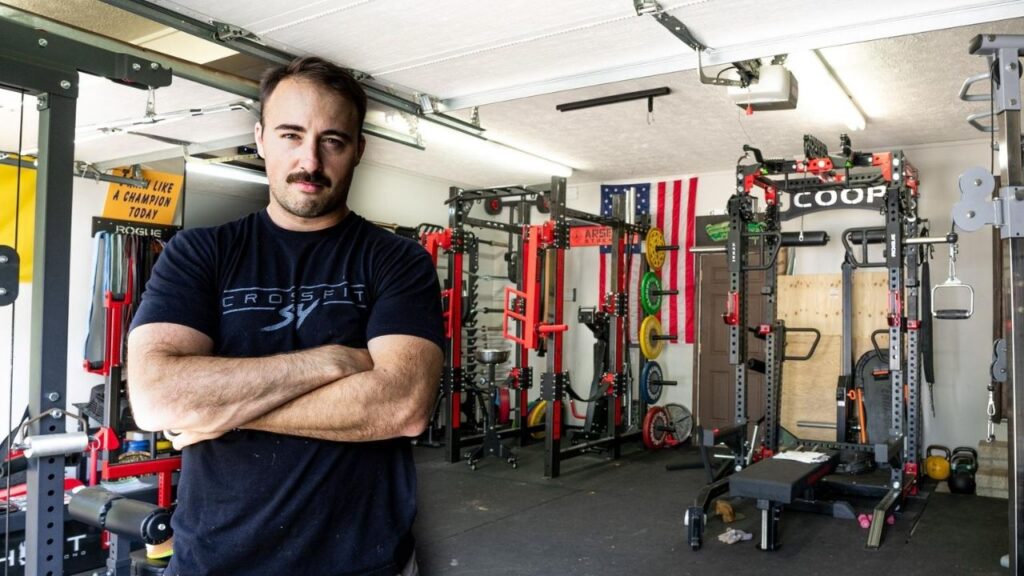 You Lose the Commute
Like I mentioned before, even a 10-minute drive quickly adds up to two hours or more per week if you work out five days a week. That's a lot of time you could spend with your friends, family, on other obligations, or just relaxing.
You Don't Have to Wait Around for Equipment
Never stand awkwardly behind someone using the piece of equipment you need ever again. You never say the words, "Hey bro, what set are you on?" to the guy in the squat rack. And you'll never have to pretend to stretch your calves while hawk-eyeing the cardio machines.
You Don't Have to Make Small Talk
You know that feeling of dread when you're mid-workout and, out of the corner of the eye, you see the local gym socialite walking over? You just know you're about to lose 20 minutes of your precious workout time.
That won't happen in your garage. Ditch the membership, ditch the small talk. Boom. Instant recipe for more gains.
You Get More Time to Spend With Your Family
Thanks to your trusty home gym equipment, you'll suddenly have a lot of extra time to dedicate to your family members. This is due in part to the lack of a commute, but also because of the above two points: You can simply walk to your gym, crush your workout, and be done. No waiting. No small talk. I'm a firm believer that I can get twice as much done in half the time when I work out at home compared to a commercial gym.
You Won't Feel Intimidated
Big commercial gyms can feel intensely intimidating, especially for beginners. You won't have to worry about feeling self-conscious in your own gym. Whether you're trying to master deadlifts or get your first rep on the pull-up bar, there's no need to worry about looking or feeling like you're not good enough. It's a no-judgement zone because no one's there to judge.
You Don't Have to Follow Gym Etiquette
Grunt, scream, yell, and drop barbells all you want. Go on. You're allowed—no one's there to stop you. You can lasso as many items as you want and be a total equipment hog. You can switch from piece to piece and leave your sweat angels everywhere.
You don't even have to rerack the weights if you don't want to. *Gasp*.
You Can Work Out Whenever You Want
Sure, there are plenty of 24-hour gyms out there. But wouldn't it be nice to just walk a few steps to get a late-night or early-morning workout in? I don't know about you, but the thought of packing a gym bag, getting in my car, and driving 15 minutes at 5 a.m. dampens the workout experience for me. With a home gym, none of those barriers exist, instead, you can just simply go to your Carol Bike or squat rack and begin your workout.
RELATED: CAROL Bike Coupon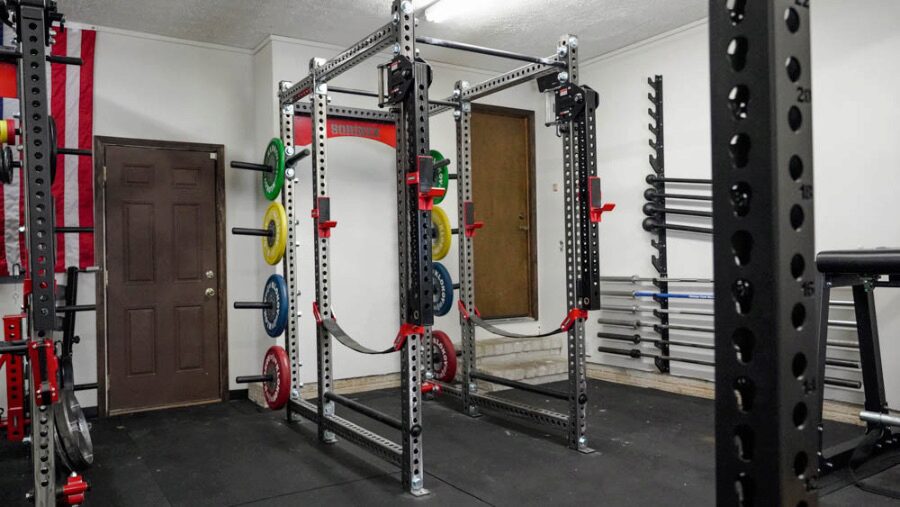 You Get to Choose the Music (and Blare It)
Home gym owners can listen to any music they like, as loud as they like, without headphones (assuming you don't have sensitive neighbors or an intrusive HOA…).
You Don't Have to Share a Bathroom
Bid sayonara to shared bathrooms and deal with urgent workout-induced bowel movements (we've all been there) in the peace of your own cozy bathroom. You'll also never have to get dressed for work in a locker room ever again.
You Don't Have to Worry About Cleanliness
There's no risk of contracting infectious diseases in your own gym. You won't have to worry about catching COVID-19, the flu, or a regular ol' cold. You don't have to sanitize equipment before and after each use; you can work out barefoot without getting athlete's foot; and you can lie down on an exercise mat without wondering what kind of germs are living there.
There's No Risk of Harassment
A very real reason to drop your gym membership is to avoid the risk of harassment in the gym. According to a RunRepeat study, nearly 60% of women report harassment in the gym, and nearly 20% of those women cite it as a reason to quit going to the gym altogether. The study also reports that 21% of men experience harassment in commercial gyms. In your own home gym, safety and comfort aren't compromised.
Home Gym vs. Gym Membership: When Is a Gym Membership the Right Choice?
As much as the Garage Gym Reviews team loves home gyms, we recognize that sometimes going to a local gym is the right choice.
Membership fees may not be a bad investment for someone who actually gets the most out of it and has no feasible way to recreate some of the features and offerings at home. For example, maintaining a membership might be worth it for someone who regularly uses the gym sauna or swimming pool along with the strength training and cardio equipment at their gym.
Also, going to a gym is a great way to make new friends if you recently moved to a new city or just want to find a new crowd. I'm not embarrassed to admit that the only reason I have friends where I live now is because I went to a CrossFit gym for a year before building the home gym setup in my backyard. (If you are worried about losing the social aspect of fitness by working out at home, you may consider investing in a home gym system that has a strong community aspect, such as the Lululemon MIRROR.)
People who compete or regularly need a spotter may also benefit from a gym membership, depending on the type of gym.
Finally, gym membership costs might be worthwhile if you move around a lot. Building a home gym is a big undertaking, and it might not make sense to do so if you know you're moving in a year or two.
Ultimately, the home gym versus gym membership debate comes down to personal circumstance and preference. For most people, however, we believe a home gym is the right long-term choice.