We test and review fitness products based on an independent, multi-point methodology. If you use our links to purchase something, we may earn a commission. Read our disclosures.
High-protein fast food is totally a thing. Just read the nutrition facts on the menus at your favorite spots, and you may be surprised at what you find. Be sharp; the most loudly promoted menu items are usually not the healthiest (and thus normally not super protein-rich). You may have to take your time and comb through the menu to find more macro-friendly meals.
RELATED: What Should My Macros Be?
Now, there are places like In-N-Out Burger that have a menu so limited there's no way to make your order healthy or particularly high in protein. So, I've been scouting some of the most common fast food spots and putting together some interesting selections you'll be intrigued to know may fit nicely into your search for high-protein meals, even when you're on the go.
Read on to check out our dietitian-evaluated high-protein fast food picks!
RELATED: Best Healthy Fast Food
Medical disclaimer: This article is intended for educational and informational purposes only. It is not intended as a substitute for medical advice. For health advice, contact a licensed healthcare provider.
Starbucks
Starbucks, like most coffee shops, doesn't have a vast selection of high-protein food items relative to the size of their menu. It makes sense, considering it's customary for coffee shops to offer carb-based snacks such as pastries, muffins, and croissants to enjoy with your coffee, so you've got to be sharp when looking for protein. That said, there are a few protein-rich options that are commonly found in most locations.
Sous Vide Egg Bites
The protein content depends on the flavor of egg bite you choose with most of the protein coming from the egg itself along with animal protein and cheese.
Bacon & Gruyère
Ham, Cheddar & Peppers Sous Vide
Chicken Chorizo Tortilla and Kale & Mushroom
Egg White & Roasted Red Pepper
Spinach, Feta, & Egg White Wrap
A nice vegetarian offering from Starbucks, the protein comes from the egg white, feta cheese and whole-wheat wrap which also makes it one of the lowest fat options on the menu.
Editor's note: These are so good. I've tried to make my own at home but just can't quite get it right.
Eggs & Cheese Protein Box
Aside from eggs and cheese, these adult Lunchables also contain multigrain muesli bread and Justin's peanut butter, both of which contribute to the protein content.
Eggs & Cheddar Protein Box
Eggs & Gouda Protein Box
Smoked Turkey Protein Box
This is one of the most high-calorie items on the menu, but it makes sense, considering it's also pretty substantial. Rather than just being an assortment of small snacks, this box contains an entire turkey sandwich cut into four sections, along with apple slices, baby carrots and a cup of ranch dressing.
Turkey Bacon, Cheddar & Cage-Free Egg White Breakfast Sandwich
Back when I was a busy personal trainer, I seriously had this sandwich nearly everyday for months. With only 5 measly grams of fat, it fits into my cutting diet very neatly.
Editor's note: I'm also a huge fan of these when running errands or traveling. It's tasty and the lowest calorie option of the breakfast sandwiches.
RELATED: High-Protein Breakfast
Panera Bread
The name is a slight misnomer as Panera has many wonderful offerings that are absolutely not bread. Their sandwiches, salads and soups give a lot of opportunity for variety and customization, especially if you need to hit your protein goals.
Teriyaki Chicken & Broccoli Bowl
You aren't able to customize the protein portion on this menu item, but it still packs a healthy punch of essential amino acids.
Green Goddess Cobb Salad with Chicken
The main protein sources for this dish include chicken, egg and bacon. Fun fact: their famous Green Goddess dressing is made from Greek yogurt rather than the traditional sour cream, which provides some trace protein grams as well.
Standard order:
With double protein:
RELATED: Best Salad Delivery Service
Mediterranean Bowl with Chicken
The calorie count for this guy is high, considering the amount of protein it contains compared to other Panera offerings on this list. This is because the only substantial protein source is chicken, but the bowl also contains olives, hummus, and tahini. All three of these foods are packed with heart healthy fats, but are fats nonetheless. Thus, this would be a bowl for gains season.
Standard order:
With double protein:
Baja Bowl
The Baja Bowl is an excellent vegetarian source of protein for those who eat plant-based meals, with the protein coming from black beans, Greek yogurt and feta. If you're okay with meat, however, the Baja Bowl with chicken is also an option, offering 11 more grams of protein for only 60 more calories.
Standard order:
Baja Bowl with Chicken:
RELATED: High-Protein Vegetables
Chipotle
Here, we'll look at Chipotle's burrito bowls, as the protein portions tend to be larger for this option compared with their burritos and tacos. For each bowl, let's assume you're ordering brown rice, fajita veggies, cheese, mild salsa, and lettuce. Furthermore, I included the data for extra beans (which you can order for no extra charge!) to illustrate how you can boost the protein content even further.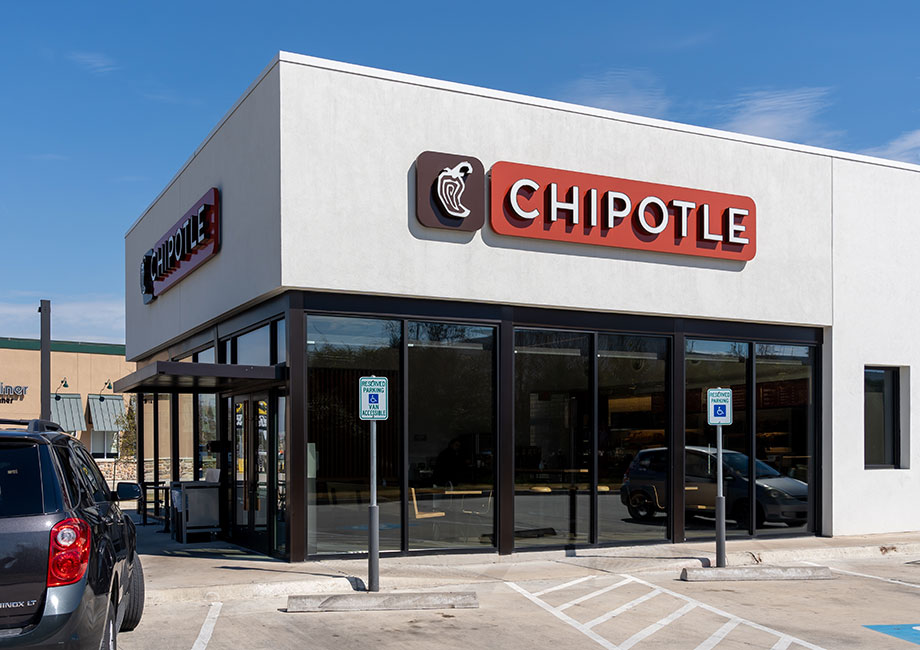 Double Chicken Burrito Bowl
Extra chicken options range from $2 to $4, depending on where you live, but they're well worth it for an extra 32 grams of protein.
Steak Burrito Bowl
Believe it or not, the steak at Chipotle is even leaner than the chicken. So, if you want that healthy dose of protein that's a tad more calorie controlled, opt for steak instead.
Standard order:
Double steak:
Black Bean Burrito Bowl
Even if you aren't a fan of sofritas—Chipotle's ground tofu seasoned with Chipotle's chipotle-adobo sauce—the black bean bowl can still get the job done.
With cheese:
No cheese (for vegans):
Chick-Fil-A
If you're looking for a high-protein option low on calories here, you'll have to steer clear of the fried chicken options. Luckily, Chick-Fil-A has plenty of tasty, non-breaded treats to choose from. A 30-piece of their grilled chicken nuggets is one of the highest protein fast food items out there, with nearly 100 grams of protein!
Cool Wrap
Grilled Nuggets
If you've ever wanted to enjoy chicken nuggets on a keto diet, this is the order for you. Without the carbohydrates from the breading, these make a great low-carb snack or meal.
5 piece
8 piece
12 piece
30 piece
RELATED: Best Keto Protein Powder
Original Chicken Sandwich
Wendy's
Wendy's is known for using rib meat for their chicken options, which is a part of the chicken breast that is actually brown instead of white. So, it's still a good source of protein and has more flavor, but it isn't as lean as the breast meat. This is why, as you'll see, the calories are higher (mainly from fat) even in the grilled chicken items compared to other fast food options on this list.
Cobb Salad With Chicken
The main protein sources here are grilled chicken breast, cheddar cheese, eggs and bacon.
With dressing:
Without dressing:
Grilled Chicken Wrap
Subway
These values are for the 6-inch sub options. Not that there's anything wrong with eating an entire loaf of bread in one sitting—at least according to Subway—but we wanted to keep the macros focused on protein rather than carbohydrates. To boost the protein even more, you can spend an extra $1.25 to $3 for double the meat.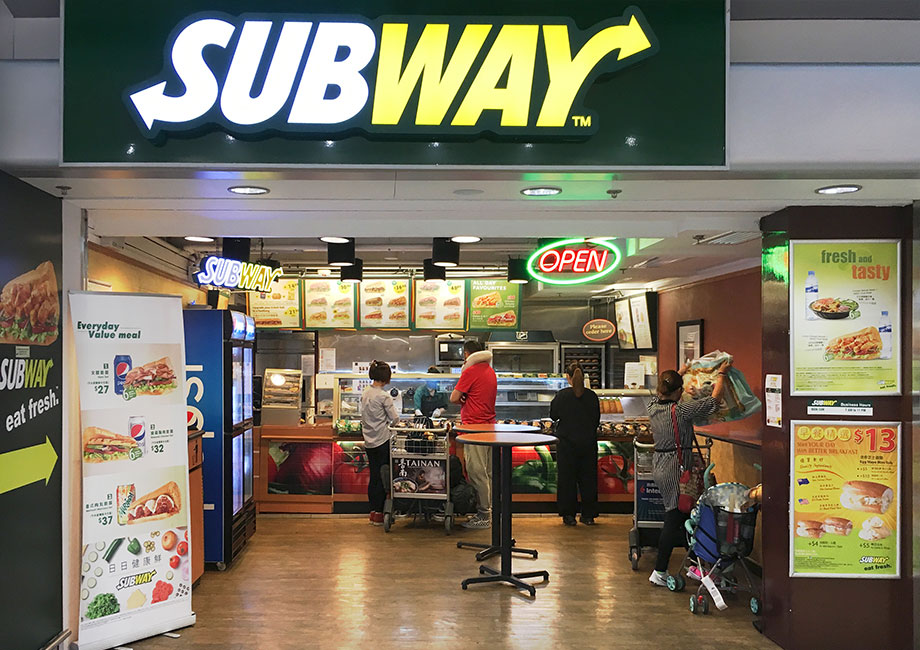 Rotisserie Chicken Sub
Standard order:
Double meat:
Supreme Meats Sub
The calorie count on this particular sub is so high due to most of the meats being Italian meats including ham, salami, pepperoni, and capicola along with provolone cheese, which are all notoriously high in saturated fat.
Standard order:
Double meat:
Teriyaki Chicken Sub
Standard order:
Double meat:
Meatball Marinara Sub
Standard order:
Double meat:
McDonald's
You're more likely to go for a McDonald's McDouble than a source of lean protein when visiting this American classic restaurant. That said, there are still some high-protein options to be had.
Egg McMuffin
Contrary to what the name says, this sandwich's protein comes from one single egg along with Canadian bacon and "a slice of tasty processed cheddar cheese," according to the McDonald's website. Due to the carbohydrates coming from an English muffin rather than a biscuit, it's also surprisingly low-calorie.
McCrispy Chicken Sandwich
One of the few fried chicken options on our list, this sandwich still contains more protein than a McDonald's McDouble, McChicken, and even the Filet-O-Fish, making it one of the highest protein fast food options on their menu.
Burger King
BK prides itself on having beef patties with no fillers, no preservatives, and no additives cooked on a flame grill, which is why they taste different from beef patties from other fast food restaurants. They also offer plant-based burgers, which taste like your typical cheeseburger and have a similar protein content.
Double Whopper
With half pound of beef patties, this is the cheeseburger for those huge appetites. As you'll see the calorie count is bulky.
Impossible Whopper
Bacon and Swiss Royal Crispy Chicken Sandwich
Arby's
Famous for their roast beef and cheddar cheese sauce, you probably didn't even know Arby's had chicken nuggets, sandwiches or wraps. Some locations even have gyros! In any case, below are our favorite high-protein offerings with the option to update the size of your beef sandwich depending on your protein needs.
Classic Beef 'n' Cheddar Sandwich
Crispy Chicken Club Wrap
Dunkin'
Don't fall into the trap of gathering your protein from one of the bagel or croissant sandwiches offered by Dunkin' Donuts. As tasty as they can be, their breakfast sandwiches made from sourdough bread or English muffins are far more efficient.
Sourdough Breakfast Sandwich
The two eggs, five half slices of bacon, and white cheddar make up the protein here, with the bacon sending the calories up on the high end.
Egg White Turkey Sausage Wake-Up Wrap
Not the most impressive protein content in the world, but it's pretty low-calorie for a coffee shop wrap.
Taco Bell
Taco Bell has gotten closer to the likes of Chipotle in that it allows you to make quite a few customizations to help you meet your macros. To maximize your protein for the calories, it's best to stick to their grilled chicken offerings. Here are our favorite selections.
Chicken Quesadilla
Standard order:
Extra chicken:
Chicken Power Bowl
This is the ultimate fast food item for some healthy bulking. Not just because of the lean protein from both chicken and black beans, but you get some seasoned rice and guacamole to boost the calorie count from healthy fats and carbs.
Standard order:
Extra chicken:
Popeyes
Known for their Southern-comfort chicken, there are a lot of options, but you have to look sharp if you want to use Popeye's as your stop for a protein fix. Stick to their tenders or chicken sandwiches for the highest protein yield.
Handcrafted Blackened Chicken Tenders
True to its roots in Louisiana chicken, these Cajun-seasoned tenders have no breading, so that means more protein per ounce for you.
3-piece:
5-piece:
Bonafide Chicken Combo
Though you can choose any piece of chicken for this combo, I went with the chicken breast, which has the highest grams of protein.
KFC
One thing I wasn't a huge fan of is that KFC doesn't offer a grilled chicken sandwich or even a chicken salad. So, you'll have to tread lightly with your finger lickin' as you navigate this menu, but there is some grilled chicken in their combo options, as you'll see below.
Spicy Classic Chicken Sandwich
Kentucky Grilled Chicken Combo
KFC's combos traditionally come with a chicken piece, a side, and a biscuit. To make this combo as protein-packed as possible, I made my combo with a chicken breast and a side of BBQ baked beans. Calories do not include a drink.
Panda Express
As a general rule with Chinese food, you can optimize the protein content in your meal by forgoing fried options, as there are almost always alternative choices. Panda Express is no different. Look for their "Wok Smart" label, as most menu items under this category tend to be higher in protein.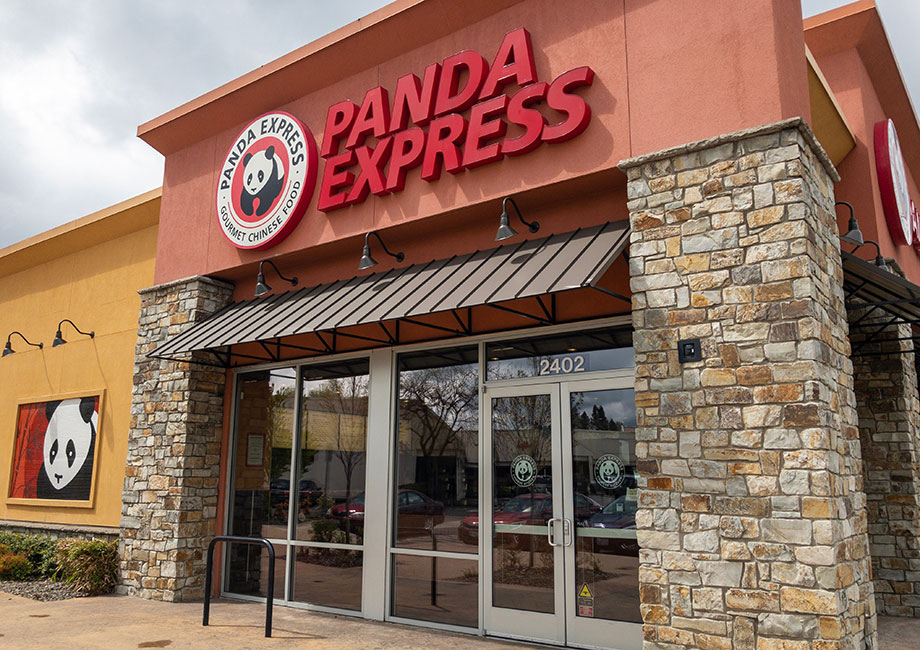 Grilled Teriyaki Chicken
Important note: this dish is chicken only. No rice, no noodles, no vegetables. Just chicken and teriyaki sauce.
Kung Pao Chicken
Even though both this dish and the grilled teriyaki chicken are 6 ounces per serving, this one has less than half the protein content as the weight includes the peanuts, peppers, and zucchini sauteed along with the chicken.
Quick High-Protein Meals You Can Make
Don't have the budget or time to rely on fast food items for your protein needs? We get it. The restaurants above should definitely be kept in mind if you're ever traveling or in a position where you don't have access to a kitchen to prepare your own high-protein foods.
However, as a dietitian, I'm always going to vote for home-cooked meals due to the ability to more accurately track your macros and have control over your ingredient sources and quality. Below are some quick ideas:
Homemade Egg McMuffin
Who needs a drive thru? Fry an egg and assemble some Canadian bacon or turkey sausage patties on a whole wheat English muffin topped with a slice of American cheese. Put in a small pan and cover on heat until the cheese is nice and melty.
Seriously, you can make days ahead of time and wrap them in foil or plastic wrap. Then all you have to do throughout the week is warm them up in the oven or the microwave at work.
Chicken and Cheese Quesadilla
Generously season some canned chicken with taco seasoning for more affordable, already shredded chicken. I also recommend using plain Greek yogurt for sour cream for even more protein.
Tilapia and Black Bean Lettuce Wraps
Pull off some romaine lettuce leaves to make little boats, then fill them with some sheet pan-baked tilapia topped with black beans for a relatively low-carb meal.
Tuna Melt
For the lovers of carbs, mix some canned tuna with some light mayo and Greek yogurt. Spread it onto a couple of thick pieces of sourdough topped with American or cheddar cheese and heat in a pan until the cheese melts. You'll get a super fast lunch that's ready in minutes.
Chicken Caesar Salad
Want to learn a dietitian's favorite hack? Buy a cooked rotisserie chicken from the grocery store and use a fork to get the meat off the bone. Then you have yourself several cups of seasoned, juicy chicken. Get a lettuce mix or, better yet, a Caesar salad kit, and then…just add chicken.
Add a store bought, Greek yogurt-based Caesar dressing (or make your own!) if you really wanna get crazy. You're welcome.
RELATED: High-Protein Meal Delivery
High-Protein Fast Food: Final Thoughts
There are more high-protein options to be found in fast food nowadays than ever before. You just have to know where to look…and where to customize. Ordering fast food online or via an app usually gives you more flexibility in selecting ingredients you like and eliminating others you don't. This is a game changer in allowing active individuals to compose a meal to help them meet their macros.
If you have very high protein goals, such as during a cutting cycle or an injury, it's recommended that you give in to the upcharge of double protein or extra meat. Not only can this help you meet your needs, but can help make your meal more satisfying in general.
Finally, no matter what your selections may be or what your health goals are, try to read the nutrition facts wherever you can. Stick closer to items that have a high protein content to justify their high number of calories. This way, you can free up more of your day's calories for carbs and healthy fats.
High-Protein Fast Food: FAQs
What is the healthiest fast food restaurant?
The healthiest fast food restaurant can vary as it depends largely on what you order. That said, if you're looking for healthier options, you should lean into restaurants that have grilled alternatives to their fried menu items and that allow customization to omit ingredients high in saturated fat.
RELATED: Best Healthy Fast Food
What do bodybuilders eat at restaurants?
Bodybuilders—depending on what stage they are in their body recomposition goals—will likely choose menu items in restaurants that are high in calories, with those calories coming from healthful sources such as whole grains and healthy fats. They are also likely to take care that their entrees have a substantial portion of lean protein. 
RELATED: Bodybuilding Meal Delivery
What is the number 1 healthiest fast food restaurant?
Chipotle is considered the healthiest of the well-known chain restaurants. Not only do they utilize organic, local ingredients with meats from naturally-raised animals, you can make your selected menu item as healthy or unhealthy as you like with customization features.
These statements have not been evaluated by the Food and Drug Administration. This product is not intended to diagnose, treat, cure, or prevent any diseases.