We test and review fitness products based on an independent, multi-point methodology. If you use our links to purchase something, we may earn a commission. Read our disclosures.
When someone asks me what the best weight bench is, the answer is almost always the same: it depends. That answer rings true for most any type of gym equipment, as each person has different needs and fitness goals. So what may work best for an elite-level Olympic weightlifter may not work best for someone who is just starting a beginner-level strength training program.
RELATED: Best Online Workout Programs
Looking at weight benches, the same holds true, as there are options for different budgets, strength levels, sizes, and types of training. One bench is a great example of this: the Flybird Multifunctional Roman Chair. In our testing, we thought the affordable bench provided overall value—but to a specific audience, though. Read our Flybird Roman Chair Bench review to see if this bench suits your needs.
Chairs and Benches, We've Tried Them All
At Garage Gym Reviews, we get our hands on each product we talk about, so every piece of home gym equipment we review has been tested by our team of experts, including certified personal trainers, coaches, and lifelong athletes.
The Flybird Roman Chair was no different, as GGR Everything lead reviewer Lindsay Scheele tried out the adjustable weight bench, noting aspects of its stability, versatility, construction, and overall value. Using the versatile bench, she performed presses, rows, back extensions, sit-ups, and more.
Flybird Roman Chair Adjustable Bench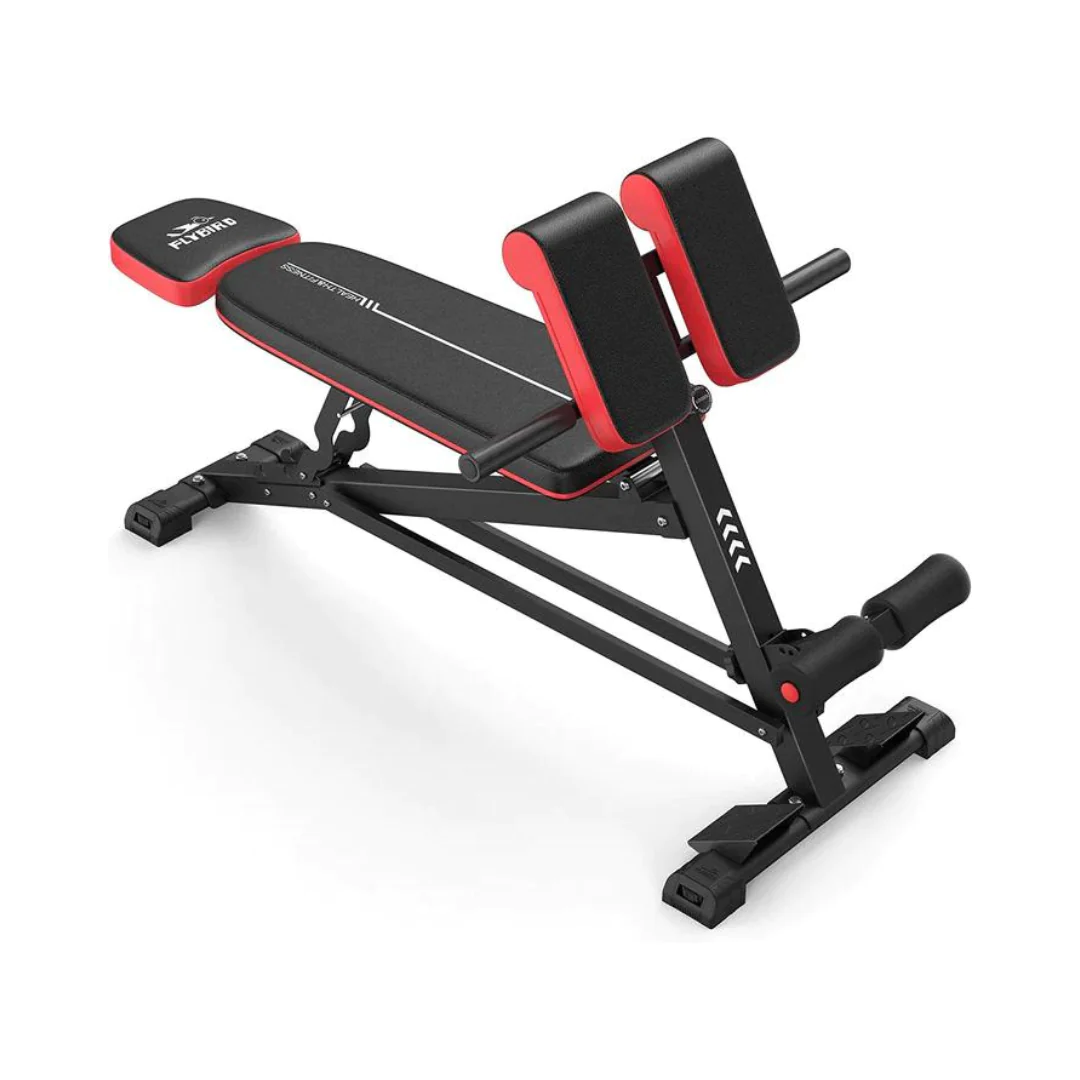 GGR Score: 3.9
Product Highlights
Multipurpose adjustable weight bench

700-lb weight capacity 

3-seat positions

3-foot support positions

6-hand support positions

6-headrest positions
Pros & Cons
Pros
Works as a weight bench
Incline and decline settings
45-degree back extension
Preacher curl function
Free shipping
Cons
Short 1-year warranty
Assembly required
Bottom Line
The Flybird Roman Chair is more than just an adjustable weight bench with incline and decline seat positions. The Flybird Roman Chair provides home gym owners with an all-in-one experience to perform back extensions, preacher curls, and sit ups (just to name a few) with the built-in leg rollers and adjustable hand supports.
A Quick Look at the Flybird Roman Chair Adjustable Bench
Flybird Fitness has been around since 2016 with the goal of providing high-quality and affordable fitness equipment with great customer service. Along with adjustable workout benches, Flybird sells all kinds of exercise equipment: adjustable dumbbells, barbells, cardio machines—even power towers. Along with being affordable, most equipment is made to be lightweight and portable, like their foldable ab machine.
RELATED: Flybird Adjustable Dumbbells Review
The Flybird Multifunctional Roman Chair is no different, made with a compact design and versatility in mind. The bench is lightweight, weighing only 35 pounds, and the weight bench has a Roman chair extension on the bench, perfect for the hyperextensions exercise and other core and abdominal exercises. 
The bench pad can be adjusted across three different positions, allowing for a flat or decline bench press, along with sit-ups and crunches. The bench also has a head pad that can extend out for taller athletes…although not very tall athletes (more on that in a bit).
Before You Buy
Although the Flybird is light enough to be picked up, Lindsay notes it's a little awkward to move around. The bench has no wheels, meaning you'll have to pick it up to move it in your home gym; and because the backrest isn't locked in place, it's not easy to carry comfortably, making it not as stowable as you'd think.
Some customers complain that the sit-up bench is unlevel. However, the foot pads each have a leveler to help with adjusting the balance on your home gym floor.
While the Roman chair attachment on the bench allows for versatility, like preacher curls, bench presses, crunches, and shoulder presses, the bench pad only adjusts from a flat bench to a decline position. There won't be a comfortable way to perform any incline bench moves on this sit-up bench.
Video Review
Is the Flybird Roman Chair Adjustable Bench Worth It?
Currently, the Flybird adjustable bench is on sale on the Flybird website for about $149, with tax included and free shipping. At that sale price, Lindsay says it has pretty good value for a select audience. Because of its budget-friendly price, this is ideal for beginners looking to start a garage gym for home workouts, or for those who are looking for versatility at a low price point.
However, Lindsay says the Flybird has an original price of $259, which won't be worth your money at that price. When you start looking at that price range, better budget benches are available, like the REP Fitness AB-3100 adjustable bench, providing a more stable experience than the Flybird, and costing only $269. "At that price, the AB-3100 is a much more solid and sturdy bench," Lindsay says.
"A lot of companies like Flybird seem to have sales on equipment constantly, and never quite get to that full price," Lindsay reminds us. "If you are interested in purchasing the Flybird adjustable weight bench, I would just watch that cost."
Another factor to consider is the length and size of the bench. The website lists that the Flybird Roman Chair suits athletes up to 5-feet-11-inches tall; after trying out the bench, however, Lindsay thinks that max height is probably closer to 5-feet-9-inches. Even she, being 5-feet-4-inches tall, felt like she was close to the end of the bench pad when lying on the compact bench.
The backrest has an adjustable head pad that can extend the pad length all the way to 44.5 inches, but there's a noticeable 6-inch gap when fully extended. Also, that's still a short pad length when compared to other benches, like the similarly-priced Titan Incline Bench V3 at 49.5 inches long and $169. Even at its sales price, if you're a taller athlete, you should look elsewhere for a weight bench.
Not recommended for:
Athletes above 5' 9"
Those wanting a bit more stability in their adjustable weight bench
People looking for a true FID bench
Flybird Roman Chair Adjustable Bench Specs
| | |
| --- | --- |
| Price | $258.99 ($148.88 on sale) |
| Footprint | 50" L x 20" W x 30" H |
| Weight | 35 lbs |
| Weight capacity | 700 lbs |
| Frame material | Alloy steel |
| Padding | Faux leather, foam |
| Total pad length | 38.6" – 44.5" |
| Adjustment Options | 3 seat positions, 3 foot support positions, 6 hand support positions, and 6 headrest positions |
Using the Flybird Roman Chair Adjustable Bench
GGR Everything lead reviewer Lindsay Scheele tested out the Flybird Roman Chair and also got feedback from other members of our team: notably our operations manager Sam Presley and GGR founder Coop Mitchell.
All three of them thought the bench would work well for some people, but not for others. The biggest call-out was the size of the bench and who it could accommodate. With the smaller bench pad, Lindsay felt the tallest someone could be to fully use the bench would be 5 feet and 9 inches.
Another aspect is it wasn't as stable at heavier weights. This makes it a great option for shorter people and beginners looking for budget fitness equipment. If you're looking for a bench with more stability, maybe consider taking a look at REP Fitness benches, such as the REP AB-4100 adjustable bench.
Durability and Construction
Simply put, the Flybird Roman Chair won't be the most heavy-duty bench on the market, but for its low price, it is well-made and will get the job done. With a frame made of an alloy steel, the bench is rated for 700 pounds, although most beginners using this bench won't be lifting that heavy.
That may be good, too, as the bench isn't as stable as some other weight benches we've looked at. While testing out the bench, Lindsay used 35-pound dumbbells for a flat bench press, and even that felt less stable than she would've liked, leading her to rate the stability a 3 out of 5. Part of this is due to its lighter weight of 35 pounds, but also the excessive adjustment options also play a part in making the bench feel more wobbly than it should.
Footprint and Portability
If you are looking for the best compact exercise equipment for a small gym space, the Flybird Roman Chair may be a good choice, with a footprint of only 50 inches long and 20 inches wide. However, it won't store vertically when not in use, so that'll take up some floor space.
The Roman chair bench weighs only 35 pounds, making it pretty lightweight to move around. However, Lindsay remarks that moving it around is a little awkward due to the size of the bench. "I don't love the fact that it doesn't have any wheels," she says, adding, "You also want to naturally pick it up by the pad, but you can't since the pad isn't locked into place and will move independently of the bench."
Even though it's a fairly portable and lightweight bench, it is a little awkward to maneuver, leading Lindsay to rate its stowability a 4 out of 5.
Versatility
The Roman chair addition to a weight bench definitely can add some variety to your strength training. With the Roman chair, you can use the bench to perform core exercises like back extensions and sit-ups, or even preacher curls. However, that design also limits this bench from being a FID bench, restricting the bench to only flat and decline positions.
RELATED: The Best Core Exercise Equipment
There are also many adjustments you can make on the bench to help personalize your level of comfort during your full-body workouts. However, too much of a good thing can be a harm to the piece of equipment; Lindsay thinks this is one main reason the bench doesn't feel as stable as it could be.
"It has three different head positions, six different arm positions, three different feet positions, three different decline positions…it's just a little excessive for a smaller bench like this." Lindsay rated the adjustability a 5 out of 5, but it's still a bit too much for the stability of the bench.
Flybird Roman Chair vs REP AB-3100
REP Fitness AB-3100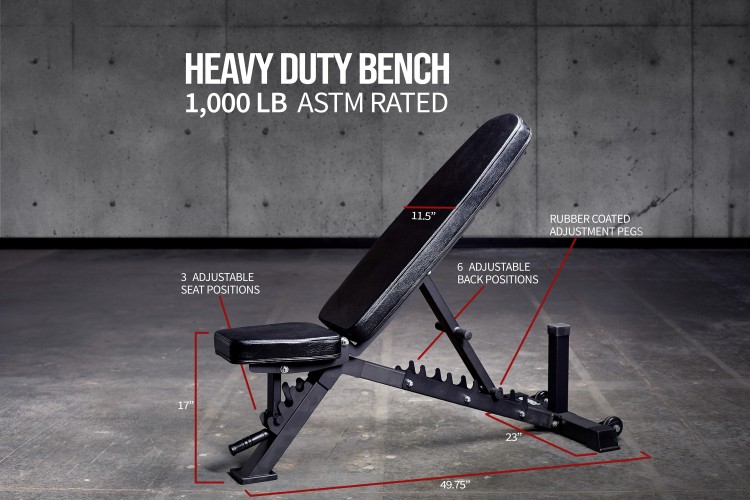 GGR Score: 4.5
Community Score: 3
Product Highlights
Affordable

Easy assembly

Narrow seat

6 adjustable back positions

Three-post design for no interference
Pros & Cons
Pros
Rated for 1,000 lbs rated,
Affordable at less than $200
17" height
3 seat pad adjustments from flat to incline
6 back pad adjustments from flat to 85 degrees
2.5" pad thickness
Matte black powder coating
Small, 2-inch gap between the seat and back pad
11.5 inch pad width
Quick and easy assembly
10-year frame warranty that
Cons
Fairly large footprint
Only locks when the bench is horizontal
Wide, circular, steel feet with no rubber padding
No decline option
May not work for many larger users
Bottom Line
If you are looking for an adjustable bench and do not need a decline option and cannot pay close to $1,000, then the Rep Fitness AB-3100 Adjustable Bench V3 is one we'd suggest. It is made overseas and comes with a 10-year frame warranty and high quality steel construction. It can adjust to six positions and is rated to 1,000 pounds. For the price, you may not find a better or higher quality adjustable bench.
If you're a taller or stronger athlete looking for budget-friendly equipment, you may want to consider the REP Fitness AB-3100 adjustable bench. With 49.5 inches of bench pad length, it's suited for much taller athletes than the Flybird Roman Chair. Although both benches are rated for the same weight capacity, the AB-3100 proved far more stable while weight lifting in our testing.
The types of exercises and versatility will vary on each bench, too. With the Roman chair accessory, the Flybird will have access to core and abdominal exercises that other benches typically wouldn't. The AB-3100 doesn't have any additional attachments, however the back pad can be adjusted to incline positions, allowing for incline presses and chest-supported dumbbell rows.
The other main aspect that will determine which of these benches may be a better addition to your home gym is the price. With the Flybird bench currently marked down to $149, it provides great value for beginners and smaller lifters. However, at its original price of $259, we'd still recommend getting the AB-3100 for $10 more, just because it's a more stable, stronger product.
| | | |
| --- | --- | --- |
| | Flybird Roman Chair | REP AB-3100 |
| Price | $259 ($149 on sale) | $269 |
| Footprint | 50" L x 20" W x 30" H | 50.5" L x 23" W x 16.75" H |
| Weight | 35 lbs | 70 lbs |
| Weight capacity | 700 lbs | 700 lbs |
| Frame material | Alloy steel | 14- and 4-gauge steel |
| Padding | Faux leather, foam | Vinyl, foam |
| Total pad length | 38.6" – 44.5" | 49.5" |
| Adjustment options | 3 seat positions, 3 foot support positions, 6 hand support positions, and 6 headrest positions | 6 back pad positions, 3 seat pad positions |
Customer Experience
The Flybird bench is provided with a 1-year warranty, which at its price point is pretty standard according to Lindsay. Additionally, Flybird offers 30-day returns for their products, although returns are subject to a 10% restocking fee and shipping costs—unless the return is on a faulty product. Any costs or fees will be deducted from the customer's refund.
While the warranty and return policy are fair, they're not astounding, leading Lindsay to rate the policies a 3 out of 5. There are tons of ways to contact Flybird available on their website: contact form, email, and phone. Plus, there is a live chat function on the site, as well.
Ordering and Assembling the Flybird Roman Chair Adjustable Bench
The Flybird Roman Chair Adjustable Bench is available for purchase directly through Flybird's website, but it's also available on Amazon. Both sites offer free shipping. Amazon's price is a little higher, but you can have free returns if you're a Prime member. If this is something you may worry about, this might be the deciding factor in where to purchase the Roman chair from. Flybird offers financing options through Klarna.
Flybird does free same-day shipping. We had no issues in receiving this product, and assembling was very easy, according to GGR Operations Manager Sam Presley. It came in mostly pre-assembled; all that needed to be added were the accessories (the roman chair). For delivery and setup, Lindsay rated this piece of equipment a 5 out of 5.
Customer Reviews
As of this writing, the Flybird Multifunctional Roman Chair has a customer rating of 4.7 out of 5 stars, out of 143 reviews on its website. Amazon has 366 reviews, giving it a slightly lower rating of 4.4 stars. Most positive reviews praised its easy assembly and good value at a low price point.
Most criticism comes from the bench not being the most stable for heavy weight lifting. Also, some customers struggled to make the bench level and balanced on their floor, even with the levelers on the foot pads. Most customers who struggled with this found a DIY solution to help level the bench.
Final Verdict of Our Flybird Roman Chair Adjustable Bench Review
The Flybird Roman Chair Adjustable Bench is a perfect example of how some equipment will work for some people and not for others. After spending time with the Roman chair bench, Lindsay's conclusion is that the bench has value at its current marked-down price, although it's for a specific audience.
If the price stays around $150, then this can be an excellent addition to a newer home gym, or a beginner looking for budget-friendly pieces. Shorter athletes may benefit from it, as well. However, taller or stronger athletes may want to look elsewhere for a more stable bench with a longer pad. Also, if the price starts to climb back up, there may be better options at similar price points.
Flybird Roman Chair Adjustable Bench Rating
Flybird Roman Chair
In our Flybird Roman Chair Bench review, we'll look into this multifunctional bench to see if its overall value and price are worth a look.
Product Brand: Flybird
Product Currency: USD
Product Price: 148.88
Product In-Stock: InStock
Flybird Roman Chair Bench FAQs
Is Flybird a legitimate company?
Are adjustable benches worth it?
Adjustable weight benches can add a bit of versatility to your workouts that you otherwise may not have. With most adjustable benches being able to go from flat to incline positions, you can perform presses at different angles, as well as using the bench for chest-supported rows. Some benches can go into decline positions, which can allow for sit-ups and crunches with a leg roller attachment.
Which workout benches are the best?