We test and review fitness products based on an independent, multi-point methodology. If you use our links to purchase something, we may earn a commission. Read our disclosures.
When you think of garage gym equipment staples, a weight bench probably comes to mind. After all, they are a strength training must-have. However, the best weight benches aren't cheap; they could run you hundreds of dollars. So, would creating DIY weight bench make more sense financially? Well, maybe, but maybe not.
A weight bench is one of those unicorn gym items where building it can be significantly more expensive than simply buying one. Why? Because the cost of lumber fluctuates. As Garage Gym Reviews resident DIY gym equipment expert Sam "AsSAMbly" Presley explains, "Right now, it is literally more expensive to build a bench than to buy a bench."
However, if you've got some lumber lying around and your motto is "I like to make stuff, and I want a DIY gym," this step-by-step tutorial for a DIY weight bench will show you how to make your own weight bench.
DIY Weight Bench: Video Tutorial
Benefits of a DIY Bench Press
Many people think DIY projects are a way to save money as you stock your home gym with fitness equipment. Sometimes this is true, like in the case of DIY weight plates. Unfortunately, we can't guarantee that making your own weightlifting bench will be as economical.
Sam explains, "Even though sometimes it may not be the economically friendly option, having the knowledge and skills to build your own bench will help you a lot if something happens where you are unable to get to a gym."
Versatility and Durability
Our DIY weight bench complements any squat rack or power rack because it is adjustable. As Sam says, "It starts off as a flat bench, [then] you can pull your pin out [and] do a few different movements."
With our design, the front leg folds down, which allows you a lot of versatility with your barbell and dumbbell exercises. Plus, with the addition of a handle and wheels, this DIY home gym bench is super mobile.
You should get a lot of use from this DIY weight bench because it is durable. By taking extra steps, like using two bolts to secure the uprights instead of one, Sam says, it should be "borderline indestructible."
RELATED: DIY Pulling Blocks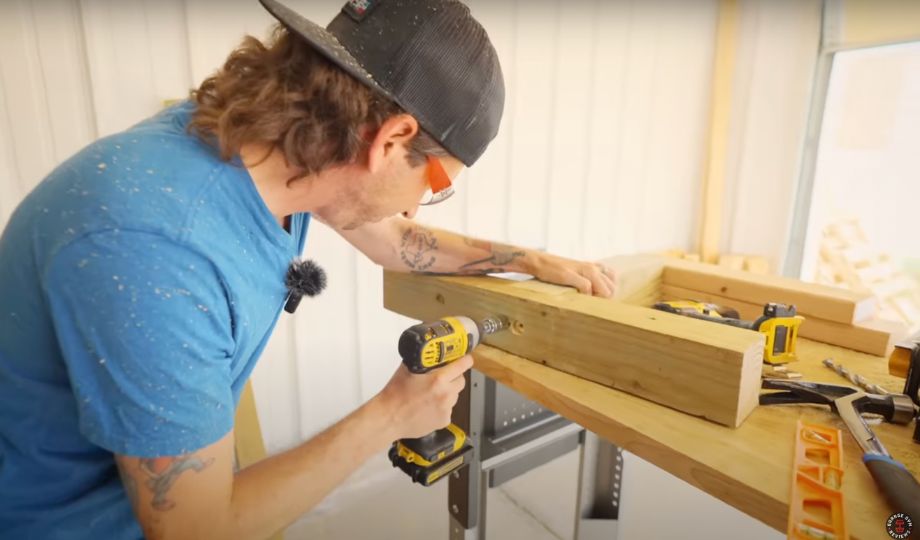 Relatively Easy to Do
If you've already tackled other homemade gym equipment, like a DIY lat pulldown, you shouldn't have any issues doing this. In fact, many of the early stages of the construction process aren't much more complicated than building the frame for a coffee table.
The hardest part of this workout bench for many people is likely the pendulum system for the leg that allows the bench to be converted to an incline bench. This may take some trial and error. There are also parts of the project where an extra set of hands or clamps can make the job a lot easier.
Overall, we think we did a pretty solid job with our design. But, as Kaizen teaches us, there is always room for improvement.
Materials List
Most items on this list are probably already lurking in your garage. But if not, try out your local hardware store or order online via Amazon. Also, Sam reminds people that it is "important to be smart about what you are using. Don't use a 3-inch deck screw and expect to be able to bench press 500 pounds on it."
2×4 pieces of plywood
4×4 planks
Deck screws (2.5" long)
Bolts to attach the upright to the legs
Vinyl material to serve as padding
Adhesive, such as wood glue, for attaching the padding and the vinyl to the bench
Circular saw
Paddle bit
Screwdriver
Hacksaw
Clamps
Guide (2×4) for cutting the piece of plywood
Steps for a DIY Weight Bench
You don't have to be a woodworking professional to make a DIY weight bench. Here's what you've got to do:
Measure out the legs and cut them with a circular saw. Attach the upright to the legs securely with the bolts.

Pro Tip – Make sure to use a bit that is bigger than the bolt head to start with and go about a half inch in to insert the bolt head into the wood.

Build the top by cutting the 2×4 piece of plywood to around 12 inches. Use the paddle bit to drill holes for the screws to secure the pieces. Attach the upright to the legs securely using the bolts.
Cut the board in half using a cutting guide and the circular saw.
(Optional): Cut two 4×4 blocks to around 16 ¼ inches.

Attach the blocks to the side of the bench
Drill holes to create a pendulum contraption for the bench legs.

Attach the blocks to the bench using deck screws, ensuring the leg can swing back and forth using the screw bar.

Add the washer nuts and the stabilizing rod for stability.

Attach the back legs/wheels for added stability and mobility. At any part of this process, you can use sandpaper to sand things down if they do not line up perfectly. 
Apply padding to the bench using adhesive. Remember that, ideally, your bench should be no more than 12 inches wide. 
Test the bench for stability and durability, ensuring that this heavy-duty adjustable weight bench can hold up to your usual routine.
Final Thoughts: DIY Weight Bench
We often think that DIY home options are a money-saving hack. This may be true for some equipment, like DIY concrete dumbbells. However, with the astronomical price of lumber right now, this isn't necessarily the case for the homemade weight bench we constructed and demoed in the video.
But, it is not all bad news. Even if you're not saving money with this approach, you still get benefits. Look on the bright side. Even when you cannot make it to the gym, having this workout bench in your garage will allow you to get the full-body workout you need without missing a day.
FAQs: DIY Weight Bench
What can I use if I don't have a weight bench?
Depending on the type of exercise you're trying to do, a stability ball, dining bench, or even the floor could work. Just ensure that whatever you use is stable. 
Can you make a weight bench out of wood?
Yes, you can make a DIY adjustable weight bench out of wood. However, it's not a cost-saving project since lumber is more expensive today.  
Do you need a bench to lift weights?
No, you can complete countless exercises without a bench. However, having a bench is ideal as it adds a significant number of exercises to your arsenal.