We test and review fitness products based on an independent, multi-point methodology. If you use our links to purchase something, we may earn a commission. Read our disclosures.
Building muscle is one of the most common fitness goals I hear as a certified personal trainer. It's also one of the most difficult goals to achieve, largely because packing on pounds of muscle tissue is a painfully slow process. Lots of people give up on it before they see the results they're looking for.
Muscle hypertrophy also requires a bit of fine-tuning when it comes to your diet. You'll need to eat more in general and consume more protein, among other things. Having the right supplement stack isn't a golden ticket to muscle mass land, but it can certainly help. Here, we round up the best supplements for muscle growth and explain how each one can benefit your journey.
Our expert product testers are comprised of certified nutrition coaches, personal trainers, weightlifting coaches, and athletes who get stoked over fitness and nutrition minutia.
We analyzed each muscle growth supplement to ensure it contains research-backed ingredients and doses, key certifications such as third-party testing, and brand credibility before testing them for at least a month to check their effectiveness, taste, and side effects.
Medical disclaimer: This article is intended for educational and informational purposes only. It is not intended as a substitute for medical advice. For health advice, contact a licensed healthcare provider.
13 Best Supplements for Muscle Growth in 2023
Best Pre-Workout for Muscle Growth: Transparent Labs BULK
Good for: People who want a little extra muscle-building oomph in their pre-workout
Pre-workout constitutes less of a direct factor in muscle growth and more of an instigator: It won't spark a reduction in body fat or aid in muscle recovery, but it can help you push out more reps in the weight room and improve your overall exercise performance.
Pre-workout supplements can contain any number of ingredients, from scary amounts of stimulants to vasodilators like the nitric oxide booster L-arginine to who knows what else—so we love Transparent Labs BULK Pre-Workout because the formulation is simple.
As Krissy Kendall, Ph.D., wrote in our guide to the best pre-workout, Transparent Labs BULK is "a product that contains research-backed ingredients to enhance strength, stamina, focus, and energy, and could be suitable for bodybuilders or those just looking to pack on muscle."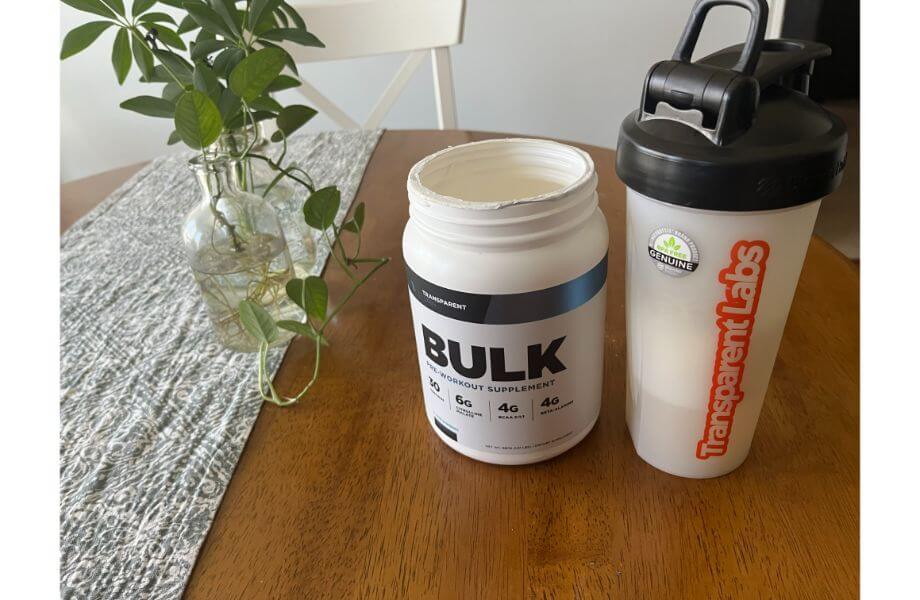 Dr. Kendall loves that BULK contains the research-backed dosages of many ingredients, including citrulline malate at 6 grams per serving, which is shown to improve performance and ease temporary post-workout muscle soreness1.
BULK also contains beta-alanine at 4 grams per serving, the science-backed dose shown to support increased muscle endurance2. One thing to note: Beta-alanine, especially in high doses, can have a side effect of paresthesia, which is the harmless but very strange sensation of tingling in the lips and limbs.
The one thing that could make this supplement better is the inclusion of creatine, but you could always take creatine separately.
Nicole tested this product and says, "Blue Raspberry was tasty, and it mixed well. I experienced significant tingling and only took half a serving, so there's something to be said of that mega dose of beta-alanine."
Our Transparent Labs BULK review takes a deep dive into this pre-workout for muscle gain.
| | |
| --- | --- |
| Price per serving | $1.66 |
| Calories per serving | N/A |
| Flavor options | Strawberry Kiwi, Piña Colada, Black Cherry, Watermelon, Sour Grape, Green Apple, Orange, Blue Raspberry, Strawberry Lemonade, Peach Mango, Lemon Lime |
Best Protein Powder for Muscle Growth: XWERKS Grow
Good for: People looking for a high-quality, grass-fed whey protein powder
Protein powder is probably the most well-known supplement when it comes to the pursuit of muscle gain. It's commonly used in all strength training disciplines, but especially in the bodybuilding community. Research tells us that whey protein powder is one of the best muscle-building supplements available.
Protein shakes, such as XWERKS Grow, support muscle protein synthesis3, the process by which your body builds new muscle tissue. Post-workout protein shakes are also known to aid in muscle recovery after resistance training.
A high-protein diet can also assist with weight loss goals and positive changes to body composition, specifically helping to maintain more lean body mass. Of course, whole food protein sources are best, but when you're trying to pack on lean muscle, any source of protein helps.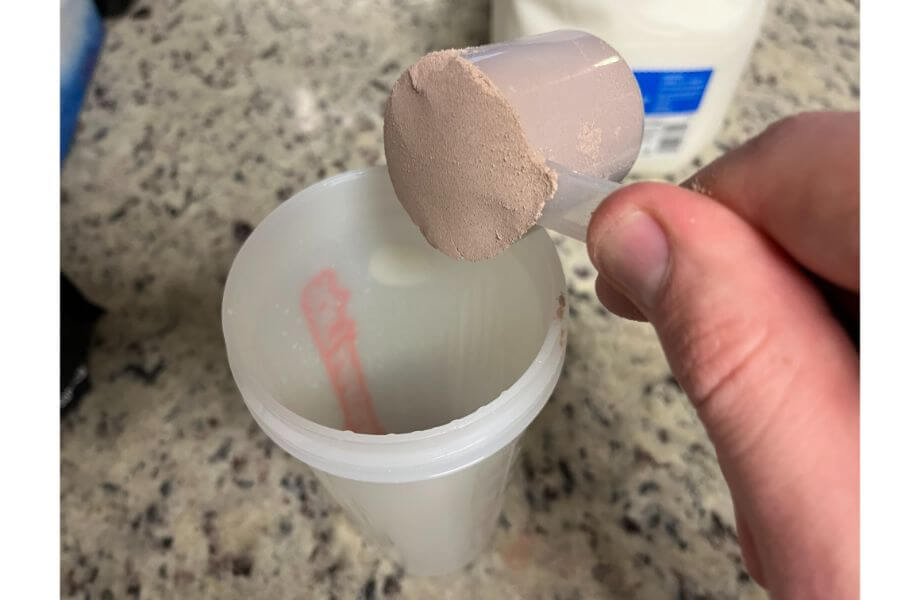 We love XWERKS Grow because it tastes great in all of the available flavors and has 25 grams of microfiltered protein per serving. The protein comes from whey protein isolate, which is one of the purest forms of whey available. XWERKS Grow contains something most other powders don't: alpha lactalbumin, a protein found in human breast milk that's needed for growth4.
It's also free of dyes, fillers, and artificial flavors. Plus, the chocolate flavor tastes like a Yoohoo, which is enough to make XWERKS Grow a go-to protein powder for GGR product tester Anthony O'Reilly.
| | |
| --- | --- |
| Price per serving | $1.96 |
| Calories per serving | 110 |
| Flavor options | Chocolate, Vanilla, Peanut Butter, Strawberry |
Best Essential Amino Acid Supplement for Muscle Growth: Transparent Labs CoreSeries Intra EAA
Good for: People looking for a boost of essential amino acids and a tasty intra-workout drink
Essential amino acids are those that your body cannot produce on its own, so you have to get them from food or supplements. There are 20 amino acids required for human health, and nine are essential. Those are:
Histidine
Isoleucine
Leucine
Lysine
Methionine
Phenylalanine
Threonine
Tryptophan
Valine
Transparent Labs CoreSeries IntraEAA contains L-lysine, L-threonine, L-phenylalanine, L-histidine, L-tryptophan, and L-methionine; and covers leucine, isoleucine, and valine in the 2:1:1 BCAA blend.
Other notable ingredients include ElevATP, a patented nutraceutical made of "ancient peat" (fossilized plants) and apple skin. This combo is said to increase production of ATP5 (adenosine triphosphate), which is a major driver of muscle contraction6 in the human body.
This supplement also contains AstraGin®, a compound that exhibits antioxidant effects7 and is claimed to increase absorption of nutrients, including amino acids. The betaine anhydrous is supposed to increase muscle strength and power, but the jury is still out, according to a 2017 systematic review8.
Coconut water powder provides a nice heaping of electrolytes for hydration and healthy muscle function, while citrulline malate is included for its purported effect on nitric oxide production9 and taurine appears for its potential benefits on muscle contraction and oxygen uptake.10
I got the Blue Raspberry flavor. Like other Transparent Labs supplements I've tried, this flavor turned out to be too sweet for me unless I mix it with more than the recommended amount of water. It has a bit of a tart aftertaste, which I actually really liked. Overall, I'd continue to drink this as my intra-workout supplement.
As for solubility, this stuff dissolves fine initially but it does settle if left alone. Either drink it quickly or give your bottle a quick shake before each swig.
| | |
| --- | --- |
| Price per serving | $1.46 |
| Calories per serving | 5 |
| Flavor options | Blue Raspberry, Strawberry Lemonade |
Best BCAAs for Muscle Growth: Huge Supplements BCAAs
Good for: A BCAA supplement with all 9 essential amino acids
Branched-chain amino acids, or BCAAs, include leucine, isoleucine, and valine, three essential amino acids with particular chemical structures. They are known to have protein anabolic properties11, which means they're important in your body's ability to build and repair muscle tissue.
There are tons of BCAA supplements out there, but Huge Supplements BCAAs are the best for explicit muscle growth goals because they contain not just the three BCAAs, but also the other six essential amino acids.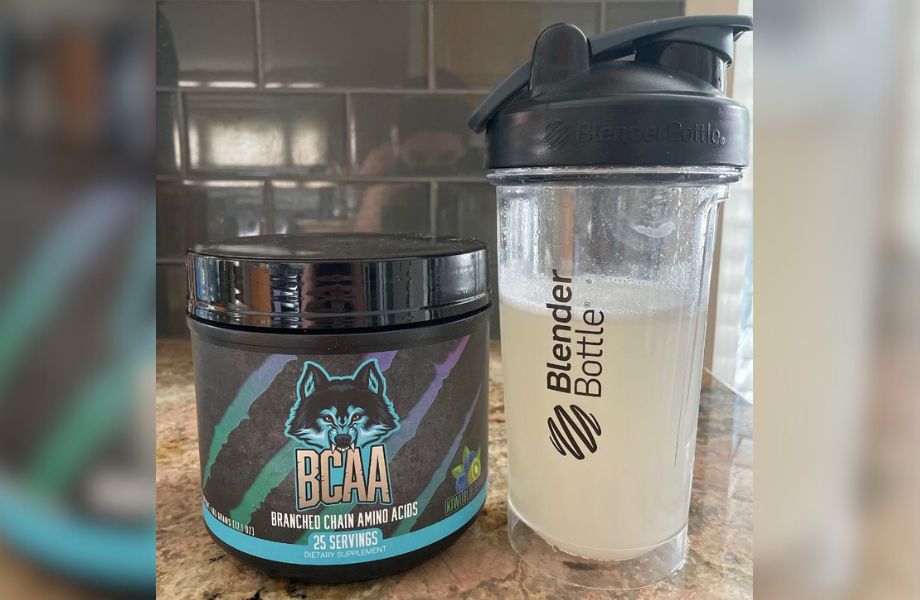 And, as Dr. Bob Iafelice explained in our guide to the best BCAAs, "Only a complete protein composed of all nine essential amino acids will maximize muscle protein synthesis3 and subsequent muscle gains."
BCAA supplements have indeed been shown to accelerate muscle recovery12, but other research reveals that you're probably already getting enough13 if you're eating the recommended 1 to 2 grams of protein per kilogram of body weight per day.
If you're going to take one, though, we recommend Huge because of its nutrient profile and fun flavors. Nicole tested the Kiwi Blueberry flavor and was glad that she didn't find it overly sweet and "definitely got the kiwi taste." The powder also dissolves well, she says.
| | |
| --- | --- |
| Price per serving | $1.60 |
| Calories per serving | Not disclosed |
| Flavor options | Kiwi Blueberry, Bomb Popsicle, Watermelon Lemonade, Sour Grape |
Best Bodybuilding Supplement for Muscle Growth: Jacked Factory Build XT
Good for: Trainees who are looking to pump out as many reps as possible in the weight room
Build XT contains a number of compounds and ingredients that have been backed by scientific research to help you perform more reps in the weight room, which leads to more muscle. In fact, the formulation is so on point that supplements expert and professional nutritionist Dr. Bob Iafelice said he was considering taking it for himself.
"Interesting stim-free combo," Iafelice says. "Seems like a scaled down version of PerformElite," referring to a popular stim-free pre-workout.
RELATED: Best stim-free pre-workout
We can tell just by looking at it, along with Dr. Iafelice's endorsement, that it's a worthy muscle-building supplement. The main star is Peak O2, a blend of mushrooms that supports increased training intensity and duration14—in other words, you can work harder for longer.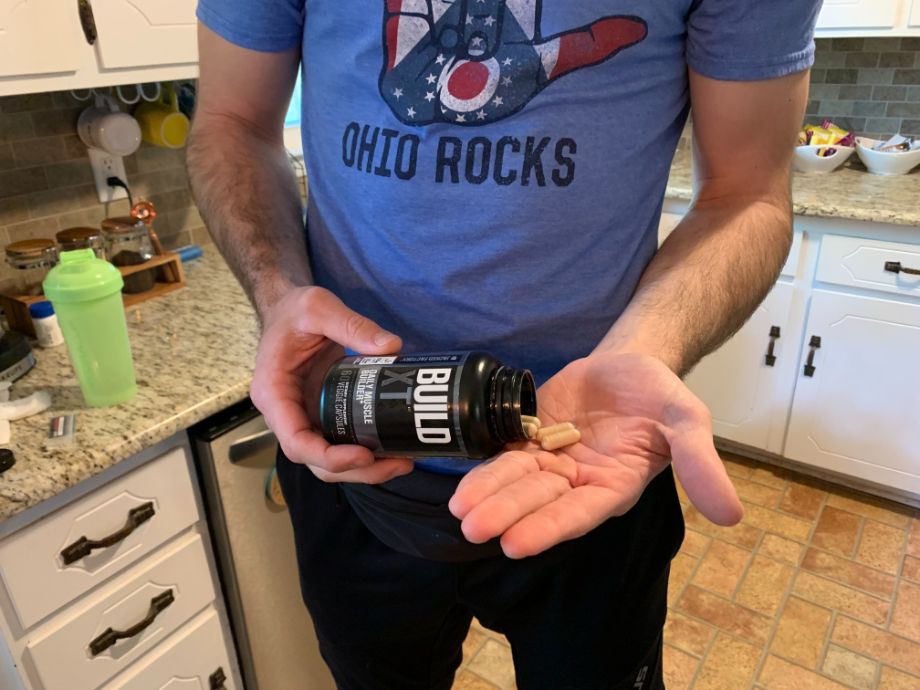 Jacob Penner, GGR product tester and USA Weightlifting Level -2 coach, has tried Build XT. "There is a bit of an herbal taste to these," he says. He felt the nootropic effects quickly; as far as muscle growth, he will continue to test this product and will report back.
This might not be the best product if you need that caffeine boost to get you going, but since these are offered in capsule form it's easy to stack them with the pre-workout of your choice.
| | |
| --- | --- |
| Price per serving | $0.99 |
| Calories per serving | N/A |
| Flavor options | Unflavored |
Best Creatine for Muscle Growth: RedCon 1 Tango
Good for: A trainee whose main goal is to increase muscle size
Creatine supplements are among the most-studied dietary supplements across scientific literature as a whole. Benefits of creatine include increased power output15, the ability to repeat sprints at near-maximal effort16, increased maximal muscle strength17, and increased muscle mass18, according to Krissy Kendall, Ph.D., who reviewed our guide to the best creatine.
RedCon1 Tango has a great formulation of creatine ideal for muscle-building:
A research-backed 5 g of creatine monohydrate per serving
1 g of creatine HCl—a super soluble form of creatine that may help mitigate potential GI issues
1 g of patented Creatine Magnapower (creatine molecule bound to magnesium) said to "improve ATP production (energy)"
The 2.5 grams of betaine anhydrous may promote hydration of muscle cells and enhanced workout endurance19, Dr. Kendall explains. All in all, this is a high-quality creatine option that comes in several yummy flavors.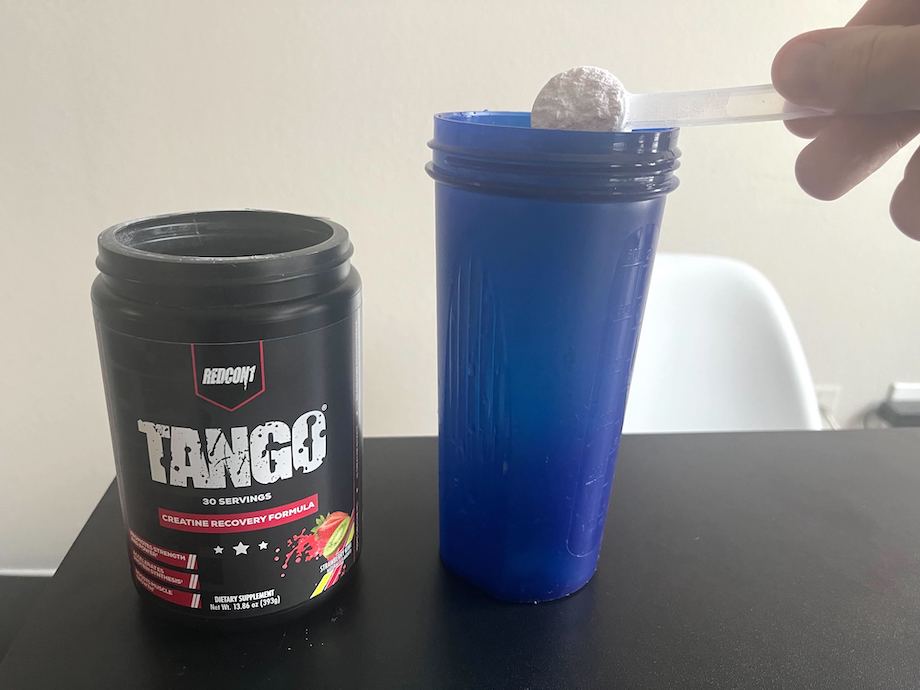 GGR performance editor and expert product tester Anthony O'Reilly loves Redcon 1 Tango so much, that he is putting it on a subscription. "My biggest pro, personally speaking, is that this is one of the few creatines that hasn't made me feel overly bloated. Beyond that, I noticed an almost immediate improvement in my lifts and felt less sore after rigorous training sessions."
| | |
| --- | --- |
| Price per serving | $1.33 |
| Ingredients | Creatine monohydrate, betaine anhydrous, Creatine Magnapower, taurine, l-ornithine HCl, creatine HCl |
| Flavors | Grape, Strawberry Kiwi, Tigers Blood, Unflavored, Sour Gummy Bear, Icy Lemonade, Rocket Bomb |
Best Carb Supplement for Muscle Growth: JYM Post JYM Fast-Digesting Carbs
Good for: Quickly replenishing muscle glycogen after a tough workout
Carbohydrate supplements are pretty straightforward. They consist primarily of quick-digesting carbohydrates and, when it comes to muscle growth, can serve two distinct purposes.
Post-workout carb powders like Post JYM intend to accelerate glycogen replenishment and enhance nutrient transport so your tired muscles can more quickly recover and rebuild. Indeed, consuming high-glycemic carbohydrates20 soon after a workout has been linked to both of those benefits.
In the endurance world, carb powders are often consumed before and during training to prolong work capacity and stave off fatigue and hunger. That might prove useful if you plan on a long, high-volume session in the weight room.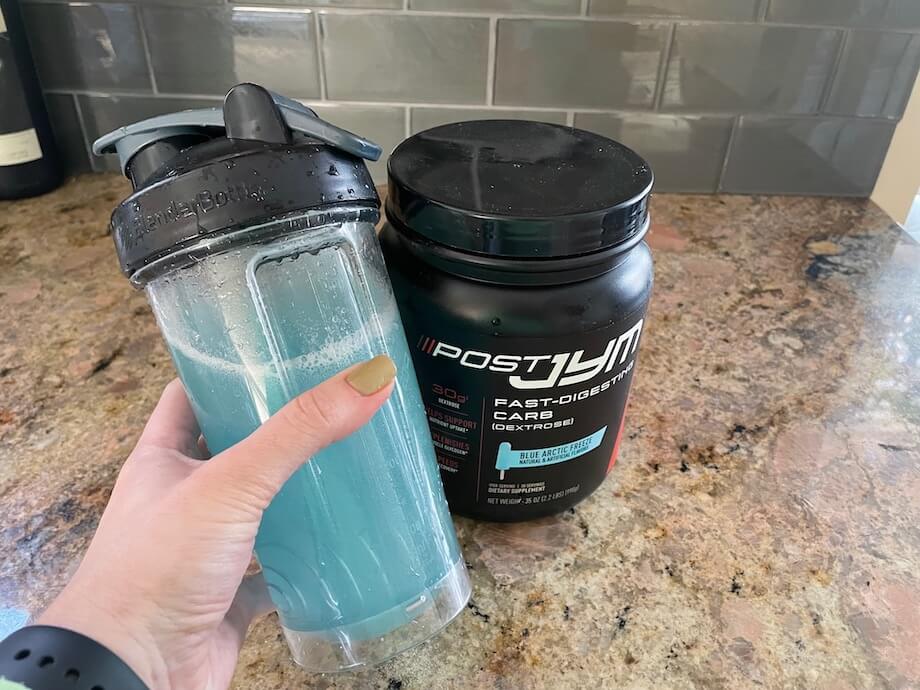 JYM Post JYM Dextrose Fast-Digesting Carbs consists of dextrose, citric acid, malic acid, sucralose, acesulfame potassium, and food dye. Dextrose, a simple sugar chemically identical to glucose, is the key and primary ingredient here.
"The flavor wasn't great, as it didn't taste like much, just sweetness," Nicole says. She tried the Blue Arctic Freeze flavor. "I would've preferred something more flavorful." The consistency, however, is great: It mixes well and is thin, Nicole says.
| | |
| --- | --- |
| Price per serving | $0.73 |
| Calories per serving | 120 |
| Flavor options | Blue Arctic Freeze, Lemonade, Mandarin Orange, Rainbow Sherbet, Green Apple Gummy |
Best Mass Gainer for Muscle Growth: Rival Nutrition Clean Gainer
Good for: Those who need more calories and protein without a bunch of junky ingredients
When you're trying to pack on muscle, it's ideal to consume more energy than you burn21—human bodies are crazy awesome, but they're not magical, and they can't create new tissue out of nothing. Mass gainer supplements can be quite helpful in this regard, as they're an avenue for increased caloric intake and they're easy to time smartly around your workouts.
In our guide to the best mass gainer, GGR performance editor Anthony O'Reilly selected Rival Nutrition Clean Gainer as the best for bodybuilding for a few reasons. For one, it has a 1:3.3 protein-to-carb ratio, which is great for "lean bulking," or attempting to put on as much muscle and as little fat as simultaneously possible.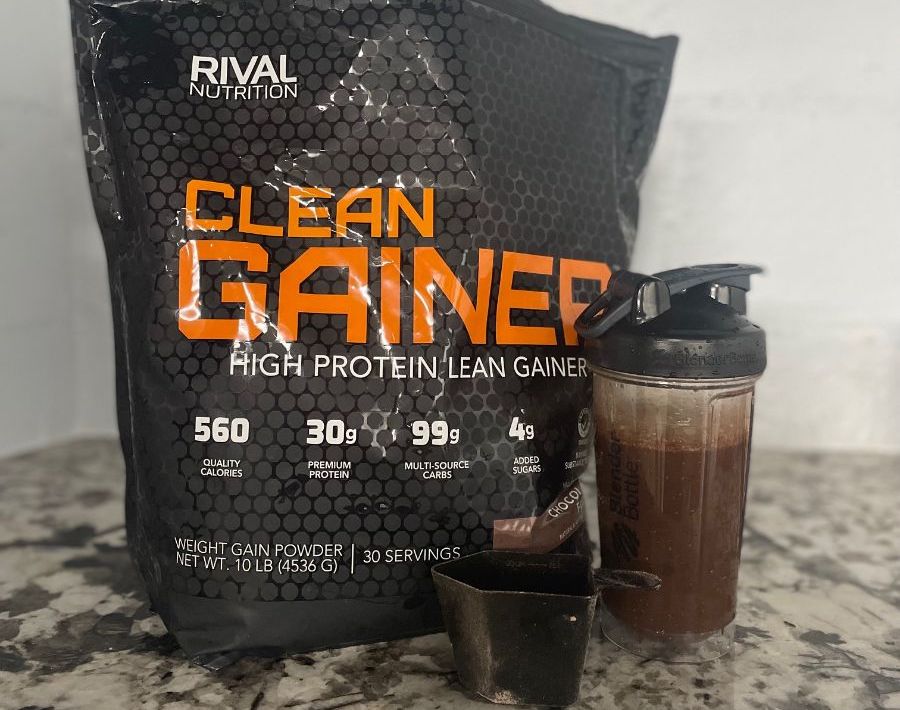 Additionally, this mass gainer only includes 4 grams of added sugar, which is on the very low side for mass gainers. We would've liked to see a more potent micronutrient blend in this powder, but we're happy with the 30 grams of protein from whey and casein.
This supplement is also tested for banned substances, so it's safe for athletes to take.
Nicole tested Rival Nutrition Clean Gainer and was pleased to report that it mixed well into a smooth, creamy texture with no gritty clumps. She liked the Chocolate Fudge flavor and said it reminded her of hot cocoa.
| | |
| --- | --- |
| Price per serving | $4.37 |
| Calories per serving | 560 |
| Flavor options | Campfire S'mores, Chocolate Peanut Butter, Cookies & Cream, Cinnamon Toast Cereal, Chocolate Fudge, Soft Serve Vanilla |
Best Beta-Alanine Supplement for Muscle Growth: Swolverine CarnoSyn® Beta-Alanine
Good for: Potential increases in overall work capacity and lean mass
This supplement is supposed to help reduce muscle fatigue, increase strength, improve endurance, and optimize performance when you take it before or during workouts. CarnoSyn® is a patented form of beta-alanine that's been studied in more than 50 clinical trials.
People supplementing with CarnoSyn® have demonstrated increases in work capacity22, increased peak power output,23 improved endurance and increases in lean body mass,24 and greater strength.25
All of these benefits are thought to be the result of increased carnosine concentration26 in the muscle tissue (carnosine is a dipeptide molecule created from beta-alanine and histidine).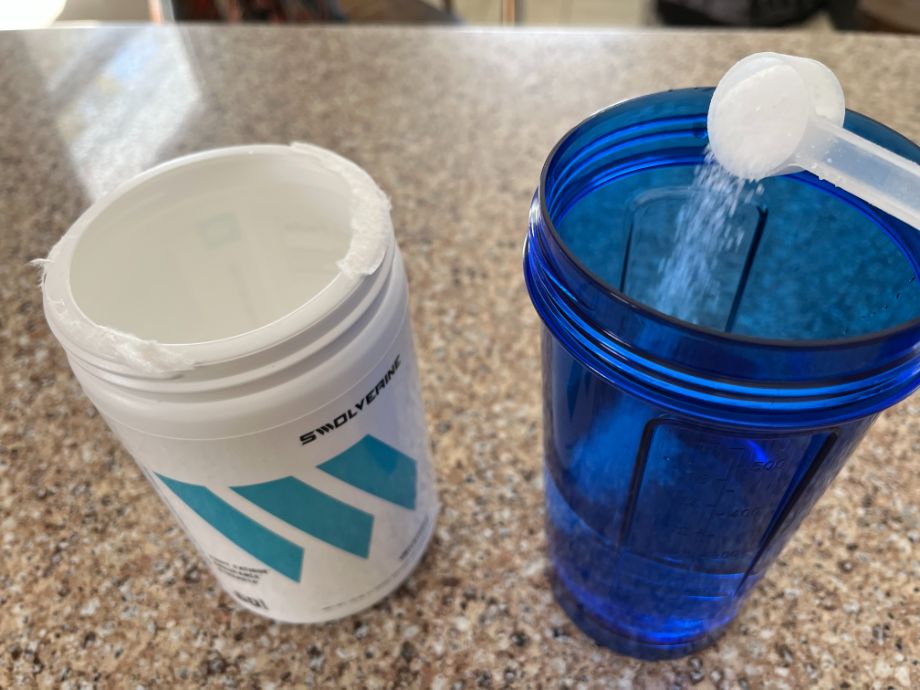 There was "not much taste, which was a nice surprise!" says GGR staff writer Lauren, who tested the Swolverine CarnoSyn® Beta-Alanine. Sometimes, unflavored supplements can have a weird taste or aftertaste, so we love when one is actually unflavored.
Unfortunately, this supplement gave Lauren an upset stomach during her morning workouts, which are always fasted. "When I took it with food, I don't think there was a noticeable side effect of more power and less muscle fatigue, to be honest. This came in a stack with the Swolverine Citrulline Malate. I took them together and still didn't think this did much."
While our testers' personal experiences don't always support the claims made about supplements, remember that the efficacy of supplements often depends on chronic (long-term) use and consistent clinical dosage.
| | |
| --- | --- |
| Price per serving | $0.91 |
| Calories per serving | Not disclosed |
| Flavor options | Unflavored |
Best Plant-Based Protein for Muscle Growth: KOS Organic Plant Protein
Good for: Those seeking vegan sources of protein to supplement their diets
Typically, plant-based protein doesn't offer a complete protein, so you wouldn't find it on a list of products ideal for muscle growth. However, KOS, which has established itself as a reputable supplements brand, offers all nine essential amino acids in its Organic Plant Protein by using a protein blend of:
Pea protein
Pumpkin seed protein
Quinoa protein
Flaxseed protein
Chai seed protein
Not only is the protein complete, but you get 20 grams of it in every 160-calorie serving, along with 9 grams of carbs and 7 grams of healthy fat (for the chocolate flavor). We also love that KOS Organic Plant Protein contains a digestive enzyme complex to help sensitive tummies digest the nutrients in this powder.
Many people shy away from plant-based protein due to taste. However, I tested this protein powder myself and found it to be one of the best vegan protein powders I tried. It's sweetened with stevia extract and monk fruit, meaning there's no icky aftertaste from artificial sweeteners like sucralose and aspartame. I tried the chocolate flavor and found it to be quite rich, actually, and not so earthy like other plant-based proteins. I gave it a 3.5 out of 5 for taste.
For a vegan protein powder, KOS Organic Plant Protein scored pretty highly for texture, too, earning 3.75 out of 5 points. It's certainly not whey protein smooth, but it's not as clumpy or grainy as other vegan proteins I have tried.
Read more in our in-depth KOS vegan protein review. If, on the other hand, you're looking for a more portable plant-based protein supplement, we recommend checking out our No Cow protein bar review.
| | |
| --- | --- |
| Price per serving | $1.50 (may vary depending on where you buy) |
| Flavors | Chocolate, Vanilla, Blueberry Muffin, Chocolate Chip Mint, Chocolate Peanut Butter, Salted Caramel Coffee, Unflavored |
| Calories per serving | 160 |
Best Citrulline Supplement for Muscle Growth: Swolverine Citrulline Malate
Good for: Potentially increased nitric oxide production and related benefits
Citrulline malate is a compound of L-Citrulline and malic acid. The claim here is that this combo raises arginine and ornithine plasma levels, which promote the production of nitric oxide3. Increased nitric oxide, a vasodilator, in the body increases blood flow and reduces blood pressure24.
This supplement claims to promote endurance, muscle force, and power, and delay muscle fatigue (based on some clinical trials, such as this September 2010 study25, this study from May 201026, and this August 2002 study31).
But, tester Lauren says she personally didn't notice the effects of any of this. She guesses it could be because she works out in the morning (on an empty stomach, usually) and it has been giving her an upset stomach to take this without food—definitely a side effect that can negate the potential benefits of any sports nutrition supplement.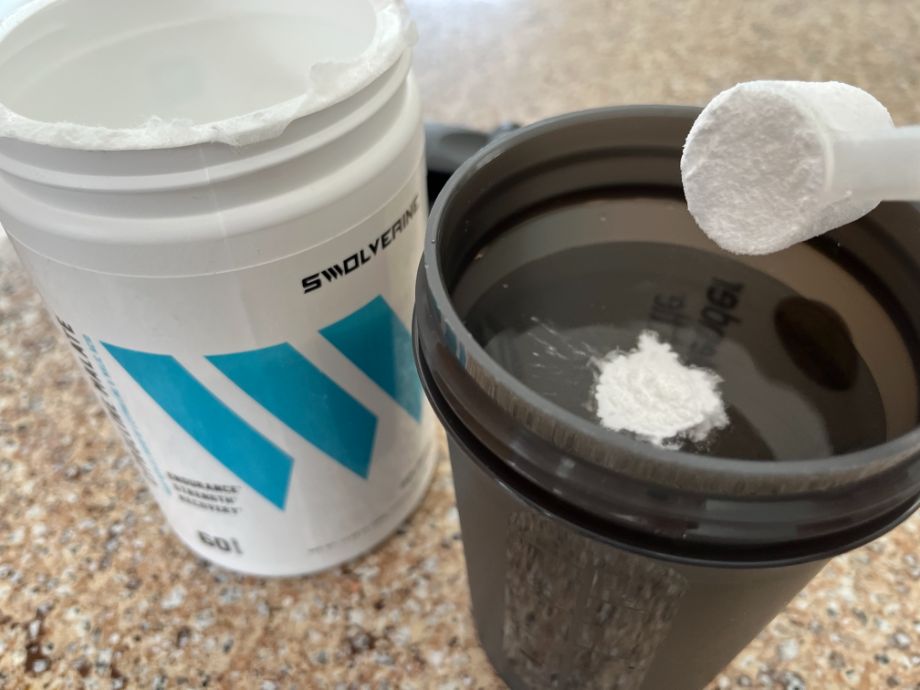 Although Lauren didn't notice greater muscle power or less muscle fatigue during her workouts when taking Swolverine Citrulline Malate (and the science around citrulline malate as an ergogenic aid remains ambiguous8), we know there are people who are still going to use citrulline supplements.
So it's our job to recommend a good one. We like Swolverine Citrulline Malate because what you see is what you get: This product is free of proprietary blends and the only ingredient is citrulline malate. If you don't believe it, we can do the simple math. A serving size is 5 grams, and in one serving there are 5 grams of citrulline malate. That doesn't leave room for much (anything) else, does it?
Additionally, the product is made in a GMP-certified (Good Manufacturing Practices) facility.
"This is a powder that claims to be unflavored but I found it made my water taste like I squeezed a lime into it," Lauren says—not the worst thing, but something to be aware of if you're looking for a true lack of flavor.
| | |
| --- | --- |
| Price per serving | $0.88 |
| Calories per serving | Not disclosed |
| Flavor options | Unflavored |
Best Carnitine Supplement for Muscle Growth: Kaged L-Carnitine
Good for: Increased metabolism and accelerated muscle recovery
It's not often that you can feel the effects of a supplement soon after you start taking it (with the exception of pre-workout, that is.) But GGR performance editor and product tester Anthony O'Reilly, who's also a NASM-certified nutrition coach, says without hesitation: "I can tell you that this thing works!"
L-carnitine plays a "pivotal role in fatty acid oxidation and energy metabolism32". It may also mitigate muscle damage33 after strenuous workouts.
"I felt an increase in my metabolism on the days I took this," Anthony says, "but there were some days it left me feeling a bit nauseous. There's 500 milligrams (5 grams) per serving, so I'd recommend this for bigger people." If you're a petite person, consider halving the serving size.
"I'd also recommend taking it shortly before a meal to reduce any potential side effects," Anthony cautions.
Anthony likes that you only need to take one capsule, as some brands have you take two or more. There's also 250 servings per container, "which is a big plus in this economy," Anthony says.
| | |
| --- | --- |
| Price per serving | $0.09 |
| Calories per serving | N/A |
| Flavor options | None, capsule |
Best HMB Supplement for Muscle Growth: Transparent Labs Creatine HMB
Good for: Creatine with a kick
Transparent Labs Creatine HMB puts a unique spin on a traditional creatine supplement. Not only does each serving contain the clinical creatine dosage of 5 grams, but one serving also has 1.5 grams of beta-hydroxy beta-methylbutyrate (HMB).
As Dr. Kendall explains in our guide to the best creatine, "HMB is a metabolite of the amino acid leucine, which helps to prevent the breakdown of muscle protein and can help speed up the recovery process from strenuous exercise."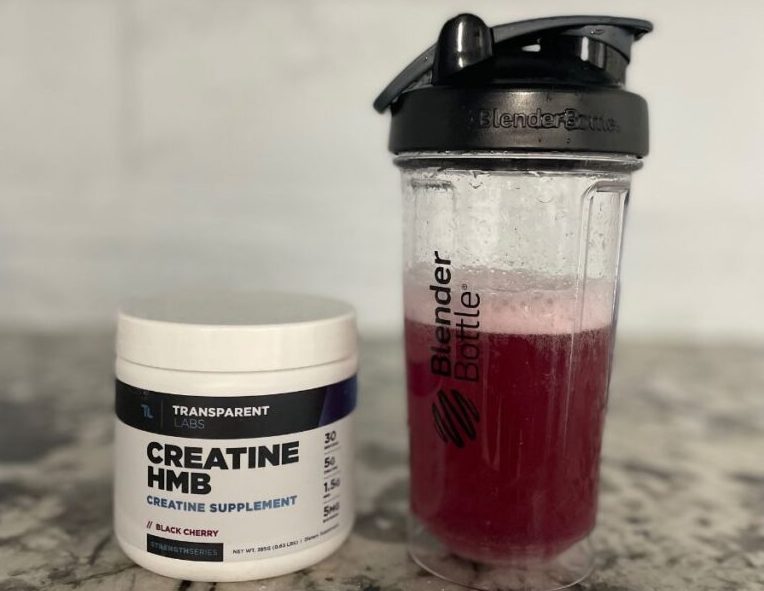 HMB has also been studied for its effects on body composition. Some studies show that HMB supplementation may increase fat-free mass (muscle) and reduce body fat.34 However, a more recent meta-analysis35 found the relationship to be unclear.
Regardless, we have to give props to Transparent Labs for creating this supplement with the clinically-backed dosages of various ingredients.
I got the Peach Mango flavor and there's something admittedly weird about it. The flavor itself is good and strong enough, but I think the BioPerine, which is a derivative of black pepper, is altering the taste. (BioPerine is a compound that increases the bioavailability36 of nutrients when taken together.)
When you smell it, it smells spicy in a weird way. It's kind of off-putting. When mixed, it tastes a bit bitter unless mixed with more than the recommended amount of water.
| | |
| --- | --- |
| Price per serving | $1.66 |
| Calories per serving | Not disclosed |
| Flavor options | Unflavored, Sour Grape, Peach Mango, Fruit Punch, Watermelon, Black Cherry, Blue Raspberry, Orange, Tropical Punch, Hawaiian Splash, and Strawberry Lemonade |
Other Muscle Growth Supplements We Researched
Our team has personally tested more than 200 supplements for our nutrition guides. Product testers on our teams have pantries full of protein powder, BCAAs, EAAs, creatine, pre-workout, carb powders, electrolyte powders, sports drinks, and much more.
We consistently research and test products from the best brands in the industry, including Optimum Nutrition, Transparent Labs, XWERKS, Cira, Onnit, Bulk Supplements, Huge Supplements, Cellucor, Legion Athletics, Swolverine, GAT, Ghost, and others.
We have complete guides to various supplements where you can learn more about the different products we've tested:
How We Picked and Tested the Best Supplements for Muscle Growth
Since our team has such an extensive history in fitness and wellness, we always start with our personal experience. We consider what supplements we've used in the past and which ones we continue to use, recounting the various brands we've tried.
We then research online for more products in a given category to expand our knowledge of what's available. Using our personal experience and research, we create shortlists of products that we then order and test ourselves.
After testing—as in, actually using and consuming—the supplements, we write detailed notes in our product database, where we can collaborate with others on the team to paint a complete picture of the products we test.
Here's a deeper look into the individual factors we ask our certified personal trainers and nutrition coaches to look at when testing muscle growth supplements.
RELATED: GGR supplement testing methodology
Ingredients
We analyze the ingredients and nutrition information side of supplement containers to see that they contain research-backed ingredients with effective dosages. That means making sure pre-workout supplements have at least 200 milligrams of caffeine and protein powder has at least 20 grams of good-quality protein. We also consider whether artificial ingredients are used or if any extras could potentially cause harm.
Third-Party Testing and Certifications
Since dietary supplements are not approved by the FDA, having an independent third-party lab verify that what's on the label is what's in the muscle growth supplement is super important, especially for athletes. You should look for an Informed Choice or National Sports Foundation (NSF) certification if this is a concern for you.
Depending on your individual health needs and preferences, you might also want to look for certifications that show the supplement is organic, dairy-free, or grass-fed. There are also certifications for animal welfare, meaning the supplement company has promised to care for all livestock used in processing the product. Anyone who follows a kosher or Halal diet should look for these certifications, too.
Transparency also plays a part in this—does the company provide a certificate of analysis, not use proprietary blends, and generally seem very upfront about what's used in their supplement and why?
Side Effects
Our testers looked at whether any of the supplements caused any adverse side effects like nausea or disrupted sleep cycles. There are a lot of supplements that can cause health issues and we'd never suggest such a product—consider us your human guinea pig.
Taste
While taste is subjective, we took our testers' opinions into consideration along with that of online customer reviewers.
Benefits of Muscle Growth Supplements
Not to state the obvious, but muscle growth supplements will—or should—help you build muscle. They're not a magic formula that will increase your muscle mass in the absence of a nutritious diet and hard work in the weight room, but they can certainly act as a support beam.
For example, a mass gainer supplement can help you stay in a caloric surplus when you find it difficult to eat enough calories from solid food. Protein powder can boost your daily protein intake by a very substantial 20 to 30 grams.

Carbohydrate powders provide your body with quick, easily digestible energy so you can work out harder for longer. Likewise, the caffeine in pre-workout can improve exercise performance and reduce your perception of fatigue.
Other supplements, like amino acids, have more minute ways of benefiting muscle growth. For example, according to the National Institutes of Health fact sheet37, citrulline is thought to indirectly "increase blood flow and the delivery of oxygen and nutrients to exercising muscles and speed up the removal of waste products that cause muscle fatigue."
Bear in mind that weight training with progressive overload and eating in a caloric surplus is the primary formula for muscle growth.
Dosing and Interactions
All of the products covered in this guide to the best supplements for muscle growth are considered generally safe for consumption. However, food-drug interactions38 and supplement-drug interactions are common. In many cases, the interaction is simply that consuming the supplement reduces the efficacy of the drug by altering bioavailability.
To recap, here's a brief summary of each type of product and any watch-outs you should be aware of.
Protein is a macronutrient essential for human life and healthy tissue, including muscle. Protein powders are generally safe to consume, but check for any allergens.
Creatine may interact39 with non-steroidal anti-inflammatory drugs (NSAIDs) like ibuprofen, caffeine, diuretics, and medications that affect the kidneys.
BCAAs and EAAs are amino acids, which are the compounds that make up proteins. Supplements may contain allergens, but otherwise are generally safe to consume. However, BCAA supplements may interact40 with some diabetes medications and medications that treat the central nervous system.
Pre-workout contains stimulants, including caffeine. Check the amount of caffeine and other stimulants before taking pre-workout to ensure you can tolerate it. Also, caffeine interacts with many drugs41 and can cause medications to remain in your body for longer. If you take any medication, check with your doctor before taking pre-workout.
Carbohydrate supplements are generally safe to consume. People who have diabetes should check with their doctor before taking carbohydrate supplements. Check for allergens.
Mass gainers generally contain a mix of carbs, proteins, fats, and micronutrients (vitamins and minerals) and are generally safe to consume. Check for stimulants and allergens.
Hydroxymethylbutyrate (HMB) supplementation is thought to be safe and may actually be more effective when taken in combination with other supplements (including creatine42, vitamin D,43 arginine, and glutamine44). However, a lot of studies around HMB have been on niche populations.
Beta-alanine is a non-essential amino acid, meaning your body produces it on its own. There are no known negative drug interactions, but some research shows that beta-alanine may interact positively with creatine45 and sodium bicarbonate46 in regard to physical performance.
Carnitine interacts with pivalate-conjugated antibiotics,47 which are often used to treat urinary tract infections. It may also interact with anticonvulsants. Talk to your doctor before supplementing with carnitine if you take either class of medication.
Citrulline has not been heavily studied, and knowledge of its interaction with other drugs and supplements remains unclear.31
Third-Party Testing
One of the most important things to consider when shopping for supplements is third-party testing and verification. There are a few verification marks you can look for in order to evaluate the safety and efficacy of a supplement.
If you have any dietary restrictions, you may also want to check for third-party verification for the following:
Vegetarian
Non-GMO
Gluten-free
Lactose-free
Paleo-friendly
Buying Guide: What to Look for in the Best Supplements for Muscle Growth
Here, learn about some important factors for choosing your supplement stack.
Third-Party Testing
As covered above, third-party testing is really important. It's not necessary that a product have all four of the mentioned verifications (NSF, NSF Certified for Sport, USP, and GMP), but at least one shows that the company is doing its due diligence for the consumer.
Not having a certification doesn't necessarily mean that a product is bad, but we encourage consumers to do additional research if there is an apparent lack of third-party verification.
Dietary Preferences and Restrictions
If you follow a specific diet, make sure to check the ingredients labels on products to check for allergens and other ingredients you want to avoid. If you see something called a "proprietary blend," it might be worth chatting with customer support to see if you can find out what's in it. If a company won't disclose, we recommend choosing a different product.
Sweeteners
Manufacturers use a variety of sweeteners to make their products taste better. Artificial sweeteners such as sucralose and sugar alcohols like erythritol can cause digestive problems for some people. Natural alternative sweeteners like monk fruit extract and stevia are common in supplements, too.
Stimulants
If you are sensitive to stimulants like caffeine, do yourself a favor and read the entirety of the supplements facts label to find out how much caffeine is in the product per serving.
Macronutrient Profiles
When you're trying to build muscle, macronutrients are important. For a protein powder, you want at least 20 grams of protein per serving with minimal carbohydrates and fats. Conversely, a carbohydrate powder should contain mostly carbs and minimal protein and fat. Mass gainers should have a balance of all three. Supplements like amino acids generally have negligible macro amounts, but check for sugar content.
FAQs About the Best Supplements for Muscle Growth
Finally, here are some frequently asked questions about using supplements to aid in hypertrophy.
What helps build muscle fast?
There's no secret fast track to building muscle faster. Some people are genetically predisposed to experience greater muscle hypertrophy, but other than a helpful genetic makeup, there's no magic pill. The muscle-building formula is hard work, great sleep, and a caloric surplus, with a focus on protein. Mind those three factors consistently and over time you will see great results.
What is the No. 1 supplement for muscle growth?
The best supplements for muscle growth are protein and creatine. Protein supplements provide your body with more of the macronutrient needed to repair and build muscle tissue. Creatine is well-studied and proven to increase performance in the gym in several ways, which can result in more pronounced results. 
Caffeine is another good option, as it may help you perform better during your lifting sessions. Carbohydrate supplementation may help spare your body from protein breakdown by providing your body with quickly digestible energy. Mass gainer supplements can assist with anabolism if you find it hard to maintain a caloric surplus with solid foods alone. 
Other aids, including blends of essential amino acids, BCAAs, and highly concentrated individual amino acids, are less studied but may assist with performance and recovery in various ways.
Do you really need supplements to build muscle?
No, you don't need supplements to build muscle at all, although certain supplements can be helpful ergogenic and anabolic aids. Specifically, protein powder can help you close gaps in your diet if you aren't getting enough protein from other dietary sources. Through hard work and a nutritious diet, you can build muscle without any supplements.
These statements have not been evaluated by the Food and Drug Administration. This product is not intended to diagnose, treat, cure, or prevent any diseases.
References