We test and review fitness products based on an independent, multi-point methodology. If you use our links to purchase something, we may earn a commission. Read our disclosures.
The squat rack is the centerpiece of just about every home and garage gym in the world. As such, it should be versatile, durable, useful, and fit the space it will be used in. We have tested countless of today's best options, putting them through heavy squats, bench presses, pull-ups (when applicable), and a number of other exercises.
Based upon our use, experience, and community input, we've compiled the best power rack, half rack, squat stand, and fold-away squat rack for most people—including recommendations for various budgets.
We Know A Lot About Squat (Racks)
The Top 8 Squat Racks for Your Home Gym
Best Power Rack: Rep Fitness PR-4000 Power Rack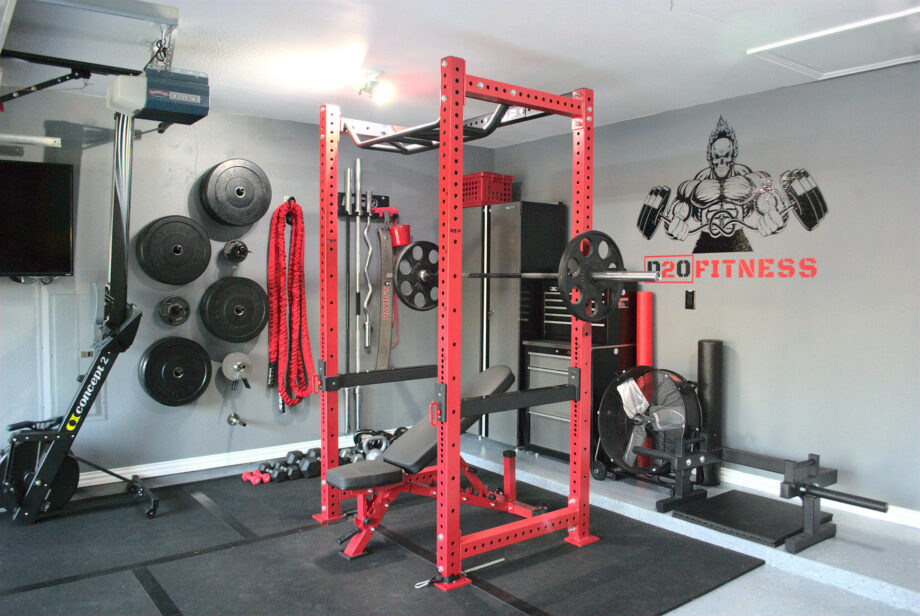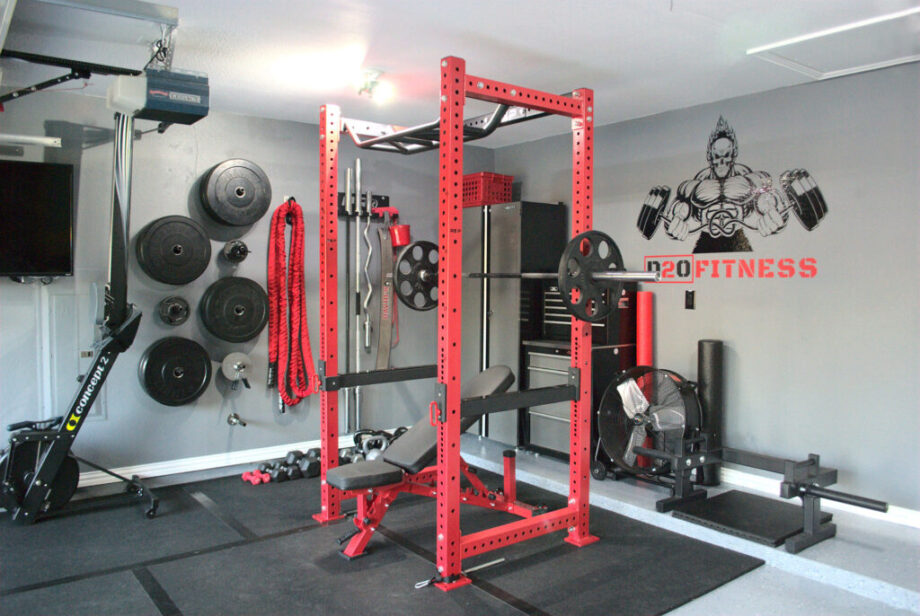 Best Budget Squat Rack: ForceUSA MyRack Modular Power Rack
Best Foldable Squat Rack: PRx Performance Profile Rack
Best Squat Rack With Pull-Up Bar: Bells of Steel Hydra Rack
Good for: Home gym owners looking for a high-quality rack at a good price that comes with a pull-up bar
For a fully customizable rack where you can choose even the type of pull-up bar you want, the Bells of Steel Hydra Rack is close to unbeatable.
We love the rack-builder design that Bells of Steel (along with several of our other favorite brands) employs. When looking at the Hydra, you can choose from a classic four-post design, flat-foot design, six-post design, and folding design. There are also squat stands and half racks in the Hydra series.
A staple of the Hydra build is a 3-inch-by-3-inch, 11-gauge, powder-coated upright with laser-engraved numbers next to 5/8-inch holes. In other words, the *chef's kiss* of power rack construction. Once you choose your style, you can customize how tall the uprights are and how deep the cage goes.
Then, you have your choice of pull-up bars: a straight pull-up bar, an adjustable pull-up bar, a double bar, a multi-grip bar, or a globe bar. Other customizations include safeties, J-cups, and attachments like adding a lat pulldown.
The downsides to all the customization is that the more you add on, the more expensive the price tag. Also, the more you add, the more complicated (and heavy) the assembly might be.
Best Squat Stand: REP Fitness SR-4000
Good for: Those looking for a high-quality, free-standing squat rack
Squat stands are not known for being the most stable piece of home gym equipment, but the REP Fitness SR-4000 features a flat foot base that eliminates that concern. This not only eliminates the need to bolt it into the ground, which some people may not be able to do, but also gives you peace of mind during heavy squat sessions or pull-ups. Some reviewers said the stand moved a little bit when doing kipping pull-ups or muscle-ups but it wasn't anything to be concerned with.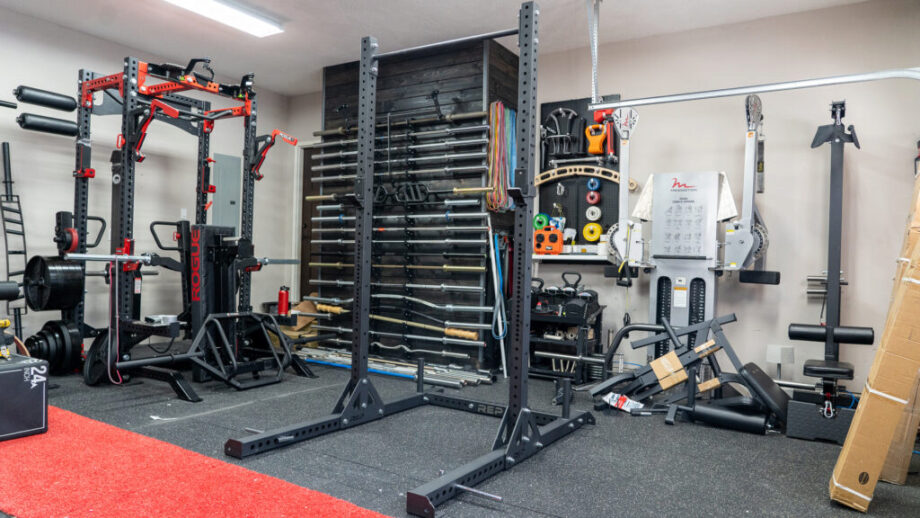 For a little more than $500, this squat stand has a lot to offer: A 1,000-pound weight capacity, one-inch Westside hole spacing through the bench area, and included J-cups and pull-up bar.
The SR-4000 is essentially an imported version of our previous pick for best squat stand, the Rogue Fitness SML-2. They're about the same price but REP offers free shipping so you end up saving a little, and we found that the SR-4000 was a little more stable during lifts and pull-ups than the SML-2.
Our major callout with this squat stand is that it has quite a large footprint and may not be the best choice for those training in compact home gyms.
See my full REP SR-4000 squat rack review.
Best Squat Rack for Small Spaces: Titan T-3 Series Folding Power Rack
Good for: People in small spaces looking for an affordable power rack
The Titan T-3 Series Folding Power Rack is a well-liked squat rack in the community. It uses the same steel and hardware as Titan's other great racks, but this adds in the ability to fold the rack away when not in use. This type of rack has become extremely popular and for good reason: it simply works extremely well and can be done at a good price point.
RELATED: Titan Fitness T-3 vs. Rogue Fitness R-3 Power Rack
The T-3 Folding Rack from Titan is the best-priced fold-away rack currently on the market. They aren't the only company making this style of rack, in fact, there are others that likely have the same rack made in the same factory as Titan (see the Fringe Sport Retractable Power Rack as an example).
RELATED: Titan Fitness Coupon Code
Although I'm a fan of American manufacturing and have had issues with Titan's shipping and customer service in the past, it's hard to not be enticed by the price. The T-3 Folding Rack will get the job done if you're on a budget, no doubt.
Best Squat Rack for Beginners: Fringe Sport Garage Series Squat Rack with Pull-Up Bar
Good for: Those looking for a basic squat rack at an extremely affordable price
The Fringe Sports Garage Series Squat Rack is a cheaper, more basic squat stand than our other picks, but it works. Coming in at about $299 and with considerably cheaper accessories, this is the ideal stand for the budget-minded trainee.
Add to that the free shipping that is consistently offered at Fringe Sport, and you have a great bargain.
Now that you have heard about the terrific price, you are probably wondering about safety and quality. The Fringe Sport is made with 2-inch-by-3-inch 12-gauge steel which, though lower quality than the previously mentioned stands, is more than enough strength for virtually any garage gym (if you're a powerlifter, I wouldn't suggest a squat stand anyway).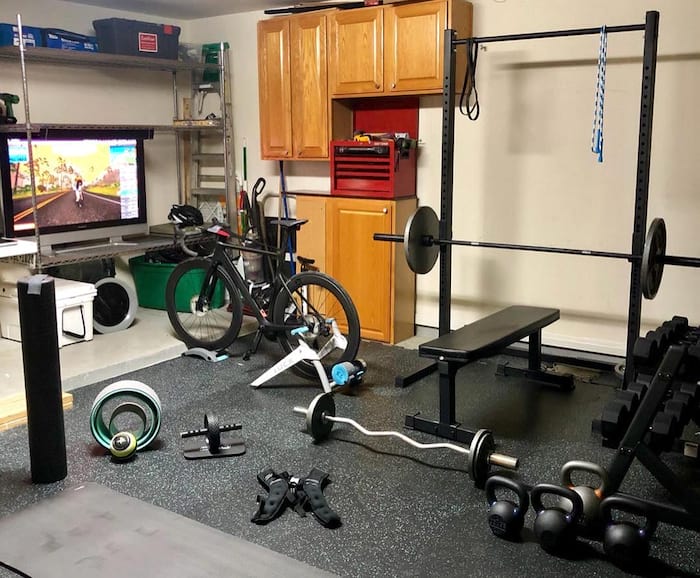 It comes with a pull-up bar, and dip horns and spotter's arms can be bought separately. I suggest both, and if you're going to bench, please do not do so without spotters' arms. The main thing that you want to be aware of when looking at more budget-friendly exercise equipment is the safety factor. If you spend less money, does the quality of the equipment go down so far that it is no longer worth the purchase? In the case of the Fringe Sport Squat Rack, the answer is no. There are available spotter arms, J-cups, high-quality steel, and sturdy construction that make this not only a budget-friendly rack but also a safe one.
(Another cheap squat stand is the Cap Barbell stand on Amazon; I've used it and tested it, but I'm not crazy about its limited weight capacity and overall construction.)
Best Half Rack: Rogue HR-2 Half Rack
Good for: Anyone looking for the best squat rack under $1,000
The Rogue HR-2 Half Rack takes one of my favorite squat stand, the SML-2, and adds two additional uprights along with storage pins for plates to create my top pick for the best half rack. A half-rack feels awesome to train in due to its open nature. Add in some spotter's arms and you'll be able to perform the majority of lifts you would be able to in a full power rack rather safely.
The Rogue HR-2 Half Rack is one of Rogue's best-reviewed squat racks. It's a great rack that can fit anywhere, doesn't have to be bolted down, is still very stable, and has a majority of the abilities of a more expensive and bulkier rack like the ever-popular Rogue R-3 Power Rack.
Rogue only has two half-racks in their arsenal, and the Rogue HR-2 Half-Rack is the better value. If you have the Monster Lite Series Squat Stand, you only need a $270 conversion kit to turn it into the HR-2, which is a great option that will add plate storage and greatly increase the stability of the rack.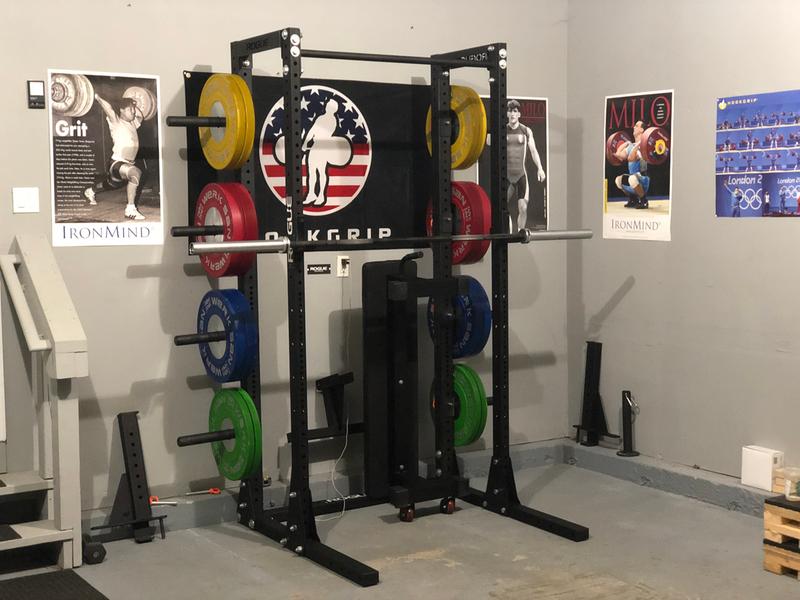 The first difference you will notice is that the upright steel is a little less robust at 2-inch-by-3-inch 11-gauge rather than the 3-inch-by-3-inch you might see in the other racks, but the base of the machine has 3-inch-by-3-inch measurements. Other than that, the quality of this rack matches any other half rack on the market and is highly customizable and versatile. It is considered "Monster Lite," so while most of the Monster Lite accessories can be used, it will not have the same number of options as the HR-5000 or the Monster Collegiate.
The height of the HR-2 is customizable, it boasts Westside hole spacing throughout, and the rack's footprint is 49 inches x 48 inches. As far as the quality and options for the price, you cannot beat the Rogue HR-2. The professional quality and look Rogue is known for is just as present in this rack as its others. If you're wanting to spend less than $1,000, but still want a high-quality half-rack, then this is the one I recommend.
How We Picked and Tested the Best Squat Racks
Here are a few of the criteria we used to narrow down our picks for the best squat racks.
Stability
Could the squat rack remain stable in use, and when heavy amounts of weight were placed on it? If not, it was a no-go in our book (for obvious reasons).
Versatility
We wanted to look at how many attachments each rack could work with, whether it had any additional features (such as a pull-up bar), and how many different strength training routines it could be used for (weightlifting, powerlifting, CrossFit, etc.).
Price
We wanted to offer a mix of high-end racks, as well as budget-friendly options that still performed very well.
Space
A squat rack is going to take up a good amount of space, but it should still allow you to walk comfortably around your home gym and leave room for other equipment.
Quality
The squat rack is sort of like the Thanksgiving turkey, and in both cases only the highest quality will do. This means finding squat racks that are not only durable but also look good and won't chip easily.
Benefits of Using a Squat Rack
Squats are one of the best exercises you can do for overall strength and power building. A dumbbell squat is great, but a barbell squat and other barbell exercises can be even better. However, a squat rack is used for much more than simply squats. And there are a number of reasons to consider buying a squat rack:
Safety
Above all, my favorite thing about quality squat racks is that they help make exercise safe. When lifters are moving hundreds of pounds, whether they are new or veterans, it's imperative to be safe. Doing bench press or squats alone could leave you in a bad spot if you fail a lift. A squat rack with safety bars keeps the weight from crushing you – literally.
Versatility
It's called a squat rack, but you can perform a large number of exercises just with the uprights and J-hooks: front squats, back squats, overhead squats, overhead presses, bench press, weighted good mornings, just to name a few.
However, some of the top squat racks on the market have a large number of attachments to add even more exercises. There are dip bars, cable attachments, land mines, lat pulldown add-ons, pulley systems, and more. Your power rack could essentially be a complete home gym if you are willing to spend the money.
Adjustability
For nearly every human being, there is a setting on most squat racks that should work for you. The holes in the uprights house the J-hooks, which are adjustable for your height. Therefore, you can put your Olympic barbell at whatever height you need. Some squat racks actually have uprights that feature adjustable heights, though these aren't typically as sturdy.
Gains
Let's face it: You're looking at buying a squat rack because you want to get stronger. You can safely add more weight to the bar when it's racked because of common sense. If you have to pull a bar off the floor, clean it to your shoulders and then put it on your back, you won't be able to have as much on the bar as if you have to simply take it off the rack.
What to Look for in a Squat Rack
Some of the best power racks can cost in the thousands-of-dollars range. So spend your money wisely by factoring in the following:
Style
Do you need a power rack (which is like a cage), a half rack, a squat stand, or a rack that folds? Each style has its benefits.
Power Rack
For most people, the best squat rack type I suggest is the power rack, thanks to its availability, versatility, and most importantly, its inherent safety features. The power rack, also known as the power cage, is our most often recommended squat rack. It sort of looks like a big box you stand inside when lifting the barbell. But those four posts make it the safest option, as well as giving it the most versatility.
Half Rack
A half rack is essential, as the name suggests, half a power rack. Despite the half-rack being less safe than a full power rack, it's still extremely popular due to its open nature, lower price, and space-saving ability. Also, the half-rack still has a higher level of safety than, say, a squat stand. I've used and tested many different half racks at all different price points.
Squat Stand
Squat stands are free-standing squat racks that don't necessarily need to be bolted to a wall or the floor (though in some cases, it may be recommended).
Although squat stands have been around for a while, in recent years they've begun getting quite popular thanks to their increased instability and addition of a pull-up bar. There are many squat stands available, but we've found this particular product category to be fraught with ultra-cheap products that are unsafe and not enjoyable to use.
Fold-Away Squat Racks
Fold-away squat racks are a newer type of squat rack that has cropped up due to the large number of people starting garage gyms. In most cases, they're as sturdy, if not sturdier than power racks. Although they often only have two posts, they have a lot of customization options available and there's a variety of different ways that the rack fold-away. All of this said the most legitimate reason to have a fold-away rack is that you want to park your car in the garage.
Weight Capacity
Look, most of us are only going to have a few hundred pounds on the rack at one time. And most racks are weighted for 500+ pounds. But, if you're superhuman, you can find racks out there that are weighted for upwards of 1,000 to 2,000 pounds. Also, if you do lift heavy, even if you don't lift THAT heavy, you might like the peace of mind knowing that the rack won't wobble when you're unracking or re-racking the weight.
Safety Features
I think I've said safety about a billion times already in this article. But I'll say it again: SAFETY. If a rack doesn't come with an option for safety bars, pins, or straps of some sort, I have to question its safety. And your sanity.
Injuries are avoidable if you use the safety features, so take advantage of them! Most racks will charge you extra for the safety mechanisms, but I'm willing to bet that they are far cheaper than a hospital bill for a mistake made during bench pressing.
Price
Racks can be just a few hundred dollars or upward of $2,000. You can easily find budget options, but keep in mind that something incredibly affordable is also probably not the highest quality. I don't recommend many racks for under $300 for that reason.
And, of course, the price of your rack will go up with the more attachments you want to add to it. Many racks can multi-function as a home gym once you start putting the add-ons in your cart. I recommend setting a budget ahead of time before getting lost in the accessories.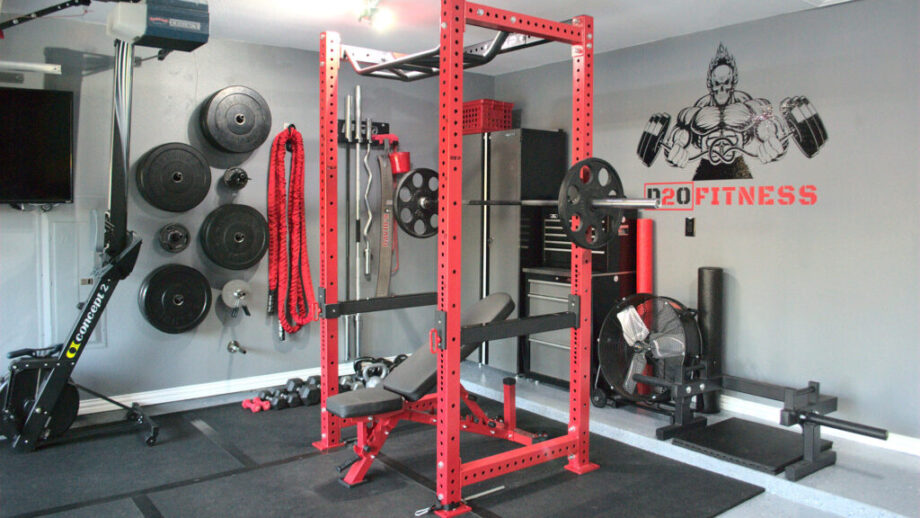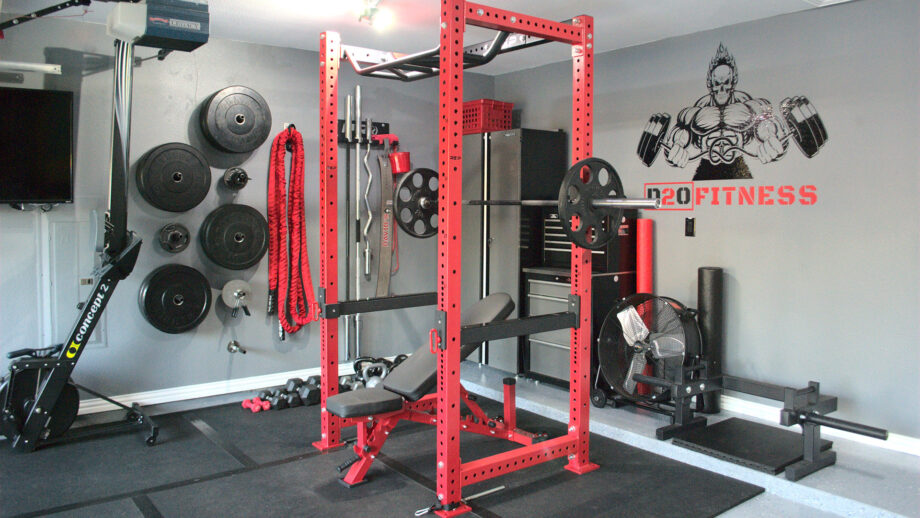 Footprint and Portability
Power racks tend to take up a considerable amount of space, both on the floor as well as floor-to-ceiling. Your typical power rack – which is like a cage, for lack of a better description – will be around 4 feet by 4 feet. That's 16 square feet of real estate on your garage floor. Half racks and squat stands will take up even less room, and a foldable rack will literally fold into your wall.
Also, consider that the bigger racks should be either mounted to the wall or bolted to the floor, so those aren't moving at all. If you have a platform for deadlifts or the Olympic lifts, you may want to position the rack in conjunction with the wood. A squat stand, however, might be more portable.
Construction
In the world of heavy-duty squat racks, 11-gauge steel is pretty much the standard. Now, that's a heck of a lot stronger than most of us really need from the metal on a squat stand, but your best racks are going to use it. You can still have a perfectly good rack that uses 12-gauge or higher (which is actually lower-grade steel). But if you're looking at durability, 11-gauge is a good place to starting place for heavy-duty steel.
There are some other specifics to get into, like the hole spacing. Industry-standard is Westside hole spacing, which means that near the bottom of the rack, the holes are closer together (25mm) and near the top of the rack, the holes are spaced about 50mm apart.
Also consider that some racks have the holes numbered, either through etching in the steel or with stickers. This is incredibly convenient when it comes to placing the J-hooks for squats or bench, as well as placing safety pins or other attachments.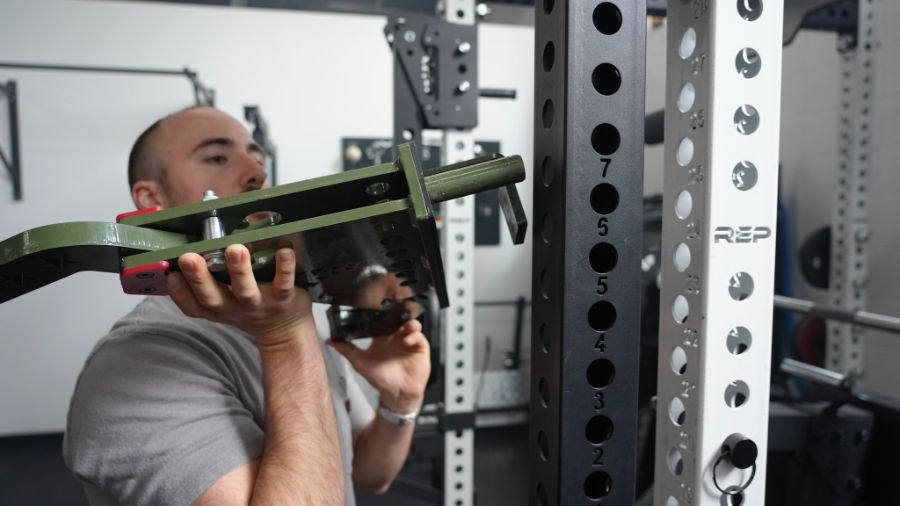 Attachments
The list here is pretty endless, but I'll give it a shot. Most notable brands offer some sort of power rack attachment, so your rack doubles as, well, just about anything else. You can find attachments or add-ons for:
Dip stations
Cable attachments
Landmines
Lat pulldowns
Flywheels (yes, flywheels)
Various pull-up bars, like multi-grip pull-up bars
Band pegs
Utility seats
Gymnastics rings
Storage
If you're using a barbell, you're using weight plates. Maybe even bands and chains and all the fun extras that add variety in your strength training. Some rack stands come with weight storage options, both for plates and your barbells.
Frequently Asked Questions
Is a squat rack worth it?
If you're powerlifting, weightlifting, or just straight-up want to move some weights, then yes, a rack is worth it. It offers safety, versatility, functionality, and straight-up allows you to lift some major pounds. As I always say, however, it only works if you use it, and it's definitely only worth it if you plan on using it.
What is the best squat rack for home?
The best squat rack is the one you use. I love the REP Fitness and Rogue rack options more than most. Titan Fitness offers some great products at a cheaper price, but they aren't the quality of Rogue or REP.
How much should I spend on a squat rack?
This is very much a personal preference. Some choose to buy $1,000 racks while others make their own. The biggest suggestion I can give is to buy the best you can afford. A squat rack is, by nature, a long-lasting piece of equipment, and it offers a lot of functionality.
Ideally, you'd be able to buy a squat rack and never have to upgrade, unless you wanted to. So, buy what you can afford, and don't forget that a squat rack alone will not make you stronger, using it will.
Rogue Fitness vs Titan Fitness?
I get asked to make this comparison quite a bit. I certainly prefer the quality, customer service, resale value, and overall build that comes with Rogue fitness equipment. However, Titan is much cheaper in most instances and as such is a popular option. In my opinion, I think Rogue is superior. Titan is honestly good enough for most people.
If a squat rack is cheap, does that mean it's unsafe?
Not necessarily. Racks have been getting cheaper and cheaper over the years due to the number of buyers. These more affordable racks still have a steel frame, and many still come with the attachments I like, like safety catches and pull-up bars.
A cheap rack does not automatically equate to it being an unsafe or "bad" rack. However, in most cases, the more you spend, the safer and "better" a rack will be.