We test and review fitness products based on an independent, multi-point methodology. If you use our links to purchase something, we may earn a commission. Read our disclosures.
When it comes to blending strength and conditioning, the kettlebell might be the most versatile piece of equipment there is. The tricky part about the search for the best kettlebell is that many of them look and feel the same. However, there are differences, be it price, coating, durability, different weight increments, or the width of the handle.
I have personally tested dozens of bells and can verify that the REP Fitness kettlebell is the best option for most people. However, your needs for your home gym may be specific, so read on to find the different kettlebells I like and why.
Saved by the Kettlebell Reviews
We've personally put our hands on just about every type of kettlebell there is, from the most basic all the way to the most advanced free weights out there. As a result, we've written more than 50 pieces of content on kettlebells, including standard and adjustable kettlebell reviews and training pieces written by an Olympic athlete.
We're not just some average Joe swinging a kettlebell in between our legs either. We're a group of certified personal trainers, CrossFit coaches, and competitive athletes who use kettlebells on a regular basis, so we know a good-quality weight when we see one.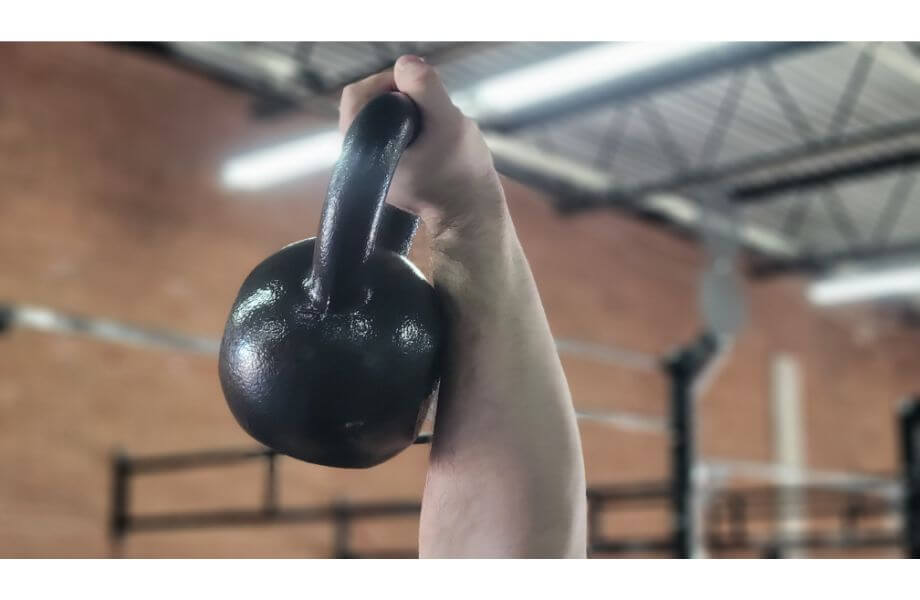 The Best Kettlebells
Best Kettlebell Overall: REP Fitness Kettlebells
Good for: People seeking a product that is affordable and still high quality
The REP Fitness Kettlebells take the nod for best kettlebell for a few reasons, one being that they have a matte black finish, which is great for grip because it creates a textured handle that works well with or without chalk. Matte black finishes also give the iron bell itself more protection from rust and corrosion.
The REP kettlebells are also very reasonably priced without sacrificing anything in the way of quality. (REP Rubber Coated Hex Dumbbells are high on my favorites for best dumbbells as well.) REP uses gravity die casting, which is important for two reasons: One, it gives you a flat bottom on the bell, which is ideal for storage; and two, it ensures an even mold when compared to bells that go through hand casting.
REP also offers a limited lifetime warranty on kettlebells, so if yours starts to show early signs of damage, you might be able to get a new one.
REP offers 18 kettlebells with both kilo and pound markings on them, ranging from just 1kg up to 48kg. The heaviest these bells get is 106 pounds, so if you need more than that, another brand may be a better choice.
Best Budget Kettlebell: Amazon Basics Cast Iron Kettlebell
Good for: Beginners and others who simply want a budget-friendly kettlebell
If you just want a bell to swing in your home gym, and you aren't particular about much else, the AmazonBasics Cast Iron Kettlebell might be a good fit. At first glance, the pricing isn't that far off the Rogue pricing. However, keep in mind that with Amazon, you get free shipping as a Prime member as well as free returns.
I like that the Amazon kettlebell is cast iron because that is more durable than other materials. However, the painted enamel coating could be susceptible to rust or corrosion. This isn't a bell you should leave outside or in a humid garage. Also, enamel coatings can make for a slippery grip on certain exercises.
This is a no-frills kettlebell that only comes in pound measurements and is solid black. Reviewers who are just looking for a good sweat at home have found it useful. If you want a better quality bell, you'll have to pay more for a bigger brand. But if all you need is something affordable, this could be a good fit.
RELATED: Building a Budget Home Gym on Amazon
Best Adjustable Kettlebell: REP Fitness Adjustable Kettlebell
Good for: People who need multiple weights but are tight on space
Amassing the best garage gym equipment quickly starts to take up a lot of space. One way to save room is with an adjustable kettlebell like the REP Fitness Adjustable Kettlebell. This isn't the only adjustable bell out there, but it's one of the best.
I used the REP adjustable kettlebells for a variety of exercises, including swings, farmers' carries, Turkish get-ups, and goblet squats, and I found it to be a good product. I really like the price range from $150 to $160, and I like that these are useful for both beginners and experienced lifters.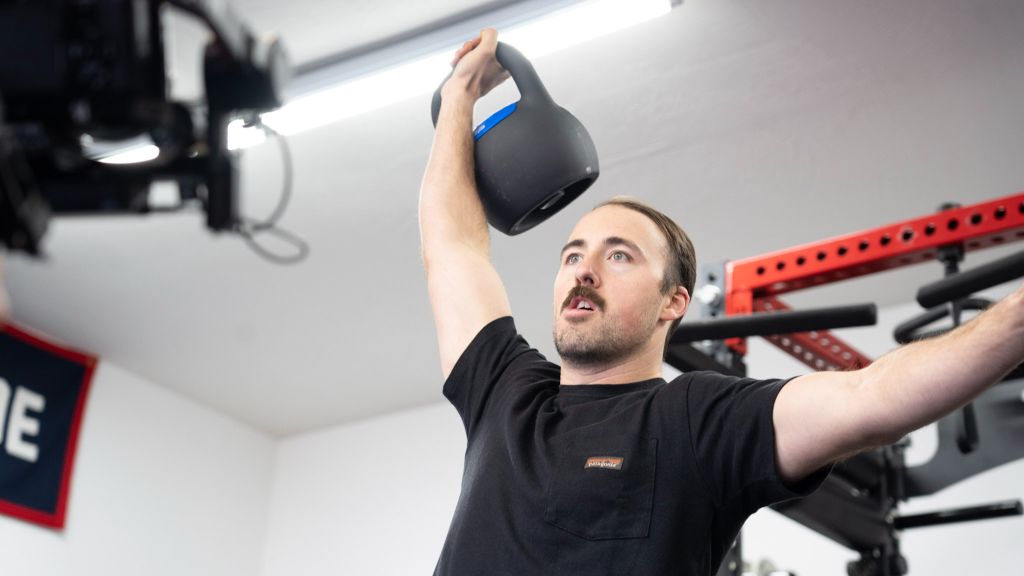 You can choose from three options here: an 8- to 16-kilogram option; a 16- to 24-kilogram option; or a 20- to 40-pound option. The one thing I would love to see is a broader weight range within one kettlebell.
Keep in mind that by many standards, women swing with about 35 pounds and men with about 53 pounds. Still, this can get the job done and give you a good workout, depending on how you intend to use it.
The weight plates inside do rattle a little while you exercise, which can be unnerving, but I didn't have any issues with plates falling out or coming loose.
Also, be sure to check out our best adjustable kettlebells guide here.
Best Competition Kettlebell: Vulcan Absolute Competition Kettlebell
Good for: Those who compete in one- and two-handed kettlebell competitions
Competition kettlebells are in a league of their own, literally. They are made standard to international weights and sizes for use in competition. The Vulcan Absolute Competition Kettlebell is absolutely my favorite. Its price point is what you should expect for a high-quality bell manufactured for competition.
Vulcan holds a patent for its hollowed-out design, which features a handle that sits lower on the lifter's forearm than other designs that are positioned higher on the wrist. Not only does this boost efficiency in lifting, but it also minimizes the risk of injury.
Made of steel, the Vulcan Absolute comes in 13 sizes (and colors!) that range in 2-kilo increments from 8 to 32 kilos. The hard steel and powder coat makes for an extremely durable product.
If you're just looking for a bell for your home gym and have no plans for competing, an iron kettlebell would suffice. But if you need something to train with at home, the Vulcan line is one of your best options.
Read my full Vulcan Absolute Competition Kettlebell review.
Best Kettlebell for Beginners: Ironmaster Quick-Lock Adjustable Kettlebell
Good for: Those who are new to kettlebell training
The Ironmaster Quick-Lock Adjustable Kettlebell is a good fit for beginners because the handle is wide enough for two hands (even if you've got larger-than-average mittens), powdercoated for a supported grip, and its weight increments increase by 2.5 pounds, so you can increase the weight slightly as you master moves like the Turkish get-up and double kettlebell swing.
One thing that beginners are probably already aware of is that this is not a traditional kettlebell, even by adjustable kettlebell standards. The handle weighs 22.5 pounds, which might be a bit much for some kettlebell novices but it is a bit more aerodynamic than an old-fashioned kettlebell. The attachable weights, sold separately, are stacked on the handle to make it heavier.
The adjustment process is a bit time-consuming and one of the reasons we don't recommend it for HIIT-style training, though as a beginner you'll probably spend more time mastering one move than you would be moving from one to the next.
On the bright side, you're getting a product that takes up less space than most adjustable kettlebells and the weights can also be used with the Ironmaster Quick-Lock Adjustable Dumbbell System.
Related: Best adjustable dumbbells
Best Rubber Coated Kettlebell: Rogue Rubber Coated Kettlebell
Good for: People looking for a long-lasting bell that's easy on flooring
A rubber-coated kettlebell is a good option if you want to protect your bell and protect your floors. If the bell is dropped (which I hope never happens, but it might), the rubber protects the product inside from nicks. It also could lessen the impact the kettlebell has on your floor, which could be significant depending on the type of home gym flooring you have.
I like the Rogue Rubber Coated Kettlebells because they use Rogue's single cast process, so the bell itself is just one piece as opposed to having a welded-on handle. Also, the handle has a powder coat finish, which is great for grip whether you use chalk or not.
RELATED: Best CrossFit Grips
A rubber kettlebell will be more expensive than a kettlebell without that kind of coating. It's really up to you to decide if it seems necessary.
Best Kettlebell Set: Onnit Kettlebells
Good for: People looking for guided workouts along with the equipment
Onnit Kettlebells come in characters like zombies and they have Joe Rogan's support.
I have used every bell that Onnit makes, even the funky character ones that are more expensive but also totally badass. The brand's plain kettlebell comes in eight weight options between 8 and 32kg. That isn't a wide range, but beginners typically stay in those numbers anyway.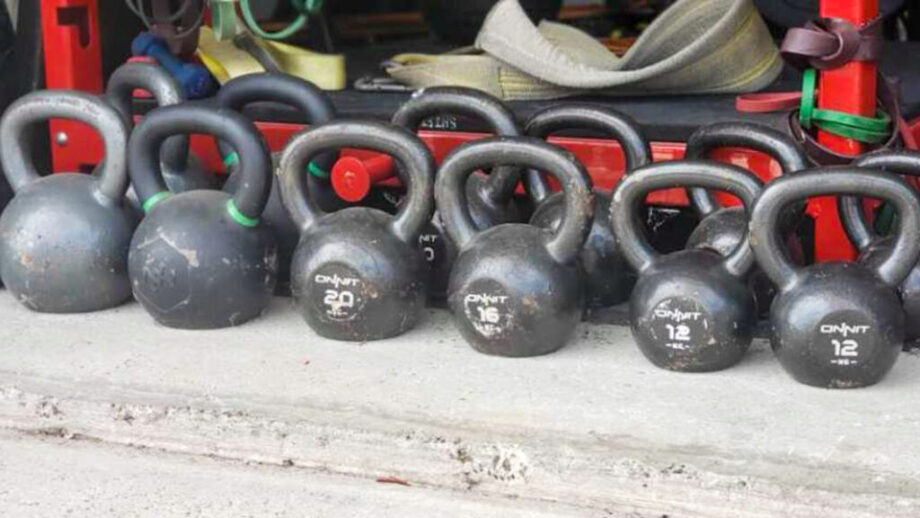 Onnit has color-coded the kettlebells and the weight clearly printed on them. This is great if you own more than one and want to quickly pick up the correct bell. Also, the weights are printed in both pounds and kilos.
The bells themself are of great quality. They aren't as affordable as others of similar quality, but I still think they hold a lot of value. They are gravity cast with a powder coat finish, which makes for a durable bell. Onnit says the coating is chip-resistant, though several reviewers on the brand page state otherwise.
Another cool option Onnit offers for swinging is its Steel Clubs, which I tested and reviewed (and loved).
Onnit's website also has an extensive library of free workouts that are easy enough for beginners, but kettlebell veterans could up the weight or intensity to still get a good sweat. Onnit also offers several courses (at a cost) specifically related to kettlebells, which the brand claims help workout enthusiasts as well as fitness professionals.
Read my full Onnit Kettlebell review.
Best Kettlebell for Small Hands: Yes4All Vinyl Coated Kettlebell
Good for: People with small hands
Yes4All doesn't list the handle diameter for their kettlebells, but the more than 15,000 people who have left an Amazon review agree that this is the best kettlebell for small hands. Several reviewers noted that other kettlebells were difficult for them to wrap their hands around, but they had no problem with these.
This is a kettlebell that, as we like to say, "gets the job done." The weight tolerance is pretty on point, there are good weight options, and it's coated in plastic, which isn't our favorite but it does offer some protection for your home gym and rust resistance.
But it's by no means the best kettlebell out there. For one, the handle is a bit smoother and that leaves room for slippage. That's not to say these are guaranteed to cause broken windows, but you should maybe be a little more cognizant of your grip when swinging these.
On the bright side, these are highly affordable, and the 50-pound option comes in at less than $90. And if you're a Prime member, you get free shipping!
Best Kettlebell for CrossFit: Rogue Fitness E-Coat Kettlebells
Good for: Just about anyone who wants to use kettlebells in training
Over the last five years, I have used and tested several of Rogue Fitness' kettlebells. By far, the E-Coat line is my favorite. There is a Rogue kettlebell with a powder coat finish, which is a great product, but the e-coating on this particular bell elevates it above the rest.
E-coats are highly durable and resistant to chipping, scratching, and rusting. They also make for a stronger grip on the kettlebell. The E-Coat Kettlebell is also made from ductile iron. Many cast iron kettlebells use a gray iron. Ductile iron offers more durability and resistance to corrosion.
There are 12 weight increments in the E-Coat line, ranging from 9 to 88 pounds. The machine-flat base means they store easily. As with many cast iron kettlebells, the handle diameter varies based on the weight of the bell. For these, the handle is 1.2″ for the 9-18 pound bells, 1.4 inches for the 26-pound bell, and 1.5 inches for the 35 to 88-pound bells.
Perhaps one of the best features of the E-Coat bell is that it's the same price as the Rogue powder coat kettlebells. You're getting a better product at the same price. I do feel the need to point out that because these are not competition kettlebells, there may be some very slight discrepancy in weight. That's typical of most non-competition kettlebells, however.
Read my full Rogue E-Coat Kettlebell review.
Best High-End Kettlebell: Kettlebell Kings Powder Coat Kettlebells
Good for: People who incorporate kettlebells into training often
Honestly, the name "Kettlebell Kings" kind of says it all. The brand consistently puts out solid products, and its Powder Coat Kettlebells consistently impress.
The manufacturing process itself sets up these bells for success. Kettlebell Kings uses single cast iron, which means that the bell is just one piece, not two welded together. This ensures better durability and less risk of breakage. These bells are also put through gravity casting. That makes for a much more even construction and improves the weight accuracy from bell to bell.
There is also a kettlebell for just about any weight you want. Kettlebell Kings manufactures these in both kilos and pounds, with 21 options between 4kg and a whopping 92kg. If you are looking for programming, Kettlebell Kings has a range of options available with your purchase for an added cost.
A powder coat tends to be one of the most durable coatings a kettlebell can have. I like it because powder coats respond really well to chalk, but also chalk isn't necessary to keep a good grip on the handle. Although I find these kettlebells to be in great shape after many uses, there are reports on the Kettlebell King site of the coating chipping.
One thing that sets Kettlebell Kings Kettlebells apart from others is the grittiness of the powder coat. The increased texture allows your hand to stick to the handle better during heavy swings and farmer's carries.
The handle diameter ranges from 29mm, which is pretty thin, all the way to 47.5mm, which is quite a meaty grip. The most popular bell sizes – 16 to 24kg – have a grip diameter that ranges from 33 to 39mm. That's fairly average, but people with smaller hands may find one-handed exercises a little tough on the thicker handles.
Best Budget Competition Kettlebell: Titan Fitness Competition Style Kettlebell
Good for: People looking to save money on a standardized competition kettlebell
The Titan Fitness Competition Style Kettlebell is about 25 percent cheaper than the Vulcan option. That's a decent saving for a product that is still high quality. Titan does a steel cast with a powder coat finish, just like Vulcan does. Also, Titan Fitness offers free shipping on all orders, which is a huge cost efficiency that many other brands do not offer.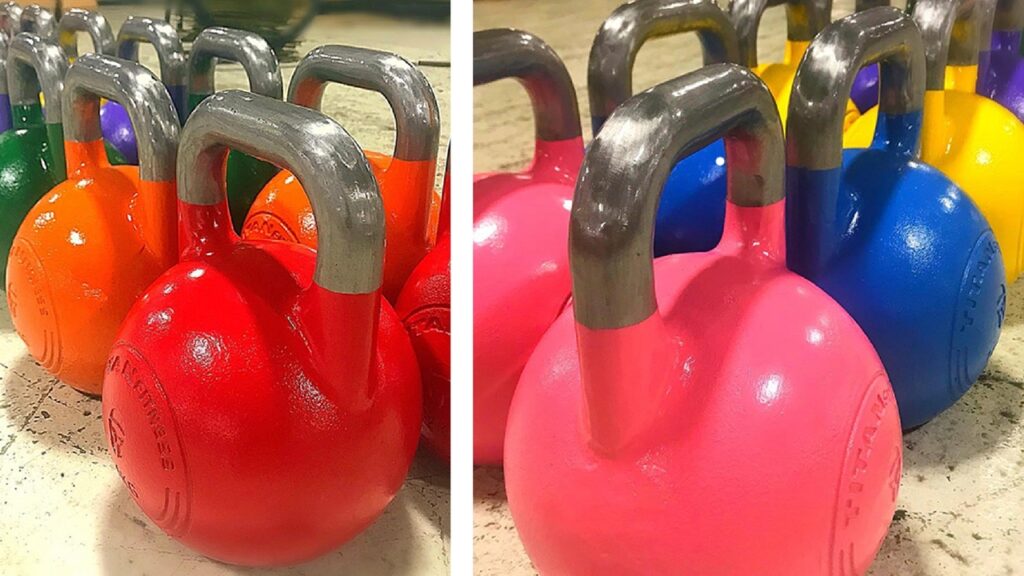 Because this is a competition kettlebell, the weights are highly accurate and the handles are a standard 35mm on every bell. I also really like that each bell comes in its own color, which is a nice alternative to your typical black, iron-cast kettlebell.
As a budget option, the Titan Competition Kettlebell does have some issues, namely with the paint. Several reviewers have reported flaking or chipping. While this doesn't typically affect the performance of the product, it would affect aesthetics, if that matters to you. Also, most competition bells like this one don't come in heavy weights because people don't really use very heavy weights in competition.
Read my full Titan Fitness Competition Style Kettlebell review.
Other Kettlebells We Researched and Tested
We have a fever, and the only prescription is more kettlebells—luckily for us, the GGR team has tested dozens of kettlebells over the past few years. Here are a few we've had our hands on that you might want to consider.
Bowflex SelectTech 840 Adjustable Kettlebell: There's a lot to like about the Bowflex SelectTech 840 Adjustable Kettlebell: It combines six kettlebells into one, has the easiest adjustment mechanism of any adjustable kettlebell, and it costs under $200. We didn't include it in our best kettlebell roundup because the plastic handle makes slippage more likely, the plastic shell isn't very durable, and it only goes up to 40 pounds (which might be enough for some home gym owners). If you don't plan on swinging this thing very hard and want a lightweight adjustable kettlebell, this is still a good choice.
Read our full Bowflex SelectTech 840 Adjustable Kettlebell review for our full thoughts.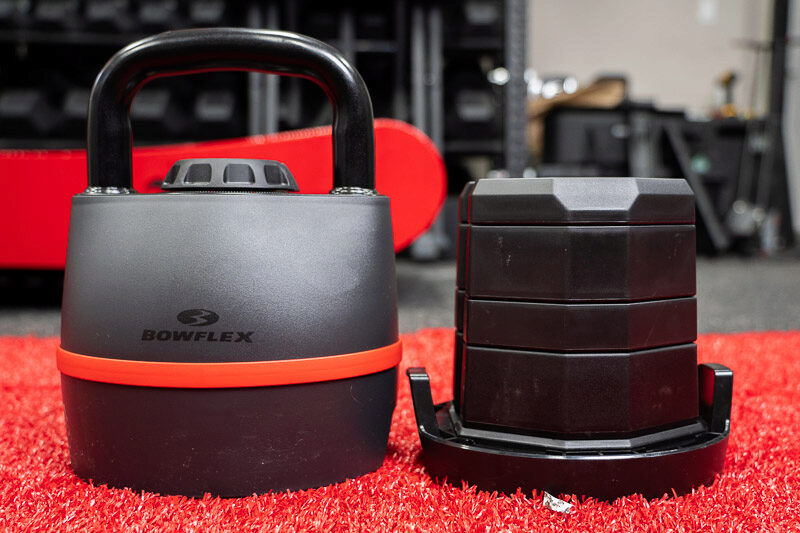 Kettle Gryp: The only reason we left this off our list is that it's not actually a kettlebell, but it is one of the most unique and inventive home gym products we've seen. The Kettle Gryp is a plastic handle that you can place a dumbbell through that turns it into a kettlebell (kind of). It's a great solution if you have fixed dumbbells and don't have the budget for a kettlebell set.
GORUCK Sand Kettlebells: This is another kettlebell that's not really a kettlebell, which is why it wasn't on our list. This bag is filled with sand and allows you to do kettlebell movements, but be warned they're much bigger than kettlebells of similar weights so you might have to adjust your technique a bit. On the bright side, it's a great portable option and perfect for people who are working on their conditioning for something like a Spartan Race or Tough Mudder.
How We Tested the Best Kettlebells
To find the best kettlebells for your home gym, we looked at every option available on the market today and graded them based on the following criteria.
Weight Tolerance
How close to the advertised weight did the kettlebells weigh? Some may claim to be 23 pounds, but when weighed are closer to 21.
Handle
It's very easy to have an accident with a kettlebell, especially during swinging, so we wanted to make sure the handles on these options allowed for a good grip.
Durability
Kettlebells are expensive, so we want to make sure the ones you purchase will last a while. The coating should also not chip easily.
Value
Is the kettlebell worth its price?
Warranty, Financing, Returns
As with any piece of home gym equipment, you should make sure the kettlebell has some type of warranty, any available financing options, and if you can return the product if you find you're not a fan of it.
How Much Should I Pay For a Kettlebell?
Kettlebells can cost anywhere from $3-$7 per kilogram of weight, and sometimes much more depending on the type of materials used, any extra features, and how much effort went into making one.
Let's compare two of our top picks to give you an idea of what we mean.
A 12-kilogram (26.45 pounds) REP Fitness kettlebell costs around $60 at the time of this writing, while the same weight from Kettlebell Kings will run you around $100. Why the large price difference?
For one, Kettlebell Kings puts a powder coat finish on their kettlebell, and REP Fitness uses a matte black finish—both are good for grip and durability, but the powder coat is better in the long run. So why didn't we choose Kettlebell Kings for the top spot? Because the average home gym owner will be just fine with the matte black finish.
Kettlebell Kings' construction process also involves more human interaction, whereas REP's is more mass-produced, thus driving up construction costs.
The Rogue Fitness rubber-coated kettlebell is $80 for a 26-pound bell and costs more than REP's because there's more material used (i.e. the rubber coating).
Our point is, your kettlebell budget will depend on whether you're OK with a machine-produced kettlebell or you're looking for something that's gone through multiple quality assurance checkpoints.
What to Consider Before Buying the Best Kettlebell
The best kettlebell for you will depend on multiple factors, including what type of kettlebell you want, what type of exercise you plan on doing, and your fitness levels.
Types of Kettlebells
There are two main types of standard kettlebells:
Cast Iron Kettlebells
When most people picture a kettlebell, this is what they picture. The handle on solid cast iron kettlebells is wider than the bell itself. The coating on these varies. Most commercial gyms carry this kind of bell, which is great for recreational lifting, two-handed movements, and beginners. The diameter of the bell and its handle usually increases as the weight goes up, so people with larger hands will want to go heavier than someone with smaller hands.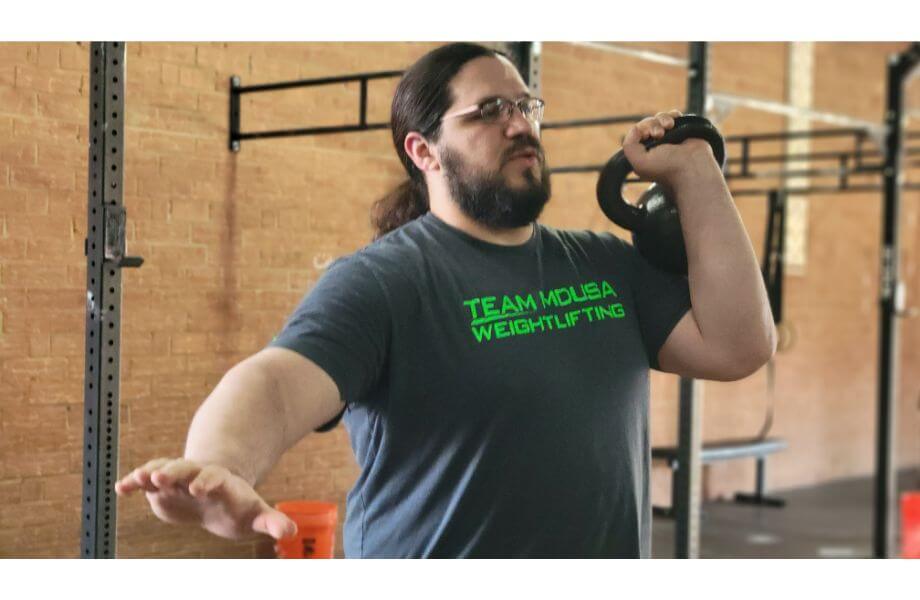 Competition Kettlebells
These bells are made to standard with a 35mm handle that does not exceed the width of the bell itself. This narrow grip is useful for the one-handed movements you might see in a competition. Mostly, the people who use a competition kettlebell will be people who are competing, but they would still work for the everyday athlete.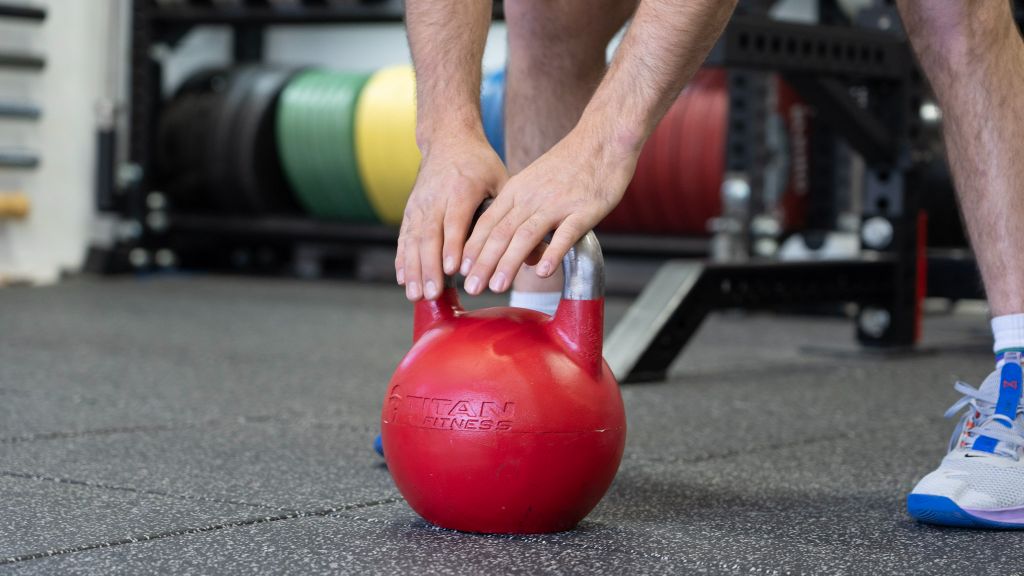 Once you have an idea of the type of bell you want, you also may want to consider:
Type of Exercise
Kettlebell training is so incredibly versatile. You have endless options for exercises, most of which will fall into one of two categories:
Ballistic lifts: These are explosive movements like doing kettlebell swings, snatches and cleans.
Grind lifts: These are either more skill- or strength-based movements, like pressing overhead, deadlifts and Turkish get-ups.
Once you ascertain how you will use the equipment, you can make other key decisions about factors like the weight you will need, the material you want and the ergonomics of the bell.
Weight
Kettlebells come in a large variety of weight options, ranging from just a few pounds to literally hundreds of pounds. The lighter weights are great for certain grind movements like Turkish get-ups and overhead pressing. Moderate to heavyweights are useful in building explosive strength through doing full-body movements like swings and snatches.
Another consideration: Kettlebell weights are often listed in kilograms. You'll find kilos used on competition bells because kilos are the universal weight measurement. Ultimately, it doesn't really matter if you pick a bell in pounds or in kilos unless you need a very specific weight range for your training purposes.
Grip
Kettlebells are literally bell-shaped weights with a wide handle across the top. Competition kettlebells all have a uniform handle size because they have to have a 35mm diameter. This will typically fit most adult hands just fine, but for people with smaller hands or youth athletes, 35mm may not be a comfortable grip.
Cast iron kettlebells tend to have different grip sizes that vary with the weight of the bell. Therefore, a 12kg kettlebell may have a smaller grip and be better suited for smaller athletes. Having a secure grip is vital for safety while exercising.
Handle
Aside from how thin or thick the grip is, the kettlebell handle itself should be smooth. Sometimes, the casting process leaves behind remnants. This can quickly destroy your hands and ruin your workout. Look for a bell that has a smooth handle.
Coating
Kettlebells that are cast in iron typically have some kind of coating. This increases the durability of the equipment by preventing rusting, corrosion, and scratches. Options include:
Powder Coating: This is a hard coating that is more protective than simply a coat of paint. Many powder-coated kettlebells have a matte finish because it gives you a better grip on the bell. Athletes also find that matte finishes help hold chalk, which aids in grip.
Rubber or Vinyl Coating: Some people are attracted to rubber and vinyl-coated kettlebells because they are a little more aesthetically pleasing due to their smooth appearance. A coating like this may be gentler on your flooring and less noisy. However, rubber and vinyl can be worn down, chip, and crack.
E-Coating: Arguably, an "e-coat" is the best type of high-quality coating you could want on a kettlebell. Essentially, an electrical current coats the bell with paint to a certain desired thickness. E-coats last longer than powder coats, but they're often more expensive. Also, there are different degrees of e-coating, so look for "military-grade" e-coating if you're going with this option.
Durability
Kettlebells are a fairly durable piece of equipment, but some can stand up to abuse better than others. If you're someone who plans on using kettlebells often, make sure it'll last and not break on you within a couple of months.
Adjustable Kettlebells vs. Standard
We recommend adjustable kettlebells over standard ones for most home gym owners for two main reasons: They're generally more affordable and they take up less space. That doesn't mean they're perfect for everyone.
Some adjustable kettlebells have a plastic or rubber handle, which is much harder to grip than the textured handles often found on standard bells. We don't have to tell you why this can be an issue, but it can also create problems if your adjustable kettlebell's shell is made of plastic (which many are). Plastic is much easier to break than steel or iron.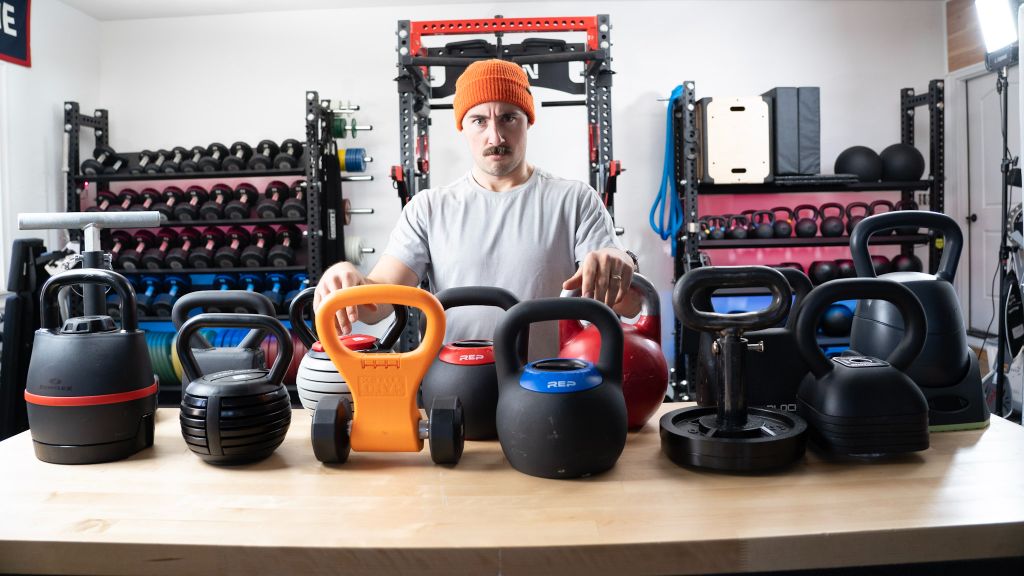 Adjustable kettlebells are also shaped differently than standard kettlebells, which might impact your training.
Want to learn more? Check out our full guide on adjustable kettlebells vs. standard.
Kettlebells vs. Dumbbells
In a perfect world, your home gym would contain the best kettlebells and dumbbells but we don't live in a perfect world. If you're stuck on which one to choose, here are a few things to keep in mind:
Kettlebells have much different weight increments than dumbbells
Kettlebells will work more of your stabilizer muscles, due to their center of gravity being further away from your hand
Kettlebells are better for full-body exercises and combining strength and cardio training
Kettlebells are great for grip strength
Dumbbells are easier for beginners
There are fewer chances of letting go of a dumbbell, which can prevent injuries and property damage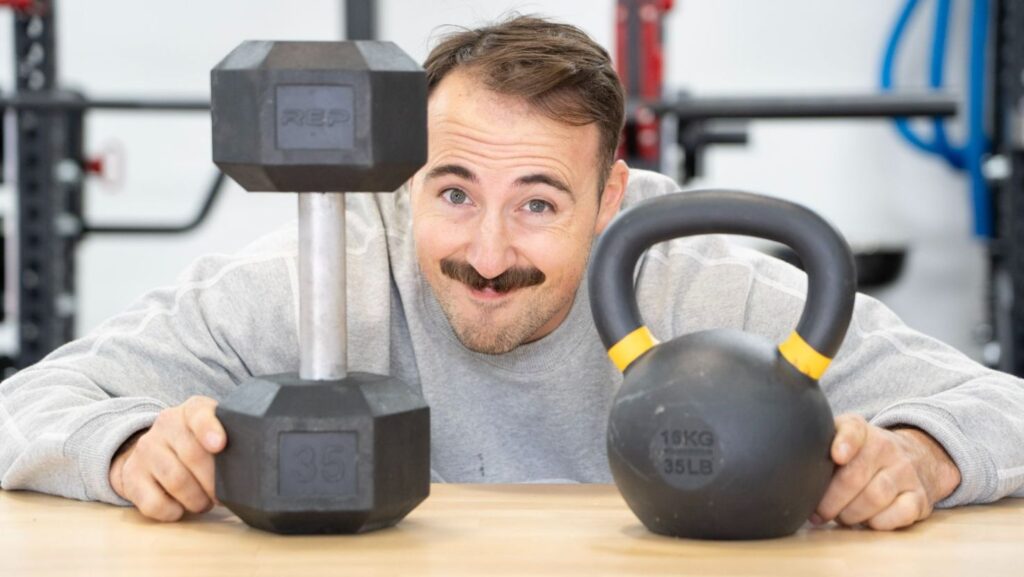 Get the full details in our dumbbells vs. kettleblls guide.
Benefits of Kettlebell Training
The kettlebell is the king of being an all-in-one tool for conditioning. With a flat bottom and curved bell, the uneven distribution of weight creates an incredibly effective platform for cardio and weight training exercises. Some of the many benefits of kettlebell exercises include the following:
Well-Rounded Fitness
You work on several different aspects of fitness when doing kettlebell exercises: endurance, strength, flexibility, and balance. In other words, you get a lot of bang for your buck. When you invest in the best home gym equipment, it's key to find a single piece that offers versatility. With a kettlebell, you can work on:
Core strength
Stability
Coordination and body awareness
Cardio
Upper and lower body strength
Cardio Without Running
Going for a run is great, but I also love when I can get my heart rate up while using some kind of weight. Kettlebells are amazing for cardio workouts that include high-intensity intervals as well as low-weight, high rep options.
Develop Explosive Strength
Weightlifters, runners, and other athletes look to the kettlebell to build explosive strength. Exercises like kettlebell swings engage the hips and posterior chain to create power. The kind of explosive energy the hips create is key to movements like sprinting, jumping, and weightlifting movements like the snatch.
Strengthen the Grip
You'll be opening pickle jars in no time! Okay, I can't make that promise, but I can tell you that kettlebells are a great way to build grip strength.
The kettlebell's center of gravity is about 6 to 8 inches away from your palm, which means that the weight itself is unbalanced in your hands. This makes your gripping muscles (like the forearms and wrists) work harder while you perform just about any exercise with the bell. Kettlebells are also great for actual grip-strengthening exercises like farmers' carries.
Safe Exercise
I don't like to say that certain strength training exercises are dangerous or risky. After all, anything you do carries a risk with it. But, when compared to, say, putting a 300-pound barbell on your back and squatting it, the kettlebell exercise appears to carry a little less risk.
RELATED: Best Barbell Exercises
Lifting heavy weights has its place, and I'm here for it, but if that's something that scares you, kettlebell workouts are a safe alternative. You can still build muscle and power without doing something that may cause you some anxiety.
How to Hold a Kettlebell
According to certified personal trainer and USA Weightlifting Level 1 Coach Kate Meier, the best kettlebell hand placement depends on what type of movement you're doing, though there are some universal truths.
"First, always wrap your thumb around the handle (don't just use your four fingers as your grip)," says Kate, who's also GGR's head of content. "Secondly, don't death-grip the kettlebell. You should have a firm grip so it doesn't fly out of your hands, but you don't need to squeeze it so hard that your forearms burn (you'll get a good enough pump with a just-firm-enough grip)."
For Double-Handed Movements
Holding a kettlebell for a double-handed movement like a kettlebell swing will depend on your hand size, Kate says.
"Your hands should be placed just slightly apart, biasing each hand toward the corners of the handle in an overhand grip," she says. "Depending on how big your hands are and your comfort, you may find your pinkies gripping down the side of the handle, and that's OK."
For Single-Handed Movements
When it comes to teaching her clients kettlebell hand placement for single-handed movements, Kate takes it on a case-by-case basis since there are two general categories of single-handed moves: simple and complex.
A simple move would be a row or deadlift, in which she recommends a centered, overhand grip.
The same rule, however, wouldn't apply to a snatch. Here's her guidance for that:
"You may find more control and smoother movement by gripping the handle more toward the corner instead of dead center (though this usually comes down to preference)," she says. The reason for the switch is that kettlebell snatches are notorious for bruising wrists and forearms.
For a Turkish get-up, you'll want to return to a more centered grip while switching up how you grab the handle. "Put your hand up through the underside of the handle instead of an overhand grip," Kate explains. "Front rack, overhead holds, and carries would also use this through-the-handle grip."
Best Kettlebells FAQs
What is the best kettlebell workout?

The best kettlebell exercises include kettlebell swings, Turkish getups, kettlebell snatches, kettlebell clean and jerks, goblet squats, presses and thrusters, farmers' carries, and waiters' carries.
What weight of kettlebell is best?

Just like with any other kind of resistance training, the right weight is the one that matches your personal fitness level. There is a huge variety in the types of exercises you might use a kettlebell for as well, which will play a role in the weight you choose.
There are general recommendations on weights for men and women. Men typically start with 12-20 kg kettlebells. Active men range from 16-24 kg kettlebells or heavier. Women may start with 8-12 kg kettlebells. Active women range from 12-24 kg kettlebells or heavier.
What is the best kettlebell to use?

As with any other kind of fitness equipment, the best kettlebell is the one that fits your needs. I like to pick the weights I buy based on how durable they are because I know that I can be pretty hard on implements like kettlebells and free weights. Going too cheap on workout equipment can mean you'll be buying new products sooner rather than later. The above list gives you an idea of what I believe to be the best kettlebells based on your budget, or your durability needs, or your fitness goals.
Do I need one or two kettlebells?
There is a lot you can do with just one kettlebell, but you'll be able to do even more if you have two: a lighter one and a heavier one. Heck, if you have the money and space for it, get an entire set of kettlebells.
Lighter kettlebells are great for the "grind" movements, like Turkish get-ups, presses and windmills. Heavier kettlebells may be used for ballistic movements, like swings, snatches and cleans. It really comes down to how you plan to use your bell. Having more than one certainly gives you options, but don't feel like you absolutely have to have more than one to get any use from what you have.
Is it okay to do kettlebell swings every day?

Doing resistance training every day might be okay, but keep in mind that you should have at least one rest day a week to allow your body to recover. It really all comes down to your intensity level when you exercise. Experts recommend against performing at a high-intensity level for every workout. Also, kettlebell swings may put a lot of strain on your larger muscle groups, which could leave you susceptible to injuries. It's best to consult with a personal trainer, physical therapist, or another professional when trying to determine a good workout regimen.
How quickly do you see results from kettlebells?
Kettlebells can help you achieve your desired results, whatever that may be, pretty quickly because they combine elements of strength and cardio training to give you a more efficient workout. The exact timeline will depend on how committed you are to your training.