We test and review fitness products based on an independent, multi-point methodology. If you use our links to purchase something, we may earn a commission. Read our disclosures.
Every fitness lover needs to optimize their recovery so that they can do more of what they love: fitness. One of the best muscle recovery tools to help optimize performance is the sauna. With health benefits ranging from improved muscle recovery and cardiovascular performance to brain health and reduced inflammation, there are a lot of reasons to sauna.
For those looking to invest in a home sauna, our team of certified personal trainers, athletes, and coaches have done our due diligence and research to provide you our picks for the best home saunas. We've personally consulted with consumers who own and use these products. Furthermore, we talked to Thomas Barbeau, CSCS, SCCC, Assistant Strength and Conditioning Coach for the Carolina Panthers, about real sauna benefits for elite athletes.
From traditional saunas to infrared and portable saunas, we'll provide you with a variety of options to help you find the sauna that best suits your needs, based on cost, construction, performance, and assembly.
The Best Home Saunas
Best Overall Home Sauna: Redwood Outdoors Thermowood Cabin Outdoor Sauna
Good for: People looking for a traditional sauna experience with a solid, durable design
If you're looking for a traditional sauna designed to withstand the outdoors and extremes in weather, look no further than our best overall pick, the Redwood Outdoors Thermowood Cabin Outdoor Sauna. We like its relatively compact design for a four-person sauna and its durability for the outdoors. It's easy enough to hop in after some outdoor training.
This sauna has been built with Thermowood, created by heat treating Scandinavian softwood to temperatures between 180 and 230 degrees in kilns for days at a time. This helps reduce the risk of wood swelling, cracking, or warping over time. Thermowood is also resistant to rot and fungi, and can provide increased longevity and insulation to your sauna.
Our lead reviewer Lindsay Scheele of Garage Gym Reviews Everything was impressed with how well the sauna performed, getting up to 190 degrees within 35 minutes. If you want to adjust the temperature, there are two knobs for manual control, or you can control it through WiFi, either through the wall pad or your smartphone or tablet. You can also move from the lower to upper bench, where hot air rises, and vice versa.
The assembly is where the team ran into some issues. While the sauna is designed with interlocking pieces for easy assembly, the instructions were for an older model and not helpful. "This ultimately resulted in us having to troubleshoot," Lindsay recalls, "as we were going with somewhere around 300 different pieces to work with."
The screws provided were on the cheaper side as well, so our team had to purchase higher quality screws to ensure the base was secure and solid. Make sure this is built on very level ground, or else pieces may not fit properly, including the sauna door.
Additionally, the electric heater will require 220 volts, which is a less common voltage; we had to get ours installed by an electrician. However, if you can afford the nearly $6,000 price tag plus any electrical installation, you'll have a sauna designed to last years to come outdoors.
Learn more in our full Redwood Outdoors Sauna review.
| | |
| --- | --- |
| Type of sauna | Dry or steam |
| Exterior dimensions | 78.75" L x 59" W x 96.75" H |
| Weight | 800 lbs |
| Number of people | 4 |
| Features | Manual or WiFi heater control, Harvia sauna heater, light fixture |
| Warranty | 1-year limited |
Best Outdoor Sauna for Home: Sun Home Luminar Outdoor 2-Person Infrared Sauna
Good for: Those wanting a durable outdoor infrared sauna
The Sun Home Luminar Outdoor Sauna is built to last year-round, through different seasons and different weather conditions, making it our pick for the best outdoor sauna. Although we have yet to try out this infrared sauna, we like its sleek but functional design for the outdoors. With grade-A carbonized wood on the outside, this helps keep the sauna functional, preventing the wood from warping, shrinking, or cracking.
RELATED: Infrared Sauna Benefits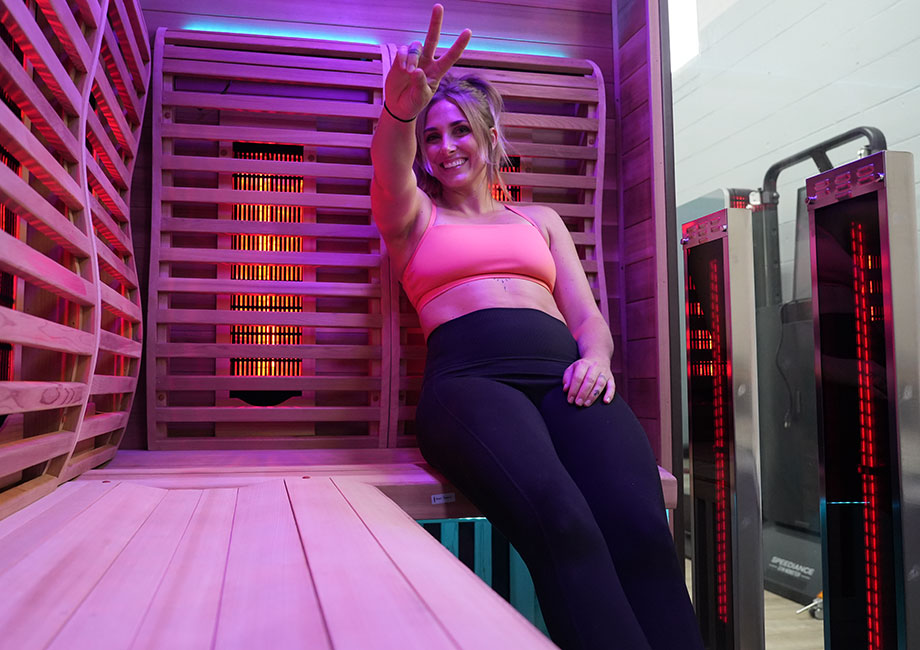 The charred, carbonized wood exterior and cedar interior gives the sauna a sharp look, along with the large dura-glass exterior, which provides a nice panoramic view of the outside while in use. This sauna is also a full spectrum infrared sauna, providing near, mid, and far infrared heat at the same time from carefully-placed heating panels. Along with this, the Luminar boasts mobile-app control capabilities, Bluetooth premium surround sound, and LED lighting.
As is the case with many outdoor saunas, the Sun Home Luminar will require 240 volts for power. Also, this is pricey, costing over $7,000 for the 2-person home sauna. Still, assembly is minimal, as the website says you'll only need the included Allen wrench to attach glass to the frame, and a screwdriver (not included) to attach the door handle, making it a solid choice for an outdoor sauna, with minimal hassle.
Read out in-depth Sun Home Sauna review.
| | |
| --- | --- |
| Type of sauna | Infrared |
| Exterior dimensions | 57" W x 51.5" D x 82.7" H |
| Weight | 1,870 lbs |
| Number of people | 2 |
| Features | Free shipping, mobile-app enabled control system, Bluetooth surround system and speakers, chromotherapy LED lighting |
| Warranty | 6-year limited |
Best Steam Sauna for Home: Renu Therapy The Rusticus 2-3 Person Indoor Sauna
Good for: People needing an indoor steam sauna for muscle recovery
Made with aromatic rustic red cedar, our pick for the best steam sauna for home use is Renu Therapy's The Rusticus 2-3 Person Indoor Sauna. Made with a Harvia heater, a Finnish product that is the leader in electric sauna heaters, this traditional sauna has the option to be a dry sauna or a steam sauna. Wanting steam? Simply pour water over the hot stone heaters to increase the humidity of the sauna room.
Although we haven't tested this sauna out yet, we like several of the customization and features of the Rusticus. Along with ambient LED lighting, this sauna from Renu Therapy also has options to add a WiFi control panel, controlled through your smartphone. You're also able to customize the door of the sauna, from a full glass pane, to an all-wood door.
As a dry sauna, the Rusticus reaches a maximum temperature of 195 degrees Fahrenheit. As a traditional steam sauna, the temperature won't quite reach that height, but the increased humidity will make the steam room feel much warmer than it really is.
This sauna uses 220 volts for electricity, as well as 110 volts for the interior lighting. Additionally, this sauna is suited only for indoor use, which means you'll have to make sure you have the space in your house for a sauna 70 inches wide and 47 inches deep, along with a height of 78 inches.
Still, at $6,000 and free shipping in the United States, this sauna provides a multi-year warranty on many of its parts, making it a solid choice for an at-home sauna.
| | |
| --- | --- |
| Type of sauna | Dry or steam |
| Exterior dimensions | 70" W x 47" D x 78" H |
| Weight | 515 lbs |
| Number of people | 2 – 3 |
| Features | Heater upgrades, customizable doors, free shipping in the U.S., interior LED light |
| Warranty | Limited lifetime warranty on the sauna room, 5-year limited on the heater and components, and 1 year on heating elements (coils) |
Best Traditional Sauna for Home: Plunge Sauna
Good for: Those wanting a versatile sauna space for standing, stretching, or sitting with friends
Although it's still on pre-order, we like the unique design of the Plunge Sauna, bringing a modern take on a traditional sauna. A slanted back wall with an attached upper and lower bench provides an ergonomic backrest as well as space to seat up to five people (seven with the XL version). However, to stand or stretch in the sauna, the foldable benches can be flipped up to provide more space.
RELATED: The Best Mobility Exercises
The exterior and benches are constructed with an incense cedar, providing an aromatic wood smell. The interior has a blend of pine and hemlock. This high-quality sauna also has a waterproof roof, allowing it to work inside or outside of your own home.
The Plunge Sauna has a WiFi controller that can be controlled through a mobile app, along with customizable accent lighting. The heater is made by Huum, and is a wall-mounted sauna heater, keeping extra space for the sauna. The sauna also comes with 121 pounds of sauna stones, perfect for heat or steam.
Both the standard and extra-large versions of the Plunge Sauna will require a 240-volt outlet, and you should consult an electrician to install a dedicated outlet for the sauna. Additionally, this is an expensive sauna, at $10,990 for the standard size sauna. Still, Plunge does offer financing options. With its unique design, this sauna may be worth the cost.
| | |
| --- | --- |
| Type of sauna | Dry or steam |
| Exterior dimensions | 60" W x 67" D x 95" H |
| Weight | Not disclosed |
| Number of people | 5 (XL size can seat 7) |
| Features | WiFi controller, Huum sauna heater, sauna stones, customizable accent lighting |
| Warranty | Not disclosed |
Best Affordable Home Sauna: Sweat Tent Outdoor Sauna
Good for: People needing an affordable sauna that can also travel.
If you didn't know already, you're probably noticing from our list of the best home saunas: they can get expensive. With many saunas costing more than a few thousand dollars, it's hard to commit to such an expensive cost. Fortunately, there are more affordable options available. Our pick for the most affordable home sauna is the Seat Tent Outdoor Sauna.
"I am literally not giving it back to Garage Gym Reviews unless they force me to," says Lindsay Scheele of Garage Gym Reviews Everything. "I love the overall aesthetic of the product, it felt very cool tucked away in the woods, and it worked well and was really hot in the tent once we got the fire going."
Lindsay says the assembly was simple: You take the tent out of the bag and use the straps to pull the tent apart and it pops into place," she says. "Then once the tent is set up you just need to assemble the stove, which again is really easy to do. "One person could do this, but I think having two people is the best option."
Constructed with a lightweight, weatherproof insulated Oxford 210D fabric, this sauna tent is built for the outdoors. Unlike most modern saunas, the Sweat Tent is heated through a wood-fired stove which pumps out smoke through a chimney projecting from the tent. Along with the stainless steel stove, the sauna also comes with 20 pounds of sauna rocks.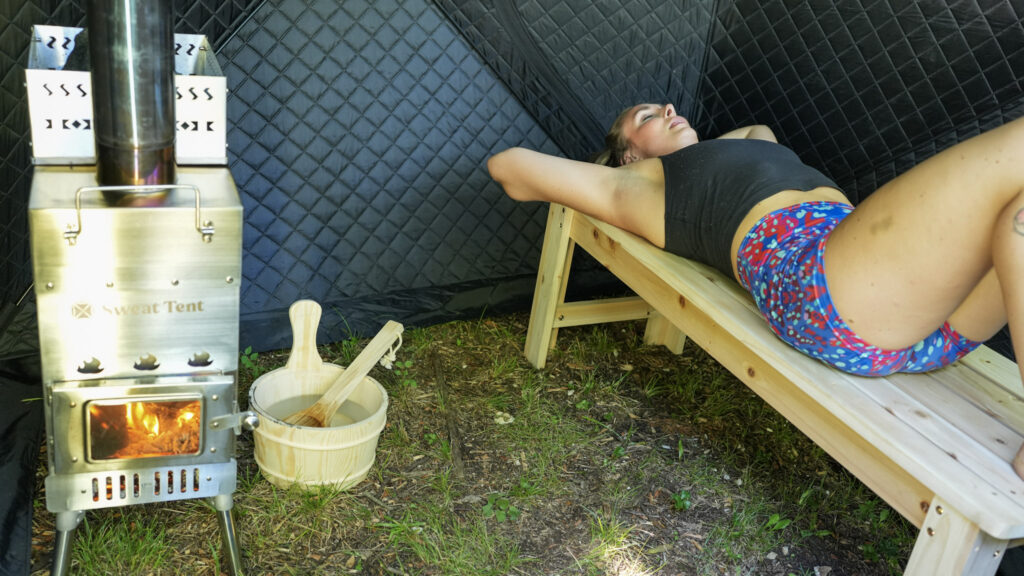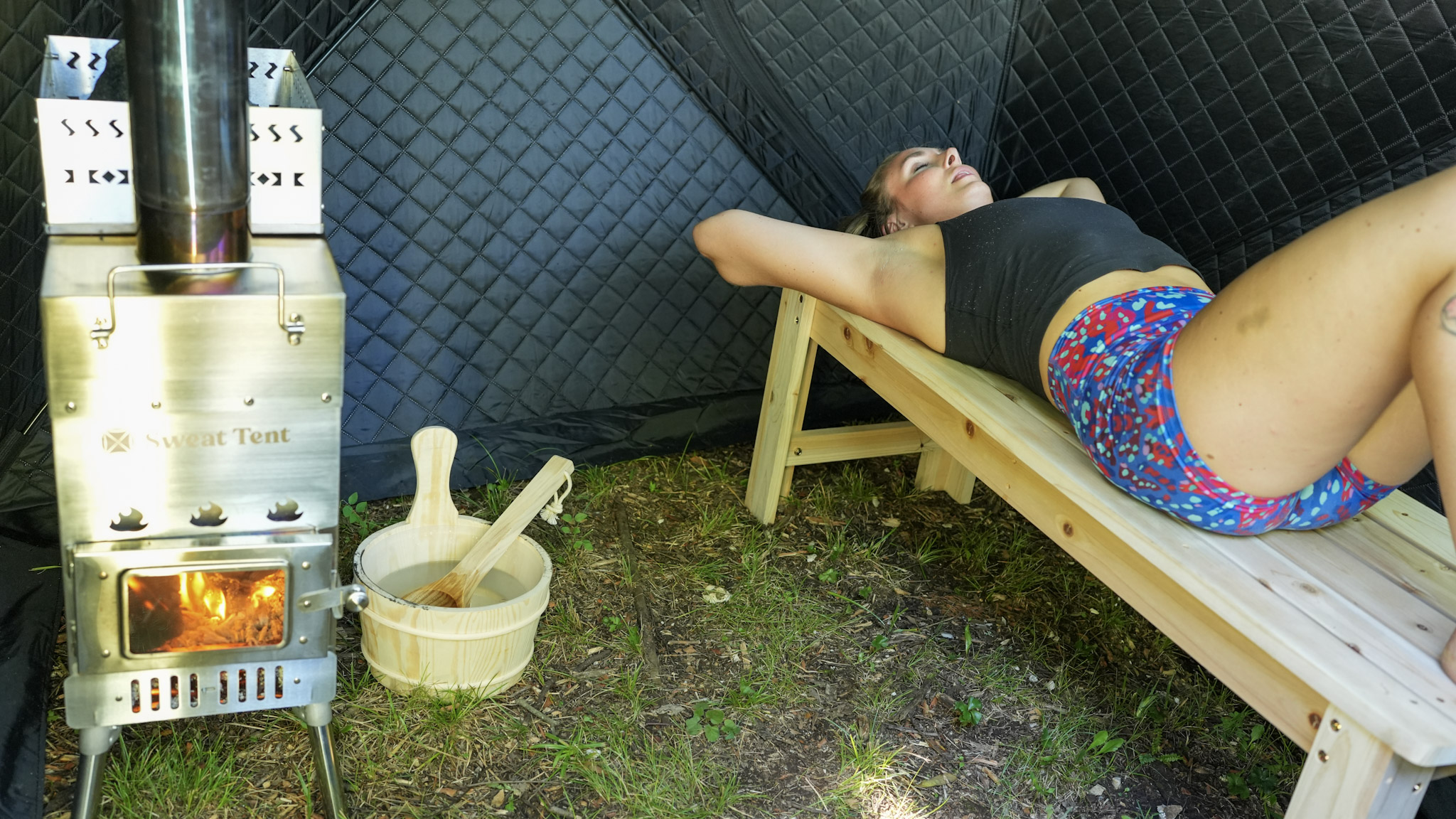 Lindsay was skeptical of the Sweat Tent at first because of the lightweight materials used, but she quickly learned this is a 5-out-of-5 portable sauna. "Took about 30 minutes to heat up to where we were all sweaty," she says. "The stove didn't feel hot to the touch and the sauna rocks heated up in about 30 minutes and we were able to create a lot of humidity by pouting water onto the sauna rocks."
The tent can be brought just about anywhere, but keep in mind you'll have to carry the 50-pound stove and a couple of sauna rocks to your destination.
With that said, the Sweat Tent Outdoor Sauna is a much more affordable investment, at a cost of only $1,399. Additionally, it claims to reach 200 degrees Fahrenheit in any weather, making it a very efficient sauna.
Learn more in our Sweat Tent Outdoor Sauna review.
| | |
| --- | --- |
| Type of sauna | Portable, dry or steam |
| Exterior dimensions | 72" L x 72" W x 84" H |
| Weight | 30 lbs (tent), 50 lbs (stove) |
| Number of people | 3 |
| Features | Wooden thermometer, wood-fired stainless steel stove, sauna rock basket |
| Warranty | 1-year limited lifetime |
Best Infrared Sauna for Home: Healthmate Enrich 2-Person Infrared Sauna
Good for: Those wanting an infrared home sauna with safe and low EMF
Our pick for the best infrared home sauna is the Healthmate Enrich 2 Infrared Sauna; while we have yet to test this product, we like the convenience provided by this sauna, through features and an easy assembly. One thing that best demonstrates its convenience is that it can plug into a standard 120-volt outlet, which is the standard voltage and outlet in American homes.
Additionally, the setup and assembly appears to be relatively easy, using a latch-buckle system that connects all walls and panels in under half an hour with two people, according to the manufacturer. The wood is made of pure eucalyptus planks that are sustainable sourced.
The Enrich 2 provides some added amenities, such as built-in speakers and exterior lighting—even a magazine rack. The sauna also contains a 96-diode near-infrared LED panel, capable of choosing between nine colors, including red light therapy. The different colors are supposed to provide different health benefits and enhance meditation. The temperature and timer can be controlled by an LED control panel on the front of the sauna.
RELATED: AchedAway Cupper Review
The full-spectrum infrared sauna features low EMF (radiation) from the eight infrared light heaters, controllers, and electrical outlets as well. To ensure low EMF, Healthmate gets their saunas third-party tested, and provides full transparency on their technology.
To get exact pricing and availability, you'll have to contact the manufacturer for a quote. However, this will be a fairly expensive indoor infrared sauna for its size. Still, with its easy assembly and ability to plug into any standard outlet, it may be well worth its price.
| | |
| --- | --- |
| Type of sauna | Infrared |
| Exterior dimensions | 47.25" W x 43.5" D x 77" H |
| Weight | Not disclosed |
| Number of people | 2 |
| Features | Bluetooth speakers, towel rack, exterior lighting, chromotherapy lighting |
| Warranty | Lifetime for Tecoloy heaters, 5 years for wood panels, benches, power supplies, and controllers |
Best 2-Person Sauna for Home: Sunlighten Signature II Infrared Sauna
Good for: Homeowners wanting a far infrared sauna for recovery and relaxation
Our favorite two-person sauna goes to the Sunlighten Signature II Infrared Sauna. This far infrared sauna also comes as a single-person or three-person sauna, with a similar structure and features. Although we have not tested out the Sunlighten sauna yet, we like several of its features.
For one, this indoor sauna is customizable in the type of wood used: eucalyptus or basswood. Each has its pros and cons, but eucalyptus is heavier and more durable, while basswood is hypoallergenic.
Additionally, this indoor sauna is compatible with 120-volt outlets, meaning you won't have to get any electrical work done for your sauna to run properly. The sauna uses far infrared heat across nine heaters, used to help heat the body from within and safely raise your heart rate. Extra features include chromotherapy lighting, a built-in sound system, and an LED control panel to adjust temperature and timers.
Due to the customization and choice of wood for the sauna, you'll have to request a quote from Sunlighten for the exact price of the unit. Suffice it to say though that it'll be one of the pricier options for a two-person sauna. Still, with the added features and convenience of a 120-volt plug, it could be worth the cost.
| | |
| --- | --- |
| Type of sauna | Infrared |
| Exterior dimensions | 50.9" W x 45.9" D x 77.7" H |
| Weight | 438 lbs |
| Number of people | 2 |
| Features | Chromotherapy lighting, built-in sound system, control panel |
| Warranty | Limited lifetime |
Best Dry Sauna for Home: Almost Heaven Morgan 4-Person Barrel Sauna
Good for: Households wanting a hot traditional sauna experience
Our choice for the best dry sauna for your home is the Almost Heaven Morgan 4-Person Barrel Sauna. Olga Pisarskiy, a USA Weightlifting Level 2 Coach, owns the six-person version of this barrel sauna, called the Emerson, and enjoys it a lot. She says, "I love the sauna. I have zero regrets buying it. One of the best purchases I've ever made that benefits the entire family."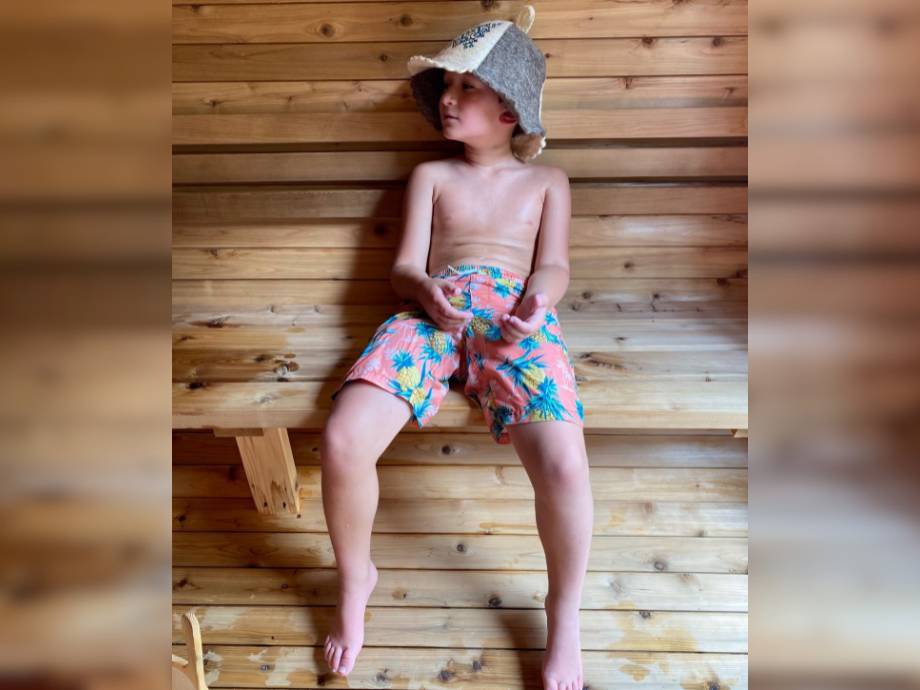 The unique barrel design of the Morgan and Emerson is to help heat to circulate around the entire sauna, leading to a more thorough heat throughout the barrel. Although it can be used as either a dry or steam sauna, as a dry sauna, Olga says it has gotten up to 205 degrees—plenty hot for a traditional sauna. There's also a good amount of space on the benches, plenty enough for her six-person barrel sauna to seat six people, or for a couple people to lie down, too.
While Olga has had her sauna outside partially covered for a couple years, there are spots that aren't as beautiful as it once was, "but it gets the job done," she says.
Sean Rigsby, owner of Charlotte Strength and USA Weightlifting's Junior National Team Coach, has the Morgan 4-Person Sauna at his weightlifting gym, and remarked that assembly was easy, although you'll need some basic tools to assemble it: a drill, mallet, screwdrivers, and a wrench. Additionally, the instruction manual was not specific for his model of barrel sauna, but rather a general barrel sauna instruction manual.
With that said, these barrel saunas look sharp with their wood exterior, barrel shape, and tempered glass door. These barrel saunas are also one of the more affordable options, with the Morgan costing $3,999, and the Emerson at just $1,000 more.
| | |
| --- | --- |
| Type of sauna | Dry or steam |
| Exterior dimensions | 72" W x 72" D x 78" H |
| Weight | 685 lbs |
| Number of people | 4 |
| Features | Harvia heater, sauna stones, LED lighting, bucket and ladle, thermometer |
| Warranty | Limited lifetime warranty on sauna room, 5 years on heater |
Best Portable Home Sauna: SereneLife Full Size Portable Steam Sauna
Good for: Those wanting a compact single-person room for steam sauna sessions
Available on Amazon, our pick for the best portable home sauna is the SereneLife Full Size Portable Steam Sauna. This is lightweight at only 13 pounds and folds out into a nearly 6-feet tall portable sauna that the manufacturers also call a home spa. While we haven't had a chance to test out this portable sauna, we like its compact footprint at an affordable price of under $300, a steal compared to bulkier indoor or outdoor saunas.
RELATED: Best Portable Home Gym
Folded out, the spa's dimensions are nearly 3-feet by 3-feet by 6-feet, but it can be folded away easily to move to another room, or just for storage. The unit comes with a 4-liter steamer, used to increase the humidity and temperature of the interior of the sauna. It's tall enough for most people to stand, but a sauna chair is included to sit in while in the steam sauna.
Due to it being a steam sauna, the interior will only get so warm, with a maximum temperature of 122 degrees Fahrenheit. So if you're looking for a sauna to get warmer, this may not be the best choice. Also, with a height of 70.9 inches, it may be difficult for taller people to stand in. With that said, this is one of the best budget options available for saunas, and its portability makes it a great choice for a home sauna.
| | |
| --- | --- |
| Type of sauna | Portable, steam |
| Exterior dimensions | 35.4" L x 35.4" W x 70.9" H |
| Weight | 13.18 lbs |
| Number of people | 1 |
| Features | Sauna chair, remote controller |
| Warranty | Not disclosed |
Other Home Saunas We Researched
We took a look at quite a few other saunas before coming to our final list. Here are some that didn't quite make the list.
Dynamic Barcelona Hemlock Low EMF FAR Infrared Sauna: While this infrared sauna from Amazon says it can hold up to two people, the compact dimensions make me think otherwise.
Maxxus Saunas Seattle Carbon Far Infrared Sauna: Built from Canadian hemlock wood, this Maxxus Sauna is a more affordable infrared option, but some reviews talked about a difficult assembly, from hard instructions, to missing screws.
Radiant Sauna 2-Person Hemlock Infrared Sauna: With six carbon heaters, this sauna is a more affordable option, but some reviews complain about it not getting hot enough.
LifePro Portable Far Infrared Sauna Blanket: Another budget-friendly option for those looking to use a sauna, we went with other portable saunas, since this sauna blanket doesn't allow your head and arms to be covered as well.
SereneLife Portable Infrared Sauna: This portable infrared sauna from SereneLife might be a little too compact for larger people.
Durasage Oversized Portable Personal Steam Sauna: While a larger option for portable saunas, this steam sauna only allows for sitting.
Sunray Heathrow 2-Person Infrared Sauna: Available on Wayfair, this two-person sauna comes with quite a few features, including Bluetooth audio, an LED control panel, and LED lighting, but it still didn't quite make the list.
How We Picked and Tested Home Saunas
When testing out saunas, we look at the construction of the sauna, as well as the assembly process. Additionally, we look at the performance of the sauna—its maximum temperature, how quickly it gets to that temperature, and how well it maintains the temperature.
Then we took a look at amenities, things like WiFi controllers, lighting, and other features that would enhance the user experience. Afterwards, we determined if the value of the unit was worth the cost, which narrowed our list down to the saunas you see before you.
Benefits of Home Saunas
There are quite a few benefits you can get from home saunas, but a lot depends on the heat of the sauna and the time spent in the sauna. I talked with Thomas Barbeau, CSCS, SCCC, an Assistant Strength and Conditioning Coach for the Carolina Panthers, about his use of saunas for his athletes' performance and recovery.
On the optimal conditions of sauna use, Thomas says, "A lot of the research suggests that the ideal temperature for sauna usage is above 176 degrees, and a session should be about 20 minutes long at that temperature to reap the full benefits of a sauna. Higher temperatures, though, can reduce the time needed in the sauna, whereas at about 200 degrees, you'd only need a 15-minute session."
A higher frequency of use tends to increase the benefits, too, he adds. Because of this, Thomas tends to prefer traditional dry saunas for the higher temperatures they can reach, as steam and infrared saunas reach about 120 and 150 degrees respectively.
With that said, there are still plenty of benefits to have from an infrared sauna or steam sauna, such as reduced inflammation, increased recovery, and cardiovascular health, but the higher temperatures of a dry sauna have been shown to have unique benefits that can improve brain health as well. Let's get into the benefits of home saunas.
Reduced Inflammation
One of the most well-known benefits of saunas is their ability to help reduce inflammation in the body.
A 2018 study published in the European Journal of Epidemiology1 measured the C-reactive proteins (CRP) of over 2,000 Finnish men. CRP is a blood protein that is used in inflammatory responses. Those who used saunas had lower CRP levels, and the correlation seemed inversely related to the frequency of sauna usage. Those who used the sauna over four times weekly had lower CRP levels than those who used it two or three times weekly.
Additionally, some anti-inflammatory proteins (such as IL-10) have been shown to increase with sauna usage. Another study from 20182 showed a significant increase in anti-inflammatory proteins after four weeks of consistent sauna usage.
Increased Recovery
Something vital to Thomas as an assistant strength coach for the Panthers is a sauna's ability to aid in recovery after long football practices. Research shows that sauna use after exercise can help aid in an athlete's recovery, with one study from 20193 even suggesting that resting heart rates were lower after sauna recovery than prior to sauna usage.
RELATED: Best Muscle Recovery Supplements
Infrared saunas can help improve recovery as well. A small study from July 20234 showed that athletes who had a single infrared sauna session post-workout showed greater perceived recovery and less muscle soreness. Faster recovery leads to being able to train more efficiently the following day.
Cardiovascular Health and Performance
Saunas are a relatively safe way to train and increase your cardiovascular fitness and health. With the increased heat of a sauna, it can raise your heart rate5, up to levels comparable to moderate or vigorous levels of exercise.
One small study from 20196 measured the blood pressure and heart rate of 19 individuals during and 30 minutes after sauna use. In this study, participants' blood pressure and heart rates increased significantly while under heat stress, but reduced to numbers below baseline after use.
Brain Health
One of the unique benefits of dry saunas (due to the increase in temperature) is their ability to help with brain health.
According to a 2017 study7, heat stress and exercise have been shown to increase levels of brain-derived neurotrophic factor (BDNF), a protein in the central and peripheral nervous systems. BDNF can have a ton of benefits, from helping with anxiety and depression8, as well as memory functions.
Preventing Muscle Waste
As an assistant strength coach, Thomas uses saunas to help maintain muscle mass on injured athletes, as muscular atrophy can occur leading to strength losses in the first week due to reduced protein synthesis9.
However, heat stress from saunas have been shown to prevent protein degradation from lack of activity. A study from 200710 suggests that intermittent heat stress can enhance skeletal muscle regrowth, which is a fantastic tool for a professional athlete recovering from injury—or a gym-goer with a pulled muscle.
What to Look for in the Best Home Saunas
There are a lot of factors determining what the right sauna is for you. Here are a few things to consider before making your purchase.
Type
When looking into saunas, the first thing to decide is the type of sauna you're looking at. Typically this is a debate between infrared and traditional saunas. Both provide similar benefits to muscle recovery and reduced inflammation, but traditional saunas have some unique benefits on improving brain health that occur at much higher temperatures.
Additionally, you should consider where you're wanting this sauna: indoors or outdoors. Either way, it's smart to consider the space you have to work with, and find a suitable option. If you don't have a lot of space, a portable sauna or sauna blanket may be a viable option, then.
Performance
What is the sauna's maximum temperature, and how quickly does it reach that temperature? The answer will depend on the type of sauna, but you'll want to make sure the sauna reaches those ideal temperatures.
Dry saunas can reach a maximum temperature of 195 degrees Fahrenheit, and typically hotter, generally within a half-hour.
Steam saunas won't get as warm, relying on the humidity to warm you up. They have a maximum temperature of about 120 degrees, and take about the same time to warm up.
Infrared saunas can heat up in about half the time to a max temperature of about 150 degrees Fahrenheit.
Electrical Compatibility
Some saunas will use a standard 120-volt plug, making installing the sauna a breeze. However, many outdoor saunas (and some indoor ones) will use 240 volts, meaning a 240-volt outlet will need to be installed if you don't have one. It's best to have an electrician do this if you don't have experience with wiring.
Features and Amenities
What other amenities are available to you while using the sauna? While the main goal is recovery, it's nice to enjoy your time in the sauna. Common features include Bluetooth audio, lighting, and a WiFi controller for ease of access in controlling timers and temperatures.
Some traditional Finnish saunas may keep the features minimal, but they should at least come with a thermometer and bucket and ladle, to pour water over sauna rocks to help maintain or adjust the temperature.
Cost
Saunas can be expensive, even if they're affordably priced. After looking at all of these factors in a sauna, make sure to check the price and see if the sauna brings enough value to justify the sauna's cost.
Best Home Saunas: FAQs
What is the best sauna for home?
What's better, infrared or steam saunas?
The type of home sauna that's better for you will depend on your wants and needs. An infrared sauna will get warmer than a steam sauna, although the humidity in a steam sauna will make it feel warmer. Additionally, infrared saunas can be easier to operate than a traditional Finnish sauna.
However, a dry sauna will operate at higher temperatures, which can provide health benefits in a shorter time frame than an infrared sauna. But they can be a little more difficult to operate with their electric or wood-fired heaters.
What are the benefits of a home sauna?
Saunas have a myriad of benefits, stemming from an increase in heart rate due to raising the body's core temperature. Saunas can help improve cardiovascular health, reduce inflammation, and improve muscle recovery post-exercise.
References