We test and review fitness products based on an independent, multi-point methodology. If you use our links to purchase something, we may earn a commission. Read our disclosures.
In the last few years, an overwhelming number of people finally realized what we've known for a long time: working out at home rules. More than ever, exercise enthusiasts are building gyms right in their own houses.
A "home gym" could refer to an all-in-one squat rack, a cable cross machine, a workout mirror, and any other piece of equipment that essentially works the majority of your muscle groups. It's easy to get overwhelmed with the multitude of options available, so we put together a list of the best home gym machines.
Our team has put more than 50 home gym machines through our hands-on testing. Our expert product reviewers include certified personal trainers, elite-level athletes, and longtime fitness enthusiasts. When looking at home gyms, we rate products on a scale of 1 to 5 in categories that include the following:
Construction: We favor high-grade steel and quality weldings over plastic.
Versatility: Our testers evaluate the range of exercises they can perform as well as the different fitness levels the product caters to.
Performance: We rate each home gym on whether it delivers on its ability to deliver a full-body workout.
Value: Using market data, we score a product on its value proposition at its listed price.
Top 12 Best Home Gyms
Best Home Gym Overall: Force USA MyRack Modular Power Rack
You get laset-cut numbered uprights, built-in bar storage, and Westside hole spacing throughout the bench area (this puts the barbell at a more advantageous position for pressing movements). And while it uses 12-gauge steel, that's still a bit stronger than the 14-gauge steel we see on racks around the same price (the lower the number, the stronger the steel).
The customizations are also unmatched for a budget-friendly power rack. It was one of the first racks to offer a cable crossover attachment, which is now become more common in racks, and you can also choose from five different pull-up and chin-up bars, j-hooks and mono lifts, spotter arms, dip handles, landmine attachments, band pegs, and the list goes on. "There aren't many racks on the planet that can compete with the number of accessories the MyRack has," Coop says, rating it a 4.75 out of 5 for its options and versatility.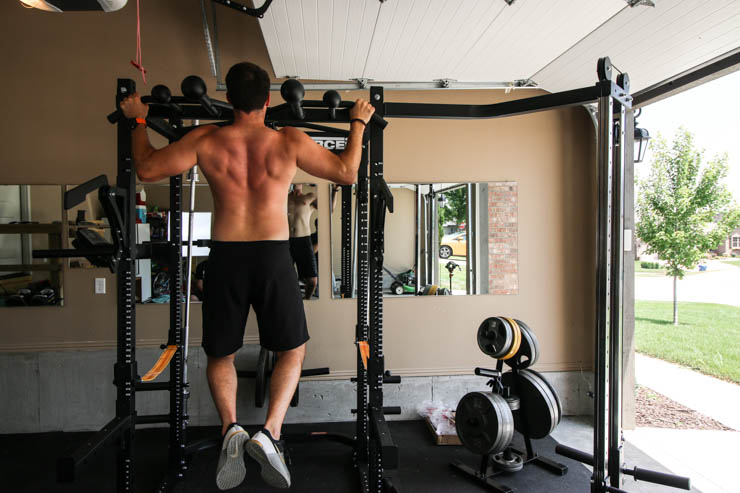 Is this the highest quality home gym on the market? Absolutely not, but it's going to serve the vast majority of home gym owners very well. We've moved with this thing several times and it still works just as well as it did on day one.
Just know that while some squat racks have interchangeable attachments, that's not the case here. And while Force USA offers such attachments at a cost-friendly price, the powder coat on them and the rack itself is very smooth and thin.
For more, read our full Force USA MyRack Modular Power Rack in-depth review.
| | |
| --- | --- |
| Key Feature | Budget-friendly power rack |
| Great For | Barbell lifts, pull-ups, cable workouts |
| Footprint | 55″ D x 47″ W x 87″ H |
| Price Range | Starts at around $500 |
Best Smart Home Gym: Tonal
Good for: People who want to experience guided workouts and cutting-edge technology
The Tonal is a technology-driven home gym that we believe is just the start of an electronic boom in gym equipment. It's a wall-mounted screen with cable arms attached. As you exercise, a personal trainer puts you through a guided workout where you can see how the exercises should be performed. Tonal uses AI to assess your form and adjust the weights as you go.
Several members of our team have used Tonal for hundreds of combined workouts, and we gave the programming a near-perfect 4.75 out of 5. "I really liked Free Lift (the custom workouts), because I could pick whatever I wanted to work on," says Coop Mitchell, founder of Garage Gym Reviews. "I've done a few of the live classes. I think it's still new and they are still figuring some things out, so I still prefer the regular programming."
RELATED: Best Smart Home Gym Equipment
One unique feature is that the machine provides auto-powered weight suggestions, which can take the guesswork out of strength and resistance training. You'll initially take the full-body strength assessment to help the Tonal set the correct weight for you on each exercise, though you have the option to turn the feature off and manually input your own data.
At just over 4 feet height-wise and as a wall-mounted workout machine, the Tonal itself doesn't take up a lot of room and could potentially be great for small spaces. However, you need more than 7 feet around your machine in order to use the cables. There are specific requirements regarding installing the Tonal, so the company sends professionals to deliver and install the equipment.
A few callouts we have: First, keep in mind the Tonal has a maximum total resistance of 200 pounds. If you want to lift very heavy, this may not be the machine for you. Also, the provided bench isn't high quality.
The price tag is just under $4,000, and you could probably get it on sale during Black Friday or Labor Day holidays, but you can also check out our Tonal coupon page for more savings. There is a $49 per month app membership, the first year of which is folded into the purchase price.
Read our full Tonal Smart Home Gym review.
| | |
| --- | --- |
| Key Feature | AI-powered, wall-mounted workout mirror |
| Great For | Customized strength workouts |
| Footprint | 21.50″ W x 50.9″ H x 5.25" D |
| Price Range | Around $4,000 (financing available) |
Best Bodybuilding Home Gym: REP Fitness PR-4000
Good for: People who want a versatile squat rack at a great price
Another name for the REP PR-4000 could be Burger King, because you can truly have it your way. You can customize everything from the height and depth of your rack, to the color of your uprights and whatever attachments you want to add to it.
We have personally used the PR-4000 and consider it to be one of the best squat racks. Although we're calling it the best home gym for bodybuilders, it could also be the best for CrossFitters, powerlifters, or any other competitive athlete who needs a power rack designed for their specific fitness goals.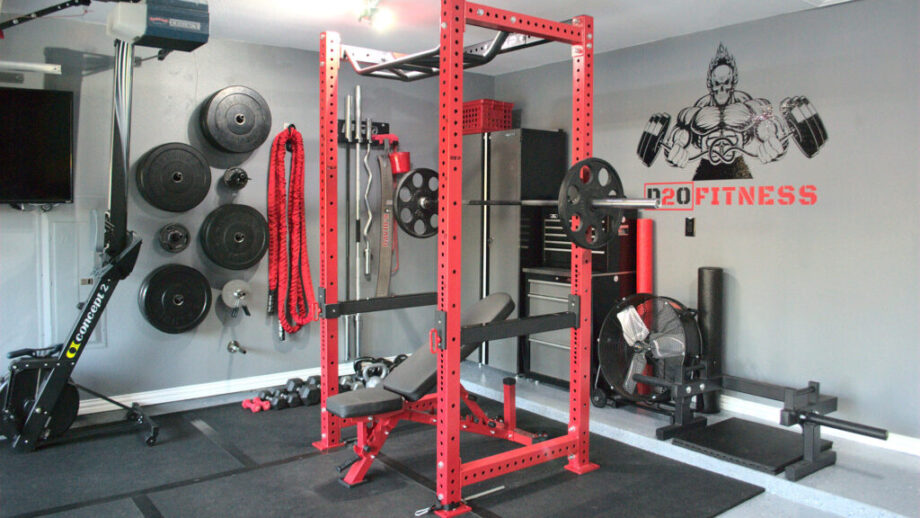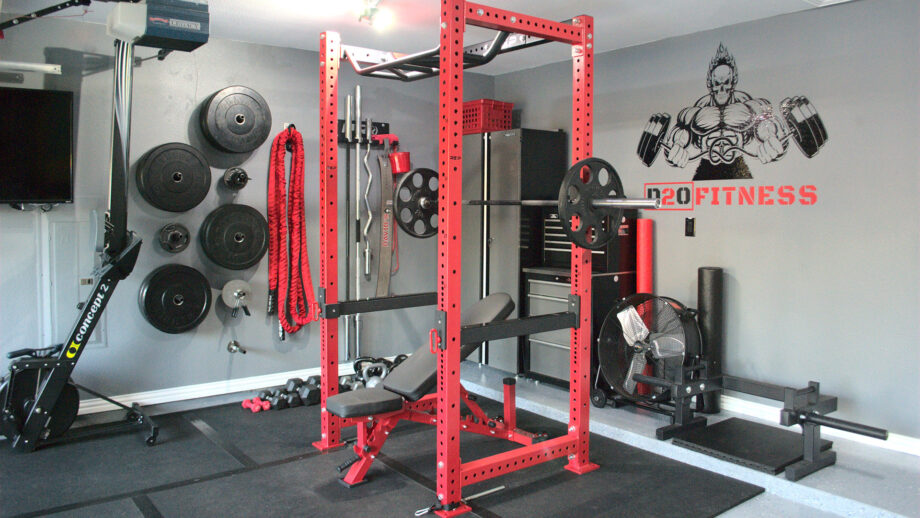 We like it for bodybuilding because of the Westside hole spacing and its 1,000-pound weight capacity, which can help it meet all your lifting needs. The customizations are also a huge plus and an area where this received near-perfect scores from our testers. REP has so many options, some of which include landmines, belt squats, dip stations, and lat pulldowns.
And as noted in our REP Ares Cable Attachment review, you can also add a functional trainer with dual 260-pound weight stacks (with an option to upgrade to 310 pounds) with a 2:1 ratio.
All that to say, you can fully build this thing to work for the muscle groups you need to develop the most—nothing more, nothing less.
"One of the downsides of the PR-4000 is the fact that the uprights are only numbered on one side," says Coop Mitchell, founder of GGR who has used the PR-4000 for countless workouts. "Also, the powder coat isn't completely smooth."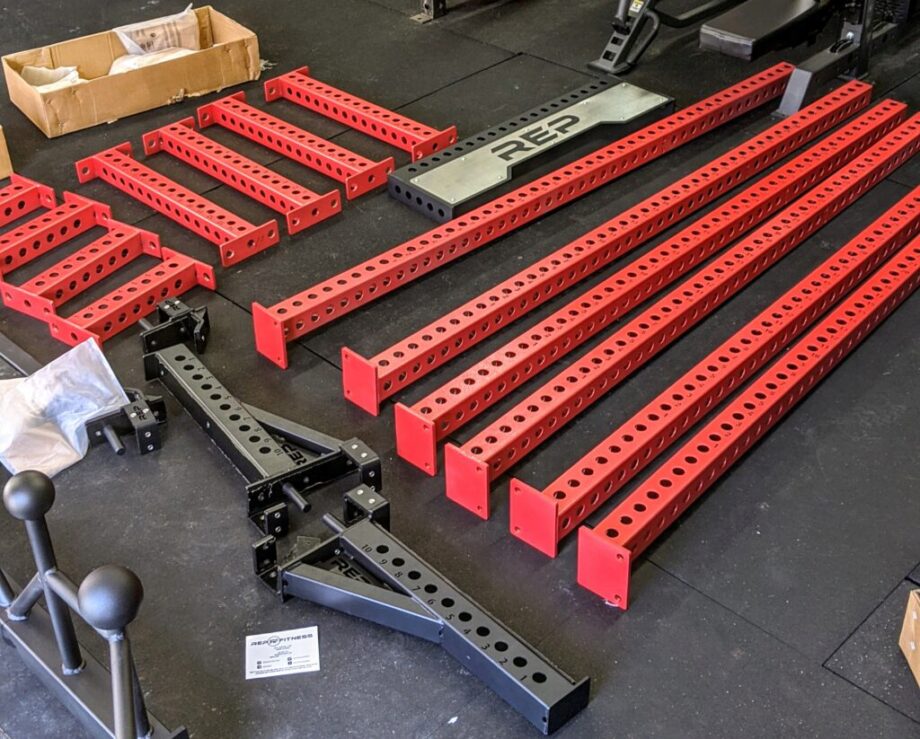 Keep in mind that this rack must be assembled once you receive it, and it's no easy feat. Many reviewers have said they've accidentally put the uprights on backward (Coop included).
The final price for this home gym will depend on the customizations you add to it, but it's going to cost less than similar models offered by companies like Rogue Fitness or Sorinex.
For more, read our in-depth REP Fitness PR-4000 Power Rack review.
| | |
| --- | --- |
| Key Feature | Fully customizable power rack |
| Great For | Barbell movements, pull-ups, cable exercises |
| Footprint | 80" or 93" H x 47" W x 23" 30" or 41" D |
| Price Range | Starting around $800 |
Best All-in-One Home Gym: Force USA G20 All-in-One Trainer
Good for: Those who want a machine that can do it all
We've said it before and we'll say it again: Nobody does all-in-one home gym equipment like Force USA, and the G20 All-in-One Trainer is proof of that. Sure, it starts at around $5,500, but consider the fact that you're getting 11 strength training machines in one piece of equipment, including a power rack, Smith machine, functional trainer, and leg press. That's why it earned a perfect 5 out of 5 for versatility in our testing.
Coop Mitchell, founder of GGR, used this rack for more than a year. "I love that it's so much in a compact form," he says. "The addition of the Smith machine is particularly unique, giving people a safe way to ease into lifting."
The G20 also comes with 29 different attachments, 51 adjustment points (including Westside hole spacing in the bench area), and uses 11-gauge steel. Just like the MyRack, the G20 All-in-One Trainer is only compatible with Force USA attachments, but there's so many included on this thing we doubt you'll have to add much to it.
As the old saying goes, this all-in-one trainer is a Jack of all trades and a master of none. The functional trainer, for example, has dual 289-pound weight stacks with a 1:1 ratio (meaning the weight listed on the stack is what you're actually pulling), but it doesn't travel quite as far as a trainer with a 2:1 ratio.
The spotter arms on the power rack aren't quite as long as what you see on other models, which may be a problem for some during squatting or benching sessions.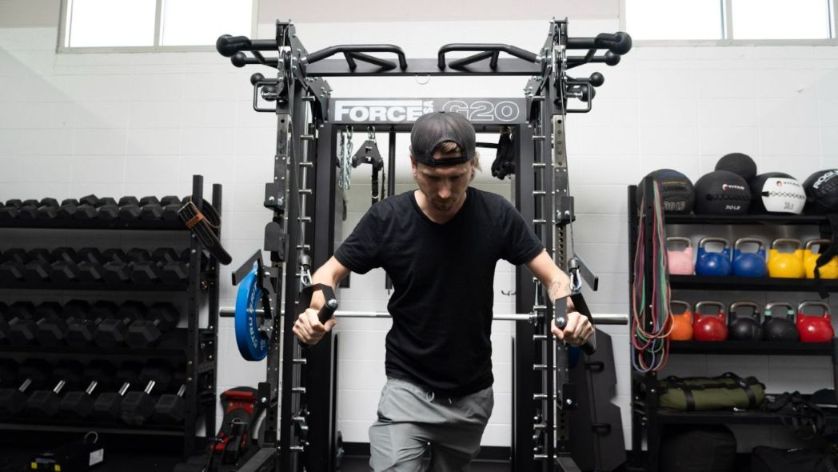 As far as the assembly goes, we had our in-house facilities manager Sam "AsSAMbly" Presley put together the G20. "It is one of the most daunting, most time consuming, largest pieces of equipment we have ever put together here," he says, noting that it is shipped in multiple crates. "This was about a 35-hour build. I would highly recommend having one or two friends to help you, or, if you can afford it, get the white-glove service assembly."
All in all, if you're looking for a machine that can do multiple jobs and be used by up to three people at once, you won't find much better than this.
Find out more in our full Force USA G20 review.
| | |
| --- | --- |
| Key Feature | Combines a power rack, Smith machine, functional trainer, and leg press |
| Great For | Barbell and cable movements |
| Footprint | 75" W x 67" D x 91" H |
| Price Range | Starts around $6,000, financing available |
Most Portable Home Gym: MAXPRO Smart Connect Cable Machine
Good for: Those who want to be able to take their workouts on the road
A home gym that folds, weighs just 10 pounds, and could fit in your gym bag? That's what the MAXPRO Smart Connect Portable Cable Machine is.
As the founder of Garage Gym Reviews, Coop Mitchell, points out, "It's one of the smallest pieces of gym equipment we've reviewed." When we first tested this product, we received it with a carrying bag. That bag is now part of the brand's Elite Bundle, though we will tell you right now, you could throw this machine in a bookbag and be fine.
For a small machine, it packs a decent punch. Coop used it for all kinds of cable workouts, testing the 300 pounds of resistance it claims to have.
"A piece of equipment is only as good as you can use it for the quads, the hammies, the calves, the glutes, all the good stuff," he says. "The MAXPRO can go up to 300 pounds, and yes, I've deadlifted that much on it."
The MAXPRO also comes with an extensive workout library that includes both live and on-demand classes. One of the best parts of the app is that there is no subscription required. Of course, there is an "enhanced experience," though Coop says the free version is just fine.
"It's not perfect; it's not like a Tonal or Peloton experience, however it's free and it's not awful," he says. "It tracks your reps, it's tracking calories, and it can also tell you the weight increment that you have and record your workouts."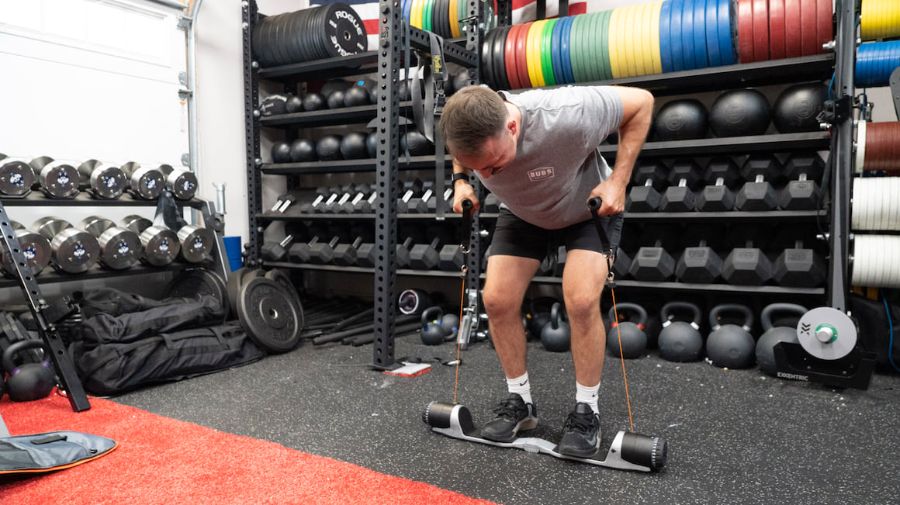 The basic portable machine comes with a long bar, workout handles, ankle/wrist straps, door mount system, and USB charger. However, if you upgrade to the Elite Bundle (which is twice the cost), you get the carrying case, foldable bench, and wall track so you can mount it.
"The bench, like the app, is just okay," Coop warns.
The only place where MAXPRO received a rating of less than 4 from Coop and our product testers is on value. It's regularly priced around $1,200, though we have seen it reduced by as much as 50% around holiday sales periods.
Read more in our MAXPRO Smart Connect Home Gym review.
| | |
| --- | --- |
| Key Feature | A cable machine that can fit in a backpack |
| Great For | Cable movements |
| Footprint | 19.4″ L x 15.3″ W x 6.4″ H |
| Price Range | Starts around $1,200, financing available |
Best Budget Home Gym: REP PR-1100 Home Gym Power Rack
Good for: People who want a versatile squat rack at a great price
We're big fans of the REP Fitness Power Racks, and while the PR-1100 is definitely one of the brand's most basic setups, that's kind of the beauty of it. It's priced below $400, but it's still a great piece of home gym equipment.
Coop Mitchell, founder of Garage Gym Reviews, has used and tested nearly all of REP's power racks. "The PR-1100 will be more than enough for most people," he says. "It's not the same level of quality or durability as their higher-end racks, but it's much cheaper and is a tremendous starter rack. I also like that they add colors."
You can easily (and fairly affordably) add the accessories you need without paying for things you won't use. REP offers add-ons such as weight storage, a lat/low row attachment, dip bar, and landmine. However, this is a standard rack, so there are a host of other accessories from other companies that would likely fit in just fine.
Want more customization? You get four color options on this rack, many of which can also be found on REP Fitness' adjustable and flat benches, so you can make your home gym look the way you want it to.
The PR-1100 has a weight rating of 700 pounds, which is more than enough for most of us mere mortals. It's also fairly compact, with a footprint that's roughly 4-feet-by-4-feet.
While most reviewers say the PR 1100 is easy to assemble, there were a few who pointed out that the wrench that REP sends isn't great, and using their own tools simplified the setup process. GGR Operations Manager Sam "AsSAMbly" Presley, who put this rack together, cautions that you should wait until the entire power rack is assembled before tightening down the bolts. "This allows the rack to settle to the floor first and help prevent it from excessively wobbling back and forth," he says.
Check out our full Rep PR-1100 Power Rack review.
| | |
| --- | --- |
| Key Feature | A quality power rack under $500 |
| Great For | Barbell movements, pull-ups, cable workouts |
| Footprint | 48.5″ D x 58.1″ L x 85″ H |
| Price Range | Around $379 |
Best Home Gym With Interactive Programming: NordicTrack Fusion CST
Good for: People who want an interactive experience that includes both strength and cardio in one home gym machine
The NordicTrack Fusion CST is our pick for best with interactive programming due to the included touchscreen tablet that provides on-demand classes. The price is just under $2,000, which includes a free month of iFIT (the on-demand fitness classes).
iFIT not only utilizes the cables, but also incorporates cardio-based moves like burpees and jump squats to get your heart rate up. The interactive part of this home gym makes it easy to follow along for a full-body workout. iFIT has a multitude of on-demand classes with various instructors with new videos added daily.
While we haven't gotten to use the Fusion CST yet, we have used iFIT extensively on other NordicTrack and ProForm machines. We love how iFIT learns your fitness level and makes adjustments accordingly.
At over 6 feet tall and 5 feet wide, the 378-pound Fusion CST needs a permanent or semi-permanent space. This machine has four cables at two different heights for exercises.
The warranty on this machine is only a year for the labor, parts, and included tablet. Although we appreciate the free month of iFit, the machine isn't complex enough without the classes if you decide not to continue with it after the trial is over.
iFIT costs a flat rate of $396 a year for a family membership, or $39 monthly. There is only up to 100 pounds of resistance on the CST, but it could still be a good option for those new to resistance training or simply needing a lower-impact workout.
| | |
| --- | --- |
| Key Feature | Comes with iFIT programming |
| Great For | Cable machine workouts |
| Footprint | 73.5″ H x 60.5″ W x 41.5″ D |
| Price Range | Around $1,800 plus iFIT subscription |
Best Home Gym for Beginners: Bells of Steel Cable Tower with Weight Stack
Good for: Home gym novices looking for a beginner-friendly piece of equipment
The Bells of Steel Cable Tower with Weight Stack can truthfully be used by people of all fitness levels, but we find it best for beginners because of its versatility and ideal weight range for people trying to get into a fitness routine.
You can perform all types of the best cable machine workouts, thanks to 33 height adjustments and two included handles. There are also a large number of attachments available, such as y-dip bar, belt squat, and close grip attachment.
The 210-pound weight stack works on a 2:1 pulley ratio, so it's really only 105 pounds of force, which should accommodate beginners. The plate stack also adjusts in 10-pound increments.
GGR founder Coop, who extensively tested the BoS Cable Tower, called it "a home gym owner's dream product." Why? It has a high value proposition, is extremely versatile, and highly customizeable. Also, as Coop did, you can actually combine the plate-loaded version and the weight-stack version of this machine as you advance, giving you a full functional trainer with a 1:1 pulley ratio.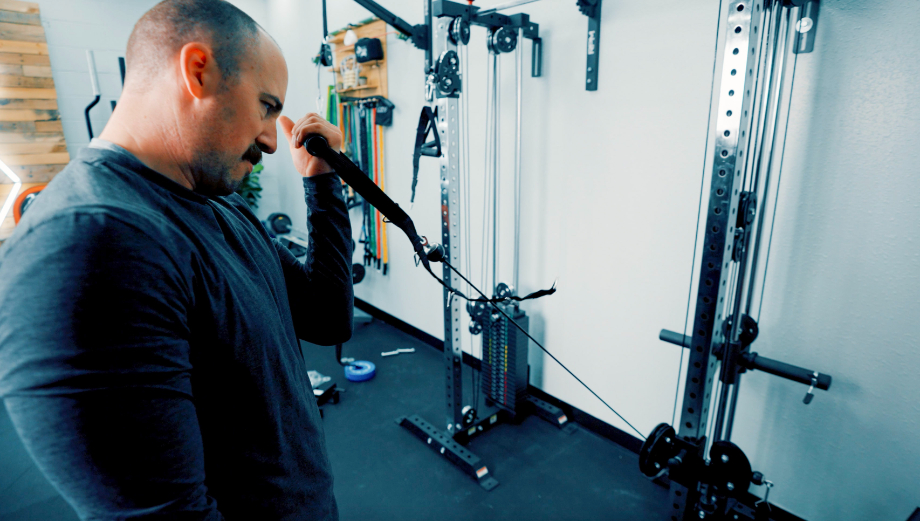 You can choose from two height options. Coop said he thinks the height of the short tower is slightly low, but it would work great for basements with low ceilings.
"The uprights are designed as 2-inch-by-2-inch with a specific hole size that does not work with many other companies who use a thinner gauge steel and a 1-inch hole," Coop points out. In other words, you'll need to purchase the attachments from Bells of Steel, not elsewhere.
Also, note that it is recommended that the tower be bolted down for stability.
For more, check out our Bells of Steel Cable Tower review.
Key Feature
Simple-to-use cable machine
Great For
Cable workouts
Footprint
Short: 27.5" D x 25" W x 80.5" H
Tall: 27.5" D x 25" W x 84.5" H
Price Range
Around $1,200
Best CrossFit Home Gym: PRx Profile ONE Squat Rack with Kipping Bar
Good for: People who are interested in a home gym that accommodates CrossFit movements
The PRx Profile ONE Squat Rack with Kipping Bar is a foldable squat rack that has all the essentials an aspiring CrossFitter needs—a pull-up bar on which you can perform kipping movements, a 1,000-pound weight capacity, and a compact profile.
A foldable squat rack is great for CrossFitters who may need more room in their home gyms for workouts. Coop Mitchell, GGR's founder, has used the Profile Rack and says it's extremely easy. "Very simply, you pull it down if you want to use it, and when you're done, you put it back up," he says. "The reason you purchase a rack like this is because this is the best portable, stowaway rack on the market."
CrossFit athletes don't use squat racks quite as often as other strength athletes, but the squat has universal applications for just about every fitness medium. Plus, the kipping bar can be used for all types of bodyweight movements, from muscle-ups to toes-to-bar.
"There's really no like forward and back shake when you do CrossFit movements on this rack," Coop says. "There's only a little bit of side-to-side sway."
And it costs under $1,000, so you'll have plenty of money for other purchases. We can't forget the folding feature, which only takes up 4 inches of wall space. That's a win regardless of how you train.
PRx includes plastic feet to avoid any scratches on your home gym flooring and comes with J-cups for easy barbell storage. And you don't have to take our work for it: This rack has more than 280 5-star customer reviews.
Key Feature
Foldable rack with a kipping pull-up bar
Great For
Squats, pull-ups, bench, toes-to-bar
Footprint
Folded Down: 52″ x 73″ x 26.75″
Folded Up: 52″ x 91″ x 9″ (with J-cups attached)
Price Range
Start around $700
Best Cable Machine: Life Fitness G7 Home Gym
Good for: Anyone who needs a heavy-duty cable machine in their home gym
If you've ever stepped foot in a commercial or hotel gym, odds are you've used the Life Fitness G7 Home Gym or something very similar to it. Does that mean it's good for home gym use as well? We think so, and here are a few reasons why.
GGR's founder Coop Mitchell used this cable machine for full-body exercises for back, chest, and legs. He rated it a perfect 5 out of 5 for its smooth operation. "It will be good for someone who wants a basic functional trainer that feels like it belongs in a hotel," says Coop.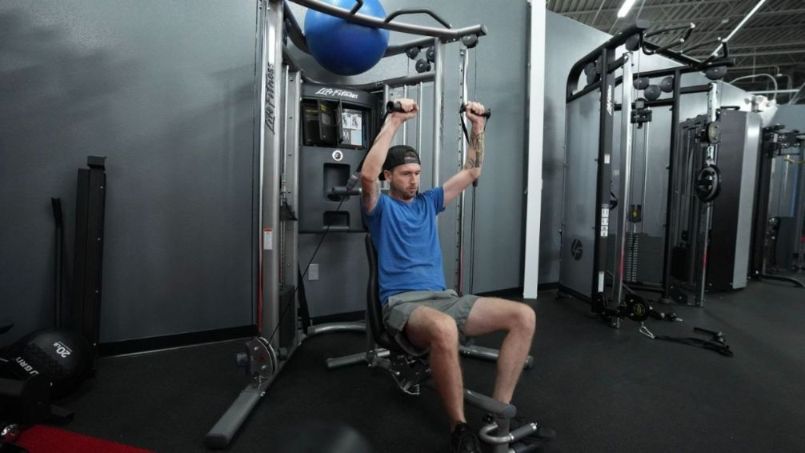 Firstly, it's incredibly durable as it's made with 11-gauge steel, and it comes with a lifetime warranty for the frame, welds, pulleys, and parts (you only get a three-year warranty for the cables, but that's the industry standard).
It's also incredibly versatile, with 20 different height adjustments and dual 160-pound weight stack that allow you to perform 55 different exercises for a full-body workout. The weight stacks have a 2:1 ratio, meaning the max weight of 160 pounds actually only produces 80 pounds of force but that should be enough for the movements you'd be doing with this machine.
In addition to the two ergonomic D-handles, you'll also get a straight bar, foot strap, thigh strap, and stability ball, along with the option to add a weight bench.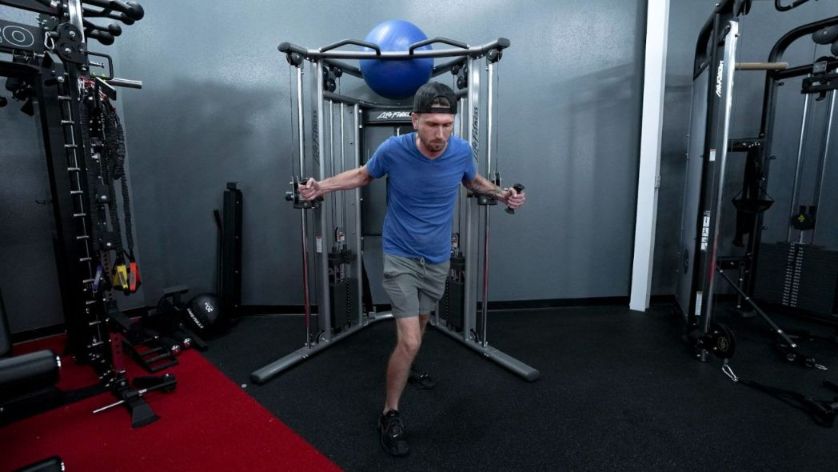 With shipping and handling, you can expect to pay somewhere around $3,200, but that includes professional assembly services. There are financing options available for this machine.
"I do think this is slightly overpriced," Coop says. "However, it's high-quality and will last a long time for home gym owners," he says.
Learn more in our in-depth Life Fitness G7 review.
| | |
| --- | --- |
| Key Feature | A high-quality cable machine |
| Great For | Cable workouts, pull-ups |
| Footprint | 48.5" L x 69.5" W x 83" H |
| Price Range | Around $4,000 |
Best Home Gym for Small Spaces: Vitruvian Form Trainer+
Good for: Anyone looking for space-friendly exercise equipment
If a squat rack and functional trainer had a baby, and then that baby grew up and had a child with a personal trainer, they would give birth to the Vitruvian Form Trainer+. According to Coop, GGR founder and gym equipment expert, this is one of the smartest (and most accessible, thanks to its size) smart home gyms currently available to consumers.
This Australian-made machine is only 46 inches in length, 20 inches in width, and 4.5 inches in height, and only weighs 80 pounds. It scored a perfect 5 out of 5 for portability in our testing because we found it's easy enough to move if needed. This makes it the perfect fit for those who need compact exercise equipment that won't hog their limited floor space.
Using advanced data tracking (AI), the Vitruvian adapts to your strength levels for more than 200 different strength training exercises and can produce up to 440 pounds of force. This actually happens during your workout, as the machine adjusts the cables' tension 50 times per second (you read that right) to find the perfect resistance for you.
"I'd actually like to see the ability to manually select weights, rather than allowing for the AI to select and modify 100% of the time," Coop says. "It would be extremely useful and beneficial for people who have a long training history and know how to select weights for different rep and set schemes."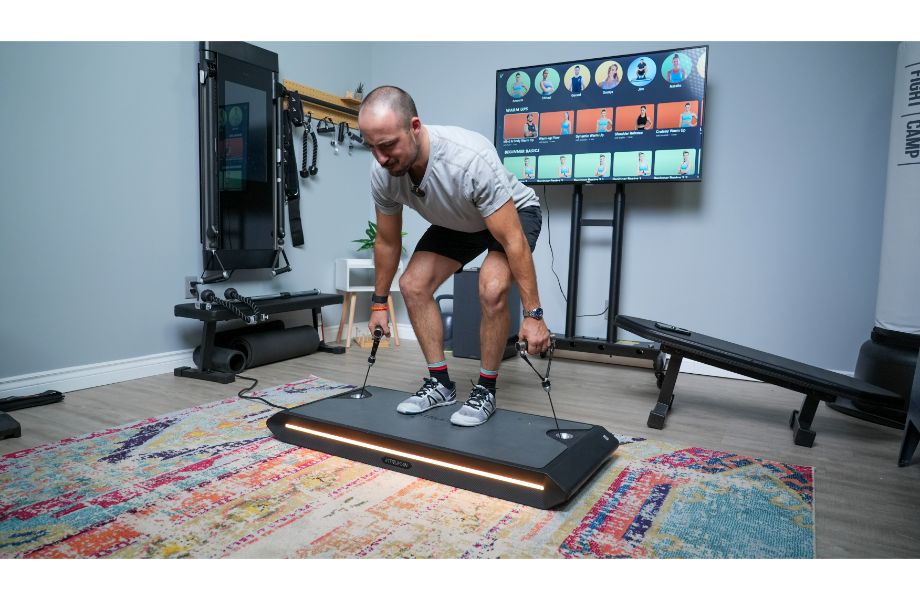 The Vitruvian is still pretty new which means there's room for improvement, especially when it comes to the app, and it's pretty pricey: $3,000 for the full package. And that's not including the $39 monthly all-access membership. However, financing is available.
For more, check out our Vitruvian Trainer review.
| | |
| --- | --- |
| Key Feature | Compact, portable, all-in-one home gym |
| Great For | Cable workouts using AI technology |
| Footprint | 44" L x 20" W x 5" H |
| Price Range | Around $3,000 (financing available) |
Best Compact Home Gym: X3 Bar
Good for: Anyone who needs to workout while on-the-go
Strong things come in small packages, and if you don't believe us you've probably never tried out the X3 Bar before. The entire system weighs less than 20 pounds, and the ground plate used to generate force is only 10 inches long and 19 inches wide (the bar is 21.5 inches long).
So it can be taken just about anywhere, and Garage Gym Reviews founder Coop has done so on road trips. But how good is it? Coop, who used the X3 for multiple workouts, said: "Small kit. Big impact. Get some." And you'll certainly be able to get some gains with the 300 pounds of force capable with the X3 Bar (600 pounds if you purchase the Elite Band).
Dr. John Jaquish invented the bar by combining the benefits of the besistance bands with a barbell, which causes your body to recruit more muscle groups than a band or bar alone, which leads to more effective muscle growth.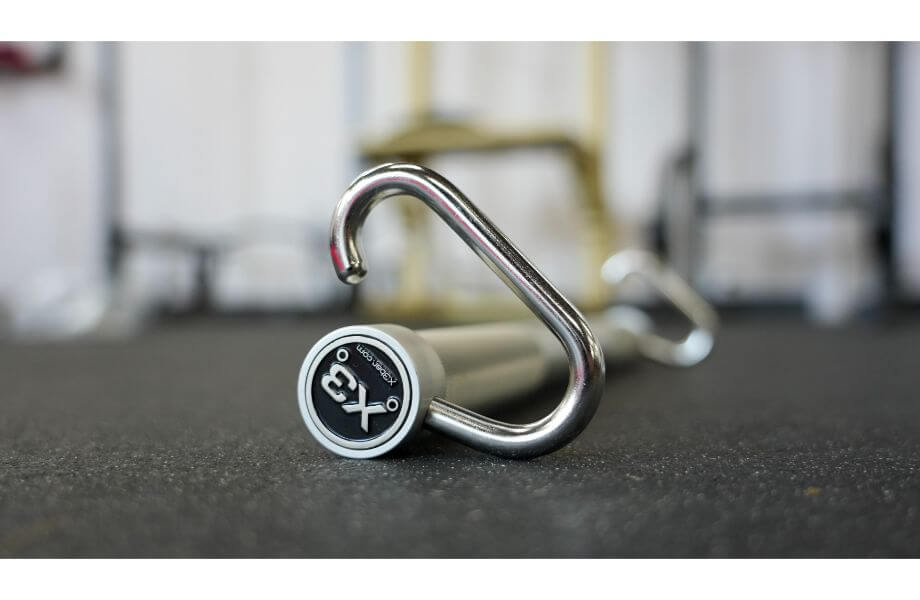 Some may balk at the $550 price tag, and we understand that, but if you have the budget for it, we think it's well worth it. You can also join the X3 Bar Customers Only Group on Facebook for tips and tricks.
"The bar has some great knurling, better than some full-sized barbells," Coop says. We also noticed in our testing that the bands are dipped in layered latex to prevent any breakage, earning this home gym a near-perfect 4.5 out of 5 on our ratings metrics.
The home gym system also comes with a 12-week workout program that shows you how to make the most of the X3 Bar, along with expert nutrition advice.
The X3 is advertised as having the same benefits as a squat rack (so you can do benches, back squats, and more with it), but you can also perform moves that you'd typically do on any cable machine with it as well. We did find it difficult to replicate a pull-up movement, though commenters on our YouTube review said with some carabiners and creativity, it can be done.
Get our full thoughts by reading our X3 Bar review.
| | |
| --- | --- |
| Key Feature | Compact, lightweight home gym at just 17 lbs |
| Great For | Barbell and resistance band exercises |
| Footprint | 10" L x 19" W x 1" H |
| Price Range | Around $550 |
Other Home Gym Machines We Tested and Researched
Here are some other home gyms we've tested and looked into, and why they didn't make the cut.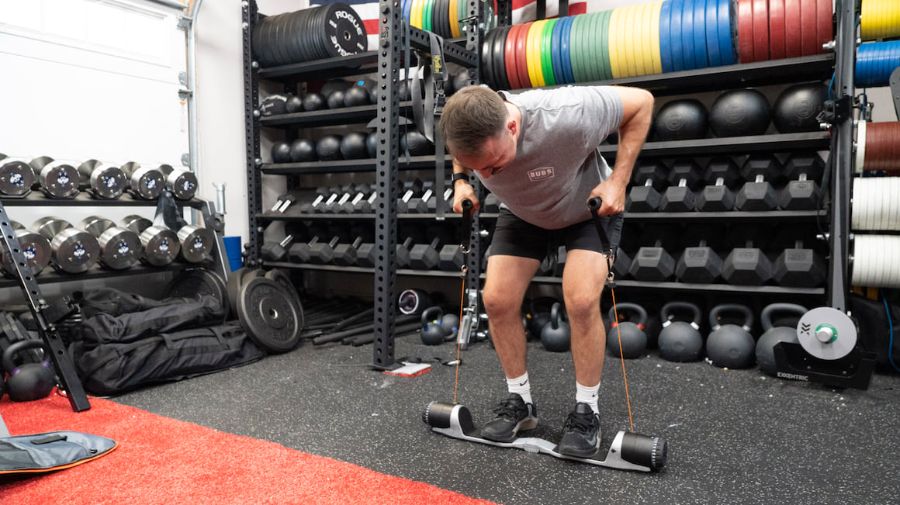 REP Fitness FT-3000 Compact Functional Trainer: This is a great option for those in smaller spaces, but there are concerns about it not being fully stable (it's best if you bolt it to the ground) and the rods require some routine maintenance.
Bowflex Xtreme 2 SE Home Gym: Capable of more than 70 exercises, the main appeal of this home gym is that there's no need to change cables between different exercises. The cost starts at $1,500, and comes with 210 pounds of resistance. At that price point, we think there's better options with more versatility.
BodyBoss 2.0 Portable Home Gym: This is a bar and resistance band system similar to the X3 Bar, but the materials are not as high quality.
TRX Home2 System: We're big fans of this suspension trainer, but when it came time to pick our favorites our top picks just had more versatility and muscle-building benefits than the TRX Home2 System.
Force USA G6 All-in-One Trainer: This is the little brother to the Force USA G20 All-in-One Trainer, and combines nine machines into one. So you don't get as much versatility as the G20, and our thought was either go big or go home. That said, if you want to save a little money on an all-in-one trainer, the G6 is $2,000 cheaper than the G20.
Total Gym Apex G3: This machine is essentially an incline bench with cable pulleys, and while there's nothing wrong with its concept we're just not confident in its durability.

Total Gym XLS Workout Machine: This is essentially the same machine as the one above it, just with more resistance and exercise options. Again, we're just not sure it can withstand daily use and stay in good condition for long due to the quality of materials used.
How We Tested the Best Home Gym Machines
We have used more than 50 home gyms: power cages, cable machines, functional trainers, workout mirrors, and more. Our team, which includes certified personal trainers, competitive weightlifters, and endurance athletes, have performed all kinds of workouts across the span of years on these machines. We use an in-depth equipment testing methodology to rate these machines on a scale of 1 to 5 across categories that include the following:
Durability
We look for machines with high weight capacities, enabling people to lift hundreds of pounds (if they want to). Our team also assesses the quality of the steel used, if a machine has a lot of plastic, and how it holds up over time and against hundreds of workouts.
Versatility
A key aspect of any home gym machine is its ability to deliver a full-body workout across different modalities. We favor machines that can hit every muscle group, and give bonus points to those that allow for workouts using different types of equipment: cables, barbells, attachments, and more.
Performance
Our testers personally use these machines to assess how they perform. If it's a cable machine, does it run smoothly, or is there a catch? If it's a squat rack, is it sturdy, or does it wobble? If it's a smart machine, is the picture clear and does the AI actually work?
Value
Is the machine priced appropriately? Would it offer enough value to home gym owners?
Warranty
We always look at the warranty for a machine. These home gyms should be durable and built to last, and we favor companies that back their products with warranties of 5 years or longer.
Benefits of Home Gym Machines
A home gym – or functional trainer, power rack, virtual trainer, etc. – is a great way to take your workouts from bodyweight movements into loaded movements. Kettlebells, free weights, and resistance tubes are great, but you can fold all the benefits of these into one piece when purchasing a home gym.
Plus, it saves you time traveling to and from the gym, it's open 24/7, and you don't have to wait for anyone else to be done using it like you would at a commercial gym.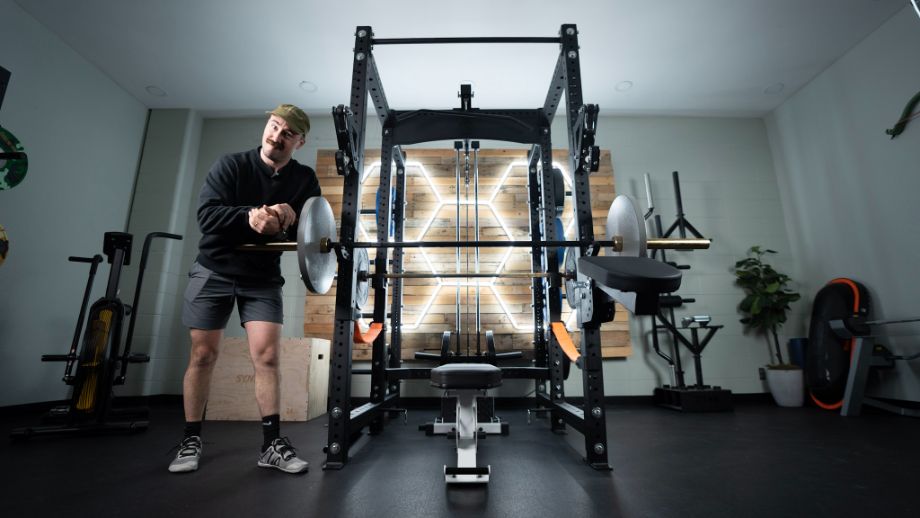 How to Find the Best Home Gym Machine
I created Garage Gym Reviews to help people like you use their money wisely to buy fitness equipment that I stand behind. I do the dirty work testing machines to find you your best fit. To determine the best home gym for your fitness goals, consider the following:
Budget
Before purchasing anything, I recommend mapping out how much you're willing to spend total on home gym equipment. Maybe you're willing to put in some money now and more later in the year. Whatever the scenario is for you, make sure you have a clear understanding of what is in your price range so you're able to pick the best budget home gym for you.
Home gym equipment isn't cheap, and prices can start at $600 and go up to thousands of dollars. I recommend looking at financing options when available if it isn't realistic for you to pay thousands of dollars in one go. Home gyms like the Tonal (among others) offer financing at under $150 per month.
Exercise Style
This seems obvious, but figure out what types of exercises you want to do. Don't buy a piece of workout equipment that you know deep down you won't like using in the long run. Home gyms come in many forms: a basic power tower, cable resistance machines, benches with dumbbells, plate stack resistance functional trainers, etc. You can also find machines that offer a lot of versatility because they combine one or all of these things.
RELATED: Best Adjustable Dumbbells
Weight Load
Some people are looking to build lower body strength while others want to develop all the muscle groups equally with a full-body workout. Before purchasing a home gym, research how many pounds of resistance the machine has and if it has the capability to hold more.
If you're a more seasoned workout enthusiast, chances are you know exactly how much weight you need to build muscle. I recommend factoring in how much you want for lower body exercises because that's likely a bigger number. If you are newer to weightlifting, you are likely okay with the standard 100 to 200 pounds of resistance that most quality machines provide.
Size
I recommend determining where you want to put your home gym before purchasing anything. I'm obviously partial to putting equipment in my garage, but you'll need to decide what room or space is best for you. Consider the dimensions and weight of the machine when deciding where it will live.
Some home gyms are hundreds of pounds and extremely difficult to move. Others have wheels for easy storage or are wall-mounted and would need professional help to relocate. Are you willing to sacrifice some space for a larger home gym, or is it a non-negotiable that the machine is easily moveable?
Versatility
If you have a partner or family, chances are you'll want to consult with them on the type of equipment they'd like to use. This is also a good time to ask about specific needs so everyone is able to use the machine.
Here are some things to consider for the comfort of everyone using the home gym:
Adjustability: Can it be adjusted to accommodate various heights?
Accessibility: Large print on screens, simple instructions for use
Ergonomics: Wide seats, padded barbells
Weight capacity: Can it accommodate the weight of all users?
Range of resistance: Does it have enough weight for everyone to use?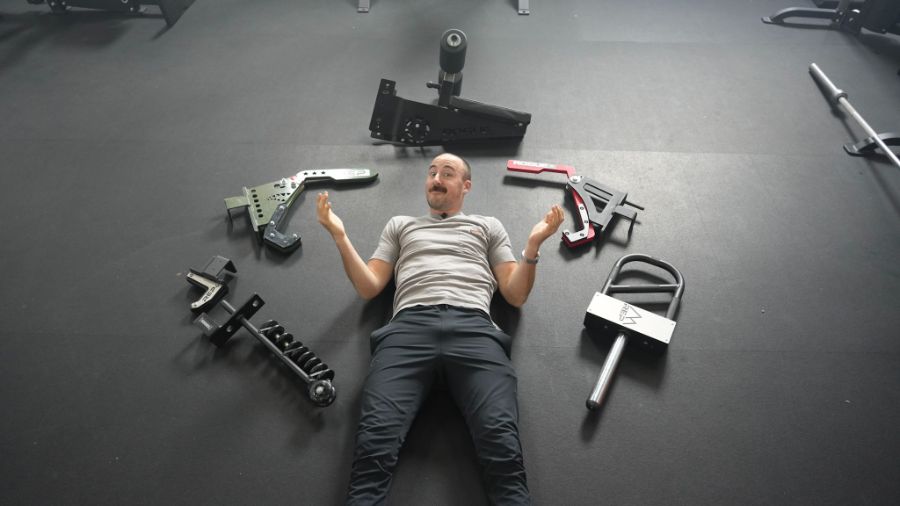 Additional Accessories For Home Gyms
In order to get the most out of your home gym, consider if the piece of fitness equipment you are purchasing has accessories or extras that would enhance your workout. If you want to bench press, you will need a bench. If you want to do lat pulldowns, you will need a straight or curved bar.
Things to look for:
Plate upgrades
TRX straps or something similar
Different variants of bars
Jump belt
Tricep rope
Wall track
Suspension handles
Smith machine functionality
Programming
Don't sweat being new to working out with a home gym, because many machines now come with fitness programming that will guide you through a variety of workouts with instructors. As mentioned above, these memberships usually cost money, which is something to keep in mind. The guided workout experience can be an easier way to exercise since there is no need to plan in advance.
FAQs
How much does a home gym cost?
You may be able to find cheap home gyms on Amazon but be careful about very low-priced equipment. These are often cheaply made and not a good use of your money. A quality home gym can vary greatly in price depending on what equipment you choose to include and your budget. On the low end, expect to pay $600-$1000 for a durable, multi-use larger piece of equipment.
Are home gyms worth it for beginners?
I believe home gyms can be a great option for everyone and anyone, regardless of your fitness level. Having your own home gym eliminates a lot of excuses (not enough time, don't want to drive, etc.) since it's so convenient. My advice is to invest in equipment you feel sure you will use for years to come to get your best home workout. Additionally, you can find a number of machines that come with guided programming so you know how to do leg extensions or properly use a squat stand.
Why should I buy a home gym instead of getting a gym membership?
Think of it this way: you don't have to leave your house to work out. This means you can comfortably wear your old shorts from high school with the hole in the butt and blast whatever music tickles your fancy. You won't have to wait for someone to stop hogging the squat rack. Instead, you can focus on getting a great workout in the comfort of your own home gym vs gym membership. The cost upfront of a home gym can be daunting to some but the equipment pays for itself in the long run since you aren't shelling out a monthly fee for a gym membership.
Who can benefit from a home gym?
There are tons of people who can benefit from home gyms, including those who prefer to exercise at home, anyone who wants to save money, and people who, due to a lack of time, are unable to attend the gym on a regular basis.
What are the different types of home gyms?
Home gyms are fantastic since they come in a variety of shapes and sizes. For example, you may purchase an "all-in-one" piece of equipment that allows you to complete full-body exercises on a machine, or you can purchase different pieces of equipment and begin creating your own home gym.
What's a home gym?
A home gym can be a squat rack (sometimes called a power rack or squat cage), functional trainer, cable machine, or any other piece of equipment that can work multiple muscle groups.