We test and review fitness products based on an independent, multi-point methodology. If you use our links to purchase something, we may earn a commission. Read our disclosures.
We all know we should be eating our fruits and vegetables. They're part of a healthy diet, and the vitamins, minerals and other nutrients you get from them have huge benefits for your immune system, gut health, and overall wellness. In fact, the USDA recommends that the average adult consume 2 cups of fruit and 2.5 cups of vegetables per day.
If you don't eat enough fruits and vegetables, one of the best greens powders could help supplement your diet (though we beseech you to please continue eating real food).
Our team at GGR, which includes certified nutrition coaches, personally tried nearly 40 greens powders, putting them through our vigorous supplement testing methodology and working with registered dietitians to assess, among other factors:
Formulation: What's in it, and are those ingredients scientifically-backed?
Dosages: Is there enough of the good stuff?
Solubility: Does it dissolve in water or juice
Taste: Can you stomach it?
For this look at the best greens powders, we teamed up with nutritionist, registered dietitian, and supplements expert Bob Iafelice to help us break it down the specifics.
Medical disclaimer: This article is intended for educational and informational purposes only. It is not intended as a substitute for medical advice. For health advice, contact a licensed healthcare provider. GGR also recommends choosing a product that has been third-party tested for quality.
13 Best Greens Powders
Best Greens Powder Overall: Athletic Greens AG1
Good for: Those who want a diverse blend of nutrients and greens supplement that covers all the bases
Alright, alright—we know that Athletic Greens AG1 is expensive. In fact, at $3.30 per serving, it's the most expensive on our list by far. (A one-time-purchase bag of 30 servings costs $99). But trust us, there's a reason this greens powder is the clear winner in our book.
Bob Iafelice, a registered dietitian who recommends AG1 to his clients who prefer a one-stop shop for their nutrient needs, says this product has it all. Out of all the greens powders we tested, AG1 ranked the highest for its ingredient formulation with a perfect 5 out of 5.
"While the whole superfoods provide important plant compounds that are missing in some multivitamin formulas, specific amounts and forms of critical vitamins and minerals supported by research studies are also included," he explains. "For example, AG1 contains vitamin K2, a type of vitamin K that's predominantly found in animal foods (as well as fermented soybean). Vitamin K2 has been shown to play a vital role in promoting bone mineralization1."
AG1 was formulated with athletes in mind, and has an ingredient list that includes vitamins and minerals; a raw superfood complex made of wheatgrass and barley grass, plus others; an adaptogen blend of extracts, herbs, and antioxidants, including ashwagandha; an enzyme and mushroom complex; and probiotics. Because of the probiotics, the company recommends keeping your bag of AG1 in the refrigerator once it's opened to preserve the "integrity and efficacy" of the ingredients—a downside if you're on the go a lot, but not a dealbreaker.
Oh, and speaking of athletes the supplement has an NSF Certified for Sport mark so you know it's been tested for potentially harmful materials and banned substances that might show up on a drug test.
This certified personal trainer and nutrition coach was excited to try this athlete-grade green superfood powder. It actually has a very pleasant taste if you ask me—mildly like pineapple and vanilla, but you still get the slightly earthy flavor that greens powder normally provides. I had no problem drinking this on its own. In fact, our team rated AG1 a 4.5 out of 5 for taste, which makes this one of the best-tasting greens we tried.
Another thing our testers noticed is that while the greens thoroughly mixes into the liquid, it tends to settle after a few minutes so you might have to re-shake if you don't plan on downing this in one gulp. It's still good enough for us to give it a 4 out of 5 on solubility.
Read my full Athletic Greens review for all my thoughts on this supplement.
| | |
| --- | --- |
| Price per serving | $3.30 |
| Key ingredients | Raw superfood complex |
| Dosage | 1 scoop daily |
| Flavors | No flavor options available |
Best-Tasting Greens Powder: Transparent Labs Prebiotic Greens
Good for: Someone who wants to take greens powder that doesn't taste like greens
Prebiotics2 are non-digestible food substances (mostly carbohydrates) that play a vital role in overall health by feeding the gut microbiota, thus stimulating the growth of beneficial microorganisms, like probiotics. The gut microbiota ferments prebiotics, resulting in the production of short-chain fatty acids, such as butyrate, which can exert multiple health benefits for the body.
Prebiotic Greens is available in Unflavored or Peach Mango, and at $1.33 per serving, it's on the more affordable side for greens powders.
I tried Prebiotic Greens in Peach Mango, and it's true—this is definitely top-ranking for taste in my opinion, earning a 4 out of 5 on our rating test. It is sweetened with stevia, which you can taste, but it's not off-putting like in some products. It's nice and sweet and it mixed up fine—not quite as nicely as some of the others on the list, but it didn't detract from the drinking experience.
Certified sports nutrition coach Amanda Capritto recommends mixing it with orange juice to take away some of the earthy taste.
"Transparent Labs Prebiotic Greens is rich in these health-enhancing prebiotics, including organic acacia fiber and organic green banana flour," says registered dietitian Bob Iafelice. "I've discovered that this unique blend of concentrated, naturally sweet prebiotic greens, together with Stevia, offers a highly nutritious greens drink with a great taste as well."
RELATED: The Best Greens Powder for Pregnancy
| | |
| --- | --- |
| Price per serving | $1.33 |
| Key ingredients | Acacia fiber and green banana flour |
| Dosage | 1 scoop daily |
| Flavors | Unflavored, Peach Mango |
Best Greens Powder With Spirulina: Legion Genesis Greens
Good for: Those looking for a greens powder with clinically-backed dosages of spirulina
Many of the top greens powders contain spirulina, which is a blue-green algae known for its health benefits. For example, it is a rich source of B vitamins. Also, according to research, just 3 grams of it can reduce mental and physical fatigue.7
You'll find 5 grams of organic spirulina in Legion Genesis Greens, a product that has been tested to verify that what is on the label is actually what is in the greens powder.
That's not the only reason our testers and dietitians rated Legion a 4 out of 5 for formulation; Genesis has a number of other research-backed ingredients in recommended (or higher) dosages:
3 g of Reishi mushroom fruit powder, said to improve brain and liver health
1.5 g of maca root extract, which can improve libido and sexual function
1.25 g of dong quai root, which supports immunity
3 g of astragalus membranaceus, which promotes heart health and supports immunity
Competitive weightlifter Kate Meier, GGR's head of content, tested Genesis herself, taking it every day for a week. While she didn't notice any side effects, she did say the taste is pleasant.
"I tried the acai berry flavor, and it's actually okay," Kate says, rating the taste a 4 out of 5. "It tastes like berry-flavored greens powder. I was able to drink the entire serving; it was pretty enjoyable."
While we love that Legion products are third-party tested, and that there are no proprietary blends here, it is disappointing that there is noting on the label indicating the vitamin and mineral content. Also, this is one of the more expensive greens powders on our list at $2 a serving (though you can subscribe and save a little bit of money).
| | |
| --- | --- |
| Price per serving | $2 |
| Key ingredients | Organic spirulina, reishi mushroom, astragalus membraneceus, maca root |
| Dosage | 1 scoop daily |
| Flavors | Original, Acai Berry |
Best Organic Greens Powder: KOS Show Me The Greens
Good for: People who place a premium on organic products
KOS Show Me the Greens blends an impressive collection of greens together to create a vegan, NSF-certified, USDA organic formula that contains no artificial flavors and is packed full of high-quality ingredients. It's also comes in a Green Apple Sorbet flavor, flavored with apple and mint and sweetened with stevia and monk fruit.
We gave KOS a 4 out of 5 on its formulation due to its non-GMO and certified organic ingredients. Multiple studies3 have shown that organic foods have lower levels of toxins, such as heavy metals, synthetic fertilizer, and pesticide residues—KOS Show Me the Greens could be a good choice.
KOS claims that Show Me the Greens will help with the body's detoxification process, support increased energy, and minimize stress. Although those statements can't be proven without a doubt, the blend of different greens including chlorella, wheatgrass, and broccoli, plus prebiotics, makes it unique.
GGR performance editor and certified nutrition coach Anthony O'Reilly tested Show Me the Greens, mixing it into a shaker cup full of water. While he described the texture as "not too bad," he said the taste is palatable, rating it a 4 out of 5.
"It tastes like green apple with an aftertaste of earth," he says. "It's definitely drinkable, though I wish it were a little sweeter."
| | |
| --- | --- |
| Price per serving | $1.21 |
| Key ingredients | Chlorella, wheatgrass, spirulina, and prebiotics |
| Dosage | 1 scoop |
| Flavors | Green Apple Sorbet |
Best Budget Greens Powder: Jacked Factory Green Surge
Good for: Those who want a quality greens powder at a super affordable price
Clocking in at just 75 cents a serving, a 5 out of 5 on our pricing rating scale, Jacked Factory Green Surge is our pick for the most affordable greens powder. It is a formulation of organic greens and antioxidant-containing fruit powders together with probiotics and digestive enzymes. 
"Unlike other greens powders that include every green under the sun, this product focuses on only the most effective superfoods, probiotics, and enzymes," registered dietitian Bob Iafelice says. "The upshot is a more affordable, yet still effective, greens product."
Green Surge comes in several flavors—Mixed Berry, Unflavored, Mint Chocolate, Sour Apple, and Lemon Lime. It is flavored with sucralose, which is something to note.
I tried the Mixed Berry flavor of Green Surge and thought it was tasty, giving it 4.5 out of 5 stars here. You still get a hint of that grassy, greens taste, which I like, but the berry flavor makes it more easily palatable.
Inside Green Surge you'll find the powders of leafy greens like spirulina, spinach leaf, and collards leaf, plus pineapple fruit powder and raspberry fruit powder. You'll also see green tea leaf extract and Stevia leaf extract. 
| | |
| --- | --- |
| Price per serving | $0.75 |
| Key ingredients | Probiotics and leafy greens |
| Dosage | 1 scoop daily |
| Flavors | Mixed Berry, Unflavored, Mint Chocolate, Sour Apple, Lemon Lime |
Best Greens Powder On The Go: Onnit Shroom Tech Greens
Good for: People who want an easy-to-use vegetable-based powder
If you're looking for a green vegetable-heavy dietary supplement that's easy to travel with, Onnit's Shroom Tech Greens should be on your radar.
"My clients who use this product rave about the easily portable packets, which are especially handy when traveling to fill in the gaps," says registered dietitian Bob Iafelice. "They use it to spruce up morning smoothies and bolster post-workout protein drinks." 
I tried this product and I have to be honest—I didn't like the taste. It was like drinking a mushroom. Did I mention I despise mushrooms? If you like mushrooms though, it might be your jam! I ended up mixing the powder with V8 juice and that was good enough to earn a 3 out of 5 rating on taste.
Certified nutrition coach and GGR performance editor Anthony O'Reilly, who likes the taste of mushrooms, says the taste is closer to a 4 out of 5. "I'm someone who likes earthy-tasting foods so this was actually quite enjoyable," he says. "But I get how someone who doesn't like mushrooms wouldn't be the biggest fan."
Shroom Tech Greens does get points because they're individually packaged though—that was super convenient.
Shroom Tech Greens also contain a mushroom blend including cordyceps, reishi, and lion's mane. Research4 has shown that mushrooms offer a variety of health-promoting effects, such as antioxidant functionality and assisting with a healthy inflammatory response. Moreover, one of these mushrooms, cordyceps, has been shown5 to improve tolerance to high-intensity exercise.
| | |
| --- | --- |
| Price per serving | $2.00 |
| Key ingredients | Mushrooms |
| Dosage | 1 scoop daily |
| Flavors | No flavor options |
Best Greens Powder for Active People: Swolverine Greens + Reds
Good for: Those who lead an active lifestyle and want their greens to work for them
For active people looking to up their micronutrient game, Swolverine's Greens + Reds are worth looking at. They contain a proprietary blend-free mix of greens including chlorella, wheat grass, and spirulina, plus reds like beets, pomegranate, blueberry, and turmeric, all of which have been shown to have some positive effects on overall health and performance. 
Kate Meier, GGR head of content and competitive weightlifter, really enjoys this greens powder. "I would actually drink this every day," she says, rating it a 4 out of 5 on taste. "It tastes like greens powder mixed with orange juice. It's nice to be able to just mix this with water, because otherwise I usually do have to buy juice to mix greens with!"
The solubility also earned a 4 out of 5 rating, with Kate saying it was easy enough to mix with just a spoon.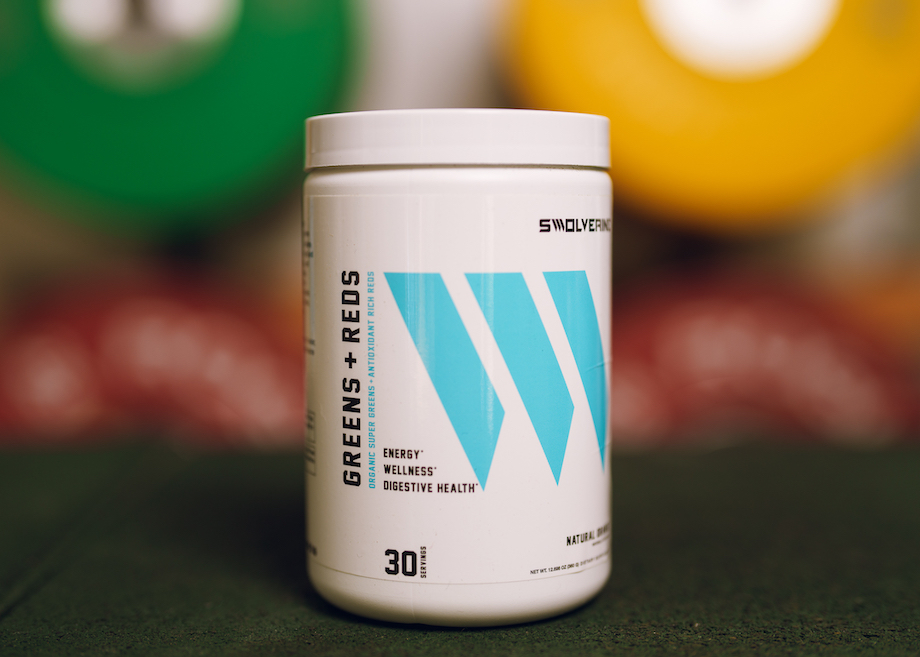 What's particularly appealing for active people is the addition of beets, as beetroot juice has been shown6 to increase levels of nitric oxide in the blood, which will increase blood flow and give you a pump. A 3-gram dose of spirulina daily7 has also been shown to decrease mental and physical fatigue; it's present at 2.5 grams in Swolverine's blend.
All of Swolverine's products are third-party tested by Lief and Micro Quality Labs, which is an NSF- and FDA-certified facility, and Greens + Reds are vegan, gluten-free, and non-GMO. This greens powder comes in a Natural Orange flavor (sweetened with stevia), and while we haven't tested it yet, reviews say the flavor is pretty good.
| | |
| --- | --- |
| Price per serving | $1.76 |
| Key ingredients | Non-proprietary blend of greens and reds, namely beets |
| Dosage | 1 scoop |
| Flavors | Natural Orange |
Best Greens Powder With Probiotics: Alani Nu Super Greens
Good for: Those who want their greens powder with a research-backed dose of probiotics
Alani Nu Super Greens powder offers a unique blend of alkalizing greens, antioxidant fruits, and digestive enzymes. It also contains a potent combination of probiotics and inulin, a prebiotic.
Probiotics8 are live microorganisms that, when consumed, can help your body maintain a healthy balance of bacteria in the body, which is good for seasonal wellness. Prebiotics9 support the growth and activity of probiotics.
"Notably, and unlike many other green products, Alani Nu Super Greens delivers a relatively high dose of probiotics (5 CFU, or colony forming units) that far exceeds the minimum dose found to be effective in studies10 showing benefits of probiotics for a variety of health concerns like occasional diarrhea," says registered dietitian Bob Iafelice. 
Although there's no flavor options, the greens powder was tasty enough to earn a 4.5 out of 5 on taste. It's a bit grassy but also fruity. I like it quite a bit—this was the one I reached for first when I had all the greens powders in my fridge."
Beyond the greens blend, Super Greens also has a unique blend of antioxidants and digestive enzymes, and is sweetened with stevia. There aren't any flavor options, but most reviewers enjoyed the taste. I would agree—the taste is palatable and I reach for this greens powder over many others.
Read our full Super Greens review.
| | |
| --- | --- |
| Price per serving | $1.67 |
| Key ingredients | Probiotics |
| Dosage | 1 scoop daily |
| Flavors | No flavor options |
Best Greens Powder for Energy: Amazing Grass Greens Energy Blend
Good for: Someone who wants a pick-me-up from their greens powder
Amazing Grass Greens Energy Blend offers an impressive mix of organic farm fresh greens and fruits like wheat grass, chlorella, acai, and maca root, plus enzymes, prebiotics and probiotics, and a dose of caffeine (85 milligrams) from yerba mate and matcha green tea leaf for better energy levels. This probably won't give you a boost like a serving of pre-workout, but it's definitely something.
"These plant sources of caffeine have been shown11 to provide a strong alkaline boost to help counter high acid loads in the body, which may contribute to muscle loss," says registered dietitian Bob Iafelice.
I tried it and ranked it in my top three on this list for taste. I had the Lemon Lime flavor, which is just the right amount of sweet, and a little tart. A 5 out of 5 on taste. I didn't notice any boost in terms of energy, but as a habitual coffee drinker, it takes quite a bit to get me going!
RELATED: Best Pre-Workout for Men
Greens Energy Blend also contains vitamin A and vitamin C, which have antioxidant properties, and vitamin K, which is important for bone-building1. So whether you're looking for an alternative to your morning or afternoon coffee, or simply just want a boost with your greens, this product could be for you.
| | |
| --- | --- |
| Price per serving | $1.10 |
| Key ingredients | Plant-based caffeine |
| Dosage | 1 scoop daily |
| Flavors | Lemon-Lime, Watermelon |
Best Greens Powder with Protein: Garden of Life Raw Organic Protein & Greens
Good for: A one-stop shop for protein and greens
Not only does Garden of Life's Raw Organic Protein & Greens provide six organic greens and fruits, probiotics (1.5 billion CFU), and enzymes, it packs 20 grams of vegan protein per serving as well.
Consuming enough protein is critical for muscle building, and even maintenance. The recommended daily allowance (RDA) is just .8 grams of protein per kilogram of bodyweight. For someone who weighs 150 pounds, that's about 54 grams of protein per day. But keep in mind, the RDA is the minimum amount you need to meet basic nutritional needs.
According to the American College of Sports Medicine, for someone who is physically active and looking to gain muscle, that number should look like 1.2-1.7 grams of protein per kilogram of bodyweight. So for that same 150-pound person, you're looking at about 82 to 115 grams of protein per day.
"In particular, this product contains pea protein powder, which is rich in leucine," Bob Iafelice, a registered dietitian, explains. "Leucine is the key amino acid that signals the muscle to make protein12."
Whip up a morning shake with this powder blend and know you're getting a solid dose of protein on top of nutrients from spinach, kale, broccoli, and alfalfa grass juice. It's available in Vanilla, Chocolate, or Lightly Sweet flavors.
I personally gave Garden of Life a try. I opted for the Apple flavor, and it's not bad! You definitely get the green apple flavor to mask the grassiness, but I will say it's much better cold than at room temp. The texture is good—not gritty—and there are no clumps. It does settle at the bottom after a while like most greens powders, but overall not bad."
The $1.61 per serving cost earns it a middle-of-the-road price rating of 3 out of 5.
To get more details, check out our in-depth Garden of Life greens review.
| | |
| --- | --- |
| Price per serving | $1.61 |
| Key ingredients | Plant protein |
| Dosage | 1 scoop |
| Flavors | Vanilla, Chocolate, Lightly Sweet |
Best Greens Powder for Antioxidants: Supergreen Tonik
Good for: Someone who wants to promote seasonal wellness
Antioxidants are substances that help your body support healthy cellular function13, and fruits and veggies are full of them.
In addition to an array of organic greens such as kale and spinach, dairy-free Supergreen Tonik contains significant quantities and absorbable forms of all the important antioxidants we need to help support optimal health.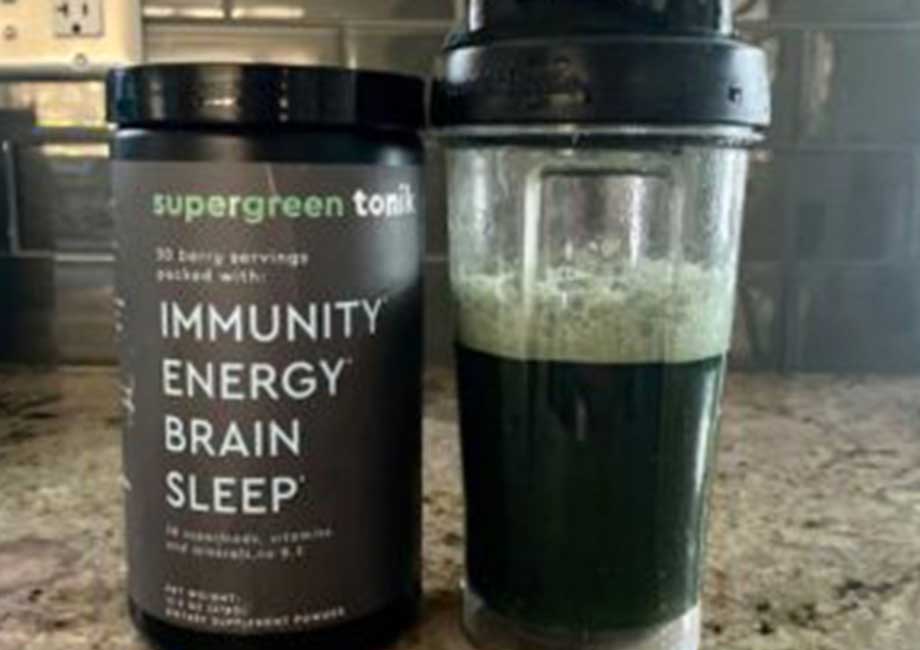 "For example," explains registered dietitian Bob Iafelice, "while selenium is a critical antioxidant mineral, it's hard to obtain enough of it through foods due to soil depletion. Supergreen Tonik contains an organic form of selenium—selenomethionine14 —which is more easily absorbed than inorganic forms of selenium used in many supplements."
It is worth noting that Supergreen Tonik is sweetened with Stevia, and a number of reviewers said it was way too sweet for their liking. I tried it and was first struck by the dark green-blue color—so pretty! It has a very sweet berry flavor, which I though was just OK—it did mask the grassy flavor nicely. My husband, on the other hand, loves this greens powder and reaches for it over any other. It was a 3 out of 5 on taste for me, but he gave it a 5 out of 5.
Read more in our Supergreen Tonik review.
| | |
| --- | --- |
| Price per serving | $2.85 |
| Key ingredients | Antioxidants like selenium |
| Dosage | 1 scoop daily |
| Flavors | No flavor options |
Best Greens Powder for Digestion: Amazing Grass Greens Blend Superfood
Good for: Those who want a greens powder that could aid in digestion
Amazing Grass Greens Blend Superfood is packed with probiotics and digestive enzymes that can help with improved digestion.3 This is actually the same vitamin, mineral, and greens blend as the Amazing Grass Greens Energy Blend, just without any of the caffeine.
Longtime fitness writer, expert product tester, and GGR editor Frieda Johnson said she was really impressed with the "original" flavor. "Hands-down the best-tasting greens powder I've ever tried," Frieda says, scoring it a 5 out of 5 on taste. "I wouldn't necessarily say it tastes good, but it definitely doesn't taste like straight-up dirt like most greens powders. It's totally drinkable just mixed with water, but I prefer mixing it with juice."
Amazon customer reviewers endorse that sentiment, though some said the Berry and Chocolate versions aren't the best-tasting greens powders on the market.
"I really like that there are no sweeteners or filler ingredients," Frieda adds.
Read our full Amazing Grass Green Superfood review for our full thoughts on this greens powder.
Best Greens Powder for Bloating: 1st Phorm Opti-Greens 50
Good for: Those who want to support effective digestion
While Opti-Greens 50 is loaded with non-GMO, 100% organic grasses and phytonutrients, its comprehensive assortment of probiotics and enzymes is designed to optimize digestion and help relieve occasional bloating3.
RELATED: The Best Greens Powder for Bloating
The diverse collection of digestive enzymes efficiently breaks down all the macros—fats, carbs, and proteins—while probiotics such as L. plantarum, B. longum, and L. rhamnosus have been shown15 to support relief of occasional bloating.
"I always suggest probiotics for my clients with occasional bloating issues, since upper GI issues often originate in the lower GI (colon), where probiotics take effect," registered dietitian Bob Iafelice says.
I tried Opti-Greens 50 and enjoyed it, giving it a 4 out of 5 for taste. It has a sweet, berry flavor—if you want to get all the benefits of greens without tasting any of the grassiness that normally comes along with it, this would be a good choice for you.
| | |
| --- | --- |
| Price per serving | $2.17 |
| Key ingredients | Digestive enzymes |
| Dosage | 2 scoops daily |
| Flavors | Natural Berry |
Other Greens Powder We Tried and Researched
In our search for the best greens powder, we came across a bunch that didn't make our list, including:
Vibrant Health Green Vibrance: This supplement has been around for a while, but the taste has very mixed reviews so it didn't make our short list.
Vital Proteins Collagen Beauty Greens: From our research, this appears to be the best greens powder with collagen, though we haven't had a chance to try it for ourselves. It's packed with collagen for skin and hair health, along with numerous vitamins and minerals.
Nested Naturals Super Greens Original: While we like the ingredients in this one, the taste is realllyyy reminiscent of drinking grass.
What Are Greens Powders?
Greens powders are a dietary supplement made of vegetables, seaweed, probiotics, enzymes, and other food sources to help people meet their vitamin and mineral intake. The best greens powders are made with whole food sources, meaning they take vegetables and other foods, dehydrate them and blend them into a powder that can be easily mixed into water.
How We Picked and Tested the Best Greens Powders
In our quest to find the best greens powder, we put together a comprehensive testing methodology to determine what matters most. Working with Bob Iafelice, Ph.D, we derived a ratings metrics that took into account the following factors:
Ingredient List and Formulation
What vitamins, minerals, whole-food nutrients, prebiotics, probiotics, antioxidants, and adaptogens are present? Are there research-backed doses of each ingredient? We specifically looked at:
Whole-food greens, looking to find at least one of the following: chlorella, spirulina, barley grass, wheat grass, spinach, kale, or alfalfa
Digestive health ingredients, like prebiotics, probiotics, and/or digestive enzymes
Fruit extracts
Mushrooms
Adaptogens, including ashwagandha, rhodiola, holy basil, chaga, cordyceps, ginseng
Proprietary blends: Let's talk about them. They aren't inherently bad, as they usually consist of good ingredients. However, the presence of a proprietary blend generally means that we don't know exact ingredients and/or how much of those ingredients are present. Therefore, we rate a product higher on formulation when there are no proprietary blends present.
Cost
What's the price per serving? In doing market research, we established that the average cost of greens powder falls between $1.15 and $2.25. Therefore, prices too far above that were dinged for price, and too far below that were either an indication of affordability or, perhaps, cheap ingredients.
Flavor and Taste
We know this is subjective, and we know it's also difficult to make greens powders taste good. However, we still felt it was important to give these powders a try and convey our personal taste preferences. We also took into account if the brand offered flavor options.
Solubility
We put each greens powder we tested into water as directed to mix it with a spoon as well as in a shaker cup. In some cases, we tested how the powder mixed with juice or in a blender. We then assessed in which cases the powder dissolved completely when mixed to rate it on a scale of 1 to 5.
Third-party Testing
Third-party testing is important to us, because it's an indication that what the brand claims is in the product is actually in the product. We specifically look for if the product been tested for banned substances by Informed Sport, NSF, or Banned Substance Control Group (BSCG).
If a product has not been third-party tested, we do knock it down a point. However, we also recognize that third-party testing is expensive, and not all brands can afford it. Therefore, we look for other trust indicators, such as a transparent label and ingredient transparency on brand website.
What to Look for In Greens Powder
Before you take the leap, decide which greens powder is right for you.
Decide On Your Budget
As you can see from our list of best greens powder, prices can range from $0.75 cents per serving all the way up to more than $3 per serving. You can sometimes find the product slightly cheaper on Amazon, or some companies offer subscription services that will save you a bit of money as well. But even if you don't have $100 to spend on a bag of greens powder, that's OK—you'll still reap the benefits of the micronutrients from an array of products.
Consider Any Contraindications
Check with your doctor about any vitamins, minerals, or supplements in general that may interfere with medications you're taking. And especially for products with lots of nutrients packed inside, make sure you're scrutinizing the label if there are any contraindications you need to be aware of.
Ingredients List And Potential Interactions
While all greens powders should contain green vegetables, some also contain probiotics, antioxidants, additional fiber, and more. Decide what you want to get out of your greens powder, then review the ingredients list to assess potential.
Dosage
Make sure your greens powder contains the proper dose of vitamins and minerals for your dietary needs.
Think About Taste
While some greens powders are sweetly flavored, some are more earthy, and some are completely unflavored. But regardless of the flavor, it's my experience that you'll still taste a degree of "grassiness." Especially for a beginner greens powder user, I'd suggest starting with a flavored option to see how you like it.
Form
While most greens powders come in…well, powder form, there are also capsules that provide the same benefits.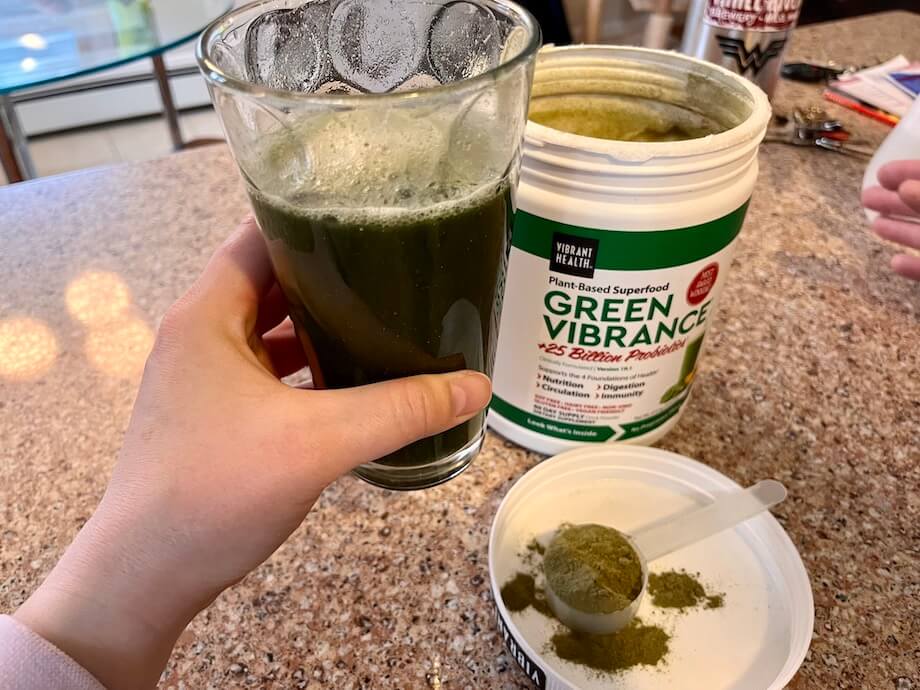 Benefits of Greens Powder
Though limited, some small-scale studies have demonstrated various health benefits, mostly cardiovascular, from consuming green powders. *
Consistent with research16 linking fruit and vegetable consumption with improved cardiovascular health, a systematic review of studies showed a strong impact from vegetable/fruit concentrates on supporting healthy cardiovascular function in the general population.
Who Might Not Benefit From Greens Powder?
People who already eat enough fruits and vegetables and aren't at risk for a nutrient deficiency may not benefit from greens powder. It won't harm them, it just won't improve their health since they already get enough micronutrients from their diet. People who are taking certain medications or are breast-feeding may want to talk with their doctor before taking a greens powder supplement.
When Should I Take Greens Powder?
While you'll see a common answer to this question as "first thing in the morning on an empty stomach," there's no research to back up this claim. You can take greens powder whenever it works for you, whether that indeed be in the morning to kickstart your day, with a meal later on, or even before bed. Pay attention to how you feel after you take it—taking it on an empty stomach may work for some people, but it may cause digestive distress for others.
Are Greens Powders Worth the Money?
At up to $3 per serving, shelling out your hard-earned cash for greens powder instead of $5-per-gallon gas may be a hard decision to make. Is it worth it?
Registered dietitian Bob Iafelice says that in some instances, they are.
​​"Greens powders can certainly be beneficial for individuals who, for whatever reason, do not eat enough veggies and fruits (AKA, a nutritionally inadequate, low-fiber diet), but they're not meant to replace or substitute recommended vegetable and fruit intake. These powders are the whole food alternative to taking a multivitamin formula to ensure adequate intake of important micronutrients and fiber and help curb potential nutrient deficiencies."
Also, for individuals who suffer from occasional GI discomfort, green powders may be preferable to probiotic supplements or fiber supplements as they offer more nutrition, Iafelice adds.
And lastly, there is certainly a convenience factor: Green powders can be a convenient way to maintain proper nutrition and fiber intake when on the go or traveling.
All this to say, greens powders shouldn't be a replacement for real fruits and vegetables. It will be cheaper to add things like broccoli and apples and carrots into your diet on a daily basis than to purchase greens powder, and there are plenty of other benefits that come with eating real fruits and veggies, too, like hydration, fiber, and even added support for weight loss17.
However, if that isn't happening for one reason or another, greens powder can be a viable way to supplement with established benefits. And even if you do eat a well-balanced diet, getting the extra micronutrients from greens powder will certainly not hurt.
Best Greens Powder FAQs
Are powdered greens worth it?
Greens powder can definitely have benefits, especially for people who occasionally eat a nutritionally inadequate diet, according to Bob Iafelice, RDN. They can fill the gaps of important micronutrients and fiber and help curb potential nutrient deficiencies.
Are powdered greens healthy?
Yes, greens powders are healthy. They're often jam-packed with vitamins, minerals, and other nutrients derived from fruits, vegetables, herbs, and other natural ingredients.
Are green powders a waste of money?
Like almost anything, it depends on your wants, needs, and goals. If you eat a diet occasionally lacking in nutrients, you'll get more of a benefit than someone who already eats a healthy, well-balanced diet full of real fruits and vegetables.
What is the best greens powder?
Is it OK to drink greens powder every day?
While there's no danger in taking them every day, nutritionist and registered dietitian Bob Iafelice says greens powder is not meant to replace fruit and vegetable intake.
Are green powders actually good for you?
Yes! They're packed with vitamins and minerals that many people are deficient in, but they're not meant to replace fruit and vegetable intake.
How can I make green powders taste better?
You can add them to a beverage like orange juice, or try a low-calorie sweetener like stevia or erythritol.
Can greens powders replace fruit and vegetables?
No, greens powders can't replace fruits and vegetables. They're meant to be used as a supplement alongside fruit and vegetable consumption.
References
1. Mandatori D, Pelusi L, Schiavone V, Pipino C, Di Pietro N, Pandolfi A. The Dual Role of Vitamin K2 in "Bone-Vascular Crosstalk": Opposite Effects on Bone Loss and Vascular Calcification. Nutrients. 2021;13(4):1222. Published 2021 Apr 7. doi:10.3390/nu13041222
2. Davani-Davari D, Negahdaripour M, Karimzadeh I, et al. Prebiotics: Definition, Types, Sources, Mechanisms, and Clinical Applications. Foods. 2019;8(3):92. Published 2019 Mar 9. doi:10.3390/foods8030092
3. Vigar V, Myers S, Oliver C, Arellano J, Robinson S, Leifert C. A Systematic Review of Organic Versus Conventional Food Consumption: Is There a Measurable Benefit on Human Health?. Nutrients. 2019;12(1):7. Published 2019 Dec 18. doi:10.3390/nu12010007
4. Zhang JJ, Li Y, Zhou T, et al. Bioactivities and Health Benefits of Mushrooms Mainly from China. Molecules. 2016;21(7):938. Published 2016 Jul 20. doi:10.3390/molecules21070938
5. Hirsch KR, Smith-Ryan AE, Roelofs EJ, Trexler ET, Mock MG. Cordyceps militaris Improves Tolerance to High-Intensity Exercise After Acute and Chronic Supplementation. J Diet Suppl. 2017;14(1):42-53. doi:10.1080/19390211.2016.1203386
6. Domínguez R, Cuenca E, Maté-Muñoz JL, García-Fernández P, Serra-Paya N, Estevan MC, Herreros PV, Garnacho-Castaño MV. Effects of Beetroot Juice Supplementation on Cardiorespiratory Endurance in Athletes. A Systematic Review. Nutrients. 2017 Jan 6;9(1):43. doi: 10.3390/nu9010043. PMID: 28067808; PMCID: PMC5295087.
7. Johnson M, Hassinger L, Davis J, Devor ST, DiSilvestro RA. A randomized, double blind, placebo controlled study of spirulina supplementation on indices of mental and physical fatigue in men. Int J Food Sci Nutr. 2016;67(2):203-6. doi: 10.3109/09637486.2016.1144719. Epub 2016 Feb 17. PMID: 26888417.
8. U.S. Department of Health and Human Services. (n.d.). Probiotics: What you need to know. National Center for Complementary and Integrative Health. Retrieved February 9, 2023, from https://www.nccih.nih.gov/health/probiotics-what-you-need-to-know
9. Jackson, E. (2022, April 5). What is the difference between Prebiotic and probiotic foods? UMMS Health. Retrieved February 9, 2023, from https://health.umms.org/2022/03/04/prebiotics-probiotics/
10. Kechagia M, Basoulis D, Konstantopoulou S, et al. Health benefits of probiotics: a review. ISRN Nutr. 2013;2013:481651. Published 2013 Jan 2. doi:10.5402/2013/481651
11. Mousa HA. Health Effects of Alkaline Diet and Water, Reduction of Digestive-tract Bacterial Load, and Earthing. Altern Ther Health Med. 2016;22 Suppl 1:24-33.
12. Xu ZR, Tan ZJ, Zhang Q, Gui QF, Yang YM. The effectiveness of leucine on muscle protein synthesis, lean body mass and leg lean mass accretion in older people: a systematic review and meta-analysis. Br J Nutr. 2015;113(1):25-34. doi:10.1017/S0007114514002475
13. Kurutas EB. The importance of antioxidants which play the role in cellular response against oxidative/nitrosative stress: current state. Nutr J. 2016;15(1):71. Published 2016 Jul 25. doi:10.1186/s12937-016-0186-5
14. Kieliszek M. Selenium⁻Fascinating Microelement, Properties and Sources in Food. Molecules. 2019;24(7):1298. Published 2019 Apr 3. doi:10.3390/molecules24071298
15. Vitellio P, Celano G, Bonfrate L, Gobbetti M, Portincasa P, De Angelis M. Effects of Bifidobacterium longum and Lactobacillus rhamnosus on Gut Microbiota in Patients with Lactose Intolerance and Persisting Functional Gastrointestinal Symptoms: A Randomised, Double-Blind, Cross-Over Study. Nutrients. 2019;11(4):886. Published 2019 Apr 19. doi:10.3390/nu11040886
16. Lorenzoni G, Minto C, Vecchio MG, et al. Fruit and Vegetable Concentrate Supplementation and Cardiovascular Health: A Systematic Review from a Public Health Perspective. J Clin Med. 2019;8(11):1914. Published 2019 Nov 8. doi:10.3390/jcm8111914
17. Nour M, Lutze SA, Grech A, Allman-Farinelli M. The Relationship between Vegetable Intake and Weight Outcomes: A Systematic Review of Cohort Studies. Nutrients. 2018;10(11):1626. Published 2018 Nov 2. doi:10.3390/nu10111626