We test and review fitness products based on an independent, multi-point methodology. If you use our links to purchase something, we may earn a commission. Read our disclosures.
Cross-training shoes are your all-purpose kicks that can support you during weightlifting, CrossFit, cardio, and everyday life. They help you save on money, because you're not buying several pairs of specialty shoes, and time, because you're not changing them when switching from lifting to running.
With that in mind, we're aware that not every cross-trainer is a shoo-in (sorry, had to) for everyone's gym bag. Some people may need more arch support than others, and your desired level of cushioning will be determined by how you train. It all comes down to what feels best on your feet, and only you can be the judge of that.
That's why, like a great cross-trainer, our list of the best cross-training shoes has a little something for everyone.
Why You Should Trust Us
I've laced up shoes from Nike, Adidas, Reebok, New Balance, Asics, Under Armour…I could go on for hours but I'd probably start to bore you. The point is, I've tried out countless pairs, going back to long before I started posting my honest thoughts about them online. I've made it a point to actually try on every one before I tell you whether or not I think they're worth your time and money.
That research has led me to compile the lists of the best CrossFit shoes, best weightlifting shoes, and even a guide to figure out what kind of shoes you should wear based on your style of training.
I also have a team of fitness enthusiasts and experts who aren't afraid to debate me on the qualifications of certain shoes, so you're not just getting my perspective here. We went back-and-forth and did plenty of sole searching before finalizing this list.
My Picks for the Best Cross-Training Shoes
Best Cross-Training Shoes Overall: Nike Metcon 8
Good for: People who need a shoe for lifting and cardio.
Best Cross-Training Shoes Overall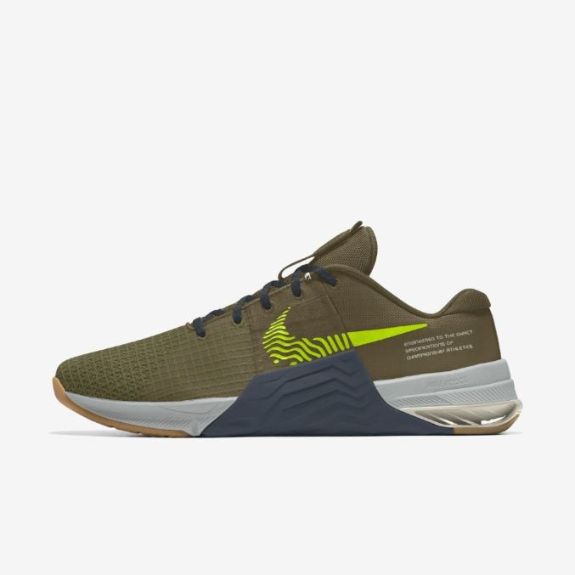 Nike Metcon 8
The Nike Metcon 8 is the latest iteration of the popular cross-training shoes, and from the look of things, not much is changing from the Nike Metcon 7s. That's not necessarily bad, as the Metcon 7s were the best pair of Metcons yet. They performed well during heavy lifts and quick cardio bursts, had features such as a mid-foot rope guard and heel clip that made them perfect for CrossFit workouts, and were durable enough that you got your money's worth out of them, and then some.According to Nike's website, the Metcon 8s will have all those features. The most significant change is that Nike members, who as of this writing are the only ones who can pre-order the shoes, can customize their kicks with an updated color palette and finish options. This includes being able to add chrome to every part of the shoe, down to the laces, and the option for a marble finish on the outsole.We're excited to try out the Metcon 8s, and will update this page when we get our hands, err, feet on them.
Pros:
Comes in various colorways and can be customized
Good for people with narrow or wide feet
An easy shoe to break in
Great for anyone who's into CrossFit
Cons:
Some designs may cost $150 or more
Laces are not the most durable
Flexibility is average at best
Metcon is a type of workout that combines strength training and cardio, so it's no wonder the Nike Metcon 8 is our top pick for the best pair of cross-training shoes. To be fair, we haven't tested out the Metcon 8s just yet but the specs are just about the same as the 7s, which was our previous top pick, and early reviews indicate the shoes are just about the same in every way.
The name aside, there's a few obvious reasons why these have become my go-to gym shoes.
For one, they're designed for just about every activity you can think of. The wide base keeps you stable during deadlifts and squats; a well-cushioned forefront makes cardio bursts a breeze; you can do handstand push-ups with ease thanks to the heel handstand clips, and there's a mid-foot rope guard to give you additional grip during rope climbs.
I'm a big fan of the grippy all-rubber outsole that provides awesome traction whether you're doing box jumps, burpees, or heavy lifting. They have an extremely breathable mesh upper, which makes a huge difference during those grueling workouts. The flexibility is average, and I wouldn't recommend running more than a mile in them, but if you're doing anything more than that, you should probably switch to running shoes anyway.
I've worn every Nike Metcon from the Metcon 6 down to the OGs, and I think Nike perfected it with their last two versions. The 7s were the first iteration that doesn't have a squeaking issue, which was caused by the prior versions having a combined midsole and insole, and we hope the 8s remain the same.
If you're looking for the best-of-the-best, these are my runaway favorites. And if you're willing and able to spend the money, Nike also allows you to fully customize every part of the sneaker to truly make it your own.
Read our in-depth look at the Nike Metcon 8.
Best Cross-Training Shoes for Flat Feet: NOBULL Trainer
Good for: People with flat feet looking for a comfortable shoe.
Best for Flat Feet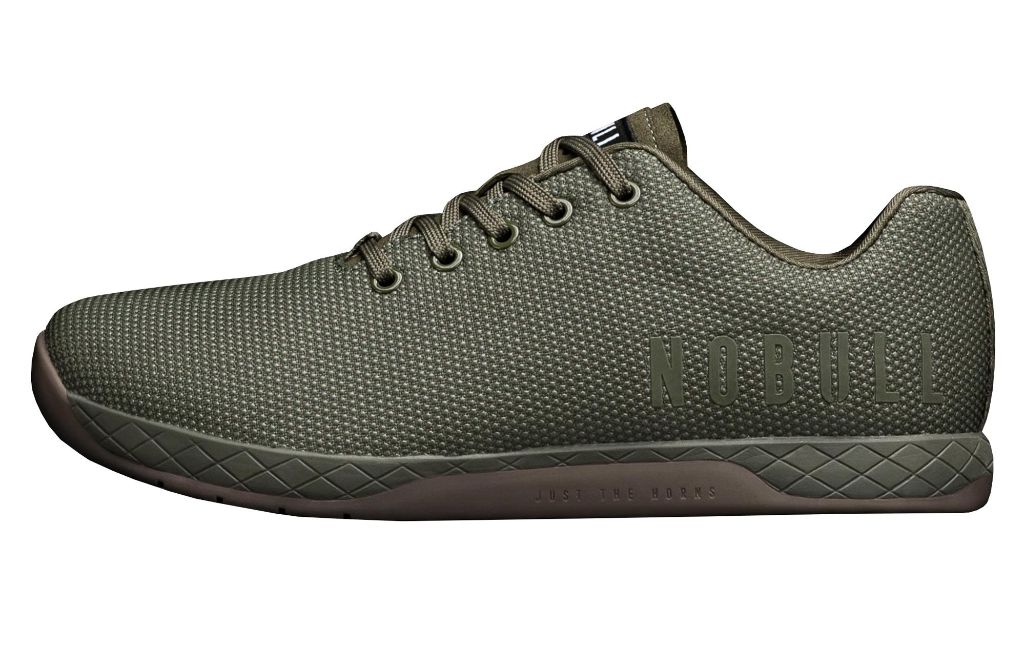 NOBULL Trainer
NOBULL is a footwear, apparel and accessory brand for people who train hard and don't believe in excuses. If you think gimmicks in your shoes make you a better athlete, NOBULL is not for you. NOBULL products perform with you when and where you need them. That's it.
Pros:
Offers great stability when lifting weights
Lightweight and breathable while still durable
Can be worn outside of the gym as well (so long as you're cool with minimalist design)
Cons:
Starting at $130, they're pricey for a pretty simplistic design
Has a narrow toe box
The SuperFabric® upper causes the break-in period to be a bit long
The NOBULL Trainer comes in low, mid, and high-top height levels, but we're going to go with the lows for this one because that's what we tested.
I'll admit these shoes aren't the most comfortable when you first put them on, and unless you're a NOBULL loyalist (and there are plenty out there) there might be an adjustment period with these shoes. Once that's time's done, though, you'll be rewarded with a shoe that's comfortable, durable, and functional.
One of the reasons we picked it for people with flat feet is it has a reinforced heel that offers more protection to tendons that stretch from your Achilles to your calf muscle. The low heel might be a pain for some, but with flat feet you generally want to avoid a higher heel because it can place stress on other parts of the foot.
These shoes are definitely more suitable for someone who leans more toward strength training than cardio. You could do short cardio sprints with them, but really, I'd limit it to about 200 meters. But again, if lifting is your thing, these are great for squats, deadlifts, and even Olympic lifts due to the harder bottom (it has a 4 millimeter heel-to-toe drop, making it best for deadlifts but you're fine using them for any lift).
The outsole is made with carbon rubber, so it can withstand your workouts and any outdoor elements. It's also a great material for tendon protection, another reason why people with flat feet should check it out.
My biggest complaint is the design is fairly minimalist for a shoe that costs anywhere from $130-$160. While I'm still a fan of their look, our team is fairly split on their appearance –– but beauty is in the eye of the beholder.
Read my full NOBULL Trainer review.
Best Cross-Training Shoe for CrossFit: Reebok Nano X2
Good for: CrossFitters looking for a reliable training shoe.
CrossFit Choice
Reebok Nano X2 Men's Training Shoe
In April 2022, Reebok unveiled the Nano X2, a training shoe designed to accommodate people who like to do a little bit of everything: running, lifting weights, jumping, and more. The X2 follows the X1, which was a deviation from Reebok's other Nano designs.The improvements you'll see with the X2 include:A more breathable upper A more durable upper A lower heel clip, which is intended to provide more stability Added cushioning in the midsole A lower cut heel to prevent the rubbing that the X1 causedHowever, much of what we love about the Nano has stayed the same with this latest iteration. For example, there is still a wide, accommodating toe box. And, these are still incredibly comfortable shoes, especially when compared with competitors like the NOBULLs and Nike Metcons.The X2 has a 7-millimeter heel-to-toe drop. The men's training shoe, as of this writing, comes in five different colorways.
Pros:
Has features to help with all parts of CrossFit, including rope climbs
Great shock absorption
7mm heel-to-toe-drop
Stable, but still has good cushioning
Cons:
Not the best for heavy lifts
May not work for people with narrow feet due to wide toe box
No trial period
The Reebok Nanos have been a mainstay in the CrossFit community, and in our opinion, the Nano X2 are the best version yet.
The cushioned midsole and wide, flat base provide enough support during cardio bursts and lifts, though there might be a bit too much cushioning if you're looking to go for a new PR. But for heavy volume work, these are a fantastic choice. The cushioning is also great for anyone looking for a shoe with great shock absorption, especially during box jumps.
Unlike the X1s, these have a lower heel cup and there were fewer reports of blisters during testing. These are also incredibly durable when compared to their older sibling, which is always a plus in our books.
Those with smaller, narrower feet should know that these have a wide toe box, so if you fall into that category it's probably best to look elsewhere.
As with any good CrossFit shoe, the Nano X2s don't excel in any one category but they're very good at a lot of different things.
Read our full Reebok Nano X2 review for more on these shoes.
Best Cross-Training Shoe for Wide Feet: Inov-8-F-Lite G-300
Good for: People with larger feet, or those who need arch support
Best Cross-Training Shoe for Arch Support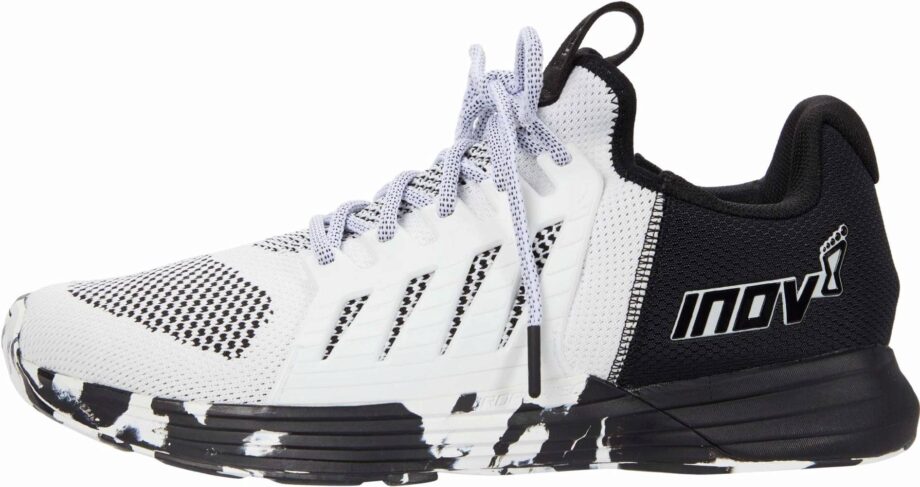 Inov-8 F-LITE 300 G
The latest addition to our versatility collection, the new F-LITE G 300 is our most responsive and protective cross-training & fitness shoe to date. Featuring brand new, exclusive technologies this versatile training shoe brings you maximum lifting support and stability, without compromising on cushioning and flexibility.
Pros:
Good for people with wider feet
Anyone who needs a durable shoe
Lightweight, at just 10.5 oz.
No lengthy break-in period
Cons:
Laces don't get very tight (a good thing for some, not so much for others)
Not sold in a lot of stores in the United States
Not good for people who like tighter shoes
Just look at the reviews for the Inov-8-F-Lite G-300 and you'll see why people with wider feet, like GGR product tester and fitness writer Anthony O'Reilly (size 15), appreciate them so much. They provide enough room to keep such people comfortable, but aren't so loose that they come off during training.
The standout feature of this shoe is the ETPU (or expanded thermoplastic polyurethane) cushioning on the footbed, which is somewhat similar to the TPU cushioning you see in the Reebok Nanos, with the added benefit of being treated with high pressure and heat for improved elasticity and shock absorption. Because of this, the material is often found in insole inserts, safety footwear, and even heavy-duty work shoes.
Not many cross-trainers are being made with ETPU, but the G-300s are, and that's why they're our pick if you're someone who needs arch support. We found the cushioning felt great no matter what surface we were on, whether that was the cold-hard pavement or a gym mat. Another bonus is that there's virtually no break-in period on these things, so you can slip them on and just get to training.
As for their cross-training abilities, they'll help you get the job done. The knit upper keeps them breathable, and the infused graphene outsole and midsole makes these shoes one of the most durable pairs out there. Seriously, these should last you for quite a while.
We wouldn't recommend going for a deadlift PR in them, or training for a half-marathon, but if you're a recreational athlete who just needs a few minutes of physical activity while getting plenty of support where you need it you can't go wrong with these.
Read my full Inov-8-F-Lite-G-300 review here
Best Cross-Training Shoes for Squats: Adidas Adipower 2
Good for: People who need support to get deep down during squats
Best for Squats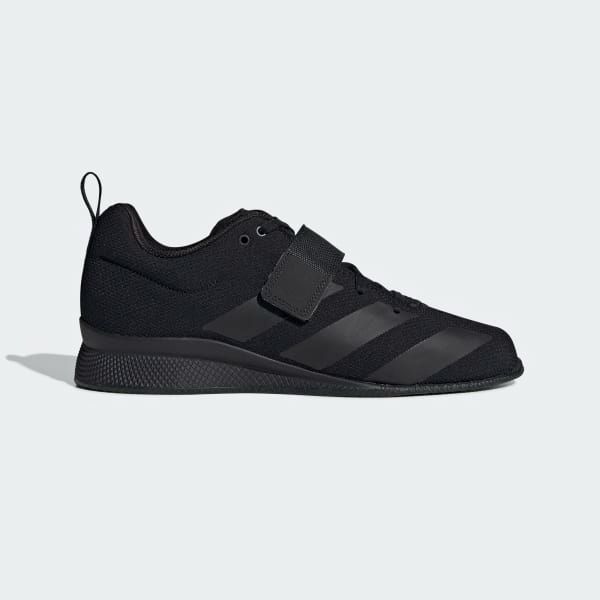 Adidas AdiPower 2
Redesigned for a new reign. Showing off a streamlined silhouette, these weightlifting shoes have a breathable woven textile upper with inner reinforcements for added stability. It hugs the foot for targeted support while accommodating the natural flexing of the toes. Laces and a strap work together to lock down your midfoot while a raised heel adds stability.
Pros:
20.1mm heel-to-toe drop is great for giving support during squats
Flexible forefoot
Durable upper
Cons:
Costs around $200
Sacrifice some stability for the flexibility
Not great at any one thing
An elevated heel can be especially good during squat sessions because it allows the lifter to get deeper into the hole, and helps transfer force to your quads while decreasing the range of motion at the hips. The Adidas Adipower 2's 20.1 millimeter heel-to-toe-drop is one of the highest I've seen in a training shoe, and it's incredible that you can do much more than weightlifting in these kicks.
The Adipowers have a forefoot that's flexible enough for conditioning workout, though I wouldn't run any more than a quarter of a mile in these things at a time.
Another great feature that lends it to those who like to squat is the toe box, which is just wide enough to allow lifters to spread their toes out (helping them gain balance).
These are not an inexpensive pair of shoes, and some designs go for over $300. They're worth the price if you're a serious weightlifter who's still looking for a pair of shoes that can handle a quick cardio workout, but if you're just a lifter or someone who primarily does cardio, you'll want to look for a specialty shoe.
Adidas just released Adipower III, so we're excited to see if those will take the place of these shoes.
Read my full Adidas Adipower 2 review for more on this shoe.
Best Budget Cross-Training Shoe: Reebok Nanoflex TR
Good for: People who need a cross-trainer at a budget-friendly price
Best Budget Cross-Training Shoe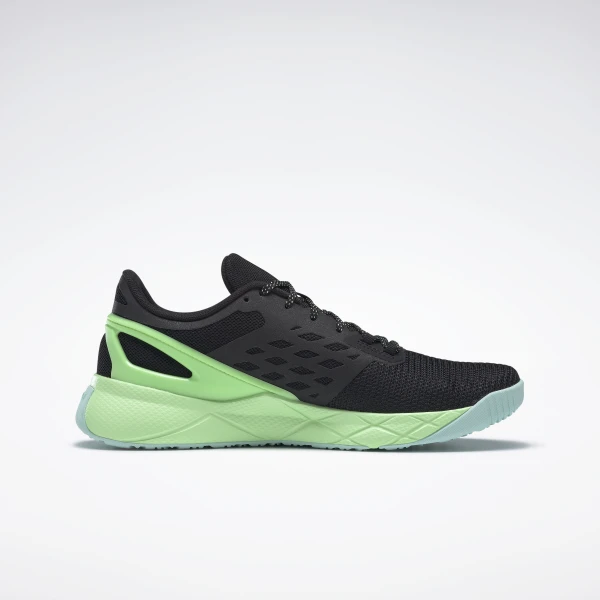 Reebok Nanoflex TR Training Shoes
Your training sessions are intense. You need shoes that won't let you down. These men's Reebok shoes have a strong and durable mesh upper designed for tough workouts. Flex grooves in the rubber outsole provide the flexibility you need.
Pros:
Extremely budget-friendly at under $100
Great for everyday wear
Versatile enough for most workout styles
Cons:
Not meant for serious athletes or hardcore lifters
Toe box is super narrow
Not the most durable pair of cross-trainers
The Reebok Nanoflex TR is the budget-friendly version of the Reebok Nanos, and as of this writing, you can find some designs for $62. So if you need a pair of cross-trainers now and don't have the money to spring for the Nanos or the Metcons, I'd suggest picking up a pair.
Our fitness writer and personal trainer Amanda Capritto put these shoes through the ringer to find out how much of a cross-trainer they truly are, and found they were OK for CrossFit and weightlifting workouts, but where they truly shined was during HIIT workouts. That's due to a highly responsive foam midsole that makes plyometric movements feel effortless. There's also more cushion, and therefore more shock absorption and joint protection than other cross-trainers.
Let's touch on CrossFit and weightlifting again for a second. Can you wear these shoes during these workouts? Sure, but how well they perform is going to depend on your fitness level. If you're a recreational athlete who doesn't do anything too serious these will be fine, but if you're a hardcore bodybuilder or CrossFitter, these might not have the stability you need.
They're also a great shoe for everyday use, and come in eight different colorways in men's sizes and six in women's. Because they have a little more cushioning, they'll feel great on your feet throughout the entire day. That is, as long as you have narrow feet. The toe box is small so these might not fit people in the big foot club.
As the age-old saying goes, though, you get what you pay for and because these are so affordable the material isn't as durable as a more expensive pair.
Read my full Reebok Nanoflex TR review.
Best Value Cross-Training Shoes: Feiyue FE LO 1920
Good for: People who need a super-affordable training shoe.
Best Value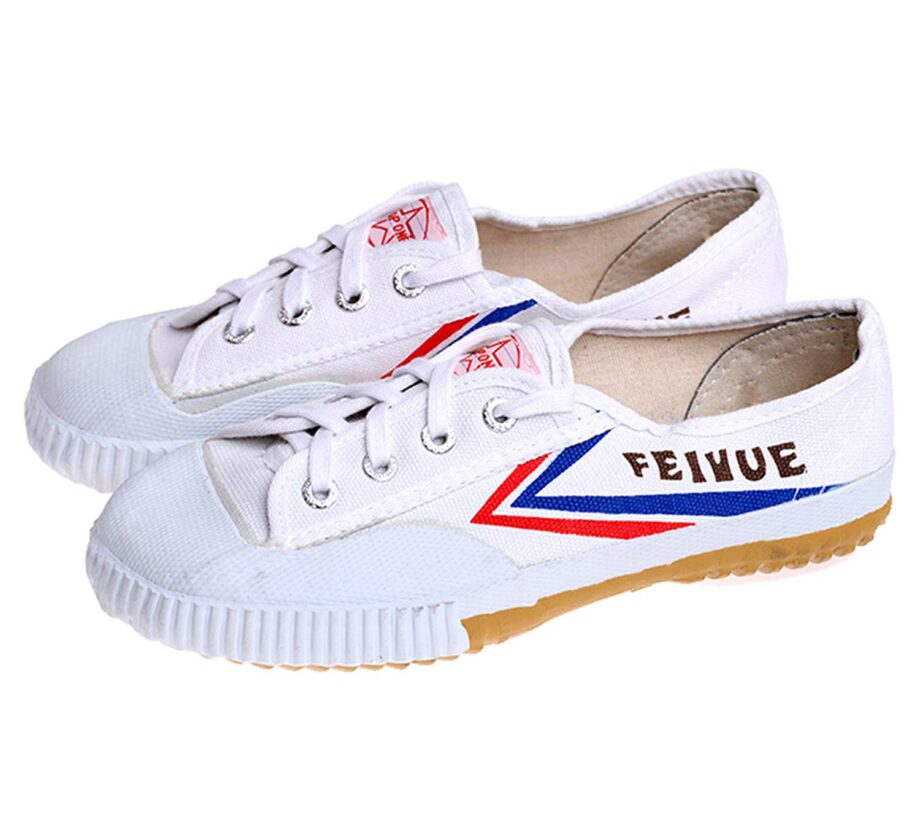 Feiyue Kung Fu Shoes
The #1 shoe choice for Shaolin monks and masters! Feiyue Martial Arts shoes have a simple, durable canvas lace-up top and a padded yet light sole. The tread is perfect for all styles, providing maximum traction for ultimate performance.Most of all, you cannot beat the price. You can buy several pairs of Feiyue shoes for the price of a single pair of most other martial arts shoes. And the Feiyue shoes might last just as long, if not longer! Try a pair today. You'll discover why hundreds of thousands of martial artists are choosing to wear Feiyue Martial Arts shoes for their practice!
Pros:
Costs just about $35 (excluding shipping)
Super flexible
The tread offers great traction
Great for recreational athletes
Cons:
Not the most durable shoe
If you're a serious CrossFitter or powerlifter, look elsewhere
If you wear a half size, round up to the nearest full one (so if you're a 7.5, go for an 8)
These might be the cheapest shoes we've ever recommended, but honestly, I like them. Plus, how can the shoe worn by actual Shaolin monks and international Martial Arts masters be bad?
The first thing you have to know about these shoes is that they are flexible, and when I say that I really mean it. Seriously, go to the company's website and you'll find a picture of a guy twisting it like it's a piece of dough. With that, you get great ankle mobility as well. What you give up on cushioning (more on that in a second) you get back in mobility.
The all-rubber outsole also offers great traction, which is why they've also been adopted by professional parkour athletes. It's got virtually no heel-to-toe drop, and is as close to a barefoot-style shoe as you can get without actually going there. That means it's fine for deadlifts and high-volume strength training, but not so much for people who squat frequently.
There's a little cushioning on these shoes––not as much as in a running shoe, but a little more than you'd get with something like the Xero 360. Ultimately, the goal of the shoe is to strengthen your foot to do things like hit a Chuck Norris-worthy roundhouse kick. But if you need a little more comfort, the insoles are actually removable so you can replace them with your own (and Feiyue sells its own insole inserts).
For $35 these are obviously not going to be the most durable shoes. If you use them regularly you can get a few months out of them, but since they're so cheap you can pick up four for the cost of a Nike Metcon.
Best Cross-Training Shoe for Deadlifts: Converse Chuck Taylor All-Star
Good for: People who want a reliable, inexpensive shoe with a stable base
Best for Deadlifts
Converse Chuck Taylor All Stars
Converse Chuck Taylor All Stars are the original minimalist shoe. With a near-zero heel-to-toe drop, a sturdy rubber outsole, and lace closure, they provide stability for heavy lifts. The minimal drop also allows you to feel grounded during deadlifts and squats.
Pros:
Flat heel is perfect for deadlifts
Can get them in high-tops or low-tops
They look great, and at $60, they're very affordable
Cons:
Canvas construction isn't very durable
They're not the best for squatting
Narrow through the midfoot
We asked our Home Gym Community on Facebook (if you're not a part of it, then what are you waiting for?) what their favorite training shoe is and while the No. 1 pick was the Nike Metcon 7, the Converse Chuck Taylor All-Star was a close second.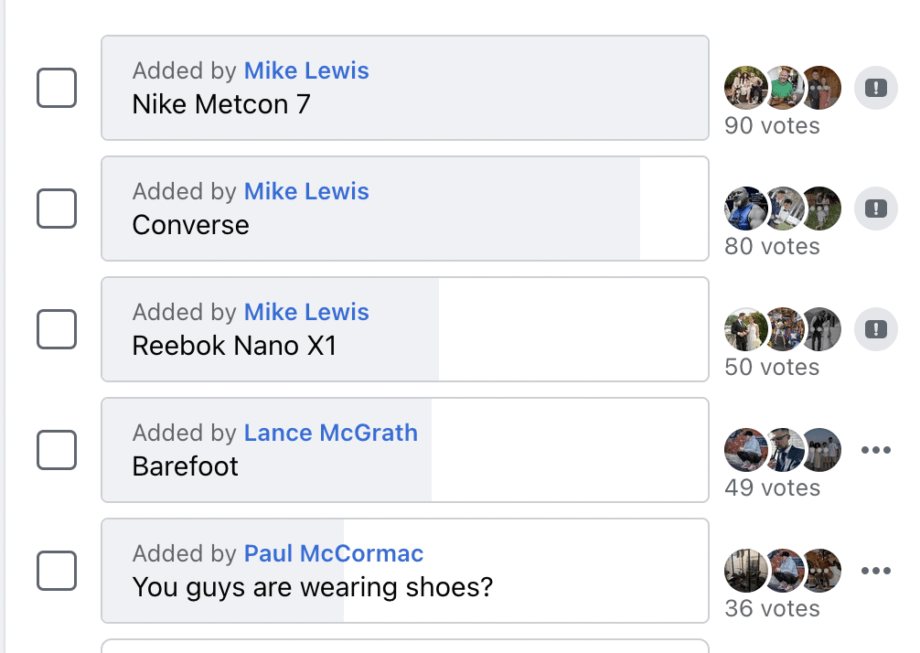 Honestly, I like our readers' style. I mean, what's not to love about Chucks? You get a rigid outsole, great ankle support (if you choose the high-top version, which I recommend), and they look great so you can wear them in the gym and to dinner. Talk about versatility.
Some of our readers pointed out, and I agree, that Chucks aren't the best pick for every lift, particularly the back squat. This is due to the minimal heel-to-toe drop, which is fine for deadlifts and other moves. The flat, thin midsole is another reason why these shoes are great for people who need to feel grounded during their workouts.
The shoe's upper is made from canvas fabric, which isn't great from a durability standpoint but awesome because it's breathable and flexible.
To put it bluntly, these aren't the best if your workouts involve a lot of cardio. If you're just doing warmups, they'll hold alright, but I wouldn't do anything too competitive in them like sprints, or even burpees. On the bright side, they're great for everyday use and should hold up just fine on long walks.
RELATED: Best Deadlift Shoes
Best Cross-Training Shoe for Jumping: UA HOVR Phantom
Good for: People who need a shoe to support them through dynamic movements
Best Cross-Training Shoe for HIIT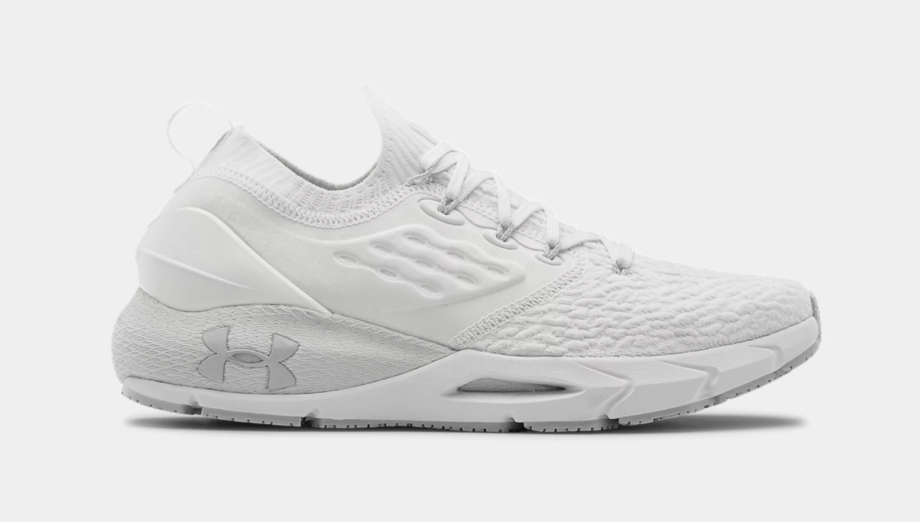 UA HOVR Phantom 2
We took our most comfortable running shoes for men, gave them a sock-like fit, and built them to connect to UA MapMyRun™ for real-time coaching and Training Plans. Get the same energy return in a newer, faster package.CONNECTS TO UA MAPMYRUN™: tracks & analyzes your running metrics to help make you a better runner Responsive UA HOVR™ cushioning reduces impact, returns energy, and helps propel you forward Engineered flat knit upper for zonal stretch & support where you need it with a sock-like fit & feel Molded midfoot panel for added structure & plush interior cushioning Ultra-breathable, SpeedForm® 2.0 sockliner provides softer underfoot support Full rubber outsole features unique knobbed texture for elevated traction & durability External heel counter creates the ultimate in stable support
Pros:
Have great shock absorption
Keep your feet secure at all times, no matter how much you move around
You can track your workouts by linking these with the Under Armour app
Cons:
These run small, so not the best choice for people with wide feet
Have too much cushioning for heavy lifts
Require a bit of a break-in period
To be honest, I haven't tried out the UA HOVR Phantoms, but our fitness writer, Caroline Lubinsky, who's also a fitness enthusiast and former NCAA D1 Women's College Soccer player, has and she loves them (and I trust her opinion). In fact, she's gone through two pairs of them already.
Here's a pic of her current pair, which she admits is a little beat up.
Caroline says she likes these shoes because they're comfortable, keep her foot secure during dynamic movements, and can be laced up tightly to accommodate more narrow feet. She's also able to wear them comfortably with her ankle brace she has from a prior ankle reconstruction surgery.
"I never feel like I think about my shoes during the workout when I'm wearing these, which to me shows it's a good shoe," she says. I'd have to agree with her assessment.
Looking at the shoes, I can see why she likes them. They come with an all-rubber outsole for increased traction, and the HOVR cushioning is great for shock absorption and propelling into different movements.
One of our other fitness writers, Anthony O'Reilly, has tried different UA HOVR shoes and agrees the cushioning is top of the line. He and Caroline agree the cushioning is a bit much for people who are going for heavy lifts, though.
Under Armour has made their HOVR shoes compatible with their apps, so you can link the Phantoms to your smartphone to track your workouts and runs. That's not going to impact how they feel on your feet, but it's still pretty cool!
Best Cross-Training Shoe for Running: Nike Free Metcon 4
Good for: Anyone who does a lot of running or cardio workouts
Best Cross-Training Shoe for Cardio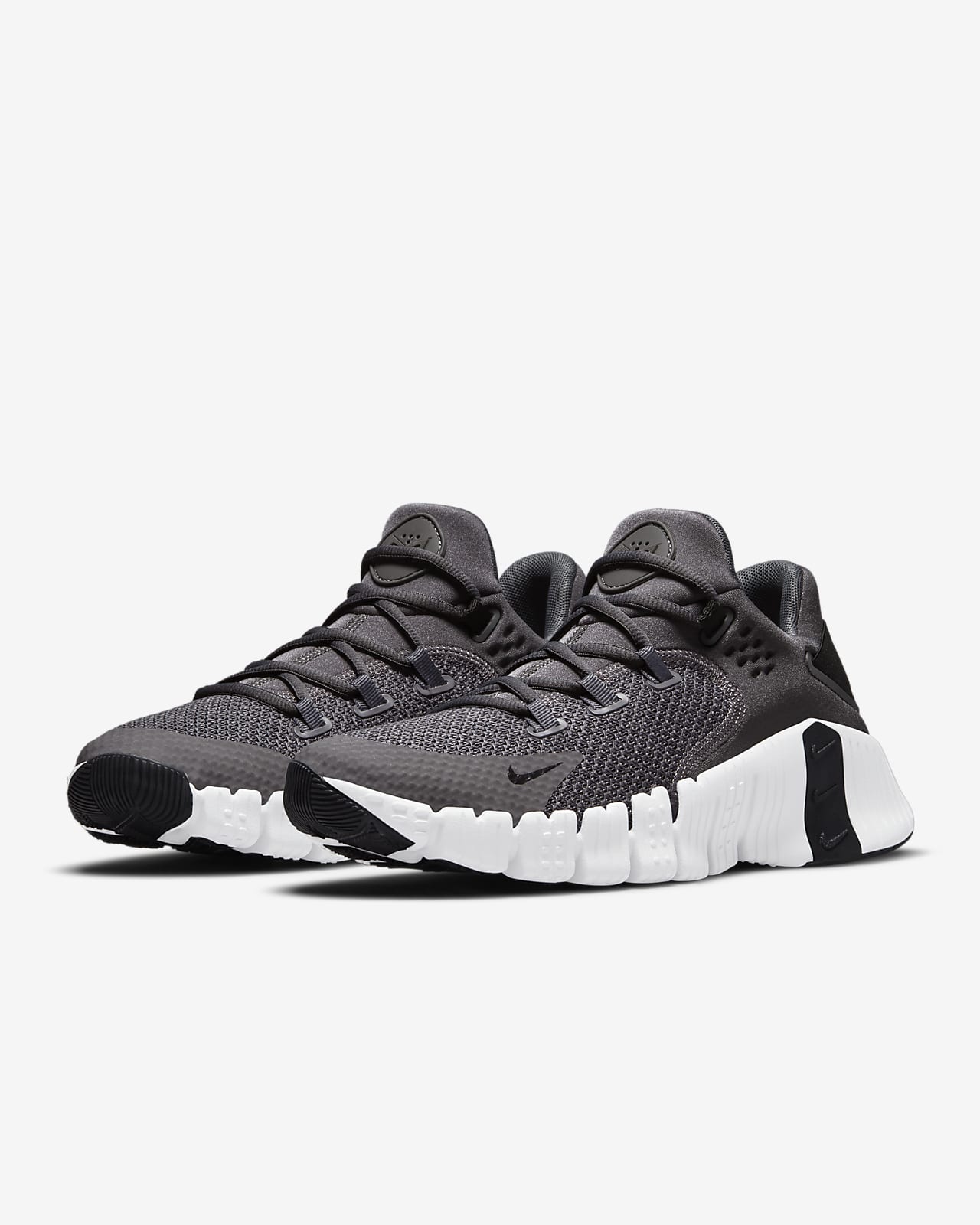 Nike Free Metcon 4
The Nike Free Metcon 4 combines flexibility with stability to help you get the most out of your training program.
Pros:
Good for people who do a lot of running and jumping
The rubber tread is very grippy
Well priced at $120
Evenly disperses pressure throughout your foot to keep it supported
Cons:
They run small and narrow, so they're not good for people with wide feet
They're a little tighter than most cross-training shoes
More suited for cardio workouts than for weightlifting
Cross-trainers are supposed to combine different shoe attributes into one, and Nike took that literally with the Free Metcon 4 by taking the best parts of the Free running shoe and the Metcons.
We like the Nike Free Metcon 4 for cardio workouts because it has a great foot hug, another feature from the Free, and a rubber tread that prevents slippage on quick cuts and jumps. Additionally, it has a flexible forefoot and internal webbing to support your midfoot.
Your feet will not only stay supported during those cardio workouts, but they'll remain cool as well thanks to the chain-link breathable mesh upper.
Now, it's true you want a snug pair of shoes for things like running, but the Free Metcon 4 might be a bit too tight for some people. In our testing, we found we had to go a half size up to find a pair that fit us well, but others we spoke to said they fit them true to size. Everyone's feet are different after all, but these are cut on the smaller side so if you're a member of the wide foot club it could be a struggle to get in them.
RELATED: Cross-Training for Runners
This shoe certainly takes after both its parents, but we think it has a little more of the Free in it because it's so great for cardio movements. That's not to say you can't wear them while weightlifting, especially since the wide heel provides ample stability during squats, but the traditional Metcons are a better pick if you're primarily doing strength training or Olympic lifts.
Read my full Nike Free Metcon 4 review
Best Barefoot Cross-Training Shoe: Xero 360
Good for: People who want to workout barefoot-style without actually being barefoot
Best Barefoot Cross-Training Shoe
Xero 360 Shoes
The Xero 360 Shoes could be a great fit for you if you are interested in trying minimalist shoes - but be careful not to jump in too quickly if this is your first time wearing 0mm shoes.
Pros:
A great introduction to barefoot-style training
Surprisingly supportive for a barefoot shoe
Affordable, at around $110
Wide toe box
Cons:
These shoes are not meant for everyone
Not as durable as traditional cross-trainers
They offer no cushion, arch support, and have zero heel-to-toe drop
There's many reasons why someone would want to workout barefoot, from increased body awareness to stronger feet and improved balance. But there's many reasons why you might want to still wear shoes, whether that's to protect your feet from the elements or people's improperly disposed of trash.
For that barefoot feeling without actually being barefoot, go with the Xero 360. If you haven't trained barefoot-style before, be forewarned it's unlike anything you've tried before. There's no cushioning or arch support, and there's little stability and a lot of flexibility. Don't take these as bad things, these are just side effects of barefoot shoes.
I actually really enjoyed working out with these and found they forced me to learn how to use my actual feet, instead of my shoes, to execute box jumps and burpees. On the strength training side, these are better for a powerlifter than an Olympic one. In other words, they're great for static movements, like the deadlift and squat, rather than the dynamic ones, such as the clean and jerk, that require a little more stability.
When it comes to cardio, it's a matter of preference over anything else. I like running barefoot on my TrueForm Runner (you can also check out my picks for the best treadmills here), because the tread supports my feet, but I don't know how I'd feel about an outdoor jog without a well-cushioned shoe. You might think that sounds great, in which case the Xero 360 is awesome to ensure you don't step on glass or that pile of dog doo your neighbor didn't pick up.
My only other warning is these shoes' materials aren't as durable as other workout shoes, so they're not built to last as long. Again, that's a consequence of prioritizing that barefoot feeling.
Read my full Xero 360 review.
Best Cross-Training Shoes for Women
It's common for people to look for the best cross-training shoes for women and the best cross-training shoes for men independently. However, our team of product experts and fitness pros at Garage Gym Reviews has agreed that there really isn't a "best for women" or a "best for men" independently of each other. (We talk about this in our roundup of the best weightlifting shoes too.)
A good shoe is a good shoe in our opinion, and the only major difference between men's and women's picks is sizing. Luckily, all of the picks on our best cross-training shoes list come in both men's and women's sizes, so regardless of gender, anyone can choose whichever pair best suits their needs and preferences.
If you want more guidance, here's what the ladies at Garage Gym Reviews love to cross-train in:
Other Cross-Training Shoes We Researched
These are far from the only shoes we tested and tried out, and there were quite a few we went back and forth on that ultimately didn't make the cut.
Inov-8 F-Lite 235 V.2: Inov-8 has some great trainers, and one of them made this list, but the F-Lite 235 V2 isn't as comfortable or durable as some of its other models.
Nike Metcon 6: These are great training shoes, but honestly the Metcons 7 are better and not that much more expensive so it's worth the few extra dollars.
Reebok JJ IV Men's Training Shoe: These are shoes meant for people with big feet, and as of right now we only have one guy on our staff who meets that criteria and he hasn't had a chance to test them out yet. We've researched them and the reviews are positive, and we're big fans of shoes designed by JJ Watt. We'll let you know if and when we get to try them out.
Under Armour HOVR Apex 3: These have fantastic online reviews, but they're just a pair we haven't tried out yet.
On Cloud X: These are honestly more of a running shoe than a training shoe.
Hoka Kawana: Another choice that's better suited for dedicated runners.
Puma Fuse: A wide toe box, minimal heel-to-toe drop, and shock absorption? We have to try these!
How We Picked and Tested the Best Cross-Trainers
We wanted to see how much these shoes lived up to the cross-training name, so we did just about everything in them including, but not limited to, running, powerlifting, CrossFit, rope climbs, walking around the block, wearing them to dinner, and trail running. We also went to our Facebook group for your help and got some great recommendations!
Naturally, no one shoe could do all of these as well as a specialty shoe so we wanted to find ones that worked well enough across a broad spectrum of activities. We also took a few other qualities into consideration.
Durability
How well did these shoes hold up to our rigorous testing system? If they fell apart after a few weeks, or caused general discomfort, we crossed them off and started on a new pair.
Value
Some of these shoes cost a little more than others we considered, but we found they performed to a degree that we considered it worth the money. On the other hand, cheaper shoes we put on our list are considered a good value because they deliver optimal bang for your buck.
Aesthetics
Functionality is key, but you also don't want to wear an ugly pair of shoes.
Versatility
We already covered this a bit, but a good cross-trainer needs to carry you through various workouts. At the very least they should be able to be worn as everyday shoes in addition to being your workout shoes, but it'd be great if they carried you through cardio, weightlifting, and your evening walks.
Comfort
This goes without saying, but your shoes need to feel comfortable while you're wearing them. That's true even for dress shoes.
What to Look for in Cross-Training Shoes
Knowing what to look for in a cross-training shoe isn't as straightforward as searching for the best weightlifting shoe or CrossFit shoe, because it depends on your training style. Here's a general guide that should apply to most, if not everyone who's in the market for a cross-trainer.
Durable Outer
Sneakers aren't something you should buy multiple of every year, so you want to make sure it's going to last you at least six months. Soft or cheap material can get easily torn up if you take them out during nasty weather, or put them through an hour-long workout that forces the material to stretch beyond its limits.
Most shoe manufacturers will tell you what the outer layers are made of, though sometimes you have to click on "More Info" or "Specs" to find it, and you can do research to find out if that material is suited for the weather where you live or for the type of exercises you're going to do.
Cushioning
This is one of those things that comes down to preference, but generally you want to find that sweet middle spot. Or maybe you don't. Some people prefer a little more contact with the ground and that's totally fine.
If you're not sure what to look for when it comes to cushioning, know that high cushioning is great for things like running to absorb the impact on your feet, and lower-level cushioning is needed for weightlifting when you need to push off the ground.
Width and Toe Box
Again, just like any other pair of shoes you buy you want to make sure your cross-trainers fit snug without feeling like a boa constrictor wrapping itself around its prey. But once more, this depends on how you're going to train.
If you're running, you'll want a good "foot hug," which is exactly what it sounds like. Weightlifters and powerlifters, though, will want a little bit more wiggle room to drive their feet into the ground when eeking out those last few reps.
Material
You'll want to make sure that every part of the shoe, from the upper to the midsole, is made with durable materials such as Thermoplastic Polyurethanes (or TPU) or some type of responsive foam. Avoid cheap materials like plastic.
Best Cross-Training Shoes FAQs
What cross-training shoe is best for me?
What type of shoe is best for CrossFit?
A good cross-training shoe is the best shoe for CrossFit, since it offers support for weightlifting as well as bursts of cardio. You'll want something with a stable heel, but a flexible forefoot.
Just know this is a shoe that will be a Jack of all trades, but a master of none. In other words, you'll be able to do a bunch of things really well in them but you won't excel in one particular area (like running)
Can you run in cross-training shoes?
The answer is yes, but if you're someone who just runs and doesn't combine it with other training methods then you should buy running shoes, since that's what they're designed for. On the other hand, if you're using them for quick sprints or jogs then you're fine running in cross-trainers. 
RELATED: How to Choose Running Shoes
What is a cross-training shoe for? 
As its name suggests, a cross-training shoe is a shoe that can be worn across different types of training. So you can wear them during weightlifting, running, CrossFit, and more without having to switch between different pairs of specialty shoes. 
What is the difference between a running shoe and a cross-training shoe? 
A running shoe is specifically designed to protect your feet from the stress you put on your body while running. A cross-trainer may have some of the same features, but to help you during other movements and exercises it also has components that aren't as desirable in a straightforward running shoe. 
Does it matter what shoes you wear to the gym?
Yes, and no. Technically you can lift weights or run in just about any shoe, and some people don't wear any shoes at all, but know that some pairs offer better benefits over others. For example, cross-trainers can support you through multi-directional movements and during Olympic lifts, whereas running shoes will help you sweat out cardio but won't offer the support you need during a heavy squat. 
Are cross-training shoes good for lifting? 
If you're a recreational weightlifter a cross-training shoe will get the job done but if you're training for a weightlifting contest you should invest in a weightlifting shoe. Some cross-training shoes are better suited for weightlifting than others, and ultimately the shoe that feels the best on your foot is the one you should go for.